PENN NATIONAL: HOT JOCKS AND TRAINERS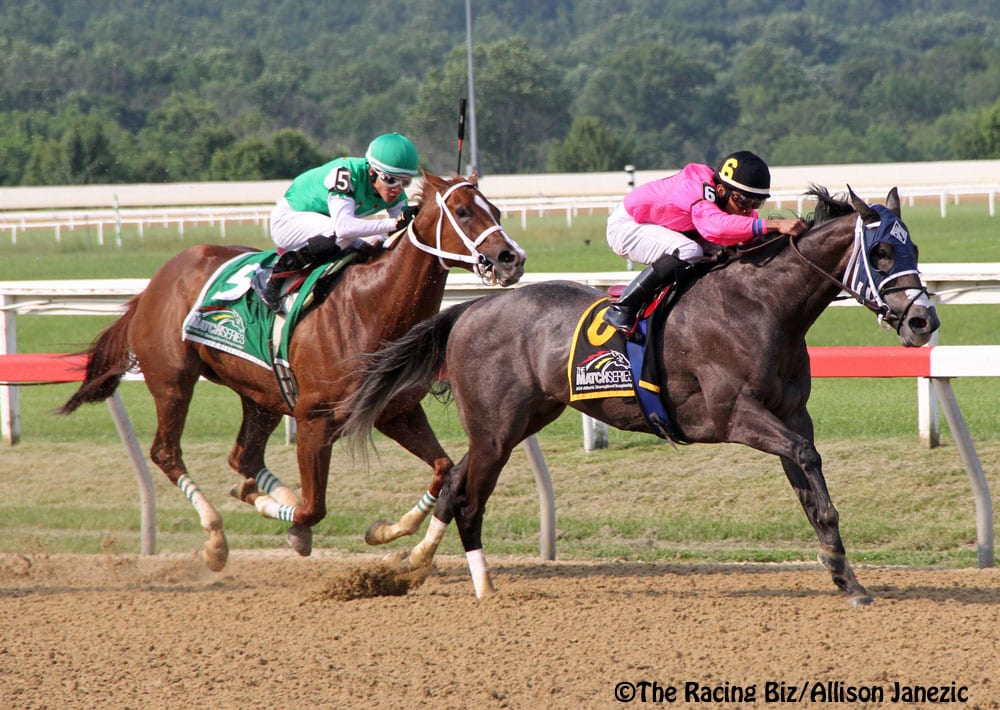 The Biz

March 23, 2021
Which jockeys and trainers at Penn National have been hot? Funny you should ask: we wondered the same thing, and as a new racing week arrives, let's dig in.
So we created a quick-and-dirty metric for the handicappers among us. The metric includes wins, win percentage, and wagering return on investment in one number. To limit it to who's hot, we've included data from just the past 50 or so days — since January 29, 2021.
JOCKEYS EN FUEGO
The soon-to-depart-for-Gulfstream Edwin Gonzalez continues to hold a clear lead in the jockey rankings with 143 points — well clear of Jorge L. Vargas, Jr. in second (101).
During the period, Gonzalez has won 26 races — far more than any other rider — while winning at a 35.6% clip that is the best of any rider with more than two mounts. His wagering ROI is a decent -2%.
Vargas is his nearest pursuer with 101 points. He has 12 wins, a 26.7% strike rate, and a positive wagering ROI of +3%.
Andrew Wolfsont is third in the rankings with 95 points. He also has 12 wins, is winning at a 20.3% clip, and has a +5% ROI. Among riders with more than three wins, the ROI kingpin is Tyler Conner, who's at +24% since Jan. 29. Conner, also with 12 wins, has 91 points.
The average for all riders at Penn National was 47.2.
| | | |
| --- | --- | --- |
| RNK | JOCKEY | PTS |
| 1 | Gonzalez Edwin | 143 |
| 2 | Vargas Jr Jorge L | 101 |
| 3 | Wolfsont Andrew | 95 |
| 4 | Conner Tyler | 91 |
| 5 | Beato Inoel | 87 |
TRAINERS EN FUEGO
The Jamie Ness barn continues to thrive in limited Penn National opportunities, and he tops the trainer heat index. Ness, who has won with four of his last five starters in Grantville, is 6-for-11 overall there since Jan. 29, and has a +86% ROI. All of that combines to give him a score of 166, tops at the track.
The ROI leader among all trainers with more than two wins is Rachel Sells, who has a +185% mark. With five wins from 15 starters, she's second with 149 points, just ahead of Demelza McMahon (146), who has seven wins and a +41% ROI.
Those three are among seven conditioners with scores above 100. That includes wins leader Tim Kreiser, whose 15 wins easily top the leaderboard. He is winning at a 26.8% clip, but his -30% ROI leaves him in fourth with 125 points.
The average for all trainers at Penn National was 44.6 points.
| | | |
| --- | --- | --- |
| RNK | TRAINER | PTS |
| 1 | Ness Jamie | 166 |
| 2 | Sells Rachel | 149 |
| 3 | Mcmahon Demelza | 146 |
| 4 | Kreiser Timothy C | 125 |
| 5 | Stites Flint W | 109 |
LATEST NEWS