LAUREL PARK PICKS AND PONDERINGS MAR 13, 2021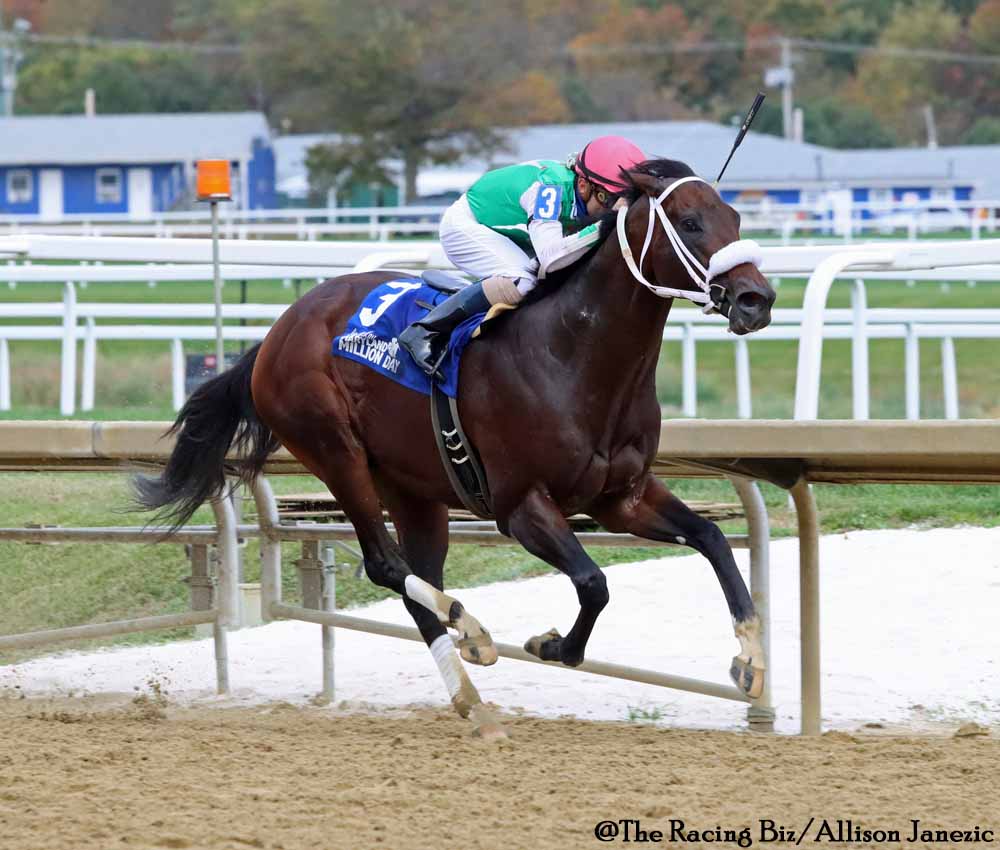 RACE 1: CLAIMING $16,000 (N/W2L), 4-YEAR-OLDS AND UP, FILLIES AND MARES, 1 1/8 MILES
1-6-5-4
#1 Walk It Out Nanny (2/1): In her first try against winners last out, she was pressed on the lead and backed up. It's possible that happens again, but on paper, she's the clearly dominant early speed. Could find herself on a nice, lonesome lead.
#6 Imagine Victory (8/5): She's still relatively lightly-raced, making her eighth start this afternoon. However, she's had numerous tries at this level, and has not been able to break through. Most of those efforts have been due to her falling behind a very slow pace. May need to be forwardly placed to have a serious chance.
#5 Car Lady (3/1): Another one who likes to come from well behind, her brisnet figures are steadily sharp, but she has not been able to close substantial ground. Looks like a strong candidate for the exotics.
RACE 2: CLAIMING $25,000, 3-YEAR-OLDS, FILLIES, 6 1/2 FURLONGS
3-5-1-6
#3 Keepyourskateson (9/5): After a few disappointments at low odds, she broke through for her maiden win last out. She stalked a duel, then rallied wide and drew away. There's plenty of speed signed on here, so she'll look to get a similar setup in her first start against winners.
#5 Sick Pack Sara (3/1): She scratched out of a tougher spot a few weeks back, and makes her debut against winners here instead. Broke her maiden in gate-to-wire style last out, with a career-best figure of 70. She'll have to outrun Golden Moon Shine, drawn to her direct outside, in the early stages. If she can do that, she'll be tough to catch.
#1 Hello Gracie (4/1): Broke her maiden at six furlongs two races ago, then stretched out to a mile last out and stopped badly. Her best races have been going shorter, so the cutback in distance should help the cause.
RACE 3: BEYOND THE WIRE STAKES, 3-YEAR-OLDS, FILLIES, 1 MILE
3-2-1-5
#3 Fraudulent Charge (5/2): Twice in a row, she's come close to defeating Street Lute, but that rival has hung on both times. This filly's adding lasix for the first time, and turned in a very sharp five-furlong bullet on Sunday. I like her chances of getting a mile more than Street Lute's. Hoping for some good value on this filly.
#2 Street Lute (1/1): This filly's been virtually flawless in her career, with six stakes wins to her credit already. I had my doubts about her being able to go seven furlongs last out against a tough field in the Wide Country Stakes, but she sat the trip and held on. This is against a softer field, but also at a longer distance. She's had her struggles going seven furlongs in the past, so I'm very curious to see how she does here. If she wins handily, will we see her in graded stakes company next?
#1 Buckey's Charm (8/1): She's already well-versed in longer distances, having finished second with a career-best figure in the Anne Arundel County Stakes around two turns. In the Wide Country last out, she was well behind early, but rallied for a credible fourth, although not enough to threaten the top runners. The big two in here might be too fast early for Buckey's Charm to catch up, unless they completely melt down, but this filly should at least rally to round out the trifecta.
RACE 4: MAIDEN CLAIMING $10,000, 3-YEAR-OLDS, FILLIES, 5 1/2 FURLONGS
3-1-2-7
#3 Bobbini (6/1): Got action on debut against better, but had an adventurous opening eighth and was not a factor thereafter. Drops in class here, and should find things easier in the opening stages. Could sneak through the cracks at a very bettable price.
#1 Cookies and Cream (9/5): Showed speed and battled on in her first start at this level last out. She just missed her lifetime top figure in that race, while improving for the fourth straight start. Will be tough on the front end, but will also get overbet.
#2 Great Cause (12/1): Held well for third last out at Charles Town after a wide trip. She's been a steady check-getter at that track. Looks interesting for the underneath spots.
RACE 5: NOT FOR LOVE STAKES, 4-YEAR-OLDS AND UP, MD-BRED, 6 FURLONGS
2-1-7-6
#2 Whereshetoldmetogo (3/5): Won his last two starts against open stakes company, wearing them down with dramatic stretch rallies. He's run back-to-back figures of 102, several lengths better than anything anyone in here has done lately. If Brittany Russell can get this one and Maythehorsebwithu home today, perhaps she'll have a pair to send to New York on the first Saturday in April.
#1 Stroll Smokin (4/1): The only one in the race who has come within shouting distance of Whereshetoldmetogo figure-wise as of late. He battled well on the lead last out in a tough allowance race, and held on for second. He'll likely once again go to the lead and try to hold off Whereshetoldmetogo.
#7 Carey Times (15/1): Rallied well to finish third last time, and has run figures in the upper 90s in the past. I don't think he's good enough to run with Whereshetoldmetogo in the stretch, but he is capable of outkicking the rest.
RACE 6: HARRISON JOHNSON MEMORIAL STAKES, 1 1/8 MILES
5-6-3-2
#5 Galerio (7/2): He improved second time off the bench, running on well for second in the John Campbell Stakes. He finished behind only Bankit in that race, and there's no one in here as good as that rival. Galerio's success over this track is well-documented.
#6 Dixie Drawl (6/1): He went off at much lower odds than Galerio in the John Campbell, off a very impressive allowance win two races back. However, he was hung wide a lot of the way, and stopped badly. If you still believe, you'll get the right price. In fact, it wouldn't surprise me if Dixie Drawl and Galerio went off at the opposite odds they did last time.
#3 Mischief Afoot (8/1): Ran a momentous race two back, closing from off a very slow pace to win an allowance at Aqueduct by a head. Closed similarly well to finish second at Gulfstream Park last out, with a lifetime top figure. His lack of early speed may be his undoing, but he'll be heard from in the end.
RACE 7: CONNIVER STAKES, 4-YEAR-OLDS AND UP, FILLIES AND MARES, MD-BRED, 7 FURLONGS
8-6-4-1
#8 Deep Red (5/1): After a few tries against n/w2x allowance company, she finally broke through with a fast-closing rally last out, earning a career-best figure of 90. Although it's ostensibly a class hike here, this is not that much stronger of a field than she saw last out. Has great closing speed, and the price should be right.
#6 Kiss the Girl (3/1): Made a solid middle move last out, but had no shot to catch Gale, who was much the best on paper and ran like it. This one still outkicked the others by a good distance, with a very respectable figure of 85. Cuts back a bit from a mile; today's distance might suit her better.
#4 Artful Splatter (5/1): She's made a nice living lately getting checks in stakes races, without winning any. Held well after showing speed going long in the Nellie Morse Stakes last out. Will look to benefit from going shorter here.
RACE 8: PRIVATE TERMS STAKES, 3-YEAR-OLDS, 1 1/16 MILES
2-5-6-7
#2 Maythehorsebwithu (2/1): He burst on the scene in a big way last out, with a dominant front-running win in the Miracle Wood Stakes. Gets his two-turn test here, but he has abundant early speed, and didn't look like he was slowing down at the end of his mile try last out. He's not Triple Crown nominated, but could still have a big year. This race could be his launching pad.
#5 Royal Number (5/2): Briefly jumped on the Derby trail last out in the Withers Stakes, but was flat after getting stuck behind a slow pace. Mike Trombetta elected not to try him again in a Gotham Stakes, and placed him here instead. Two starts back, he scored a dominant win over this track, closing into a fast pace before drawing off. If he can get the setup, he'll be tough.
#6 Excellerator (6/1): Goes first off the claim for Hugh McMahon, after an impressive n/w1x win going short last out. This is his first try beyond 7 furlongs, so the distance is the big question. If you like him, you're getting the right price on him answering that question correctly.
RACE 9: STARTER OPTIONAL CLAIMING $32,000, 4-YEAR-OLDS AND UP, 5 1/2 FURLONGS
5-4-6-3
#5 Push to Start (5/2): He'll give you a thrill, if nothing else. He raced well earlier in the year, when he was unencumbered by pace pressure, but when he was challenged last out, he tired. Looks fast enough to outgun the rest early. From there, it's a matter of if he can keep it up.
#4 Visual Artist (7/2): Raced well first off the layoff last out, recovering from a bad break to lose by about three lengths. Should rate just off the early pace.
#6 Band on Tour (5/2): Drops from the Maryland-bred allowance level, and gets a jockey upgrade to Charlie Marquez. Got hung very wide last out and stopped, but had earned some steadily good figures in the races prior.
LATEST NEWS