LAUREL PARK PICKS AND PONDERINGS MAR 6, 2021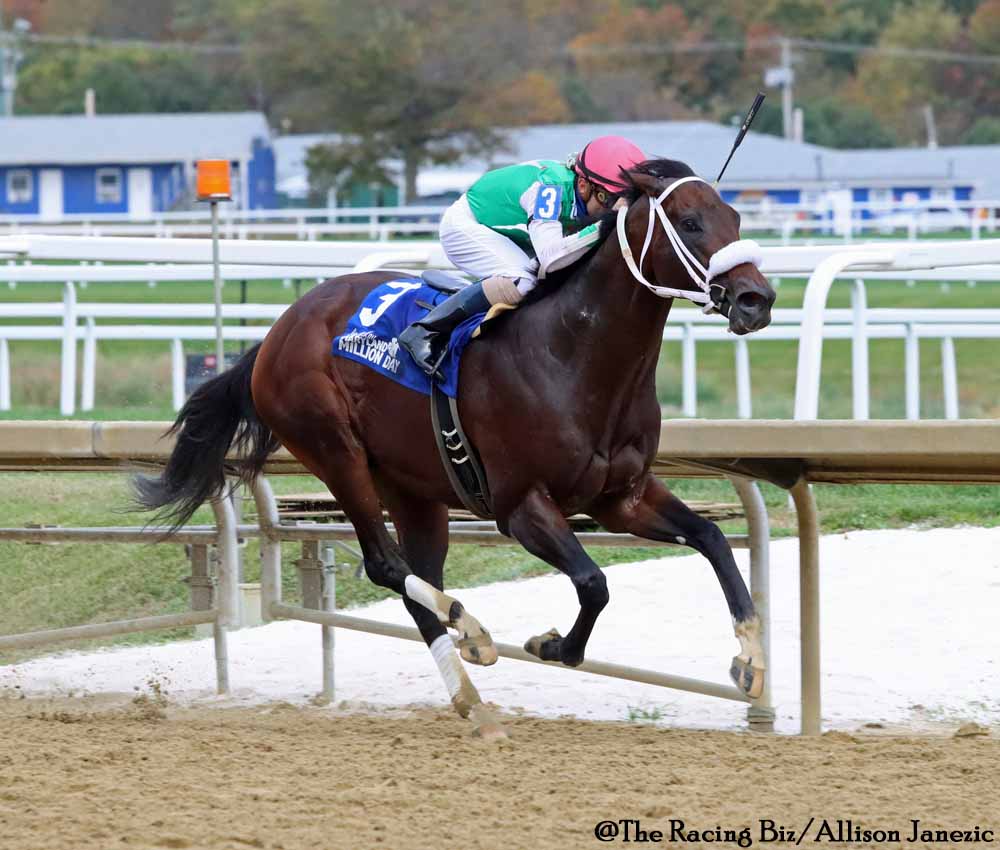 RACE 1: CLAIMING $16,000 (N/W2L), 4-YEAR-OLDS AND UP, 6 FURLONGS
2-1-4-6
#2 More Twirl (5/2): Ran a career-best brisnet figure of 84 in his last start, his second try against this type. It wasn't a visually impressive race, as he fell behind in the stretch after rating off the lead. Still, he's in top form right now, and he should save more ground than last time, when he rallied wide.
#1 Commanding General (2/1): Exits the same race as More Twirl, and lost a photo for third with that rival. He also ran a lifetime top figure in that race, and had arguably a tougher trip. Improved seven points in that race while going first off the claim for Anthony Farrior. Can he keep it up second off the claim?
#4 Come and Get Me (7/2): A very lightly-raced horse, he makes his first start against n/w2L types here. His name is a bit paradoxical, as he tends to make big rallies from the back. Last out, he was outkicked by classier horses in his first start against winners. He might find these easier to chase down.
RACE 2: CLAIMING $16,000, 3-YEAR-OLDS, 1 1/16 MILES
7-3-4-2
#7 Luxero (7/5): He's won his last two races, including a determined win going a mile against similar. He's the only one who has won multiple starts. Has shown multiple dimensions in the past; he broke his maiden on the pace, but generally comes form behind.
#3 Twitty City (7/2): That last race is a tough pill to swallow. He showed speed, then backed up and was eased. However, he's earned figures in the 70s four times in the past, and turned in a strong four-furlong workout since that race. He's also a winner around two turns, having broken his maiden at Delaware Park going a mile in September. Looms as a major threat.
#4 Lost My Vowcher (4/1): Another one who has won around two turns, he won going away at 1 1/16 miles two back. He's also looking to shake off a dull race, with a good workout since. Makes just his fourth start in this spot.
RACE 3: CLAIMING $16,000 (N/W3L), 4-YEAR-OLDS AND UP, FILLIES AND MARES, 7 FURLONGS
3-1-4-6
#3 Catch the Sky (8/5): Raced well in her first start off a brief layoff. She didn't have much a chance to catch the runaway winner, but rated nicely and managed to outkick the rest for a clear-cut second, earning a career-best figure of 79. A race like that wins this one.
#1 Tequila Fog (9/2): Exits the same race as Catch the Sky. After running a string of figures in the 70s, she regressed last out, backing up after being near the pace. She draws an advantageous post and should be prominent on the lead. Can she bounce back?
#4 Ortinola (5/2): A nice horse to own, but not so much to back consistently. She's hit the board in six of her last seven races, without a win to show for it. Tends to stalk the pace and loom menacingly, but she can't finish the job. A good candidate for the underneath spots.
RACE 4: CLAIMING $40,000, 3-YEAR-OLDS, 1 1/16 MILES
1-3-4-7
#1 Omati (6/1): Ran a huge race in his last start, setting a fast pace against tougher and hanging on until the last eighth. He's worked well since that November 22 race, and gets a softer spot with an advantageous post position.
#3 Jack Gave Back (4/1): Didn't have much of a chance last out against Nobody Knew, who was vastly superior on paper and won going away. This one also closed well into a slow pace, finishing more than five lengths clear of everyone besides Nobody Knew. He's raced well going a mile before, so I'm not too concerned about him going a bit longer.
#4 Golden Warrior (9/2): Surged strongly last out and just missed. Anthony Farrior claimed him out of that race. Luxero beat him by 3/4 of a length that day. If he wins race 2, it might boost this one's stock.
RACE 5: MAIDEN CLAIMING $40,000, 3, 4, and 5-YEAR-OLDS, FILLIES AND MARES, 7 FURLONGS
2-3-9-5
#2 Heartful (4/1): She's a 3-year-old trying her elders, and going first out for the Graham Motion barn. Her lone start to date for a tag might have been her best, as she closed well for second, the only time she's made up serious ground late. Adds lasix here to boot.
#3 Seven Clubs (6/1): This will be her first start since June 19, when she broke awkwardly in a maiden special weight and was not really persevered with after that. It'll be her first appearance for a tag. Raced well on debut at Gulfstream last spring, so there's some promise there. Worth a shot at the likely price.
#9 Tricky Spirits (10/1): Made a solid rally for second in her debut, now adds lasix. This is a tougher spot, but she's shown promise, and will be a very bettable price.
RACE 6: CLAIMING $5,000, 4-YEAR-OLDS AND UP, FILLIES AND MARES, 5 1/2 FURLONGS
2-4-1-9
#2 Trappe Me Later (6/1): Ran a big race last out at Parx, battling on the lead before pulling clear. Her figure of 79 from that race is her best mark in a while. Should once again be prominent on the lead.
#4 Joyful Noise (5/1): Moved up to the starter optional claiming level last out, after enjoying success against similar. She ran on well in the stretch, but couldn't seal the deal in the last eighth. Should find these easier.
#1 Swirrlie Shirlie (9/5): She's won her last two at this level, beating many of her rivals here along the way. Went gate-to-wire last out, but usually comes from just off the pace. Will sit a great trip on the rail.
RACE 7: ALLOWANCE OPTIONAL CLAIMING (N/W2X), 4-YEAR-OLDS AND UP, 1 MILE
3-8-9-1
#3 Youngest of Five (6/1): He's shown glimmers of potential in his career, and broke though last out with an impressive front-running score against Maryland-breds. He's improve his figure in his last five races, peaking at a 95 last out. Should go off at a very bettable price.
#8 Confessor (3/1): Scott Lake ships this one over from Parx, after two promising near-misses at this level there. He rallied wide from off the pace last out and missed by half a length, with a big figure of 100. He's run at least a 90 in four of his last five.
#9 Prince James (6/1): Made his third start off the layoff a big one, winning a n/w1x race after setting the pace and drawing off. He's improved his figure in each of his last five races.
RACE 8: STARTER OPTIONAL CLAIMING $16,000, 4-YEAR-OLDS AND UP, 1 MILE
5-7-3-1
#5 Divine Interventio (7/5): He's won two of his last four races, with big figures in all of his starts. Drew off to beat a similar field at this distance last out. He was claimed out of that race by Jerry Robb, who wheels him back off a week's rest.
#7 Jamminwithbrandon (3/1): Interestingly, Xavier Perez does not opt to ride Robb's horse here. Rather, he takes the mount on the Ness charge. Couldn't close off a slow pace last out, but still earned a very solid figure of 85 while finishing fourth. Interested to see how he does second off the layoff.
#3 My Man Pots N Pans (5/1): Drew off handily against weaker last out, a much-needed score after a string of disappointing tries. Looks to keep moving forward third off the layoff, and should get just the right trip.
RACE 9: MAIDEN CLAIMING $40,000, 3-YEAR-OLDS, 7 FURLONGS
5-4-2-6
#5 Speightster Red (7/2): Drops for a tag for the first time, after a very solid fourth in his last start at Parx. Has worked well since his most recent outing, which was on November 25. Looks to have a big chance even if not 100% first off the bench.
#4 Fole's Notion (5/1): Matched his career-high figure of 74 last out, finishing second while going at Parx. He's packed a solid closing punch in most of his races, and will have to show it again here.
#2 Portal One (8/5): Went off as the favorite at this level last out, and was a solid second while on the pace. Could find himself in a very advantageous pace scenario here.
LATEST NEWS