LAUREL PARK PICKS AND PONDERINGS Feb 20, 2021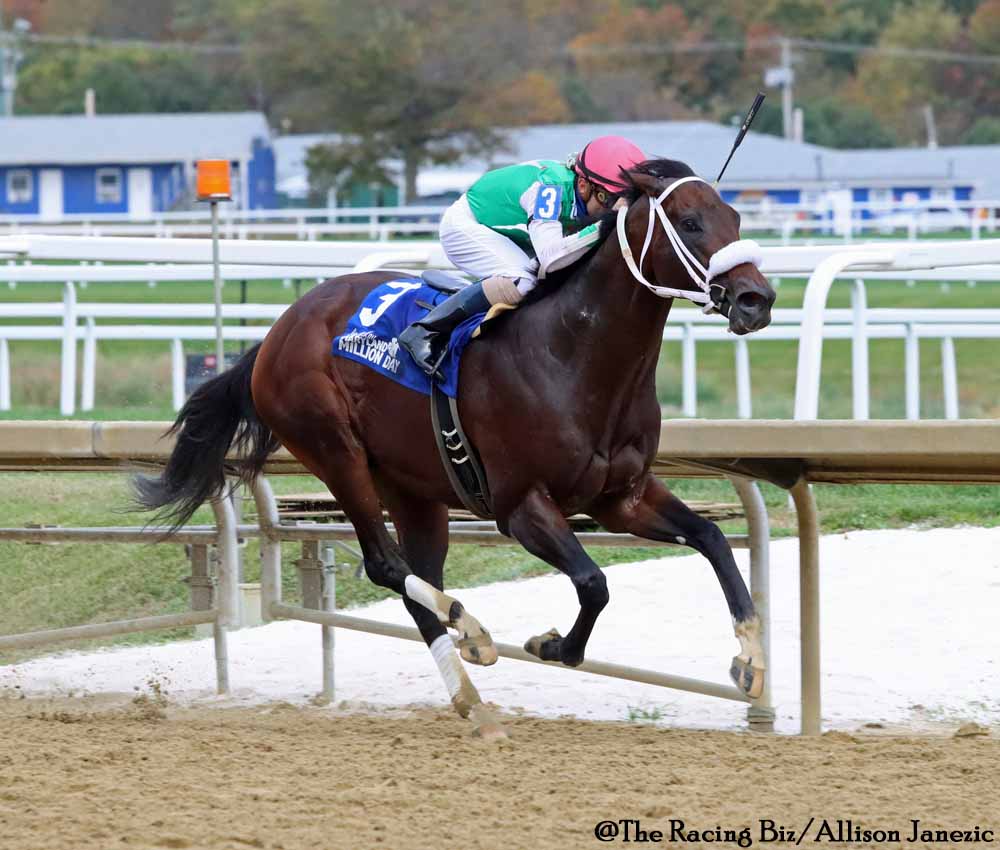 RACE 1: CLAIMING $5,000 (N/W2L), 4-YEAR-OLDS AND UP, 1 1/8 MILES
1-6-5-8
#1 Watchthebourbon (3/1): He's the only one in the field to earn a brisnet figure of at least 70 in three consecutive races. His lone start at this level was sharp; he closed to lose by less than a length despite a wide trip. It looks like he's rounding into career-best form at the right time.
#6 Gottaway (5/1): Has perhaps the best proven two-turn form of anyone in the race. Finished second twice at this level going 1 1/16 miles, and his lone win to date came at a mile and seventy yards at Delaware Park over the summer. Got hung wide around the first turn last out, and struggled. Although he's drawn towards the outside again, he's got a longer run into that turn.
#5 Roof Top Bar (6/1): Tries winners for the first time, after a strong maiden-breaking effort last out. He's rounded back from career-low form in the three races since being claimed by Robert Bailes.
RACE 2: MAIDEN CLAIMING $40,000, 3-YEAR-OLDS, 6 FURLONGS
9-8-3-6
#9 Golden G (10/1): Ran a decent race on debut. He was rushed up to contest the pace, then faded. The horse he dueled with, Swing Your Sword, came back to win next out at Charles Town. He probably won't have an easy trip, but I'm encouraged by the fact that he showed speed, and I'm looking forward to seeing how he does second out.
#8 Francis X (4/1): He didn't have much of a chance last out, the way the pace unfolded. Still, he managed to outrun the others for second, earning his second straight figure in the 70s in the process.
#3 Johnny Sack (6/1): Jeremiah Englehart ships this one down from Belmont Park for his debut. He's been working well in New York, including a bullet drill two works back. Should fire a big one first out.
RACE 3: MIRACLE WOOD STAKES, 3-YEAR-OLDS, 1 MILE
4-7-5-3
#4 Maythehorsebwithu (2/1): Brittany Russell is looking to have a big day today; this is her first starter of the afternoon. He was impressive in victory in a n/w1x contest two back, and probably would've won the Spectacular Bid Stakes last out if Sheldon hadn't dropped the whip in the stretch. Will show early speed, and should have enough to handle the stretch-out well. If he does, will graded stakes company be next?
#7 Subsidize (3/1): Chad Brown sends this one down from New York, looking to take some Maryland money for himself. This one broke his maiden at fourth asking last out at Aqueduct, drawing off professionally by 3 1/2 lengths, with a career-high figure of 88. This will be his first start beyond six furlongs, but he's earned good late pace figures so far, and I have confidence that Chad will have him ready.
#5 Kenny Had a Notion (5/2): He's a three-time stakes winner at Laurel, and he was a neck away from making it four in a row two races back. He lasted on a sharp pace and won the Spectacular Bid Stakes last out, although, as noted above, he benefitted from his rival losing the whip. Should turn in another gutsy effort on the lead.
RACE 4: JOHN B. CAMPBELL STAKES, 4-YEAR-OLDS AND UP, 1 1/8 MILES
6-8-7-1
#6 Dixie Drawl (9/2): Won a n/w2x allowance in very impressive fashion last out. He stalked the pace, then drew off with a powerful move to smash the field by more than nine lengths. He loves this track, and should get a great trip. The odds should be good, too.
#8 Bankit (9/5): He finally broke through to win his final start of 2020, taking the Alex M. Robb Stakes over the classy Mr. Buff. That race represented an important change in style for him, as he was much closer to the pace than he usually is. In the past, he's dropped well behind early and left himself with too much to do. He has a tough draw here with the short run to the first turn, so it will be interesting to see which strategy Sheldon employs here.
#7 Galerio (6/1): He's extremely lovable, with seven wins at Laurel last year, and almost won the Jennings Handicap in his stakes debut last out. However, he got caught late by Tattooed. That rival hates winning, so getting passed by him late is not a great sign. Still, this one has good tactical speed, and has multiple wins gong two turns.
RACE 5: NELLIE MORSE STAKES, 4-YEAR-OLDS AND UP, FILLIES AND MARES, 1 1/16 MILES
9-7-1-5
#9 Lucky Stride (2/1): She began her 2021 with a very impressive win in the Wayward Lass Stakes at Tampa Bay Downs last out. She was well out of it early, then rolled on to smash the field with a huge figure of 97. Made a similar move to finish second behind Eres Tu in her last start over this track, but there's no one in here as good as that rival.
#7 Wicked Awesome (9/2): Bounced back after a dull race two back to finish second in the Allaire DuPont Distaff. Won three in a row last fall at different mid-Atlantic tracks, including a dominant score in the Twixt Stakes. Should rate in mid-pack and try to save ground.
#1 Landing Zone (4/1): Has early speed from the inside for the dangerous Claudio Gonzalez/Angel Cruz combination. She'll look to take them gate-to-wire.
RACE 6: WIDE COUNTRY STAKES, 3-YEAR-OLDS, FILLIES, 7 FURLONGS
2-3-4-7
#2 Salt Plage (9/2): She's a perfect 2-for-2 in her career, and was very impressive in victory at Parx last out. She cruised to a six-length win, while Angel Castillo kept her under a hammerlock in the last eighth. With lots of speed signed on here, she should enjoy another good trip stalking the leaders.
#3 Fraudulent Charge (6/1): Almost caught Street Lute in the stretch in the Gin Talking Stakes, ultimately falling short by a nose. She won a maiden claiming race in visually impressive fashion on debut, but her figure improved sharply second time out. Looks to have no problem with today's distance.
#4 Miss Leslie (8/1): Won the Anne Arundel County Stakes going 1 1/16 miles last out. She doesn't have much early speed, and it might have cost her last out, as she finished second to Street Lute last out. Looks like a strong candidate for an underneath spot.
RACE 7: BARBARA FRITCHIE STAKES, 4-YEAR-OLDS AND UP, FILLIES AND MARES, 7 FURLONGS
1-8-2-3
#1 Sharp Starr (3/1): Raced well in the La Verdad Stakes last out at Aqueduct. She wore down the early leader, then battled in the stretch before finishing second to Mrs. Orb. Her figure declined a little bit from her usual standards, which included numbers as high as 103. Turned in a bullet workout last Saturday, so we know that Horacio DePaz has her in top condition for this race.
#8 Hello Beautiful (8/5): This is the moment we've been waiting for. We all know how much she loves this track. She's a perfect 7-for-7 over this track, with many of those wins coming in dominant style. She's had some great workouts since winning the What a Summer Stakes last out. The only problem is her post; she might get into trouble if she's hung wide on the pace. Still, you have to respect her.
#2 Club Car (6/1): Closed strongly to almost catch Hello Beautiful in her last start. That was much improved from her start in the Willa on the Move Stakes two back, when she was flat in the stretch. Most of the time, she comes through with her big rally. That'll be good for an exotics spot, in all likelihood.
RACE 8: GENERAL GEORGE STAKES, 4-YEAR-OLDS AND UP, 7 FURLONGS
6-1-2-3
#6 Share the Ride (3/1): Had a brutal trip last out in the Toboggan Stakes. He got stuck behind a brutally slow pace, where he had absolutely no chance to catch the top two. There's plenty of speed in here, so he'll have a big chance to employ his tactical kick.
#1 Laki (9/2): Hard-knocking Maryland-bred has encountered some traffic trouble in his last two races. He turned in a blazing bullet workout last week, signaling his readiness. If Karamanos can keep him in the clear, he'll make his presence felt late.
#2 Funny Guy (9/5): He's been excellent against New York-breds recently, and this is probably not a significantly tougher sport than some of those state-bred stakes. He was a bit sluggish in his first start off a brief break; looks for a bounce-back in his second start of the year.
RACE 9: MAIDEN SPECIAL WEIGHT, 3-YEAR-OLDS, 6 FURLONGS
4-1-3-6
#4 Hemp (8/5): He's been scratched twice since his solid third-place finish on debut, but he's had some good workouts since the most recent scratch. It's technically a jump in class for him, but this is not a strong maiden special weight field. As long as he can run back to his 75 figure on debut, he'll be tough.
#1 Imagine Hongkong (9/5): Closed well on debut to finish second behind Sue Loves Barbados, who came back to finish second in a n/w1x allowance next out. Looking for improvement from this one second time out.
#3 Flat Cat (4/1): Showed speed in his debut, after getting wagering action. He backed up late, but showing any signs of life on debut is a good sign for next time.
LATEST NEWS