LAUREL PARK PICKS AND PONDERINGS FEB. 12, 2021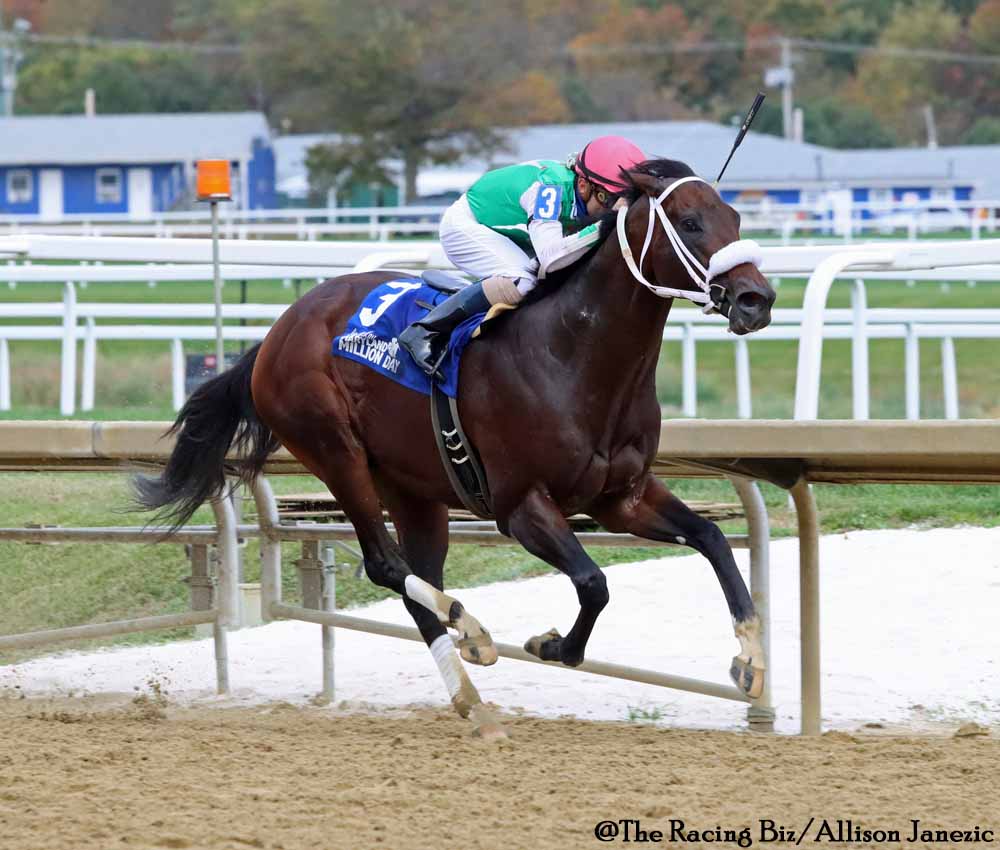 RACE 1: CLAIMING $16,000, 3-YEAR-OLDS, FILLIES, 6 FURLONGS
2-3-6-5
#2 Awfully Foxy (5/2): A winner of two in a row, including a win at this level last out. She closed well in that race, running wide off a mild pace for a narrow victory. Has shown rapid improvement in her last few, but profiles as a contender even if she takes a step back.
#3 Golden Moon Shine (9/2): Broke her maiden last out for a $10,000 tag. She showed tons of early speed in that race, opening up a clear lead and drawing away. In this spot, she looks fast enough compared to the others that she can get to the front and work a similar trip if she wants to.
#6 Quickstrike (6/1): Another recent maiden-breaker, she defeated several of her rivals here in her last spot. This'll be her first race since December 20, so she's coming in here a bit fresher than the rest. Tends to apply pace pressure and make her move, which could cause problems for Golden Moon Shine.
RACE 2: MAIDEN CLAIMING $10,000, 3-YEAR-OLDS, 1 MILE
4-2-5-3
#4 Goldie's Boy (3/1): Showed improvement second time out. He engaged in a slow-pace duel, then finished second to his dueling partner. His brisnet figure of 64 represents a nine-point improvement from his debut, and is the second-best last-out figure in the race. Stretches out to a mile from seven furlongs, but there isn't much in that effort to suggest that he can't go longer. Alex Crispin gets aboard for the first time.
#2 Pat's Factor (4/1): He was made the favorite in his debut, in a $16,000 maiden claiming race where he was one of two firsters. He got hung wide the whole way off an unfavorable pace, and didn't do much from there. Looks for some improvement second out against weaker.
#5 Manklin Creek (9/5): He's earned some relatively fast figures, including a strong number of 68 against better last out. None of those races have been visually impressive efforts, but this may be a field soft enough for him to beat. Has a good shot, but I don't know about him at 9/5.
RACE 3: CLAIMING $16,000 (N/W3L), 4-YEAR-OLDS AND UP, FILLIES AND MARES, 6 1/2 FURLONGS
10-1-4-2
#10 Stay Out (3/1): Surged and just missed in her last race, which was her third off the layoff and against similar types. Two back, she made a premature move and opened up a clear lead, only to get caught late. She's going to get hung wide off the pace here, but she has enough of a closing punch that she should still be a factor late.
#1 Promenade Princess (6/1): Got up in a n/w2L race two back, then was outclassed against Maryland-bred allowance foes last out. This is her first try at this level. Should enjoy a good trip rating on the inside.
#4 Catch the Sky (12/1): She's won two of her last three races, both of them earned with figures of at least 75. She also made strong brushes to the lead in both of those efforts. Goes first off the claim for Hugh McMahon, and runs for the first time since December 20. Worth a shot at long odds.
RACE 4: ALLOWANCE OPTIONAL CLAIMING (N/W1X), 3-YEAR-OLDS, FILLIES, 6 FURLONGS
1-2-6-5
#1 Kewpie Doll (7/2): Closed strongly to win at this level going 6 1/2 furlongs two races back. Last out, she ran on to finish second in a 5 1/2 furlong contest. She tried to chase down a loose leader who set an comfortable pace, while outfinishing the well-supported Lambeau Lady. Stretching back out should serve her well.
#2 Paradise Song (9/5): Of course, this one might end up getting loose on the lead. She blew the field away in her first start off the layoff last out, running a career-best figure by 27 points. Julian Pimentel will almost certainly be sending.
#6 Not On My Watch (3/1): Part of a pair for trainer Brittany Russell. This one looked much the best on paper last out, and ran like it, drawing off a 4 3/4-length win with a career-best figure. This is the toughest field she's faced by a lot, but she should get the trip, at least.
RACE 5: CLAIMING $5,000 (CONDITIONED), 4-YEAR-OLDS AND UP, 5 1/2 FURLONGS
2-8-11-4
#2 Smart Step (4/1): Made a premature move into the teeth of a very fast pace last out, and unsurprisingly didn't have much left in the last eighth. Showed improvement in that race, which was his second race off the layoff, and steadily ran figures in the upper 80s last year. If he goes back to his old form, he's going to be too much for these.
#8 Revolutionary Road (8/1): That last race might spook bettors, but I'm not overly concerned. It was at 1 1/16 miles, and he runs much better at shorter distances. This is also a pretty big class drop. In his last race at this distance, he ran against open $12,500 claimers.
#11 Big Hambone (10/1): Lasted on the lead in a tough duel last out, clearing his n/w3L condition in a game effort. He has lots of early speed, and will be a factor in the early stages.
RACE 6: MAIDEN CLAIMING $40,000, 3-YEAR-OLDS, FILLIES, 6 FURLONGS
2-8-12-3
#2 No Chance Given (7/2): If Not On My Watch wins earlier in the day, it might help this one's case. This Mike Trombetta trainee debuted against similar last out, broke awkwardly, and ran on for third. With a clean break, she should improve second out. If she does, the rest of these are in trouble.
#8 Vanquisher (8/1): A first-timer for the Cal Lynch barn, she's been working well, for a barn that can connect with their debuters. Alex Crispin gets the call for the first outing. I'm interested to see the board; 8/1 seems a little high for a horse like this.
#12 Sudsy (12/1): Tim Woolley firster has been throwing down bullets in the morning. The outside post doesn't do her many favors, though. Still, it's not a great field. Another one where you can watch the board and make up your mind.
RACE 7: ALLOWANCE OPTIONAL CLAIMING (N/W1X), 3-YEAR-OLDS, 6 FURLONGS
6-7-4-2
#6 Excellorator (9/2): A winner of two in a row in New York, he ships down to race in his home state for the first time. He won a good stretch battle last out against starter allowance horses to earn a lifetime top figure. Should find this group to his liking.
#7 The Wolfman (7/2): Broke his maiden in impressive style two back, then ran a big race to finish fourth in the Heft Stakes. Gets lasix for the first time in his 3-year-old debut.
#4 It's Sizzling Time (6/1): One thing's for sure: if you bet him you're going to see him on the lead. He's won his last two in gate-to-wire style. Last out, he set the pace against a field similar to this one, and he blew the doors off the group. How far will his speed take him this time?
RACE 8: ALLOWANCE (N/W1X), 4-YEAR-OLDS AND UP, 1 MILE
5-2-10-9
#5 Prince James (3/1): His local debut last out was a big one. He set a fast pace, sent anyone else close to it into sound defeat, and held well to finish second. It was also his first start off a two-month break; he's coming in here with about six week's rest. Looms very large.
#2 Absolved (6/1): Runs about the same race every time. His mid-80s figures are good enough for a exotics spot, but I'm not sure if they're good enough to win. Perhaps the stretch-out will help.
#10 Gentleman Joe (8/5): He's going to get a lot of money, and won't deserve most of it. He's hit the board four times in a row at this level, without winning once. He always looks like he's going to win late, but flattens out. It's possible cutting back around one turn will help, but I wouldn't take low odds.
RACE 9: CLAIMING $5,000 (N/W3L), 4-YEAR-OLDS AND UP, 7 FURLONGS
6-13-2-3
#6 Boss Life (10/1): The 12th time was the charm for him last out, as he begins to round back into career-best form. Worth a shot if he goes off near his morning line.
#13 Two Doors Down (12/1): Another recent maiden-breaker, this is his third start against winners. He was forced to check his way out of the race last out against better. Things could go well with a cleaner trip, thought the outside post doesn't do him much good.
#2 Fine N Dandy (10/1): Cuts back from a string of two-turn races in Pennsylvania. He's shown speed and faded in a lot of those races; will the shorter distance help here?
LATEST NEWS