LAUREL PARK PICKS AND PONDERINGS FEB. 5, 2021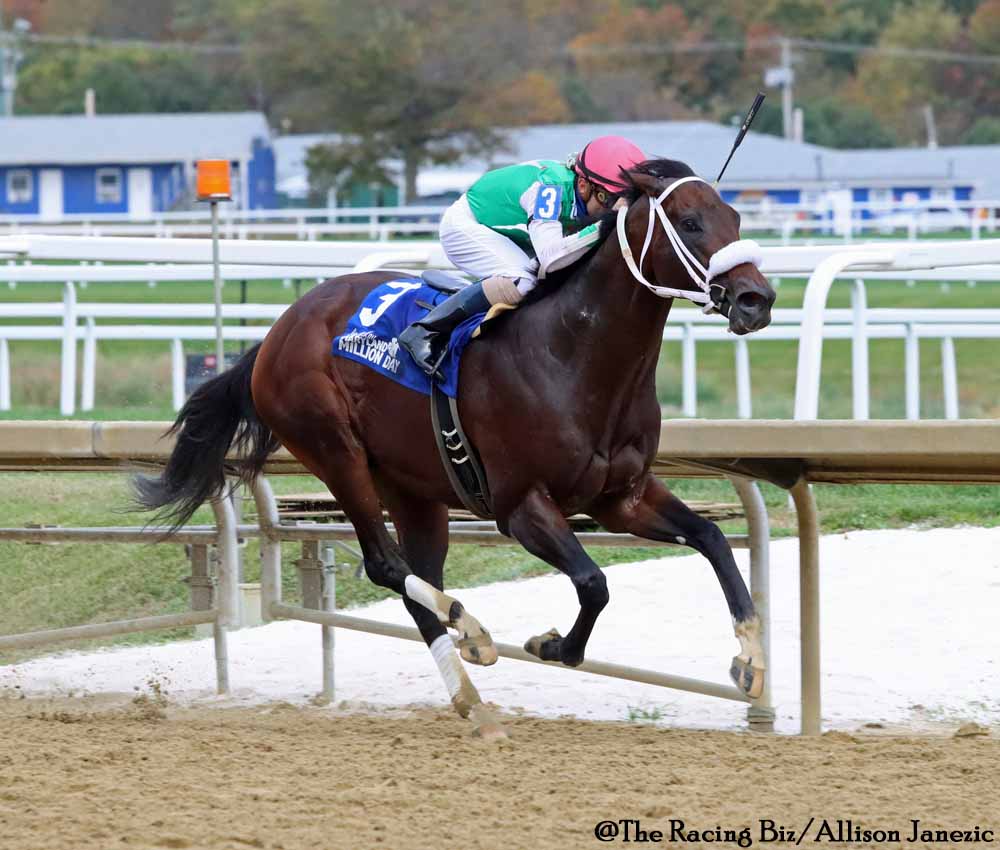 RACE 1: MAIDEN CLAIMING $10,000, 4-YEAR-OLDS AND 5-YEAR-OLDS, FILLIES AND MARES, 1 MILE
5-6-4-7
#5 Top Hat Boss (3/1): She raced well at this level at Woodbine last year, running a brisnet figure of 72 in her last start north of the border. In two races against slightly better, she backed up after wide trips. Gets a major jockey upgrade here, to Alex Crispin. I don't know if she can go this far, but she's worth a look, as she's shown some potential, and is going third off the layoff, to boot.
#6 Walk It Out Nanny (8/5): Has encountered trouble at the start three times in a row, but has recovered to run increasingly better figures. In her last start, against a very similar field, she led briefly in the stretch after a sharp wide rally, but was caught in the last eighth.
#4 Moonlight Miss (2/1): Runs second off the layoff and drops for a career-low tag. She got a great trip in her last start, stalking the pace on the outside, but flattened out. Even though it's a class drop, she'll have to run on better if she finds herself in a similar spot.
RACE 2: CLAIMING $5,000, 4-YEAR-OLDS AND UP, 1 1/16 MILES
5-2-4-3
#5 Indian Ghost (7/2): Makes just his second start since September 24 in this spot. Over the summer, he won three of four against conditioned types, getting good stalking trips and running on well in the stretch. When he tried open company last out, it was his first start in more than two months, and he showed little. In that race, he was on the pace; usually, he likes to sit just a little bit off it. He's also reunited with Charlie Marquez, who rode him to some of those wins.
#2 Brutus (7/5): Looks for a bounce-back performance, after a dull effort in his first race off the layoff at Charles Town. Prior to that, he ran four straight figures in the 80s, including a pace-aided win against $12,500 horses. He has early speed and a good draw; could be dangerous if he's back to his old self.
#4 Empty Nester (7/2): Another one making his second start off the layoff. He rated off a runaway leader in his last race, but couldn't take advantage when that rival came back to the field. Earned figures of 80 and 79 last fall before going on the bench. He ran a similar number last out, and while I'm out sure I trust it, given the funky way the race unfolded, he definitely has it in him to improve second time out.
RACE 3: STARTER OPTIONAL CLAIMING $25,000, 4-YEAR-OLDS AND UP, 5 1/2 FURLONGS
1-4-5-6
#1 Tonka Flower (5/2): Ran a gutsy race at Penn National last out. He dueled with Trifor Gold, a solid allowance-class runner around these parts, almost the whole way, and lost to him by a head. Two races back, he broke slowly, was rushed up, and still almost hung on. He has plenty of early speed, and a good draw from which he can control the pace. The last time he was left alone on the lead, he drew off for a six-length win.
#4 Tip for Tap (7/2): Another Penn National invader, he ran a career-best figure of 86 last out, after a flat trip against slightly better. He's steadily run figures in the 80s in the past. Trainer Mark Reid is 27% second off the bench.
#5 Point Driven (5/1): He's taking a big jump in class, for sure, having just won a n/w2L claiming race. However, he won it impressively, drawing off after coming from far behind. Carlos Mancilla claimed him out of that race, and keeps Horacio Karamanos aboard. Looks like the kind who's rounding into career-best form at the right time.
RACE 4: MAIDEN CLAIMING $25,000, 3-YEAR-OLDS, 5 1/2 FURLONGS
7-8-4-6
#7 Portal One (2/1): Chased a well-meant firster all the way around last out, but outfinished the others to finish second in a career-best effort. Has two bullet workouts this year, getting ready for his first start since December 9.
#8 Zip the Lip (12/1): Showed some promise in his dirt debut back in September. He set the pace while being pressured, and held on for third behind two rivals who got great stalking trips. He went on the sidelines following an ambitious appearance in the First State Dash, but he's back here. I don't know how he'll do first off the bench, but he's worth a shot at his likely odds.
#4 Stretch the Truth (8/5): Of course, if Zip the Lip wants to get to the lead, he'll have to outrun this guy. Since joining the Claudio Gonzalez barn, he's been on two speed missions. He's opened up clear leads on the rest, only to get caught late. Can he finally finish the job here?
RACE 5: CLAIMING $5,000 (CONDITIONED), 4-YEAR-OLDS AND UP, FILLIES AND MARES, 5 1/2 FURLONGS
8-5-2-4
#8 Splendor Gal (5/2): Recovered after a bad break to get in a dead heat for second in her last race. Usually, she's more forwardly placed, which has enabled her to get a lot of checks in her last few races. She's broken badly in two of her last three, in fact, but with a clean break here, she's in with a big shot.
#5 Calypso Ghost (3/1): She was out of her element in her last race, going long against tougher horses than she's accustomed to. She did win going a mile two back, but was gasping for air in the stretch, and just barely held on. Her best figures have generally been earned going shorter.
#2 Parched Ghost (12/1): Closed strongly to win a n/w3L claiming race last out, winning going away with a wide move. Her figures are cut below those of the main contenders, but she has good late pace figures, and looks like she's rounding into career-best form. A good horse to use underneath.
RACE 6: MAIDEN CLAIMING $16,000, 3-YEAR-OLDS, FILLIES, 1 MILE
1-2-3-5
#1 Baby Melissa (2/1): She's run at least a 65 in each of her two starts, something that the rest of the field has struggled to do even once. Comes out of a $40,000 race, her first local try, where she moved up after a bad break and flattened out. Should have an easier time of things here.
#2 Love is Strong (6/1): Earned a career-best figure of 65 two races back, then made a menacing move last out before flattening out. Cuts back from 1 1/16 miles in this spot. Based on her recent races, a one-mile race could be just what she needs.
#3 Writtenbythestars (5/1): Her only bad race came around two turns, at Parx. Finished a solid third when going 6 1/2 furlongs last out. Is she best at one turn, or is even a mile too far? We'll find out here.
RACE 7: STARTER OPTIONAL CLAIMING $25,000, 4-YEAR-OLDS AND UP, FILLIES AND MARES, 6 FURLONGS
6-3-7-1A
#6 Conjecture (5/2): She enjoyed success against these types towards the end of last year. Drops out of a tough n/w2x allowance, where she was hung wide and flattened out. As such, I'm inclined to toss her relatively poor figure. Her mid 80s/low 90s numbers from last fall are good enough to win this one.
#3 Paisley Singing (7/2): A winner of two in a row, and she lost by just a neck three races back. She's been on fast paces and battled in the stretch, and has enough speed to get to the front in this field if she wants to.
#7 Foggy Dreams (6/1): Ships back from Charles Town, after facing tough field and showing little. She does her best racing over this track, rattling off three straight figures in the 80s before her West Virginia venture. Should rate in mid-pack and make a big run entering the stretch.
RACE 8: ALLOWANCE (N/W1X), 4-YEAR-OLDS AND UP, MD-BRED, 1 MILE
5-2-3-4
#5 Toy (3/1): I was anticipating a much-improved effort last time, and he gave it. He closed well for second, improving his figure nine points from his first race off the bench. Cuts back from 1 1/16 miles here. It wouldn't surprise me to see another career-best figure here.
#2 Girls Love Me (9/5): Showed some guts in his last race, holding off Air Token for a hard-fought neck win, earning a figure of 95. He's shown plenty of early speed at this distance, and will likely control the tempo in this spot.
#3 Mine Not Mine (6/1): Has a fairly similar profile to Toy. He made his first start off the layoff last out, in the same race as Toy. He ran a career-best figure of 87, while running on for third. With a race under his belt, and plenty of good figures and backclass in his past, he looms large if Brittany Russell has him ready.
RACE 9: CLAIMING $5,000 (N/W3L), 4-YEAR-OLDS AND UP, 6 1/2 FURLONGS
2-3-5-6
#2 Korczak (6/1): Stretched out around two turns against similar last out, and opened up a long lead before tiring. In this spot, he's one of the fastest horses in the early stages, and this time, he might not stop on the lead.
#3 Pascal Chant (2/1): Earned a career-best figure of 82 last out, in his first race off the layoff. He's consistently run figures in that range, and can definitely improve second off the break. Fair warning: he went off at 4/5 in that last race, and lost by a half-length. You'll probably get a similar price here.
#5 Extra Medium (5/2): He's run some big figures, and is dropping from the $10,000 level at the same condition. His only problem is that he doesn't have any early speed, and is riding a long losing streak while rallying and missing. A better candidate for the underneath spots.
LATEST NEWS