ON BREEDING: PAYNTER'S PRETTY PICTURES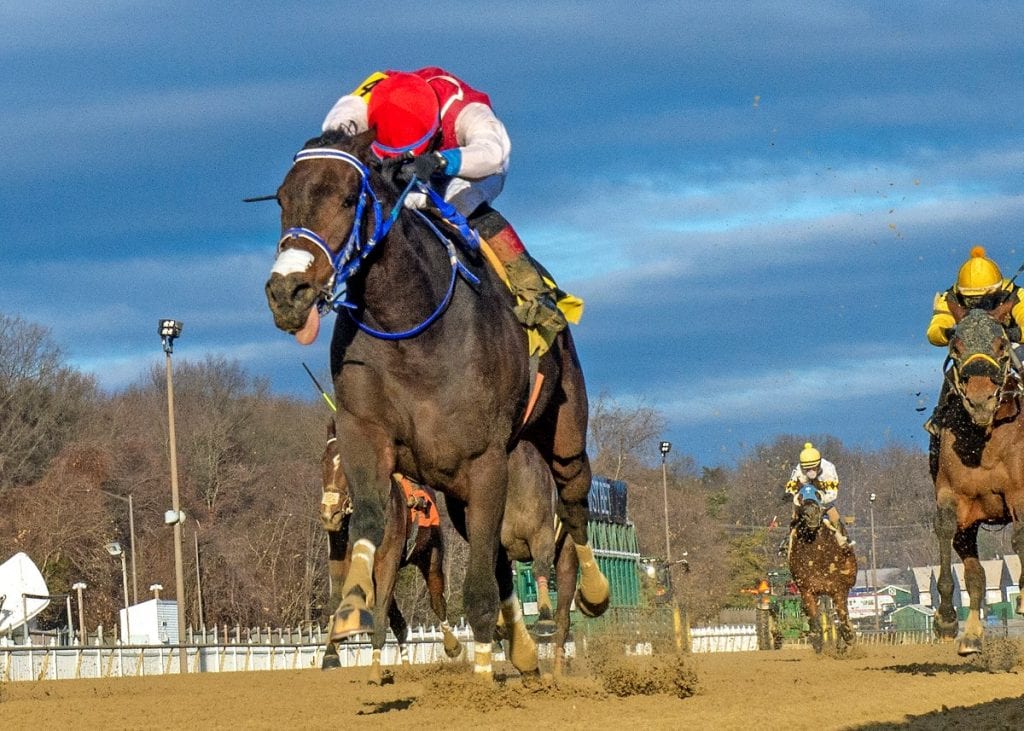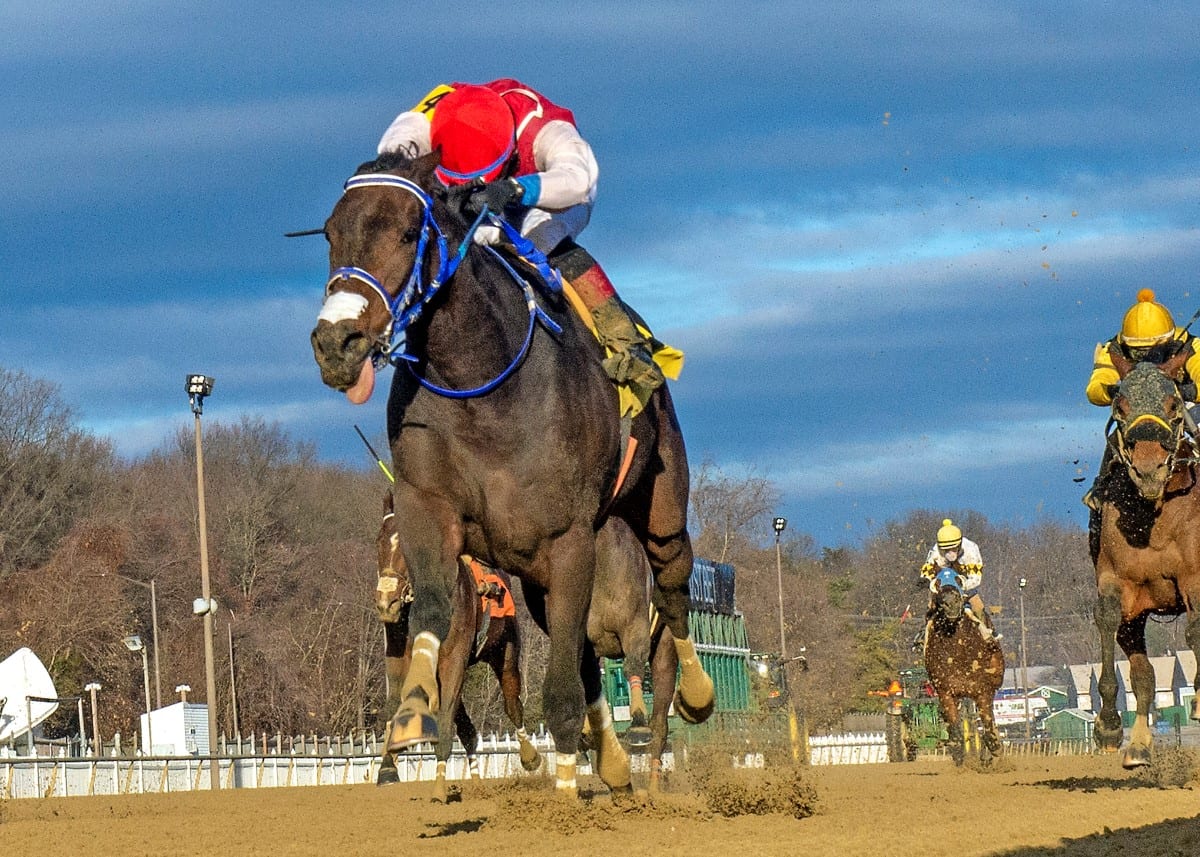 Linda Dougherty

February 4, 2021
A pair of Maryland-bred sons of Paynter found themselves at the top of the year-end poll conducted by Mid-Atlantic Thoroughbred and The Racing Biz. 
Paynter, who stands at WinStar Farm in Versailles, Kentucky, sired poll-topper Knicks Go, who won the Gr. 1 Breeders' Cup Dirt Mile for trainer Brad Cox and owner Korea Racing Authority.
The gray or roan, a five-year-old horse, was bred by Angie Moore of GreenMount Farm in Reistertown, Maryland, and most recently captured the Gr. 1, $3 million Pegasus World Cup Invitational Stakes at Gulfstream Park January 23, which boosted his career record to six wins from 18 starts, and $3,088,995.
Paynter also sired Harpers First Ride, a five-year-old gelding out of Polyester, by Tiz Wonderful, who was second in the poll. Bred in Maryland by Sagamore Farm and trained by Claudio Gonzalez for MCA Racing Stable LLC, Harpers First Ride won the Gr. 3 Pimlico Special and three additional stakes in 2020; lifetime, he's won 10 of 18 starts, with career earnings of $573,055.
As a racehorse, Paynter left his mark in the Mid-Atlantic region. In 2012, trainer Bob Baffert sent the son of Awesome Again to Monmouth Park and he scored a decisive victory in the Gr. 1 Haskell Invitational Stakes under Rafael Bejarano. Not long after the Haskell, however, the son of Awesome Again developed a severe case of colitis, which quickly led to laminitis, with the situation rapidly deteriorating to the point where he was not expected to survive.
Against the odds, though, Paynter not only survived but also returned to the track 11 months later, winning an allowance race in his first start back. He subsequently placed in the Gr. 1 Awesome Again Stakes, as well as the Gr. 2 San Diego Handicap. Along the way, his ordeal and recovery were followed by countless fans, thanks to the frequent Twitter updates posted by his owner, Ahmed Zayat.
When Paynter retired, he took to stud credentials that included four wins, a classic placing (second in the Gr. 1 Belmont Stakes) and earnings of $1,101,924. He also offers a stellar pedigree; he is out of a full sister to champion Tiznow.
C Z Rocket tops General George noms

C Z Rocket, a multiple graded stakes winner who was second in the Breeders' Cup Sprint, tops 36 nominations to the G3 General George at Laurel.
Paynter's stud fee was initially set at $25,000, and he served his first book of mares in 2014. The bay had caught the eye of veteran Maryland bloodstock agent Bill Reightler, who was searching for stallions for clients Angie Moore and her daughter Sabrina, then owners of the stakes-winning Outflanker mare Kosmo's Buddy. As a 3-year-old, Kosmo's Buddy captured the Maryland Million Turf Sprint Handicap and the Crank it Up Stakes at Monmouth. The Moores claimed her for $40,000 out of a race at Monmouth Park in 2010 in what would prove to be her penultimate start.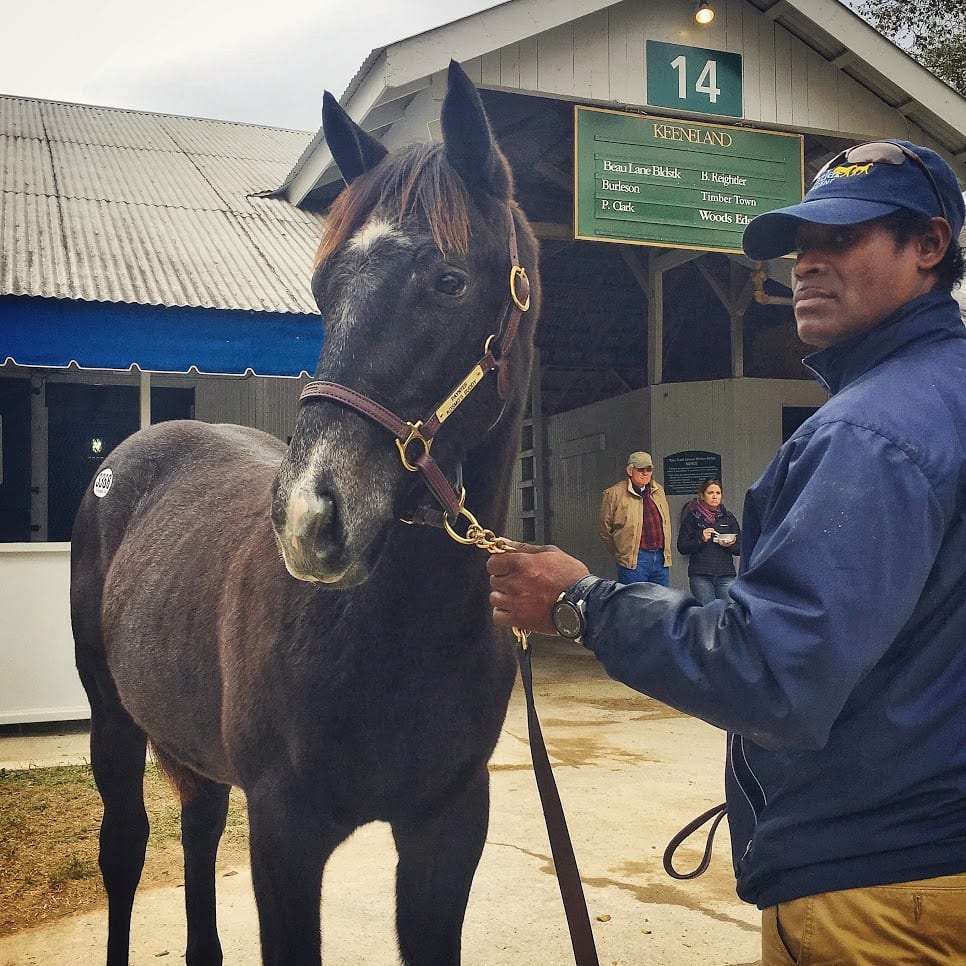 "It was more of a gut feeling than anything," said Reightler of his ultimate decision to recommend Paynter. "I also considered the nick and I looked for an individual that would complement the mare. I thought it would be a great match physically and pedigree-wise."
Reightler said that Kosmo's Buddy was an average-sized mare, but correct and powerfully built. Her sire, Maryland-based Outflanker, is a son of Danzig and known for siring hard-knocking, workmanlike horses, while her dam, Vaulted, was by another solid Maryland stallion, Allen's Prospect. As a broodmare sire, Allen's Prospect has sired the dams of 49 stakes winners of more than $58 million. So Reightler felt Kosmo's Buddy deserved to go to a stallion in the $25,000 range.
Knicks Go was foaled January 29, 2016. Reightler consigned him for GreenMount at the 2016 Keeneland November breeding stock sale. He was purchased by pinhooker Peter O'Callaghan under the name Northface Bloodstock for $40,000.
He sold again at the Keeneland September yearling sale for $87,000 to the Korea Racing Authority, whose representatives were looking for colts to race and then stand at stud.
"Peter commented that he wasn't that impressed with the majority of Paynter's progeny, but thought Knicks Go was very, very nice … he really liked him," said Reightler.
Reightler said that he ranks Knicks Go as the second-best horse he's ever sold during his many years as a consignor.            
"I would say Declan's Moon is my best," said Reightler of the Maryland-bred son of Malibu Moon, who was bred by Brice Ridgely and sold by Reightler at the 2003 Fasig-Tipton Midlantic Fall Yearling Sale for $125,000 to Jay Em Ess Stable. "He was an amazing young horse, voted that year's 2-year-old (Eclipse Award) champion." 
A peek at the pedigree of Harpers First Ride shows an interesting inbreeding experiment by Sagamore Farm.
In 2015, Sagamore sent their Tiz Wonderful mare, Polyester, to the court of Paynter, with Harpers First Ride foaled the following April.
With Tiz Wonderful being a son of Tiznow, and Paynter's dam Tizso being a full sister to Tiznow, Harpers First Ride is inbred 3S X 4D to both Cee's Tizzy and Cee's Song, the sire and dam of Tiznow and Tizso, respectively.
Read more of Linda Dougherty's On Breeding columns here.
Sagamore Farm bought Polyester, who is out of the Slew o' Gold mare No More Ironing, for $130,000 at the Fasig-Tipton July yearling sale, but she never raced. Harpers First Ride is her second foal. Sagamore subsequently sold Polyester, then in foal to Quality Road, for $90,000 at the 2018 Keeneland mixed sale.
Harpers First Ride debuted at 3 for Sagamore Farm and was claimed out of his third race for $30,000 in September, 2019. After concluding his outstanding 2020 season with a win in the Native Dancer Stakes at Laurel, he faced off against Knicks Go in the Pegasus World Cup but was eased down the lane, finishing last.
And despite the success of his two Maryland-bred sons, Paynter's stud fee at WinStar Farm is just $7,500 for 2021, making him even more of value for mare owners than when he stood for $25,000.
LATEST NEWS