LAUREL PARK PICKS AND PONDERINGS Feb. 4, 2021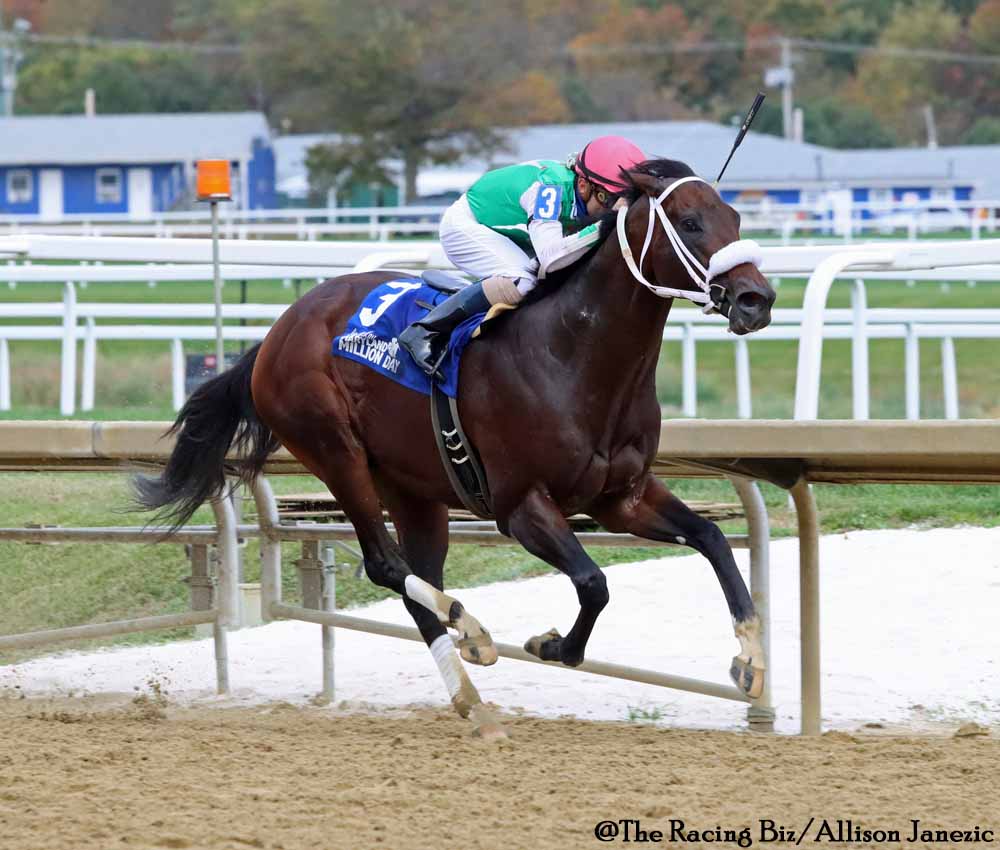 RACE 1: MAIDEN CLAIMING $40,000, 4-YEAR-OLDS AND 5-YEAR-OLDS, 6 FURLONGS
6-2-1-5
#6 Trustyourinstinct (4/5): Anthony Farrior had a rough start to 2021, and has two chances in here to begin his February on a winning note. This one has run a brisnet figure in the 80s in back-to-back races, just missing at this level last out. Farrior claimed him from Claudio Gonzalez in that race, and drops him into a soft spot. Looks to have these at his mercy.
#2 Distant Thunder (10/1): Lightly-raced gelding is very fast early on. Last out, he almost wired a cheaper field, but was caught in the last few strides. He's been running better in every start, and he just might run away and hide from this group.
#1 Chauffeur (9/2): In contrast, this one doesn't have any early speed at all. He was outkicked by Trustyourinstinct last out, but made a strong, albeit premature move, two races back. He's a good candidate to play underneath in exactas, but I'm not sure if he'll have enough to catch the leaders.
RACE 2: CLAIMING $10,000 (N/W2L), 4-YEAR-OLDS AND UP, 1 MILE
1-3-4-5
#1 Pay the Kid (2/1): His last race, his first at this level, was probably his best. Although he was well-beaten by favored Point Driven, he rallied well to win a photo for second. The only caveat is that he's stretching out to a mile, the distance at which he ran his worst race. Still, he's lightly-raced and showed improvement in his last race.
#3 Blue Sky Painter (5/1): Goes first off the claim for John Robb, off two straight gutsy efforts around two turns. He got stuck behind slow paces in those last two races, and was lucky to even be close at all in the end. He'll look for a quicker tempo in this one-turn affair.
#4 Catch Ya Later Bro (5/2): He's run a 70 in all but one of his nine career races, a mark that makes him a strong contender here. Missed in a photo to Pay the Kid last out, after encountering some traffic trouble in the stretch. In fact, he's had some trouble in his last few starts, but has run on well each time.
RACE 3: MAIDEN CLAIMING $10,000, 3-YEAR-OLDS, 5 1/2 FURLONGS
4-8-2-6
#4 Luxero (9/5): Showed major improvement in his last start, running on strongly after a rough trip to get third. I'm going to be interested to see how he does at this shorter distance. He's closed well before at seven furlongs and a mile, but this is a different ballgame.
#8 Moonzano (7/2): He ran a career-best figure last out, in a dramatic step forward from prior races. He was outgunned for the lead, chased, and ended up losing by less than three lengths. Without much established speed in the race, he should be able to get to the front without much trouble and set his own terms.
#2 White Nitro (4/1): Jonathan Nixon is quietly sharp with first-timers; he hits at 27% with horses on debut. This one has had a long, steady worktab, and gets a soft field for his debut.
RACE 4: CLAIMING $5,000, 4-YEAR-OLDS AND UP, FILLIES AND MARES, 6 1/2 FURLONGS
8-4-1A-2
#8 Introspection (9/5): A winner of three in a row against restricted company, she now takes the jump against open foes here. She has easily the best recent figures in the race, so the step up shouldn't hinder her too much. Her figure going 6 1/2 furlongs wasn't as high as some of her numbers going longer, but she still looms as a tough opponent.
#4 Blue Sky Venezuela (8/1): She had been running similar figures as Introspection, before a dull performance at this level last out. She got a tough trip in that race, getting hung wide most of the way. While her running style makes her susceptible to losing ground, she is drawn a few spots further inside, so she won't be as up against it.
#1A Polished Gal (6/1): Comes off a similar trip as Blue Sky Venezuela, when she got hung a little wider than she might have liked. Two back, she got a great stalking trip, and surged for a narrow win with a strong figure of 81. She'll look to get another journey like that here.
RACE 5: CLAIMING $5,000 (CONDITIONED), 4-YEAR-OLDS AND UP, 1 1/8 MILES
4-1-5-10
#4 Feature Act (7/2): Rode a three-race winning streak going into his last start, only to see it snapped with a third-place finish. He still ran a big race in defeat, however. He sat just off a very fast pace, where most of the horses who were near it stopped badly. In spite of that, he held on well in the stretch. That was in a seven-furlong race, and all of his wins have come going a mile or longer. He should get a comfortable setup in his one.
#1 Gotham News (6/1): Goes third off the layoff, after showing some sharp improvement second off the bench. He made a wide move after rating far behind early, and though he was no match for the runaway winner, he outfinished most of the others. At this time last year, his closing punch would win races; can he duplicate the magic here?
#5 Earned It (9/2): This'll be his second start off the layoff. In his first start off the bench, he got hung wide on both turns, and stopped. Although it wasn't a visually impressive race, he still earned a very good figure of 80, which was his best dirt figure in six months. He'll look to sit midpack and avoid getting stuck behind a potentially pokey pace.
RACE 6: CLAIMING $16,000 (N/W3L), 4-YEAR-OLDS AND UP, 1 MILE
1-2-9-6
#1 Tom Terrific (7/2): One of three in here who has never lost at this level. He's stepping down after a few tries against Maryland-bred allowance horses. He's closed well in all of his races, which were at six furlongs or shorter. It can be deceptive to think that horses who are good closers in sprints can stretch to a route, but he has consistently good speed figures, and it's worth a shot at the likely price that he can stretch out.
#2 Perpetrate (6/1): Needed every bit of the long one-mile stretch to win last out, but he got there in a three-horse photo. He's lightly-raced, making his second start off the layoff, and looks like he's rounding into career-best form.
#9 Bellarmine Hall (3/1): Two races back, this Ness trainee almost wired a starter optional claiming field, but was caught in the last few strides. Last out, he was wide almost the whole way after failing to get to the lead. He's shown the early speed needed to clear from the outside and get the lead, but worst-case scenario, it looks as if he can stalk in the two-path and pounce.
RACE 7: MAIDEN CLAIMING $40,000, 4-YEAR-OLDS AND 5-YEAR-OLDS, FILLIES AND MARES, 7 FURLONGS
8-7-3-6
#8 Fancy Princess (9/2): To get the full scope of her last race, you really have to take out Originally From Dot, who crushed the field by seventeen lengths. This one was well off the pace early, but showed plenty of closing speed and finished clear of the rest. It would've been better had Originally From Dot not disappointed as the big favorite the other day, but this nonetheless looks like a promising filly who can take a step forward third time out.
#7 Darling's Cure (8/5): She showed some life on debut last February, but got her teeth kicked in in her next three races. While it is her first race against maiden claimers, it's also her first race since July. She has plenty of upside, with figures that would be competitive against these, but would you take low odds on her?
#3 Golden Lassie (2/1): Has shown speed in her first two starts, but backed up both times. Has room to grow, and early speed is dangerous, but she won't be a good play if she goes off near her morning line.
RACE 8: STARTER OPTIONAL CLAIMING $25,000, 4-YEAR-OLDS AND UP, 6 FURLONGS
2-3-1-4
#2 Push to Start (8/5): Carved out some blazing fractions last out at this level, and still almost held on. When he set more moderate fractions two back, he won going away, with a figure of 87.
#3 Fugitive (5/2): The only member of the field to run a figure of least 80 in three straight races. After breaking his maiden at Charles Town as the heavy favorite, he's made big moves every time, but can't quite close the deal. He'll get first run at Push to Start turning for home. If that rival goes too fast, perhaps he can reel him in.
#1 Martini Lane (6/1): He doesn't like winning, but he sure does give his backers a thrill. In two out of his last four races, he made his move prematurely, and stopped after hitting the front. Goes first off the claim for Hugh McMahon, and a new jockey in Charlie Marquez, as Crispin jumps ship.
RACE 9: MAIDEN CLAIMING $25,000, 4-YEAR-OLDS AND 5-YEAR-OLDS, 6 FURLONGS
4-6-7-3
#4 Tracer (4/1): This Ben Perkins Jr firster has been throwing down some bullets in the morning, most recently going three furlongs in a sharp 36 4/5 seconds. It's a bold step picking a debuter in a race full of horses with experience, but if anyone is going to win at first asking, it's this guy in this field.
#6 Mr Mims (3/1): I can't blame him too much for stopping in the stretch last out, considering it was his first race in 20 months. He still broke well, gave himself a good trip, and just missed. Should improve with the race under his belt.
#7 Magic Mule (2/1): Showed speed and faded going a mile, then showed speed and faded going seven furlongs. He's run his best figures at shorter distances. Cutting back should help.
LATEST NEWS