LAUREL PARK PICKS AND PONDERINGS JAN. 30, 2021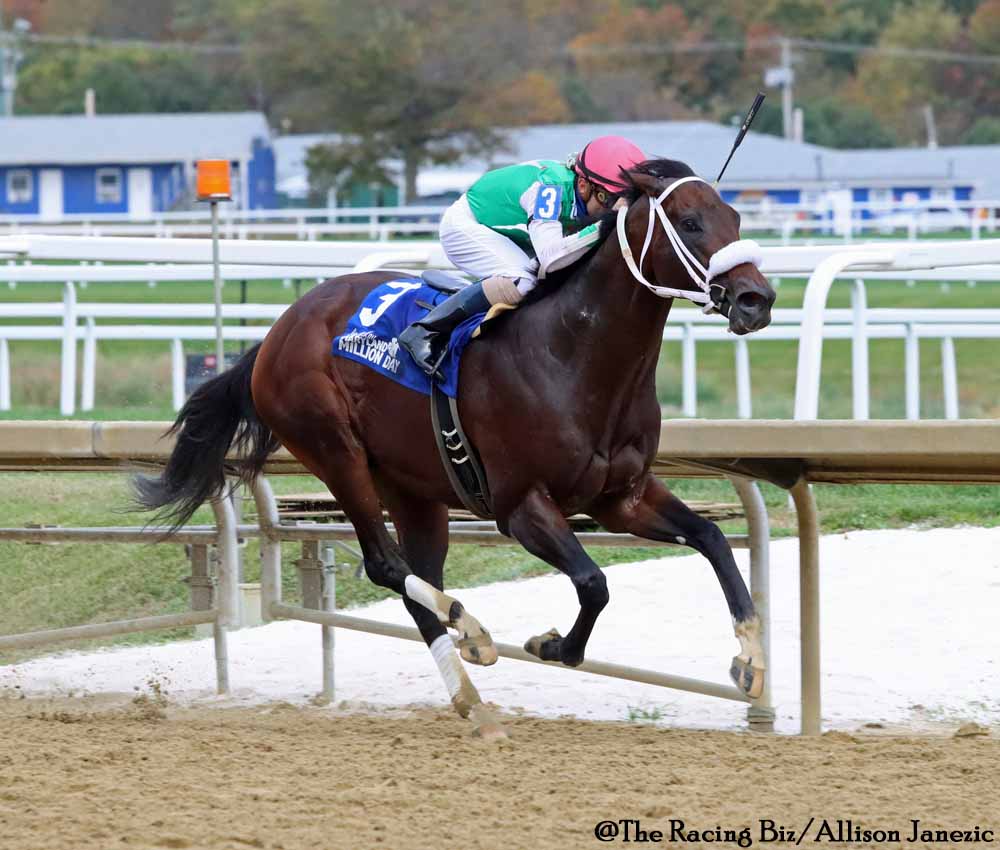 RACE 1: CLAIMING $10,000 (N/W2L), 4-YEAR-OLDS AND UP, 5 1/2 FURLONGS
9-3-2-4
#9 Commissioner Biggs (8/5): Moved forward in his second race off the layoff, closing with a wide sweep to lose by less than a length in his first race against winners. He's dropping from the $16,000 level here. Without a race at that condition coming up in the near-future, Brittany Russell has elected to race him here, just to keep him fresh. That can be interpreted positively.
#3 Whats the Chances (6/1): I would've liked to see him move forward in his last race, but he stopped late after opening up a clear lead. Ricardo d'Angelo, who hits at 29% first off the claim, took him out of that race, and puts Alex Crispin back in the saddle. He's going to sit his usual good trip, but can he finish his move this time?
#2 I'd Like to Know (5/1): In his last race, which was his first in more than two months, he stopped badly after setting the pace, since then, he's had a strong four-furlong workout, and drops into a spot where's he's clearly the fastest one early.
RACE 2: CLAIMING $12,500, 4-YEAR-OLDS AND UP, FILLIES AND MARES, 6 FURLONGS
3-5-6-4
#3 Vibrancy (3/1): In her first start for the Brittany Russell barn, she stalked the pace and drew off to a 3 1/2-length win, with a career-best brisnet figure of 80. There's lots of speed in here, so I'll look for her to once again sit the good stalking trip.
#5 Mary's Jewel (5/2): Went to Charles Town last out for a little confidence booster, and won a n/w1x allowance handily. She's experienced success over this track, finishing in the top two in eight of her fifteen races here, but was tailing off before going to West Virginia. After that win, she was given a bit of a break, and turned in a bullet workout in preparation for this spot. Should be ready to fire a big one.
#6 I Love You (7/2): Always the bridesmaid, but never the bride. She's hit the board in her last six races, without winning. As noted above, there's a lot of speed in here, so maybe this race falls into her lap.
RACE 3: MAIDEN CLAIMING $10,000, 3-YEAR-OLDS, FILLIES, 5 1/2 FURLONGS
8-7-1-3
#8 Empty Pockets (6/1): Got some action in her debut, which came for a $25,000 tag. Unfortunately for her backers, she did squat in that race. She's a second-timer for Claudio Gonzalez, and has never lost at the level. Worth a shot if the price is right.
#7 Pond Hockey (5/1): Showed some mild improvement second time out, improving her figure five points while racing for a $16,000 tag. Has had good workouts since and adds Crispin. Another one worth a flyer.
#1 Stop Talking (8/1): The only one in here with brisnet figures of at least 60 in each of her last two races. Those races have come at Charles Town, and she closed fairly well in both of them. I'm interested how she does here, as she hasn't run as well on big tracks in the past.
RACE 4: STARTER OPTIONAL CLAIMING $16,000, 4-YEAR-OLDS AND UP, 5 1/2 FURLONGS
5-3-6-1
#5 Nomo Ron (5/2): Won his last start impressively, beating some of the rivals he'll have to face here. His only disappointing race within his last six came two back, when he was out of his element while on the lead. That was the only time in his last four Sheldon Russell didn't ride him; he gets back aboard now.
#3 Phantom Ro (6/1): On one hand, he's definitely better than his poor last race. On the other hand, he absolutely should've won two races back, but fell flat. He has blazing speed towards the inside, and was in excellent form last fall. If you still believe, you'll get the right price.
#6 Baptize the Boy (6/1): Went off as the heavy favorite against Nomo Ron last out, and led late only to flatten out in the last sixteenth. Another one who keeps knocking on the door without winning. Still a strong exotics contender.
RACE 5: STARTER OPTIONAL CLAMING $25,000, 4-YEAR-OLDS AND UP, FILLIES AND MARES, 6 FURLONGS
4-3-5-9
#4 Originally From Dot (8/5): The fact that she won last out wasn't a surprise, but the way she did was. She destroyed the field by seventeen lengths, with a huge figure of 92. She doesn't have to run that well to win this race, but she's already shown lots of upside. Will be tough.
#3 Margie's Heaven (5/1): She's had a little time off since her disappointing last race, where she got hung wide on the pace and flattened out. Now, she's drawn a bit further to the inside, and will certainly be a factor on the pace.
#5 Castilleja (10/1): Broke her maiden with a solid figure of 80 two races back, then closed well for third in her fist race against winners. Could make the exotics interesting at a decent price.
RACE 6: CLAIMING $5,000 (N/W2L), 4-YEAR-OLDS AND UP, FILLIES AND MARES, 6 FURLONGS
3-2-4-6
#3 Scamper Along (5/1): Her first start against winners last out was a sharp one, as she ran onw ell in the stretch to lose by less than a length. Her figure of 69 is the second-best of her career, the 72 she earned two back breaking her maiden is the best. Looks to keep improving.
#2 Cougar Vision (8/1): Exits the same race as Scamper Along, and was beaten a nose in that race while making a similar rally. She's also lightly-raced, and is making her third start off the layoff.
#4 Keeper in Spite (8/1): Drops for a career-low tag, after showing speed and fading in her last start against $10,000 horses. She'll look to keep things going against weaker.
RACE 7: ALLOWANCE OPTIONAL CLAIMING (N/W1X), 3-YEAR-OLDS, 1 MILE
4-2-3-7
#4 Shackled Love (3/1): Was well-beaten by Royal Number last out at 1 1/16 miles, but was well-clear of the rest. He's earned at least an 80 in three of his four career races. I'm interested to see how he does at a one-turn mile; this'll be his first time trying this distance.
#2 Boss Logic (10/1): That last race, where he was soundly beaten, might spook some bettors. However, his race two back, where he crushed a claiming field with a huge figure of 88, gives me plenty of confidence. Worth a look as a value play.
#3 Nobody Knew (5/2): He got the trip he wanted in the Spectacular Bid Stakes, but couldn't get by and flattened out. He's run some huge races in sprints, but how will he do going a mile?
RACE 8: ALLOWANCE OPTIONAL CLAIMING (N/W3X), 4-YEAR-OLDS AND UP, 1 MILE
1-6-7-3
#1 Nottoway (2/1): He was making his first start off a long break last out, but you'd never know it by watching him run. He crushed a n/w2x field by seven lengths, with a giant figure of 103. That figure is a big outlier from his other races, so it's hard to tell if can duplicate it. Still, he's got the race under his belt and speed from the inside.
#6 Zabracadabra (5/2): A stakes horse in the making? He's rapidly climbed his way up the class ladder, handily beating a n/w2x field in gate-to-wire fashion last out. Should challenge Nottoway for the lead from the outside. If he can outrun him, he can establish firm control of this field.
#7 My Friends Beer (6/1): He made what looked like a solid move in the Jennings Stakes, only to flatten out in the last eighth. Takes a slight class drop here, and goes third off the layoff. He can spoil some exotic tickets if he keeps improving.
RACE 9: CLAIMING $10,000 (N/W3L), 4-YEAR-OLDS AND UP, 1 1/16 MILES
4-7-5-1
#4 Ortinola (9/5): Received a brief freshening after a big race last out, where she surged to miss by a head. Although she's had trouble winning at the level, this is not a strong field. Has the right to run a big one.
#7 Victory Time (8/1): The post draw isn't ideal with the short run into the first turn, but she has lots of early speed, and two gate-to-wire wins around two turns on her lines. Wouldn't be surprising at all to see her wire them.
#5 Olive's Bumpa (3/1): Goes second off the layoff and off the claim for Anthony Farrior. Steadily runs figures in the low 70s, and has good late pace figures.
LATEST NEWS