LAUREL PARK PICKS AND PONDERINGS JAN. 24, 2021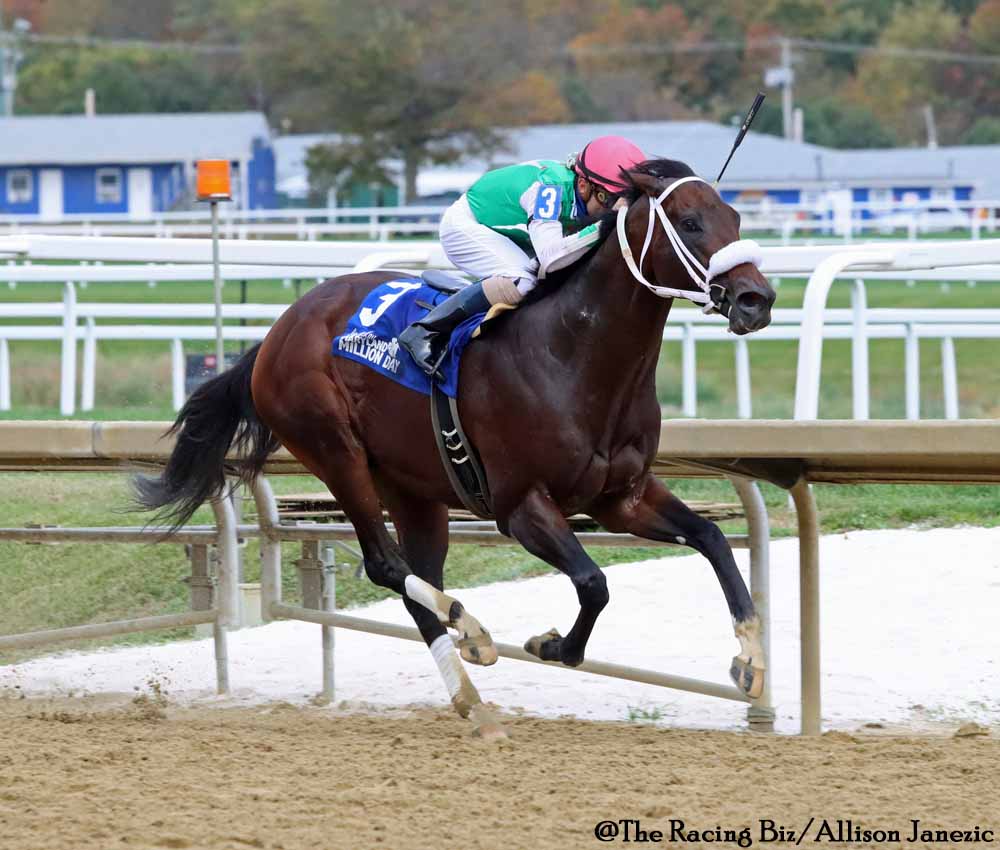 RACE 1: MAIDEN SPECIAL WEIGHT, 3-YEAR-OLDS, FILLIES, 1 MILE
1-4-6-5
#1 Heartful (9/2): She's been ambitiously placed so far. Two of her three races have been against stakes company. She got blown out in both of them, though she showed some mild foot in her debut, the Maryland Million Lassie. Catches a maiden field fraught with questions, and has at least closed well in most of her starts so far.
#4 Casanova Queen (10/1): The wild-card of this group. She showed speed in her debut at Turfway Park, a race where she got plenty of wagering action. However, she showed almost a little too much speed, and got hung wide in a duel. As such, she stopped badly. In this race, she takes the blinkers off and should be allowed to settle and get a moderate tempo.
#6 Our Bella Nicole (9/5): She's circling around, having hit the board in her last four races. Showed some mild punch to finish second at similar conditions last out, running her usual brisnet figure of 69. Can she take the next step here? She hasn't really been moving forward in her last few, so she'll have to hope her rivals are no good.
RACE 2: CLAIMING $16,000 (N/W3L), 4-YEAR-OLDS AND UP, FILLIES AND MARES, 6 FURLONGS
5-1-3-7
#5 Cairo Queen (5/2): Finally cleared her n/w2L condition four races back, and has been running some big races at this level without a win. Claudio Gonzalez claimed her out of her last race. Will that put her over the top?
#1 Had the Notion (4/1): She finally put it together two races back, closing from behind for a strong n/w2L win. Her people got a little excitable, and stepped her up to starter optional claiming company next out off a six-week break. While her performance was visually dull, she earned a figure of 75 in that race, which makes her a serious contender in a race like this.
#3 Stay Out (8/5): This is the kind of horse I usually don't like betting: a speedy horse who always tires late at low odds. However, yesterday, a few horses who usually stop like that held on for victory. Will she follow in their footsteps?
RACE 3: MAIDEN CLAIMING $16,000, 3-YEAR-OLDS, FILLIES, 6 1/2 FURLONGS
6-1A-7-4
#6 She's All Courage (5/2): Showed some improvement second time out. She chased two horses much better than anyone in here, and ended up a solid third, with a figure of 65. That's the best last-out number in here by eight points.
#1A Aprilness (5/2): She had to work harder than ever before on the lead in her last race, but held well until the last eighth. As noted, horses with speed did fairly well yesterday, so if the trend continues, she'll be tough on the front end.
#7 Sick Pack Sara (2/1): Keeps dropping down the class ladder, and this is a career-low price. Made a mild move in her last race after some early trouble; always an encouraging sign. Gets a jockey upgrade to Charlie Marquez.
RACE 4: ALLOWANCE (N/W1X), 4-YEAR-OLDS AND UP, 5 1/2 FURLONGS
1-5-4-7
#1 Russeldoingthings (3/1): He started off his career on a promising note, with some big figures and a win at this level against Maryland-breds. Loomed pretty boldly in his last race at this level, but flattened out. This is a softer field than what he saw last time, and will look for a rebound in this spot.
#5 Ziggy Mon (2/1): Showed blazing speed two back, in his first race off a sizable layoff, and held on to win with a figure of 93. He looked home free in his last start at Parx, going 6 1/2 furlongs, but stopped cold in the last eighth. Cuts back by a furlong here, which should help the cause.
#4 Abuelo Paps (4/1): Finished third at the level last out, after encountering some traffic trouble. Doesn't have much early speed, but a good closing kick. That explains his career record, which includes ten in-the-money finishes with just one win.
RACE 5: CLAIMING $5,000, 4-YEAR-OLDS AND UP, 6 1/2 FURLONGS
1-7-6-2
#1 Easy River (8/1): Races second off the layoff, after a dull effort in his first race back. He ran some figures in the 80s over the summer, before going on the sidelines. Looks recover that form here, with a race under his belt.
#7 Glengar (2/1): A winner of three of his last four, he was taken out of his last race by Anthony Farrior. This one's been in fantastic form as of late, with steadily good figures, and a constant change in running styles. Looms as a serious contender.
#6 Big Boots (7/2): Another very steady type. He's won two of his last three, and got nipped late at Charles Town last out by the hard-knocker Sound Off. This one had been closing better at Charles Town than here, but his people have elected to ship him back over the big track.
RACE 6: MAIDEN CLAIMING $40,000, 3-YEAR-OLDS, FILLIES, 5 1/2 FURLONGS
6-3-9-7
#6 Not On My Watch (7/5): She's taken giant steps forward in each of her three starts. Had the lead late in her last start, but was run down. Still, she improved her figure by eight points, running a 73.
#3 Run Laura Run (10/1): Drops back for a tag, after trying straight maidens at Parx last out. She's got the best early speed figures in the field, and will look to control things up front here.
#9 Mosler's Touch (5/1): Mike Trombetta firster has shown an improving recent worktab. Most recently, she drilled four furlongs in a sharp 48 2/5 seconds. As usual, the betting board will tell the story.
RACE 7: ALLOWANCE OPTIONAL CLAIMING (N/W1X), 3-YEAR-OLDS, FILLIES, 5 1/2 FURLONGS
3-1-6-4
#3 Lambeau Lady (3/5): She was bet like a good thing on debut, going off at 4/5 in her first start. The money was right, as she crushed the field in gate-to-wire fashion. This is a pretty soft group here, so she should once again crush them.
#1 Kewpie Doll (3/1): Closed from way out of it to get a win at this level in her most recent try, just missing her career high figure with an 82. She'll have to improve a bit to match the 85 earned by Lambeau Lady in her debut, but this one nonetheless looms as a contender.
#6 Violentiam (15/1): New York invader went gate-to-wire to break her maiden up there, now ships down here for new trainer Karl Grusmark. Should once again be prominent on the early pace.
RACE 8: ALLOWANCE OPTIONAL CLAIMING (N/W3X), 4-YEAR-OLDS AND UP, 5 1/2 FURLONGS
5-3-6-1
#5 Stroll Smokin (2/1): He was impressive in victory last out, fending off a tough n/w2x field to win on the lead. He's had to duel in each of his last few, but he's shown the tenacity needed to win this race on many occasions.
#3 Charge to Victory (3/1): Drops back to allowance company after a pair of stakes tries. He outdueled Stroll Smokin three races back, and left him in the dust. That bodes well for this spot.
#6 Always Sunshine (9/5): Goes out for the first time in more than year. He won a stakes at Mountaineer in his last race, back in August 2019. Recent workouts have been good, but I don't know if I'd want him at low odds first off the bench.
RACE 9: MAIDEN CLAIMING $10,000, 4-YEAR-OLDS AND 5-YEAR-OLDS, 5 1/2 FURLONGS
3-1-8-5
#3 Lifespan (7/5): She was bet against better last out, after three straight figures in the mid-70s. She got hung wide and was completely empty. Draws further to the inside here, and will hope to save more ground this time.
#1 Distant Thunder (5/1): Has never lost at this level, and is lightly-raced, having run just twice. Looks to sake off a bad second-out start after a promising debut.
#8 Day of Honor (4/1): Ran well first off the layoff, closing well for second. She's never really shown early speed in her four starts, but can still run on for a piece.
LATEST NEWS