LAUREL PARK PICKS AND PONDERINGS JAN. 23, 2021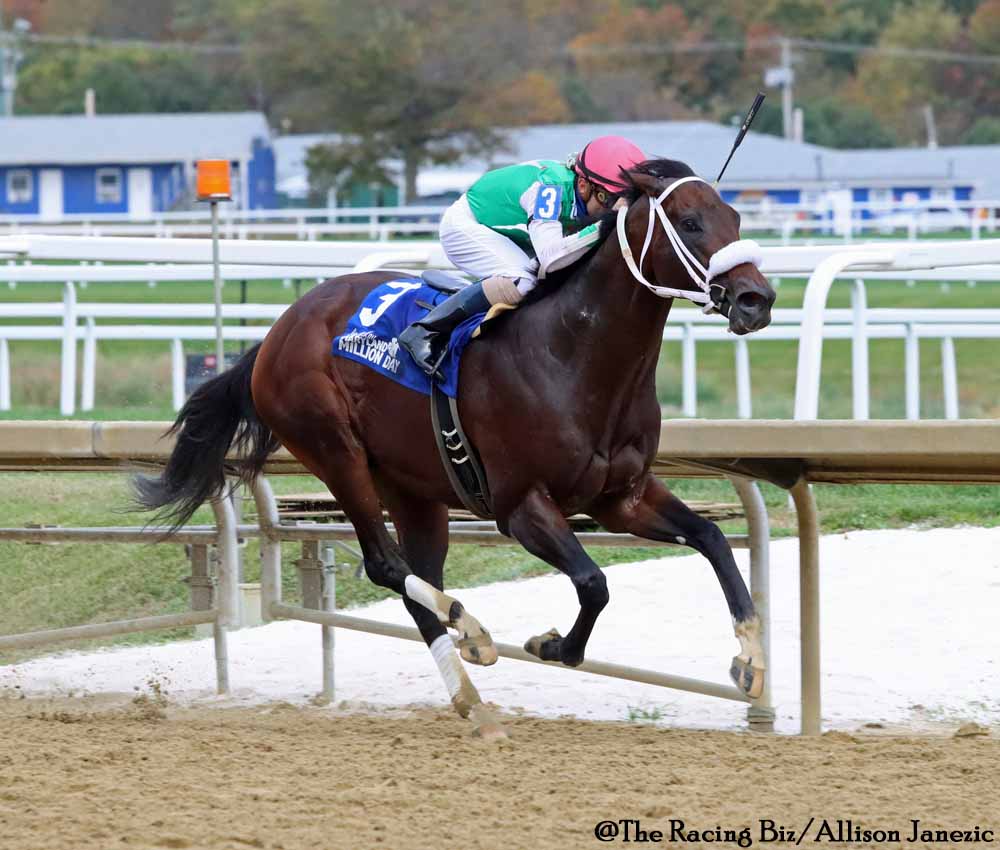 RACE 1: CLAIMING $16,000, 3-YEAR-OLDS, FILLIES, 7 FURLONGS
2-3-1-5
#2 Gary Doing Biz (5/2): Ran a gigantic race last out. She engaged in a three-way speed duel, and buried her two rivals. She battled on further in the stretch, but lost to a rival who sat well off the blistering pace. Her brisnet figure of 73 from that race is a lifetime top. She'll be tough if she shows those kind of guts again.
#3 My Way or Else (3/1): Got a great trip stalking that crazy duel, and ended up missing by a half-length. Her figure has improved in each of her four career starts. If Gary Doing Biz can't hold it together up top, this one will be right there to pick up the pieces.
#1 Hello Gracie (5/1): Came from way downtown to break her maiden going away last out. Linda Albert claimed her out of that race; it'll be interesting to see how she does for the new barn.
RACE 2: MAIDEN CLAIMING $10,000, 4-YEAR-OLDS AND 5-YEAR-OLDS, FILLIES AND MARES, 5 1/2 FURLONGS
6-1-5-7
#6 Lucky Lindsey (3/1): Ships down from Aqueduct, for trainer Rob Atras. She encountered some traffic trouble in her last race, and wasn't persevered with in the stretch. Two back, she drew clear in the stretch, but tired late. The 5 1/2 furlongs distance looks ideal for a speedy filly like her. As long as she can shake off that last poor race, she's in good shape.
#1 Scarlet's Song (7/2): Drops to this level for the first time, and makes her first start since November 5. Her last race, a third-place finish against $16,000 horses, was also her first in a while, and she's been working well recently.
#5 All About Audrey (7/2): Beginning to look like a bit of a chronic maiden. She has the best recent figures in the field by a decent margin, but she's hit the board three time in a row at this level without a win. Is this finally a field she can beat?
RACE 3: CLAIMING $5,000 (N/W2L), 4-YEAR-OLDS AND UP, 1 1/16 MILES
5-7-6-3
#5 Blue Sky Painter (3/1): Closed off a slow pace last out to break his maiden with a perfectly-timed rally. He hasn't run a bad figure going two turns on dirt.
#7 Charge Ahead (8/5): He'll attract a lot of money in this spot, by virtue of being a New York invader. While he's run very good figures in the mid-70s going short, he's going to get a distance test here. Not to mention, he's had many, many tries against winners before (albeit none against a field as soft as this one). Tread lightly at low odds.
#6 Stand My Ground (5/1): Has hit the board in last two races, grinding along in the stretch both times. It doesn't look like he has enough of a stretch punch to be a win threat, but he's definitely an exotics contender.
RACE 4: ALLOWANCE OPTIONAL CLAIMING (N/W1X), 3-YEAR-OLDS, 5 1/2 FURLONGS
1-4-6-7
#1 Doubleoseven (5/2): Runs for the first time since the Maryland Juvenile Championship, when he was no factor behind Jaxon Traveler and Singlino. He had run some good figures in the races prior, including a third-place finish against a strong allowance group. He's had about seven weeks off since that race; hopefully he's had time regroup and find his best self.
#4 Sue Loves Barbados (4/1): Got action on debut last out, and lived up to the hype with an impressive three-length win. This will be his class test. He showed enough of a stretch kick to make me believe it'll be effective against better.
#6 Palatial Times (7/2): Won at this condition at Parx two races back, then made a strong rally to just miss second last out. Having no early speed won't do him any favors, but at worst, he can definitely suck along for a piece.
RACE 5: MAIDEN CLAIMING $40,000, 3-YEAR-OLDS, 5 1/2 FURLONGS
2-4-1-6
#2 Hemp (5/2): He was scratched out of a spot against straight maidens yesterday to run here. got action in his debut, going off at 2/1 despite being one of two horses in the race without experience. He ran on well for a clear cut third-place finish. It's a little concerning that they'd rather risk losing him here, but he still looks very tough.
#4 Francis X (6/1): Got outkicked by Sue Loves Barbados last out, but still ran on well to finish fourth, with a solid figure of 73. He'll look to move forward second time out.
#1 Stretch the Truth (3/1): He's got blazing speed from the inside, and just missed in his last two starts after setting the pace. There's some tough speed to his outside, in the wind-up-toy-like Escapability, but if this one can outrun his rival early, he's going to be able to control things, which plays right into his hands.
RACE 6: CLAIMING $16,000 (N/W2L), 4-YEAR-OLDS AND UP, FILLIES AND MARES, 1 MILE
8-4-6-2
#8 Lady Fox (8/5): You don't see too many 27-length winners, but she crushed the field by that margin to break her maiden last out. Comes in here with the best last-out figure by twelve points, and has never lost against winners. I don't expect her to be that dominant again, but should still be very tough.
#4 Thea's Theme (6/1): She's continued to take steps forward since returning to the races in September. She was a sharp second last out behind Introspection, to who came back to win her next race. This one adds blinkers and goes first off the claim for James Casey.
#6 Rockstar Girl (6/1): Ran some figures in the mid-70s versus better a few starts back, then finished second behind a freewheeling leader in her first race against n/w2L competition. The 1-for-26 career mark is unsightly, but most of those races were against better. I'm willing to give her some chances against these types.
RACE 7: ALLOWANCE (N/W1X), 4-YEAR-OLDS AND UP, FILLIES AND MARES, MD-BRED, 6 FURLONGS
3-5-7-8
#3 Paisley Singing (5/1): She's matched or exceeded her lifetime top in her last two races. Last out, she closed into a fast pace and battled down the stretch for the win. While she wasn't able to make the lead in that spot, here, she looks like the fastest early on in the bunch.
#5 Quiet Imagination (5/2): In contrast, this one is dropping class, after facing a tough open allowance field first off the bench last out. This closing filly ran consistent mid-80s figures over the summer and fall, including two in- the-money finishes against stakes company. Should improve with the drop in class and race under the belt.
#7 Patriotic Punch (7/2): Closed well while wide in her last race, but was no match for a runaway winner. Drops from open company here, and has some of the best late pace figures in the field.
RACE 8: ALLOWANCE OPTIONAL CLAIMING (N/W2X), 4-YEAR-OLDS AND UP, 1 1/8 MILES
1-3-5-2
#1 Plot the Dots (2/1): He fell a little too far behind a very slow pace in his last start, and although he closed well, he still wasn't a match for the winner. Earned a 97 two back when finishing second behind a more honest pace two back. That kind of race would be good enough to win.
#3 Closer Look (6/1): If Plot the Dots once again gets stuck in a bad pace scenario, it might be because of this guy. Last out, he scooted along to victory in a gate-to-wire score. There's no one in here who consistently shows as much speed as him, so he could be long gone on the lead once again.
#5 Dixie Drawl (9/5): Won at this level two races back, earning a big figure of 99 while outfinishing Plot the Dots. Finished second last out behind the classy Zabracadabra, with another strong figure. Should employ his stalk-and-pounce strategy once again.
RACE 9: STARTER OPTIONAL CLAIMING $25,000, 4-YEAR-OLDS AND UP, 7 FURLONGS
4-3-7-1A
#4 Workin on a Dream (7/2): Ships back to Laurel, after a visually dull try at Parx last out. His figure of 84 in that race was solid enough, but he's run numbers in the 90s in the past. He's had his chances at this level, but he's one of the fastest early on in this bunch, which is below average for what this condition usually sees.
#3 Welling (3/1): Cuts back to seven furlongs, after a win at this condition going a mile last out. That race represented a very different side of him. Usually, he comes from way behind, but he went gate-to-wire for that victory. What will he do here?
#7 Pyser's Orb (12/1): Ran some big races over the summer at Prairie Meadows, including some figures in the 90s. He was dull in his local debut, but it was his first start in almost two months. He comes in here a little bit less rusty.
LATEST NEWS