The week in social media: Jan. 22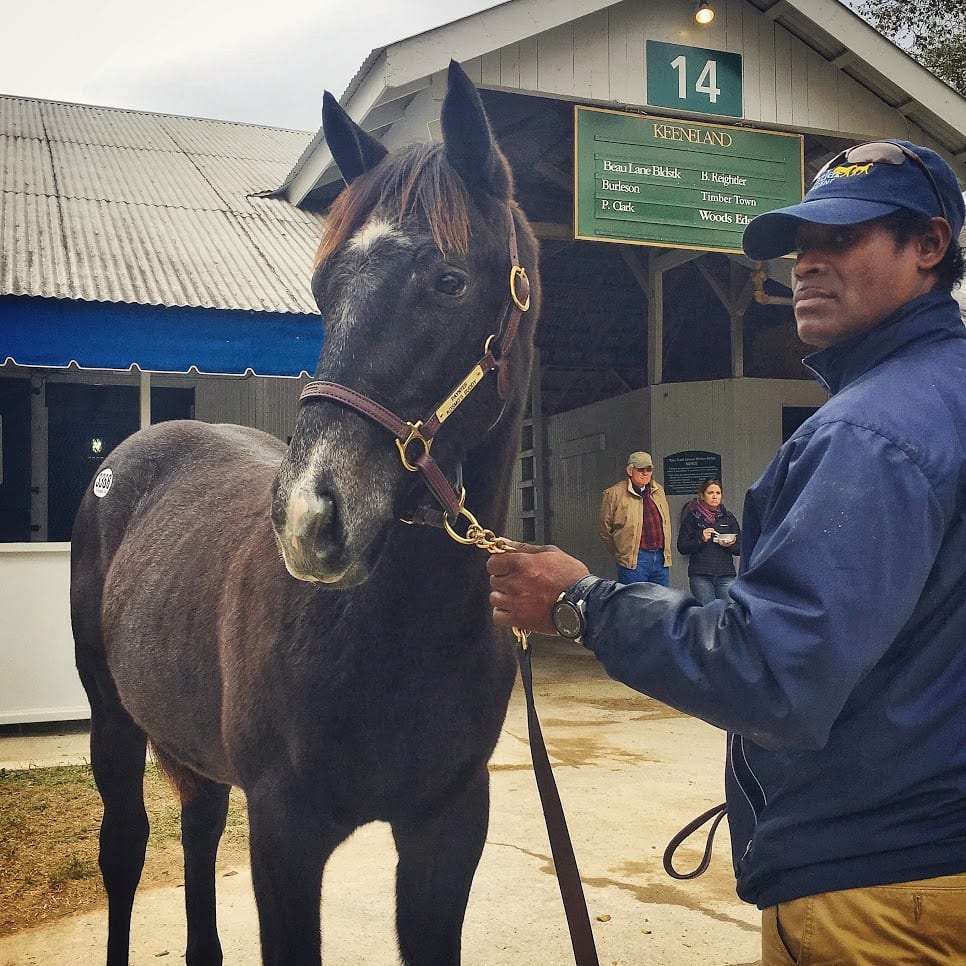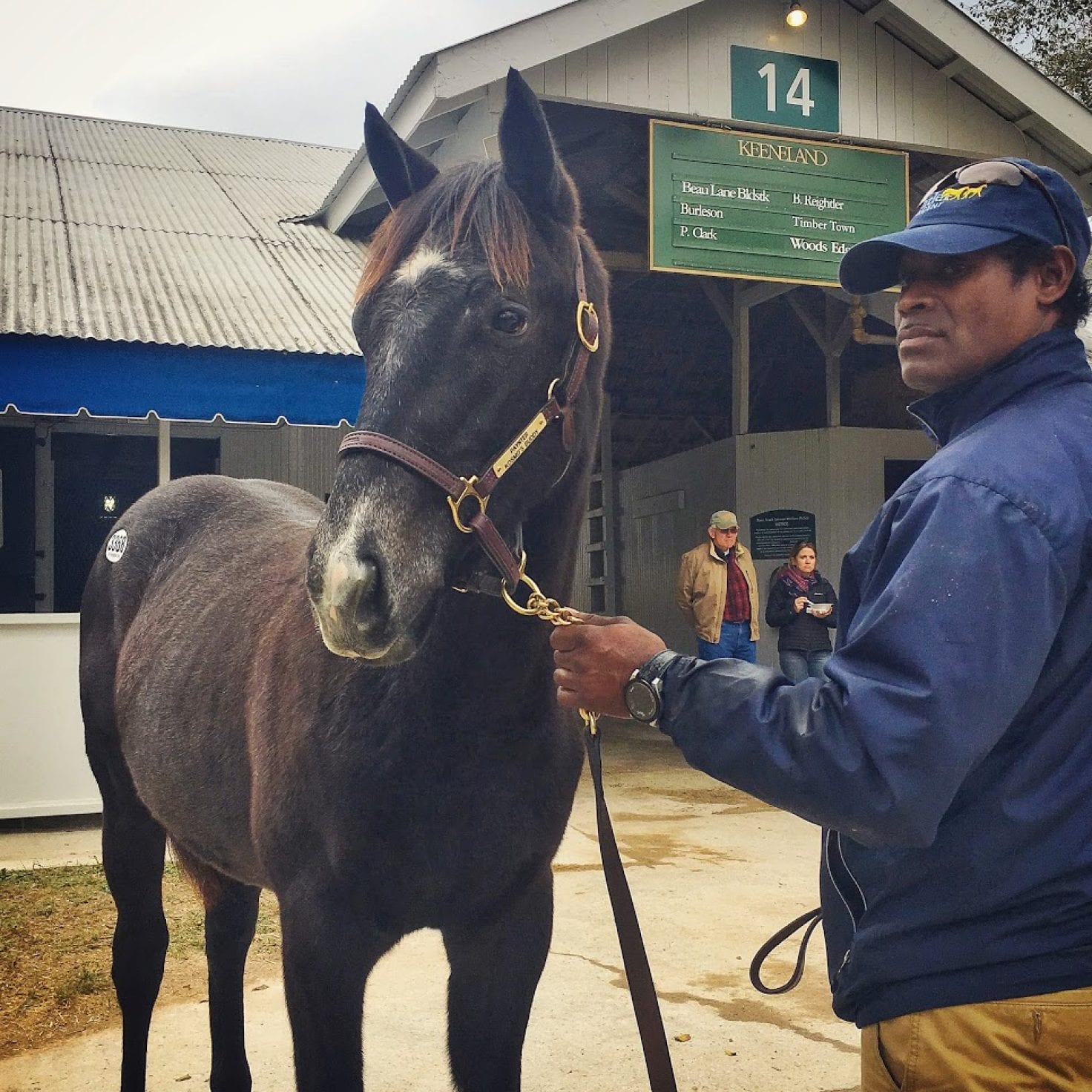 Knicks Go selling as a weanling. Photo courtesy of Sabrina Moore.
The $3 million Pegasus World Cup has two Mid-Atlantic stars competing in it this weekend, a Mid-Atlantic rider has been named a finalist for an Eclipse Award, and more!
Here is the 411 on what racing fans in the Mid-Atlantic region have been talking about on social media:
On to the Pegasus
The $3 million Pegasus World Cup (G1) takes place this Saturday, January 23 at Gulfstream Park. The Mid-Atlantic region will be represented well this weekend in the Sunshine State, with Maryland-breds Knicks Go and Harpers First Ride taking the spotlight in the decorated event.
A field of twelve thoroughbreds will line up in the Pegasus World Cup to do battle, with Knicks Go drawing post four for the 1 1/8-mile event, and Harpers First Ride drawing post eight. Installed as the 5/2 morning line favorite, Knicks Go will march to post Saturday with jockey Joel Rosario in the saddle, as Knicks Go pursues what would be his fourth consecutive win. Knicks Go was last seen in action in the Breeders' Cup Dirt Mile (G1) last November, where he romped to a record-breaking victory.
Bred in Maryland by Angie and Sabrina Moore, Knicks Go is owned by Korea Racing Authority, and is in the training care of Brad Cox. To date, the silver son of Paynter boasts a record of five wins from seventeen starts, and earnings of $1,348,995.
Harpers First Ride ventures into the Pegasus World Cup on a two-race winning streak. With morning line odds of 10-1, Harpers First Ride will be taking on the stiffest competition of his life this Saturday. But with a record of ten wins from seventeen starts, including a score in the Grade 3 Pimlico Special, this Maryland-bred gelding is not in without a chance.
Bred by Sagamore Farm, Harpers First Ride is owned by GMP Stables LLC, Arnold Bennewith, and Cypress Creek Equine. Claudio Gonzalez trains the dark bay or brown gelding, who will partner up with regular jockey Angel Cruz on Saturday. To date, this fellow son of Paynter has earnings of $573,055.
Other competitors expected to compete in the Pegasus World Cup include Sleepy Eyes Todd, Coastal Defense, Independence Hall, Jesus' Team, Kiss Today Goodbye, Tax, Last Judgment, Code of Honor, Mr. Freeze, and Math Wizard.
Post time for the Pegasus World Cup (G1) is slated for 5:44 p.m. EST.
Alexander Crispin Eclipse finalist
Mid-Atlantic-based rider Alexander Crispin has been named as one of the Eclipse Award finalists for champion apprentice jockey for the 2020 season.
A native to Puerto Rico, Crispin took 2020 by storm, finishing second by wins among jockeys during the Delaware Park meet, and third by wins during the fall meet at Laurel Park. Finishing fifth in the rankings during Laurel Park's fall meet, Crispin also found himself fifth on the list of rankings by The Racing Biz in 2020.
A graduate of Puerto Rico's Escuela Vocacional Hipica in December 2019, Crispin made his first start as a rider on January 1 of 2020, at Hipodromo Camarero. Crispin ventured to the mainland US later that winter, picking up his first win stateside aboard Thorpe d'Oro at Turfway Park on March 12.  Crispin made his way to Delaware Park by summer, where he found an abundance of success, rising to become the leading apprentice, and ranking second overall with 58 wins, and fourth with earnings over $1.3 million in purse money.
By late October, Crispin found himself in Maryland, where he led apprentice riders during the Laurel Park fall meet. By the end of the fall meet, the young rider found himself ranking third with 29 wins, picking up total earnings of $725,920 along the way.
Crispin will be up against fellow finalists Luis Cardenas and Yarmarie Correa, who are both based in New York. Winners of the Eclipse Awards will be announced on Thursday, January 28. The award ceremony will begin at 8 p.m. EST.
To date, riders based in Maryland have taken home 11 of the past 46 Eclipse awards for apprentice riders, with the most recent coming in 2018, when Weston Hamilton claimed the prize.
Oh, no, Guillot
After a certain horse crossed the wire first in the opening race at Aqueduct on January 8, outrage was sparked across social media that remains ongoing. It was not the horse himself that caused any issues, but instead his name. "Grape Soda" was the name given to the three-year-old Uncle Mo gelding, and it was what his trainer, Eric Guillot , said on social media that alerted others to the hidden discrimination behind his horse's name.
On January 1, Gulliot made a post on Twitter that strongly indicated that his horse was named after Ken Rudulph, who is the only African American reporter on TVG. His tweet read, "This colt will run next week and has unique name in honor of a TVG analyst." His tweet was accompanied by the emoji of a black-colored fist. When asked which horse he was referring to, Gulliot replied: "GRAPE SODA."
Grape soda is considered a racist stereotype that is directed towards African Americans. Gulliot continued to dig his own hole deeper with that racist stereotype the following day (January 2) by tweeting, "GRAPE SODA breezed 49.3 smooooth a menthol Kool," and adding the emoji of a Black hand giving the "thumbs up" and a gif of an African American man motioning to be quiet.  The tweet was later deleted.
Among other media outlets, the New York Times covered the disturbing tale.
The New York Racing Association took action when they caught wind of what was taking place with Gulliot, and subsequently banned him from entering horses at any of its  three tracks and announced that the trainer would no longer be allocated any stalls. Shortly thereafter, TVG announced that it would no longer air any races that had horses trained by Gulliot competing in them and the Stronach Group also banned Guillot.
After the controversy following the race, Gulliot claimed that he is not a racist man, and that he never intended to offend anybody. The trainer alleged that the horse was named "Grape soda" because it was his favorite beverage growing up. Later that same weekend, Gulliot announced publicly that he was retiring from training after 30 years in the business.
Grape Soda, who was claimed out of his race by Larry Roman for $25,000 has had his name changed to "Respect for All."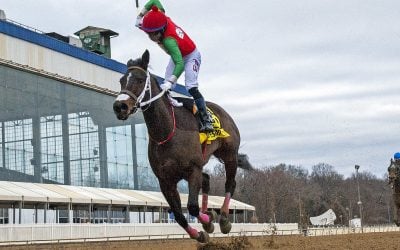 Your five-minute read to catch up on all the Mid-Atlantic racing action you may have missed over the weekend…