LAUREL PARK PICKS AND PONDERINGS JAN. 17, 2021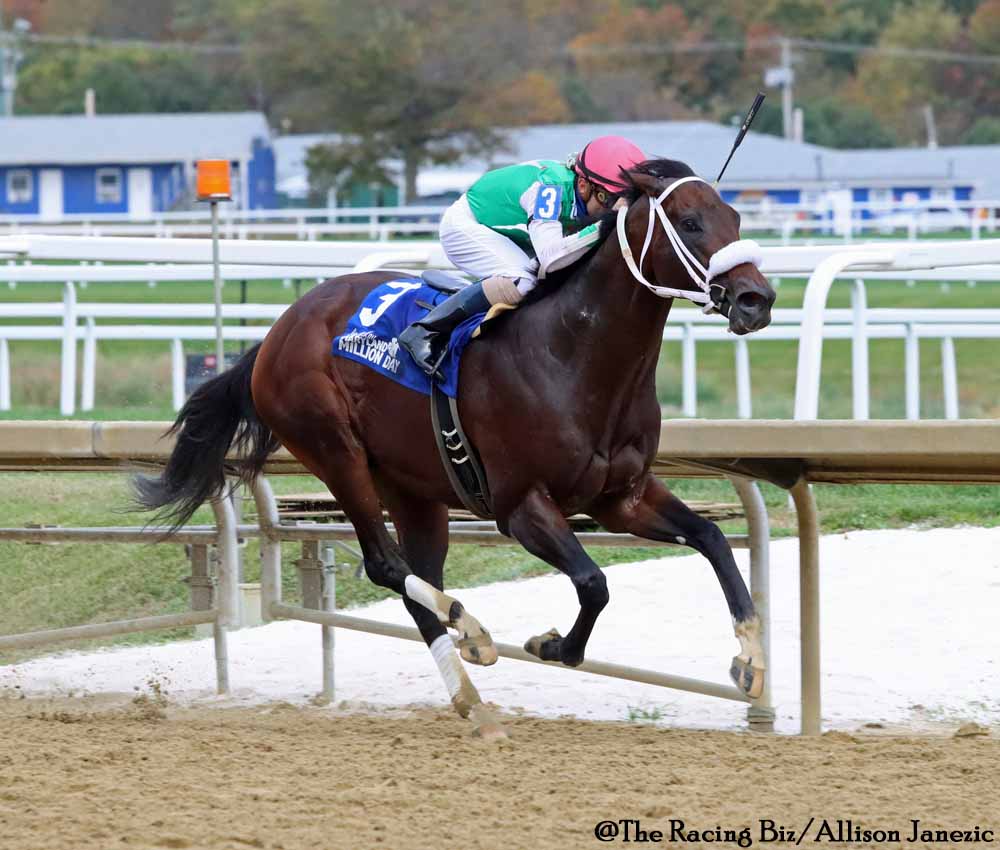 RACE 1: MAIDEN CLAIMING $25,000, 4-YEAR-OLDS AND 5-YEAR-OLDS, 7 FURLONGS
1-5-6-3
#1 Despite Odds (7/5): Both his recent races have been excellent. Two back, he came from off the pace, surged, and just missed. Last out, he set the pace going long and was caught late. Now, he cuts back from 1 1/16 miles, and draws a favorable post. None of the others in here with experience have shown much ability. This one is his to lose.
#5 Aperitivo (7/2): Him and Rubber Band, drawn to his direct outside, have very similar profiles. This one is a first-timer for Damon Dilodovico, and has a string of sharp four and five-furlong drills. He looks well-suited to a sprint.
#6 Rubber Band (7/2): In contrast to his rival, this one has lots of longer works, mostly going five and six furlongs. I wonder if Dale Capuano has longer distances in mind with him. Capuano is sharp with first-timers in maiden claimers, however. Worth a look if he gets money.
RACE 2: STARTER OPTIONAL CLAIMING $8,000, 4-YEAR-OLDS AND UP, 1 1/16 MILES
3-1-6-5
#3 Belfour (7/5): Usually a speedball, he showed a new dimension in his last start, rating of the pace. It worked like a charm, as he moved by the leaders in the stretch for the win. Comes back to this level, and faces a similar field to the one he defeated last time.
#1 Invest (7/2): Another serious speed horse, who has the benefit of the inside draw. Won his starts two and three back by a combined twelve lengths, and looks to shake off a disappointing race at this level last out. Charlie Marquez, who recently came back from New York, gets the mount.
#6 Hashtag Winning (2/1): Not only does he have early speed, he has the best early pace figures in the race. However, he's stuck on the outside, in a race with a short run to the first turn. Horacio Karamanos must be aggressive and send him quickly to the front. If he can get there, he's in good shape.
RACE 3: MAIDEN CLAIMING $10,000, 4-YEAR-OLDS AND 5-YEAR-OLDS, FILLIES AND MARES, 1 MILE
3-4-7-2
#3 Rye Street (8/5): Goes second off the claim for Anthony Farrior, who is 22% with that angle. She got blown away by heavy favorite Lady Fox in a strangely run race last out, but battled well with the rest and finished third. Her figures prior to that race were strong; will look for improvement on the cutback.
#4 Maliceinthepalace (5/1): Dropped to this level for the first time last out, exiting the same race as Rye Street. Makes her third start off the layoff, and gets Sheldon Russell back in the saddle.
#7 Walk it Out Nanny (5/1): She's got the best last-out figure in the race, earning a 58 in her last start after a rough break. Has been steadily improving, has some early speed, and adds blinkers.
RACE 4: MAIDEN CLAIMING $16,000, 3-YEAR-OLDS, 1 1/16 MILES
6-5-4-3
#6 Pirate's Palace (3/5): He's run at least a 60 in three of his last four races, a mark that no one in here has hit even once on dirt. Goes third off the layoff and gets Alex Crispin in the saddle. Looms very large.
#5 Rip It (15/1): Ran some figures in the 70s on grass to start his career, but hasn't yet found the same form on dirt. Drops to this level for the first time and is fairly lightly-raced.
#4 Lost My Vowcher (9/2): Joins the Claudio Gonzalez barn for his second career start. He was well-beaten in his debut at Aqueduct; looks for some improvement against much softer.
RACE 5: CLAIMING $5,000 (N/W3L), 4-YEAR-OLDS AND UP, 6 FURLONGS
9-4-5-8
#9 Mr Chesapeakecity (4/1): He's run three figures in a row of at least 75. Battled in the stretch but got outkicked; he'll look to improve first off the claim for Farrior.
#4 Pascal Chant (5/2): One of two in here going first off the claim for Dale Capuano. He made a sharp move on the turn against better last out, only to flatten out. He's still got the best last-out figure in the field, a 79, and some time off since that effort.
#5 Justice of War (7/2): Encountered some traffic trouble in his first start off a layoff, but still earned a solid figure of 74 while finishing fifth against better. Linda Rice ships him down here, perhaps in search of an easy W. This is only his second try against n/w3L types. He handily beat a n/w2L field at Finger Lakes two back before going o a break.
RACE 6: STARTER OPTIONAL CLAIMING $25,000, 4-YEAR-OLDS AND UP, 6 FURLONGS
7-3-5-4
#7 Push to Start (5/2): One of two in here exiting a maiden win, he set fast fractions and held on to win, in his third career start. He's once again drawn to the outside, but he's already proven such a spot isn't a problem.
#3 Come and Get Me (8/1): He broke his maiden second time out, and improved 20 points from his debut. He surged from behind off a mild pace to win by half a length. There's plenty of speed in here, so he should get a faster pace to run into. As long as he shows up, he'll be heard from late.
#5 Zen Pi (2/1): Battled gamely in the stretch to just miss at this level last out. Has good tactical speed, that work well if the race falls apart.
RACE 7: CLAIMING $10,000 (N/W3L), 4-YEAR-OLDS AND UP, FILLIES AND MARES, 6 1/2 FURLONGS
1-7-6-8
#1 My Queen Michelle (2/1): She was in good form last winter, but has yet to find her best stride since returning to action in mid-August. Drops to a new low level here, and her low-70s figures should still be enough to squeeze out a win.
#7 Vibrancy (3/1): Brittany Russell takes over the training of this one from Steve Asmussen. This filly had been showing some speed and tiring in each of her last few going longer. The 6 1/2 furlongs should be much more to her liking.
#6 Olive's Bumpa (5/1): Another recent Anthony Farrior claim, she raced wide all the way last out and tired. Cleared her n/w2L condition handily the last time she went 6 1/2 furlongs, so she should enjoy the cutback against better.
RACE 8: ALLOWANCE (N/W1X), 4-YEAR-OLDS AND UP, FILLIES AND MARES, 6 FURLONGS
3-2-5-1
#3 Hibiscus Punch (5/2): Outran her odds in the Willa on the Move Stakes, finishing second behind Donltetsweetfoolya. She's taken big steps forward since coming down from Canada, and looks to keep improving here. Unlike most of her rivals, she hasn't suffered multiple defeats at this level.
#2 Kashan (6/1): She was impressive in her maiden win at Gulfstream Park, lasting after a fast pace to win with a figure of 87. That win was back in April, and this will be her first start since then. Can she bounce back first off the long break?
#5 Combat Queen (6/1): She ran figures in the 80s pretty steadily over the fall, and has gotten some time off since a dull race in early November. Has two recent bullet workouts, and looks ready to return to peak form.
RACE 9: MAIDEN CLAIMING $16,000, 3-YEAR-OLDS, FILLIES, 1 1/16 MILES
6-3-4-5
#6 Love is Strong (4/1): Ran on well going seven furlongs in her last race, earning a career-high figure of 65. That late push is encouraging for her prospects going longer.
#3 Flyin It (7/2): Closed well to get third in her lone two-turn start, which was two races back. She's the only one in the race with experience around multiple turns.
#4 She's All Courage (2/1): Improved slightly second time out, earing a figure of 65 while chasing and finishing third. She's luhglty-raced with strong figures, but remains a mystery at this distance.
LATEST NEWS