Mid-Atlantic Three Stars: December 22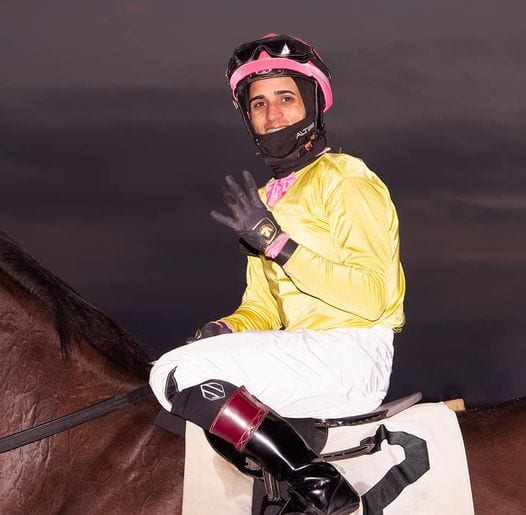 Jevian Toledo won four races on Sunday. Photo: Jim McCue/MJC
Plenty of racing action took place throughout the Mid-Atlantic this past week.
Here's a look at the "three stars" of each track:
LAUREL PARK
FIRST STAR: FILLE D'ESPRIT. This Maryland-bred filly continued her rapid ascent on Friday afternoon, defeating a tough n/w2x allowance field by 1 3/4 lengths. She got a great trip saving ground off the pace, as longshot My Lovely Girl zoomed to the top and set the tempo. Her primary rival, Trunk of Money, made a four-wide bid for the lead while Fille d'Esprit stayed towards the rail and rallied in the stretch. In the end, Fille d'Esprit drew off for the win, while Trunk of Money finished a clear cut second. The winner has won six of eight lifetime, winning her second career start for a $10,000 tag back in June. Since winning a n/w3L claiming race on October 22, she's won four straight races. Xavier Perez had the mount, for owners CJI Phoenix Group and No Guts No Glory Farm and trainer John Robb.
SECOND STAR: JEVIAN TOLEDO. Toledo won four races on the Sunday card. He got up for the win in race 2 on Lectric Choke, for Anthony Farrior. He drew off to victory on another Farrior trainee, Union Song in the 4th race. The hat trick was completed in race 7, as Catch the Sky came from behind to win going away for Carlos Mancilla. In the nine race, Toledo got his four-bagger in the 9th race, guiding Seize the Day to a gate-to-wire win, for Ben Feliciano. With three days left in the meet, Toledo looks to have a stranglehold on second place. He has 33 wins, about equidistant between leader Sheldon Russell and third-place Alex Crispin.
THIRD STAR: STROLL SMOKIN. Saturday's feature, a n/w2x allowance affair, looked like a battle between two speedballs, Stroll Smokin and Maryland Million Sprint champion Karan's Notion. The race lived up to all the hype, as the two engaged each other early and battled all the way in the 5 1/2 furlong contest. In the last sixteenth, Stroll Smokin began to edge clear, and he held on to win by 3/4 of a length. On the year, this Maryland-bred gelding has won five times from twelve starts. John Robb and Xavier Perez teamed up once again on this winner, who is owned by No Guts No Glory Farm and Lucky 7 Stables.
CHARLES TOWN RACES
FIRST STAR: SOUND OFF. This gelding had a busy campaign this year, racing seventeen times. All four of his wins came at Charles Town, with his most recent one coming on Saturday night. He was well behind early on in a 6 1/2 furlong starter allowance, then moved wide as they turned for home. His main rival, Shamrock Kid, briefly took the lead in the stretch, but Sound Off had the momentum, and surged for the neck win. He's owned and trained by Michael Sandoval, and ridden by Fredy Peltroche. 
SECOND STAR: LETTS GO TO DIXIES. Earlier on the Saturday night card, Letts Go to Dixies upset a West Virginia-bred allowance field by a length. She went right to the lead in the seven-furlong affair and held on for a 15/1 upset. 3/5 Sherwood Lady chased the winner all the way around, and ended up second. The winner is owned and trained by Keturah Obed-Letts, and was ridden by Javier Rivera.
THIRD STARS: ARNALDO BOCACHICA AND JEFF RUNCO. Once again, Bocachica and Runco led the way in the jockey and trainer standings, respectively. Bocachica won three races on closing week, increasing his total to 160 wins. That's more the double the total of runner-up Gerald Almodovar, who won 75 races. Runco had 93 victories on the year, defeating second-place Ronney Brown by 24. Runco won two races this past week.
 PARX RACING
FIRST STAR: RUBEN SILVERA. One of Parx's top jockeys, Silvera is no stranger to big days. He had another strong afternoon last Tuesday, with four victories. He swept both legs of the early double, taking race 1 on Scott Lake's Karen's Gem and race 2 on Jamie Ness trainee Misdriven. Lake and Silvera teamed up again in race 5, scoring with easy winner Team Win. Silvera completed the grand slam in the ninth race on Palatial Times, for trainer Kieron Magee.
SECOND STAR: MADAM MEENA. Tuesday's feature race, a n/w2x allowance for Pennsylvania-bred fillies and mares, went to favored Madam Meena. She dueled with second choice I'm the Talent in the early stages of the six-furlong contest, moving heads apart around the turn. As they entered the stretch, Madam Meena drew clear, powering away to win by 5 1/4 lengths in 1:09.86. She's owned by Michael Cox, trained by Jamie Ness, and was ridden by Jamie Rodriguez.
THIRD STAR: SCOTT LAKE. Tuesday was also a big day for trainer Scott Lake. In addition to his wins with Silvera, he won race 4 with front-running G Daddy, with Frankie Pennington in the saddle. Lake is in fourth place in the trainer standings, with 34 wins on the season.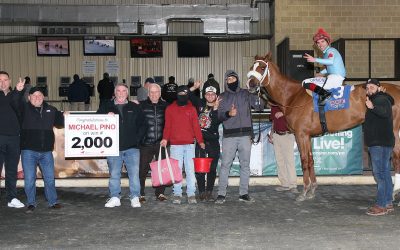 Trainer Michael Pino went 2-for-2 today at Parx Racing to reach 2,000 wins in a career which has seen his runners earn over $43 million.