Mid-Atlantic Three Stars: October 20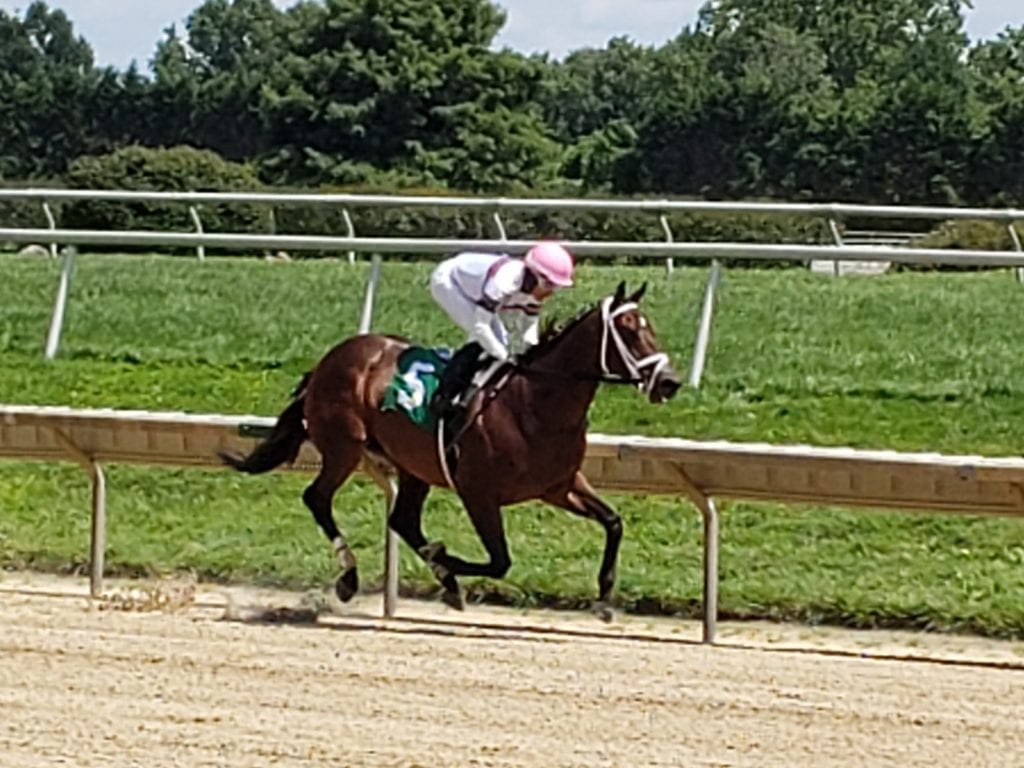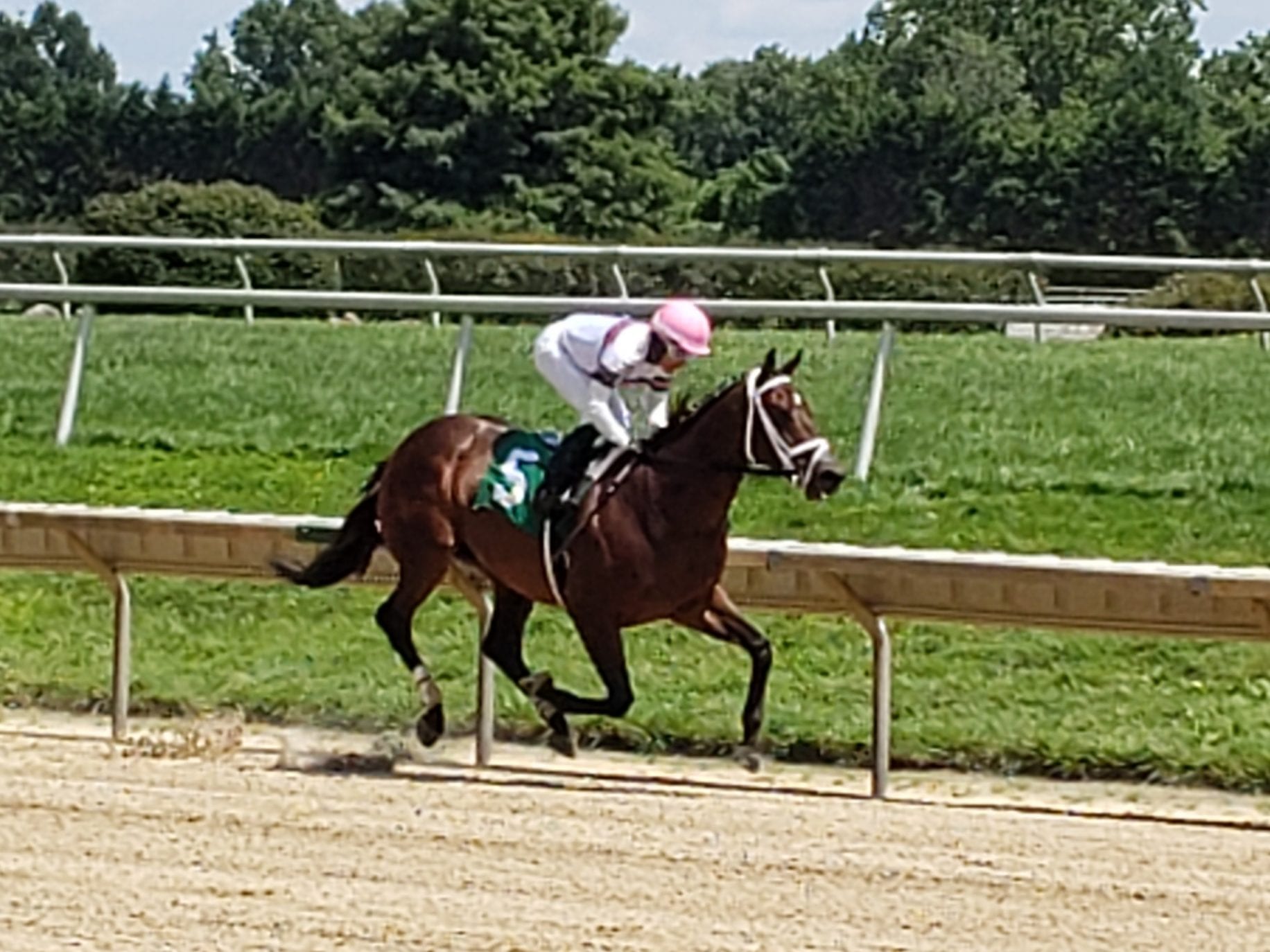 Carol Cedeno guides home a winner at Delaware. Photo: The Racing Biz.
Plenty of racing action took place throughout the Mid-Atlantic this past week.
Here's a look at the "three stars" of each track:
LAUREL PARK
FIRST STAR: LANDING ZONE. This filly's been on a blazing hot streak lately, winning her fourth race in a row Sunday afternoon. Sent off as the 3/5 favorite, Angel Cruz put her on the lead early in the 1 1/16 mile contest, and set slow fractions while not being contested. From there, she pulled away to a decisive 4 3/4 length win, covering the distance in 1:43.28. On the year, she's now won five times from nine starts. BB Horses is the winning owner, Claudio Gonzalez the winning trainer.
SECOND STAR: CAREY TIMES. A n/w1x allowance on Friday went to this Maryland-bred, in handy style. Trevor McCarthy sent the 6/5 favorite straight to the front in the early stages of the six-furlong race, and had him two lengths in front by the time they hit the opening quarter. He never looked back from there, cruising under the line 1 1/2 lengths in front in a sharp 1:09.36. The winner's now won two races in a row, for owner Hickory Ridge Farm and trainer Ferris Allen. 
THIRD STAR: FIFTEEN ROYALS. Thursday's feature went to this Maryland-bred filly, who bounced back nicely from a poor showing in the Tax Free Shopping Distaff at Delaware Park. She burst out of the gate on top in the six-furlong affair, opened up a clear early lead, and didn't look back, winning by three lengths. She's owned by Country Life Farm, trained by Mike Trombetta, and ridden by Victor Carrasco. The final time of the 5 1/2 furlong race was 1:03.59.
CHARLES TOWN RACES
FIRST STAR: TIM GRAMS. One of Charles Town's mainstay trainers had a banner night on Friday, winning three races. He won the fourth race with Cayenne Creek, with Wesley Ho in the saddle, then picked up a double with Dianathehuntress in race 5, with jockey Fredy Peltroche. Grams got the hat trick in the eighth race, saddling Ihearuknockin to victory with Christian Hiraldo in the irons. He also sent out third-place finisher Set'em Up Joe. 
SECOND STARS: CHRISTIAN HIRALDO AND GERALD ALMODOVAR. Both these jockeys got hat tricks on different days of the racing week. Hiraldo swept the last three races on Friday night. In addition to Grams' horse, he won race 7 with Taptap, for trainer Joseph Pyke, and the ninth race with Phil Schoenthal-trained Heart Hero. Almodovar, meanwhile, won three on Saturday night. He prevailed in race 3, the fifth race on Best to be Me, for trainer Michael Jones, and race 8 on Cape Lookout, for trainer Marshall Campbell. Hiraldo and Almodovar are second and third in the jockey standings, respectively.
THIRD STAR: PHONEMYPOSSEAGAIN. Almodovar's other winner on Saturday came on this Charles Town veteran, who won his first race on this track since May 23. He opened up a five-length lead in the stretch of a 4 1/2-furlong claiming contest, then held on to win by a desperate neck. Last year, he had a stretch where he won eight races in a row; four of those wins came at Charles Town. He's owned and trained by Billy Ray Davis.
  MONMOUTH PARK
FIRST STAR: PREMIER STAR. Wednesday's feature, the Jersey Shore Stakes, went to favored Premier Star. Sent off as the favorite in the six-furlong sprint stakes, he rated off the pace, then moved up the rail late to win by 4 3/4 lengths. Read more about his big win here. 
SECOND STAR: FERRIN PETERSON. Off an announcement last week that she'll be spending the winter at Aqueduct, the breakout star of the Monmouth meet had a big day Saturday. She rode three winners on the ten-race card. Peterson won the first race on Counterfeitcurrency, for trainer Derek Ryan, race 6 on Wayne Potts trained-Runabout, and got another win for Potts in race 10, aboard High Five Cotton.
THIRD STAR: CROATIAN. Saturday's feature was a n/w2x allowance optional claiming race going long on the dirt. Sent off as the 3/5 favorite, Croatian won handily, prevailing by 2 1/4 lengths. Well behind in the early stages, Joe Bravo kept him towards the inside early on, then angled him two-wide on the turn and powered past his rivals for the win. He's now won four times on the year from eleven starts, for owner/trainer Jerry Hollendorfer.
DELAWARE PARK
FIRST STAR: JOHN CURRAN. After 37 years of serving as the announcer at Delaware Park, Curran announced his retirement just before closing day on Saturday. He was honored with an outpouring of tributes, both online and on-track. Holiday Curls, the winner of Saturday's tenth race, went down in the books as the winner of the final race of Curran's long career.
SECOND STARS: CAROL CEDENO AND JAMIE NESS. The usual riding and training stalwarts, respectively, at Delaware wrapped up their titles on Saturday. Cedeno won 79 races from 411 mounts, for her sixth Delaware riding title in seven years. Ness had 52 wins from 221 starters, more than double the total of runner-up McLean Robertson. 
THIRD STAR: GOLDEN CANDY. Thursday's featured allowance went to this three-year-old Pennsylvania-bred, who had an excellent Delaware season. He won his third race of the meet by 3/4 of a length, stalking early leader Woodland Walk and wearing him down late for the victory. Cedeno had the mount on this one, for owner A. Delapierre Stables and trainer Anthony Pecoraro. 
PARX RACING
FIRST STAR: CINNABUNNY. Wednesday's feature, a n/w2x allowance optional claiming race for fillies and mares, was won by this impressive Pennsylvania-bred. She opened up a two-length lead in the early stages of the sprint contest, setting a fast opening quarter of 21.96 seconds. Despite the speedy fractions, she never got tired, and drew off to a five-length win in 1:15.84 for 6 1/2 furlongs. On the year, she's won four races from six starts, while earning more than $128,000. She's owned by Shooting Star Stable, trained by Kathleen Demasi, and ridden by Mychel Sanchez.
SECOND STAR: FIX ME A SANDWICH. This speedy, Parx-loving gelding won handily on Wednesday, taking a starter allowance by 1 1/2 lengths. As he usually does, he opened up a clear early lead in the seven furlong race, and never relinquished control. He's now won three times this year at Parx. Last year, he wo six races on this track. Frankie Pennington was in the saddle for this win, for owner John Fanelli and trainer Joseph Taylor. 
THIRD STAR: SHANE'S JEWEL. Shipping to Parx for the first time since February, he won an open claiming race on Tuesday by 8 1/4 lengths. Sent off as the 7/5 favorite in the field of five, Ruben Silvera sent his mount right to the lead, and established control at once. He never looked back, winning by 8 1/4 lengths while traveling one mile and seventy yards in 1:41.75. The winner is owned by Jagger Inc and trained by Jamie Ness.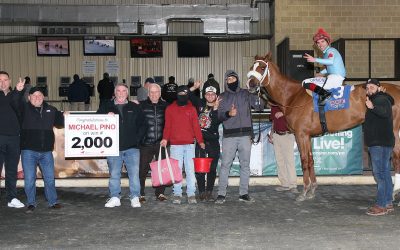 Trainer Michael Pino went 2-for-2 today at Parx Racing to reach 2,000 wins in a career which has seen his runners earn over $43 million.