A FEW MINUTES WITH… AFTERCARE CHARLES TOWN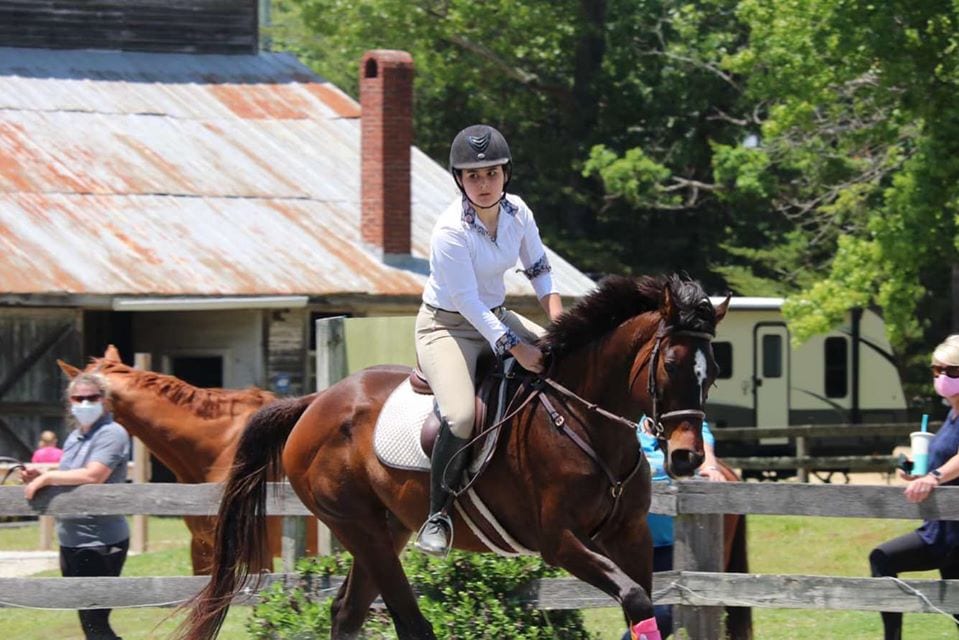 Ted Black

October 15, 2020
Founded in 2013, Aftercare Charles Town is an organization that seeks to assist Charles Town-based horsemen in finding homes for retiring racehorses.
The group is funded by a $5 per start "paddock fee" paid by owners, as well as by grants and private donations. You can learn more, and donate, here.
We caught up with Georgiana Pardo, the group's president.
The Racing Biz: Since ACT formed in 2013, how many horses have you placed and how many have you placed thus far in 2020?
Georgiana Pardo: ACT has placed 237 horses since the organization was formed. So far in 2020, as of mid-August, we have placed 24.
TRB: What's your mission?
GP: ACT's mission is simply to provide an avenue for placement of retired Charles Town racehorses into safe and appropriate new homes and careers once their racing career has ended. Our goal each year is to be able to respond to each request for assistance in a timely manner.
TRB: How do you acquire horses? And how do you place them with new owners?
GP: ACT does not acquire or take possession of any of the horses that we assist. Rather, we work with a handful of "placement partner" organizations that are experienced non-profits who take the horses and handle their restarting and adoption. The way it works is that racehorse owners or trainers reach out to ACT when they have a horse they would like to place through our program. If the horse meets ACT's eligibility guidelines, the owner will fill out and submit our application form, which is available on our website, at the Charles Town Racing Office, and at the Charles Town HBPA office. ACT then networks with our placement partners to determine where there may be an opening available to take the horse. Once arrangements have been made with the placement partner, and all the necessary paperwork completed, the horse is shipped directly from the owner's barn to our placement partner along with a stipend from ACT paid to the placement partner which enables them to provide their services. Each placement partner has been investigated by the ACT Board and has demonstrated an ability to provide proper care, rehabilitation, restarting, and adoption of our horses by thoroughly-vetted new owners, as well as in most cases a track record of successful long-term relationships with other track-based aftercare programs. Placement partners employ a variety of safeguards that distinguish them from horse-flippers or other for-profit enterprises, and lifetime horse safety is the priority. Such measures and safeguards may variously include filing the Jockey Club's Sold as Retired from Racing form, full disclosure of any and all performance limitations revealed by veterinary evaluation, freeze brands, microchips, no auction/no slaughter contracts, first rights of refusal, no-questions-asked return policies, and thorough vetting of prospective purchasers/adopters. In each case, care is taken to place each horse with an adopter whose goals match the horse's performance abilities and temperament.
TRB: Typically, how long does it take to place a horse?
GP: Lately, on average, it takes a couple of weeks between when a racehorse owner first contacts ACT and when the horse goes to one of our placement partners. Sometimes a horse has to wait a bit longer for a space to open up. Planning for arrangements to accommodate the reasonable time it takes for a horse to go to a responsible retirement home is one of the most important things a racehorse owner can do. Once a horse is with one of our partners, the length of time it takes for that horse to be adopted varies widely and can be anything from a few weeks to a year or more. Most are somewhere in the middle. Each horse is given the letdown, rehab (if needed), and restarting that is appropriate for that individual horse, so some are ready to be adopted fairly quickly and some benefit from a longer period of time before adoption.
TRB: How do you choose which horses to accept?
GP: Horses that meet our eligibility guidelines are accepted. Those guidelines, which can be viewed on our website under the "Place Your Horse" tab, are based on how many times the horse raced at Charles Town and correspond with our mission to assist horses that are retiring from racing primarily at Charles Town. This makes sense because our primary source of funding comes from a small fee paid by racehorse owners each time their horse races at Charles Town. Since our outreach efforts are focused on Charles Town, it is not often that we are approached by an owner or trainer whose horse does not meet our eligibility guidelines, but it does occasionally happen.
TRB: How does an owner go about placing a horse through ACT?
GP: Racehorse owners interested in placing a horse through the ACT program can reach out to us by phone or email. They can also stop by the HBPA office, fill out one of our application forms, and the folks there at the HBPA office will email it to us. Sometimes the owner or trainer will approach one of our Board members in person on the backstretch. There are no fees required for someone to place a horse through our program, but any contributions are greatly appreciated
TRB: How do folks go about adopting horses placed through the ACT program?
GP: The horse adoption process is handled entirely by our placement partners and they are the ones who determine what the adoption fees are for the horses. All applications for adoption must be approved by the placement partner as consistent with their requirements and the horse's long-term welfare and security. There have been one or two instances where the same person or family has adopted more than one horse that came through our program, but it is an exception.
TRB: In your tenure on the organization's board, what's been most rewarding? Most challenging?
GP: Since I joined the ACT Board of Directors about three and a half years ago, the most rewarding thing to me personally has been expanding our network of amazing and skilled placement partners and seeing the many retired racehorses that have found wonderful homes and careers through our program. The most challenging (or difficult, if you will) part about overseeing ACT has been, and continues to be, finding a way to increase our funding to meet the demand for our services so that ACT can be sustained.
[FAG id=66538]
LATEST NEWS