FOR PHYLLIS SOBOCZENSKI, 87, THE TIME OF HER LIFE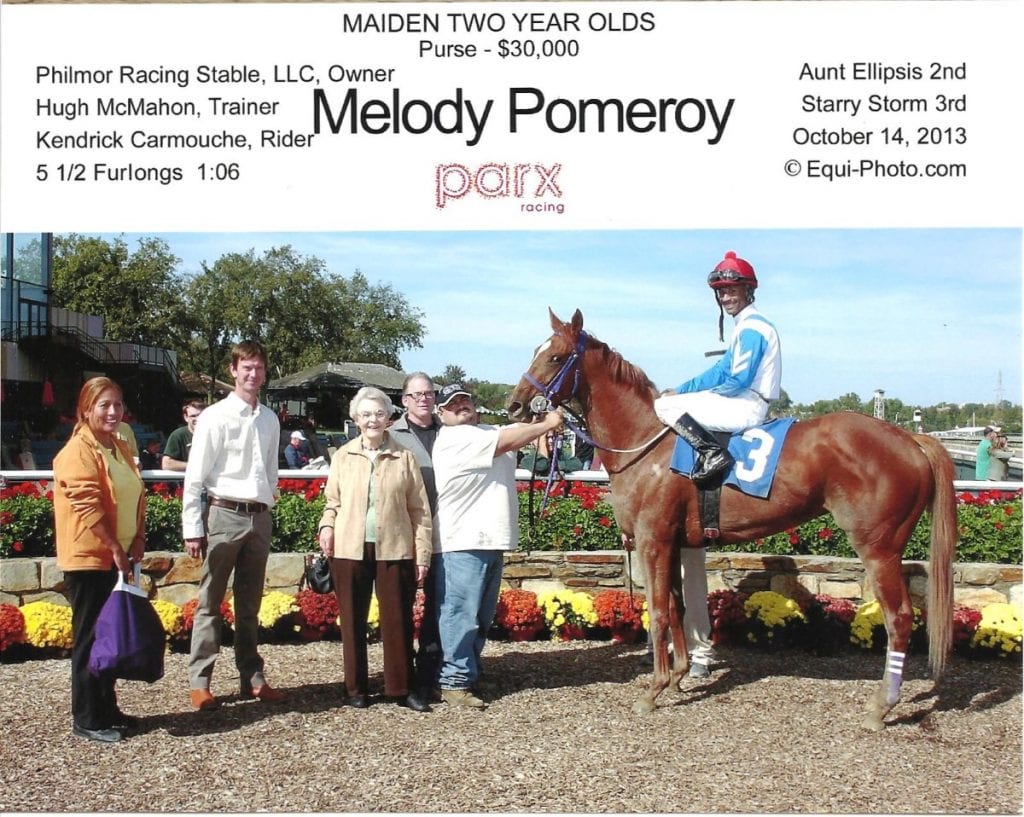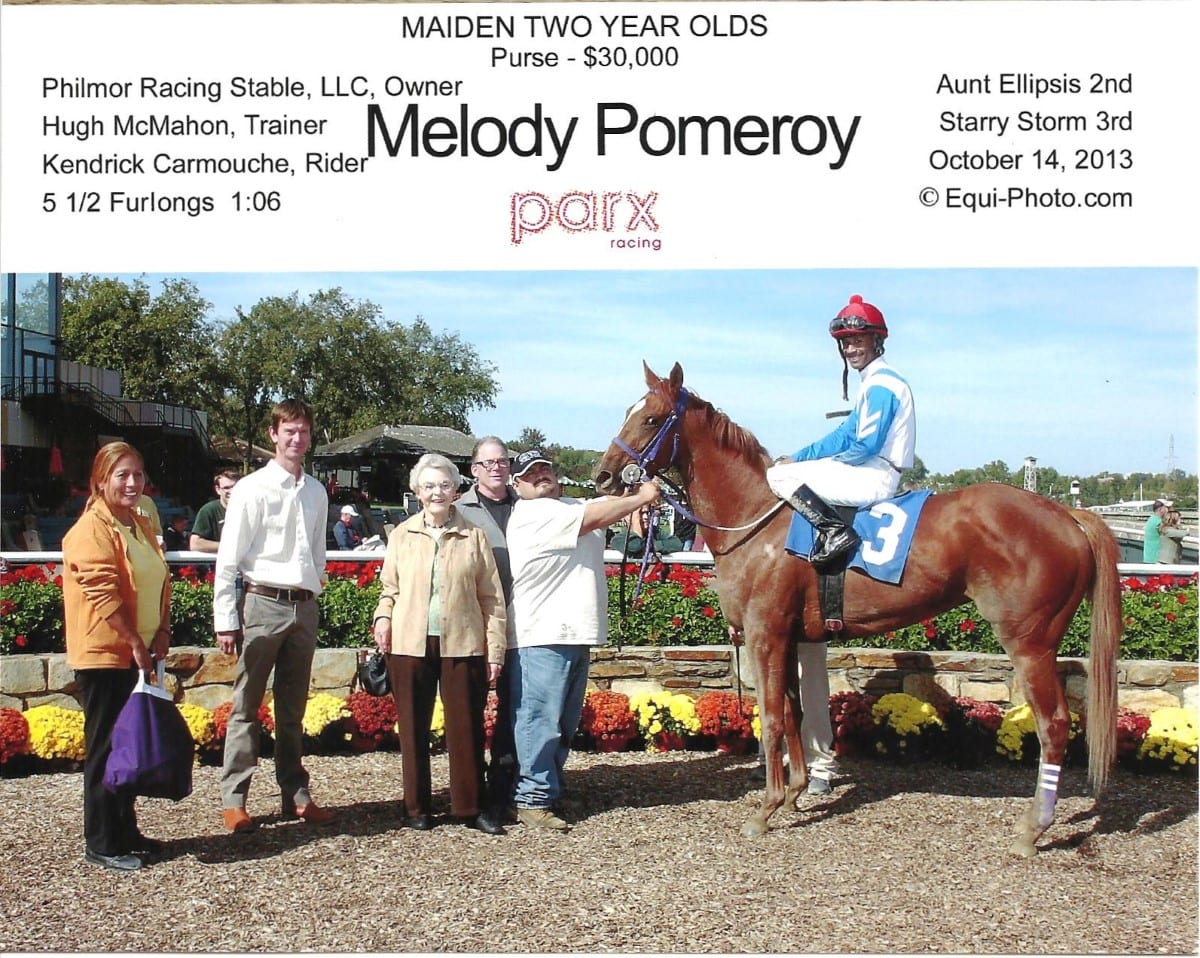 Teresa Genaro

August 21, 2020
When Phyllis Soboczenski was a teenager, she decided that she wanted to own racehorses. She created a stable name. She designed silks. She even knew what breakfast she'd order from the track kitchen.
Seventy years later, Soboczenski is living the dream.
"When I saw a horse walk onto the track with a jockey wearing my silks," she said recently by phone, "it was a thrill equivalent to back when I was 15 years old. It happened."

Now 87, Soboczenski put aside her equine dreams long ago, going to college, getting married, raising a family.
But about a decade ago, reflecting on her life and her accomplishments, she thought, "I've done everything on my bucket list. But I've never had a race horse."
That soon changed.
Soboczenski grew up in New Hampshire, near Rockingham Park, and she'd go there with her parents. She devoured books about horses, and she remembers her first day at the races.
"It was love at first sight," she said. "Of course, it helped that we flipped a coin and bet a horse in the seventh race that happened to be 7-1 and that happened to win."
Easy game.
Nearing age 80, Soboczenski set out to buy a horse, but, having no idea how to get started on her own, she joined partnerships run by Maryland's Winners Circle Partners and Country Life Farm. Through them, she met trainer Hugh McMahon, who trained for Winners Circle, and one day, she told McMahon that she'd like to get a horse on her own.
"Three days later, he called and said, 'I've got a horse for you,'" she recalled.
Fortunately, she had her stable name, established all those years ago, already picked out: Philmor Racing Stable. She had her silks already designed. Her first horse ran two days after her 80th birthday, seven years ago. Her name was Melody Pomeroy, and she finished fourth, jumping from a maiden claimer at Delaware Park to a maiden special weight.
"I told Hugh that I knew that she was just going to run in claiming races," said Soboczenski, "but for my first race, I couldn't bear to think that my first horse might be claimed away from me."
Melody Pomeroy won three races for Soboczenski and McMahon before getting claimed away, and, since then, the two have teamed up to win another 19 races, with 14 seconds and 19 thirds from 126 starts, for earnings of just under $623,000.
Her current stable star is Bustoff, a five-year-old chestnut gelding by Haynesfield out of the Ghostzapper mare Grecian Maiden. McMahon claimed the Maryland-bred for Soboczenski a little over a year ago, and Bustoff won four of his first five races for his new owner. Following a fifth-place finish in a starter allowance at Monmouth Park at the end of July, Bustoff is enjoying some downtime before returning to the races this fall.
"I'm concentrating on Maryland-breds because the bonus program is so wonderful," said Soboczenski. "I generally look for younger horses that are lightly raced and look to be improving."
She has purchased at auction and dabbled in breeding, but quickly decided that those parts of the industry are not for her, so she focuses on claiming.
"At least when you claim, you've got a horse that knows it's a racehorse," she said. "I'm going to be 87 years old. I haven't got time for breeding."
A resident of Lewes, DE, a beach town on the Delmarva peninsula, Soboczenski generally goes to the races if her horses are running at Laurel, Monmouth, or Delaware, with occasional trips to Charles Town. Summer beach traffic can stretch a two-hour trip into something much longer, and the restrictions of Covid-19 have led her to abandon her track trips, at least for now. 
"I can go to Laurel and watch from the apron," she said, "but owners can't go into the winner's circle, and owners are expected to leave right after their race. I'm not going to drive several hours to watch a two-minute race, and not even be able to get my picture taken if my horse wins."
Demelza McMahon, Hugh's wife and partner, said, "If Phyllis can't be there and her horse wins, she photoshops herself into the win photo."
Soboczenski's family doesn't share her affinity for racing; her daughter will sometimes accompany her to the track, but for the most part, hers is a solitary pursuit.
"My husband is 91," she said. "He's not going to develop an interest in this."
She and her daughter went to the Kentucky Derby and the Preakness in 2018, the year Justify won the Triple Crown. They were at Pimlico when California Chrome won in 2014. A year earlier, they traveled to Monmouth to watch American Pharoah win the Haskell Invitational.
Though she likes to limit herself to two horses, she currently owns four. She's not the sort of owner who just waits for the trainer to call with updates; she reads condition books, she looks for horses to claim, she tries to find spots for her horses to run. And with so many tracks in the Midlantic region, that's a lot to keep up with.
Which is fine with her.
"This is more fun than anything I've ever done," she said. "I've loved every second of it and I'm having the time of my life."
LATEST NEWS