BEN PERKINS, SR: THE HORSES KEEP ME YOUNG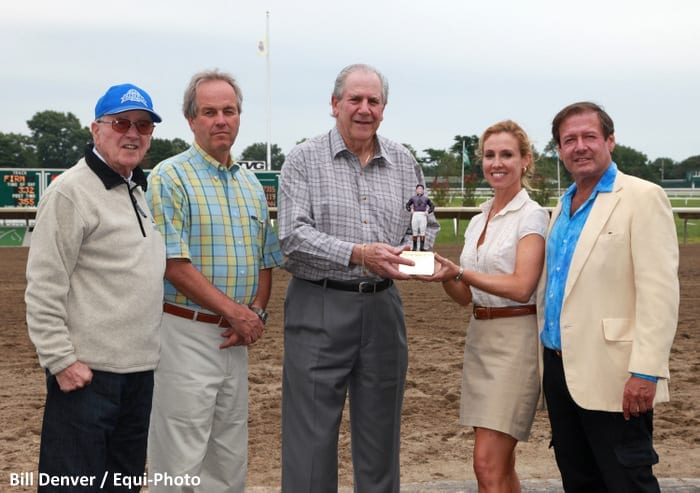 In 1999, he stepped away from the hustle and bustle of his shedrow after his final starter, Erlton, finished second in the Gr. 3 Jersey Shore Breeders' Cup Stakes at Monmouth Park. Perkins' final six starters all finished one-two-three.
But while his name has faded from the printed page, the 86-year-old Perkins has never truly cut ties with thoroughbred racing. After all, he was nearly born into the sport, having taken his first breaths on land that later became the site of Garden State Park in Cherry Hill, NJ.
"It was my grandfather's land," said Perkins. "On it was a small, four-room hospital of sorts where my mother used to work, and as far as I know I'm the only person that was born there."
These days, you can still find the peppy octogenarian at area racetracks, although the bulk of his time is spent overseeing the bloodstock operation of Everett "Ebby" Novak's New Farm, located in Marlton, NJ.
"I go to New Farm every morning, stay a couple of hours, look at the yearlings and the mares and foals, and head home," said Perkins, who lives in a 55-up community not far away. "I also buy young horses for Mr. Novak at auction, and my son Ben Perkins, Jr., trains them. Mr. Novak put me on a retirement plan of sorts."
"He's able to get out and keep busy," said his son Ben, now 64. "He's doing good; he calls me every day. My sister lives with him and my mother and helps take care of them. On Sunday (August 9), when I won four races at Monmouth, he and Mr. Novak were able to be at the track. But during the height of the Covid-19 outbreak, we kept him on lockdown until it was safe for him to go out again."
The elder Perkins reminisced about his youth, when he was a trick roper in the Gene Autry Rodeo, to his start in thoroughbred racing and his best horses.
"I believe I was the youngest trainer ever licensed in New Jersey back in the early 1950s," he said. "I was 19 years old, and I bought three yearlings at a sale at Garden State Park. I paid $100, $500, and $600 for them, and I tried to get stalls at Monmouth. They didn't have any for me, but they put me up at nearby Wolf Hill Farm (located near the racetrack). I won my first race at Monmouth [in 1958]."
Among his career highlights was sending out Five Star Flight to win the Haskell Invitational Handicap in 1981, which came on the heels of the colt's victory in the Jersey Derby.
"We took him to California as a 4-year-old to run in the San Pasqual (Gr. 2, at Santa Anita), and he broke down at the eighth pole and still won the race," said Perkins. "Laffit Pincay, Jr. said to me, 'I don't think I ever rode a better horse.'"
It was for New Farm that he won the Gr. 1 Meadowlands Cup with Conveyor; the Gr. 2 Kentucky Cup Sprint Stakes with Appealing Skier; the Gr. 2 General George Handicap with Meadow Monster, and the Gr. 3 Maryland Breeders' Cup Handicap with Forest Wildcat.
Perkins was also stable manager for owner Allaire duPont's Bohemia Stable for a time, and while he was there, Crowned, who was trained by his son, won the Gr. 2 Delaware Handicap in 1991.
"I didn't care if it was a maiden race for $5,000 horses or a stakes race, I got the same feeling inside when I won a race," said Perkins.
Perkins had a "semi-retirement" from training from 1983 to 1993 but then returned with a vengeance. The 1990s were an especially fertile period for Perkins, as he maintained a winning rate of nearly 30 percent for six years in a row. He retired with 854 winners from 4,850 starters, and more than $13 million in earnings.
But with the all the highs in the sport also came a few lows. The worst was on October 23, 1970, when an early-morning barn fire swept through the Garden State Park backstretch.
"I lost 25 horses in that fire, including six stakes horses," said Perkins. "That was awful – everything was gone."
After deciding to retire, Perkins said he missed the daily hustle and bustle of training, but he found plenty to do at New Farm. He and Novak have been together nearly 35 years. And he also watches his son's horses run either on television or at the track.
"Ebby (Novak) has been a great owner," said Perkins. "I always said the name of this game is having good owners behind you."
Soon after retiring, Perkins said he received an offer to train for a large racing stable in France, but it would have meant living there for four years.
"It was a terrific job, but I turned it down because Geri, my wife of 66 years, got sick, and I wanted to be home with her," he said.
So whether it's spending the early morning hours at New Farm watching the yearlings and foals grow, or taking a trip to an auction in Maryland, or just enjoying an afternoon at Monmouth Park, the still-spry Ben Perkins, Sr. has a full and active life.
"I'm 86, but I feel like I'm 56," he laughed. "I'm doing well; I'm enjoying myself. The horses are keeping me young."
LATEST NEWS