John Mazza: "Hard to think he's not here"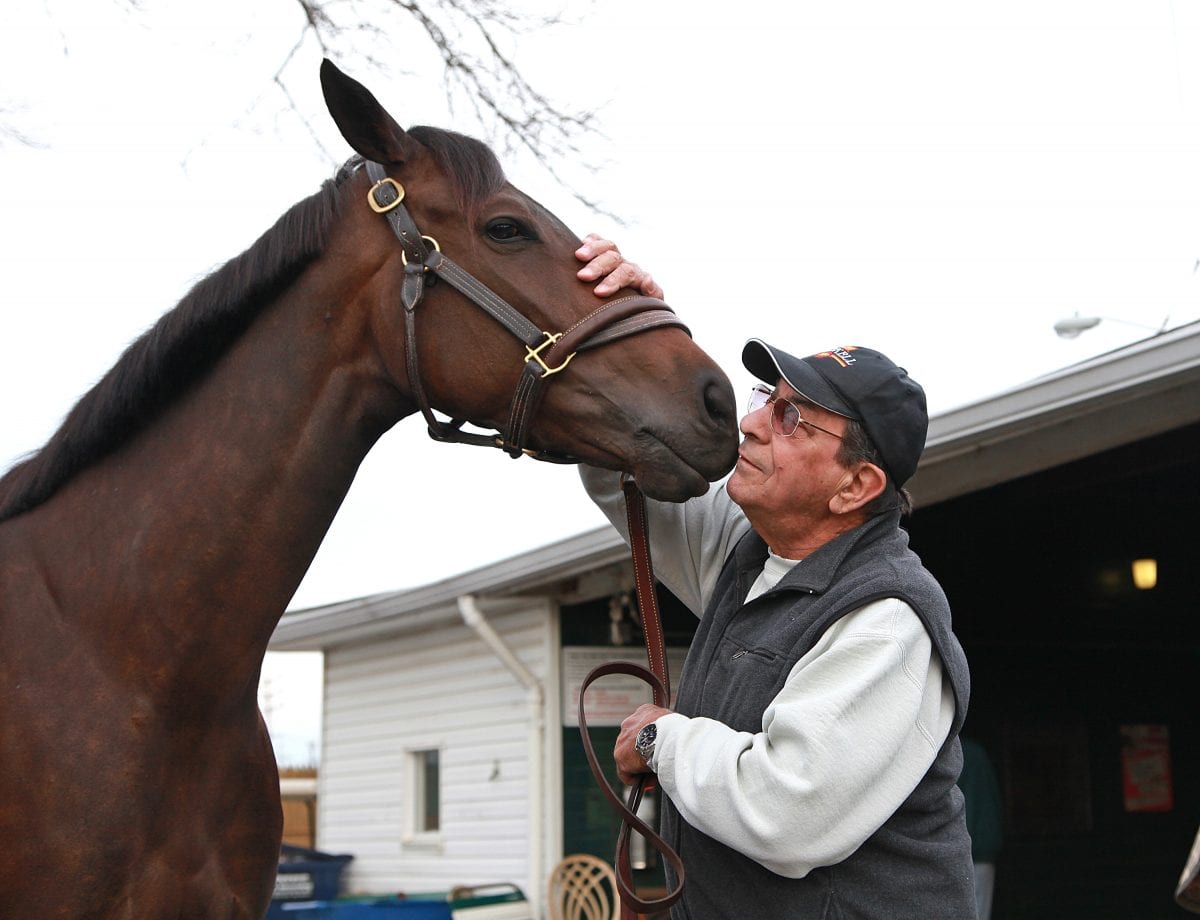 Trainer John Mazza gives a kiss to the nose of Stiffed, a 4-year-old New Jersey-bred filly, in 2015. Photo By Bill Denver/EQUI-PHOTO.
Joe Mazza believes he was about three years old, when his father John brought him to the Mazza barn in the far reaches of Monmouth Park nearly 60 years ago.
"He let me ride some of the horses," Joe Mazza said. "I was hooked."
The elder Mazza died of congestive heart failure May 15 at the age of 82. Contrary to some reports, Mazza did not die of the coronavirus, according to his long-time racing partner and companion Rosemarie Shockley.
John Mazza trained thoroughbred horses for almost 60 years. According to Equibase, whose stats go back only to 1976, he saddled 526 winners with more than $10 million in earnings. Most of his success came at his home track of Monmouth, including last year, when he sent Horologist to victory in the Grade 3 $150,000 Monmouth Oaks last August. That turned out to be the last graded winner of his career.
Joe Mazza became a trainer like his father and has saddled 70 winners with purse earnings of over $1.9 million. The 62-year-old recalled his father's influence on him.
"He was my mentor," Joe Mazza said. "He was everything to me. He was the best. His are tough shoes to follow."
Joe Mazza said that his lasting memory of his father is Horologist's victory last August.
"We were in the (Holly Crest Farm) barn and I watched that race (Monmouth Oaks) with my Dad," Joe Mazza said. "We were so excited, jumping up and down and hugging each other. "
Mazza said that he took a special amount of pride in the fact that he and his father both saddled winners on the same day five times over the last three years, the last being May 25, 2019, when John won with Horologist in an Allowance Optional Claiming race and Joe won with Wilshire Star in a claiming event.
"He was a great Dad," Joe Mazza said. "We used to go crabbing all the time. When I was younger, it was me, my father and my grandfather in the same boat. I wanted to go crabbing with him one more time."
Shockley's husband, Ronald, was a breeder and owner who used John Mazza to train some of his horses.
"He introduced me to horse racing," Rosemarie Shockley said of her late husband, who died in 2001.
After Ronald Shockley's passing, Rosemarie developed a special relationship with trainer John Mazza.
"John and I were together for 18 years," Rosemarie Shockley said. "He helped me become able to stay in the business. I just love it. John was such a kind and straightforward man. He has such a kind heart. John was such a truly dedicated horseman. He couldn't wait to get to the barn. He practically lived at the barn. He loved his horses and cared for them so much. His love for horses was unparalleled. And he was a very generous guy. He could never say 'No' to anyone. He was a tough guy, but he had to be in this business."
As Shockley conducted the interview after Monmouth Park opened the barns June 1 for occupation after the coronavirus COVID-19 pandemic, she was in a familiar place.
"I'm sitting in the barn in John's chair," Shockley said. "I'm going to try to carry on in John's legacy. All of the horses he bred, we'll carry on and see what happens."
Shockley will remain as an assistant trainer. She hopes that Mazza's long-time assistant Eddie Owens will get his trainer's license in time for when Monmouth Park resumes racing July 3.
Mazza still had 22 horses in his stable, most the property of Holly Crest Farm. He saddled 19 horses in 2020, with one winner, Harper Go Lucky, at Gulfstream Park on Feb. 7 this year. His last starter was Bee Major in a maiden event May 9. Mazza died six days later.
Mazza had had major heart surgery in 2017 — at the same exact time period that Joe Mazza had cancer surgery.
"Thank God, I'm still alive," Joe Mazza said. "Dad was fine until the last days. I spoke to him on Wednesday and he said to me, 'Don't ever give up training horses.' Two days later he was gone."
In recent years, John Mazza had developed a close relationship with 28-year-old owner Cameron Beatty, Horologist's owner for the first part of her racing career and who still owns a share in her. She didn't fare well racing in California and has since been returned to train at Saratoga, pointing toward Monmouth's Grade 3 Molly Pitcher Stakes for fillies and mares in August.
"John always called me and asked about Horologist," Beatty said. "He always cared about that horse and she ran for John better than anyone else. She loved John. "
Beatty, who races as There's A Chance Stable, and co-owners Parkland Thoroughbreds, Medallion Racing and Abbondanza Racing, LLC, have secured the services of Hall of Fame trainer Bill Mott to handle Horologist moving forward.
"John really looked up to Bill," Beatty said. "We were discussing Bill before John went into the hospital. John liked the way Bill trained horses. He's old school, a lot like John. That's a big reason why we felt Bill Mott was the right guy. I think she needed that East Coast attention. We feel like she's an East Coast horse. It was almost destiny that something like this happened."
Beatty had only two horses when he hooked up with Mazza in 2017. He now owns four with another on the way.
"John always guided me through the whole process," Beatty said. "I never would have sold shares of Horologist if John didn't approve of it. He always said that if money was on the table, take it. It's led to other things."
"I miss John. He used to call me every morning at 7 a.m. I still have his voice on my message machine, so I can hear his voice. I think we all knew a day like this would eventually happen, but just not this soon. The last time we talked, he told me that he loved me and that I should look after Rose."
Beatty said that he's going to miss the vision of Mazza on his golf cart tooling around the barns at Monmouth.
"He was on that golf cart every morning, heading to the grandstand," Beatty said. "Words can't describe how much I miss him. When someone like that comes into your life, it lasts forever. The best thing I can do is stay in the game for him. It's all in the family now. He's put people into my life that I never knew… It's hard for me to think that he's not here."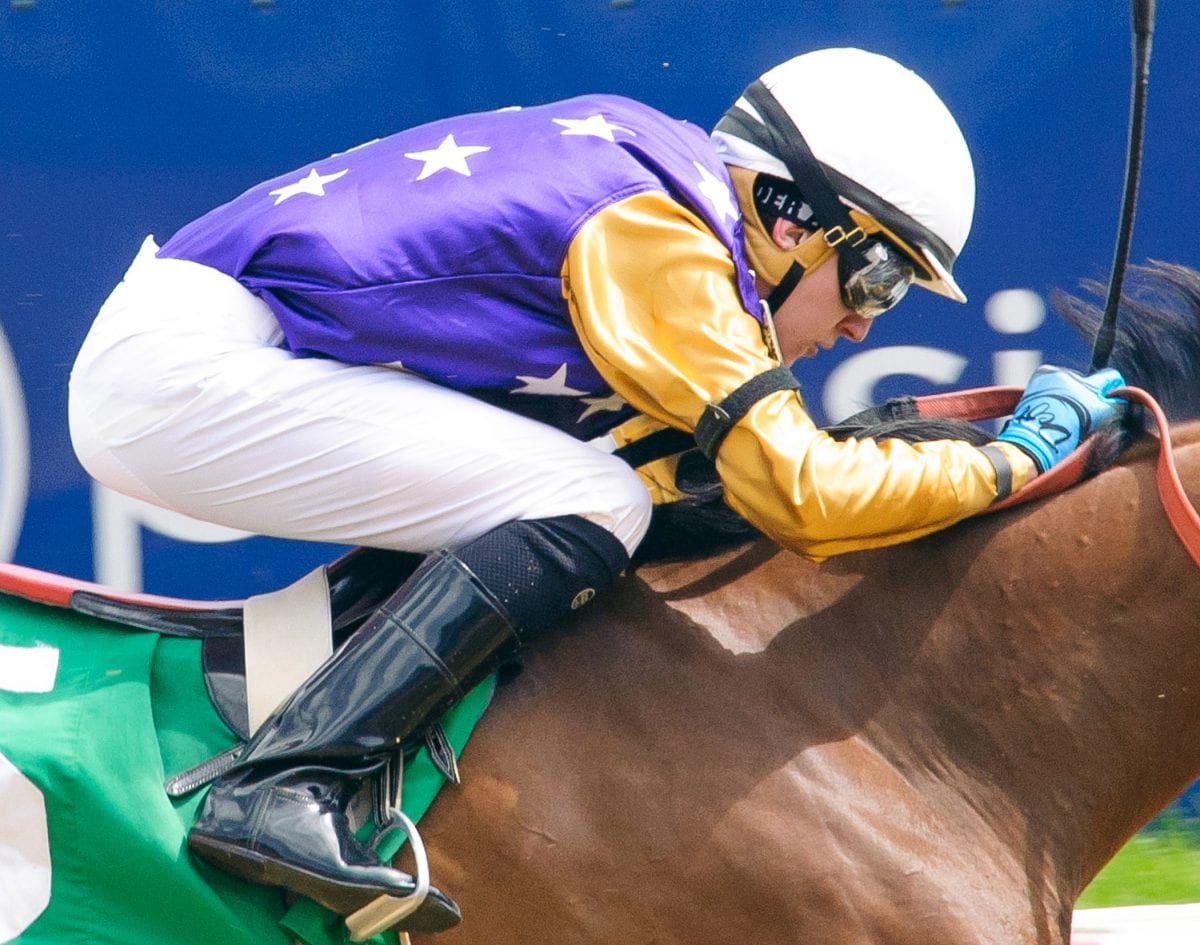 Our correspondent caught up with some jockeys who previously rode regularly at Delaware Park to learn their fondest moments or memories in the First State.