Hypothesis, Boundtobebad headline weekend CT stakes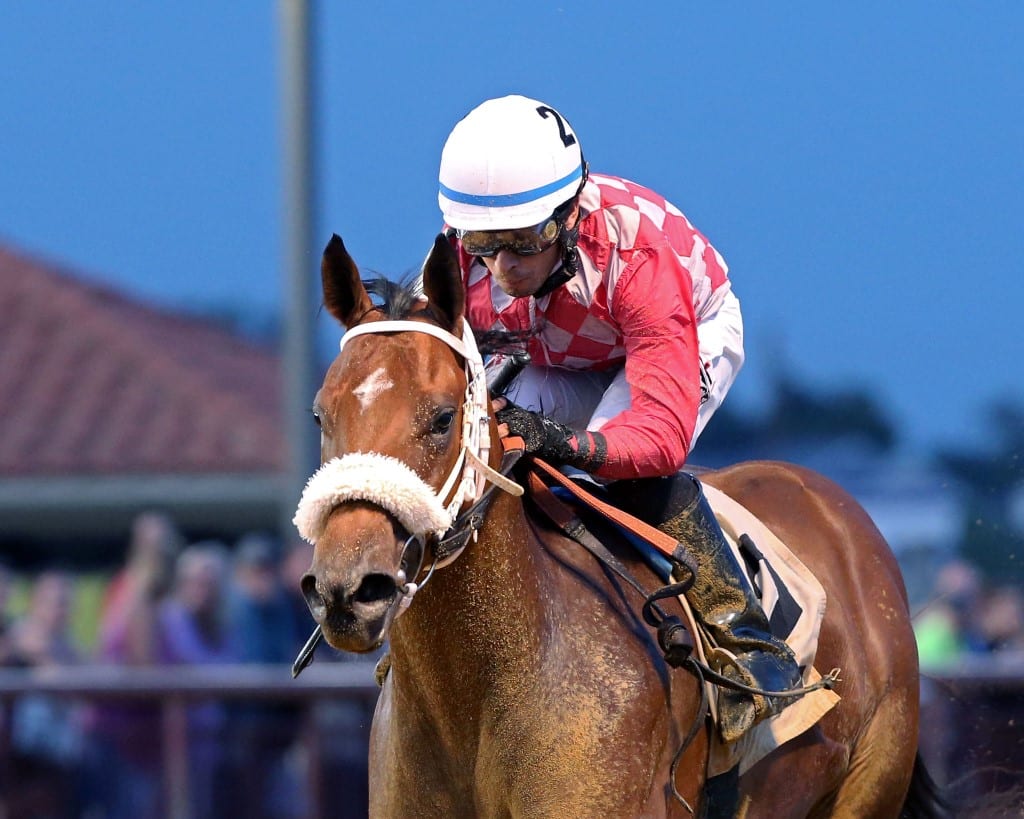 Hypothesis and Gerald Almodovar won the Henry Mercer Memorial Stakes at Charles Town Races. Photo by Coady Photography.
One week after the track resumed live racing following a nearly-two-month hiatus amid the COVID-19 pandemic, Charles Town will offer its first two stakes of the season this weekend, one each for West Virginia-bred three-year-olds and WV-bred sophomore fillies. Several returning state-bred champions are set to make their their seasonal debuts sprinting 4 1/2 furlongs.
Before the pandemic brought a temporary halt to live racing at Charles Town, local fans had already seen state-bred stars Runnin'toluvya and Penguin Power make their seasonal debuts in the same two-turn allowance, and then immediately after racing resumed Parisian Diva made her four-year-old debut with a win in allowance company. 
This Friday's $50,000 It's Binn Too Long Stakes for state-bred three-year-old fillies will mark the sophomore debut of reigning divisional champion Boundtobebad (7-2) for owner-breeder-trainer James W. Casey, as well as the lone filly to defeat her, Angle of Attack (4-1) for trainer Jeff Runco.
Last year Boundtobebad won her first three starts, including a pair of stakes, before settling for second in the Eleanor Casey Memorial behind Angle of Attack. They will renew their rivalry in the It's Binn Too Long, named in honor of another Casey trainee, in the sophomore debuts for both fillies. Angle of Attack, a winner twice in three starts last year, has worked twice since the break for owner-breeder Coleswood Farm (Susan Runco) and drew post nine in the field of that size on Friday.
Several other sophomore fillies could make their presence known early and late in the It's Binn Too Long Stakes. Morning line favorite Coach Rube (3-1), owned and trained by John A. Casey, finished third as the odds-on choice in the Rachel's Turn Stakes last fall; Twirling Owen (9-2) won the Rachel's Turn Stakes last fall for trainer Anthony Farrior and owner-breeder James F. Miller, sports three wins in seven starts overall and has competed at five different ovals; while Manarola (5-1) has won both of her starts already this year for owner-trainer Javier Contreras of Late Night Pow Wow fame.
Saturday's $50,000 Coin Collector Stakes for state-bred three-years is clearly the marquee event of the weekend. Not only does the race feature Hypothesis, last year's champion West Virginia-bred two-year-old male who is making his seasonal debut for trainer Crystal Pickett, but also a pair of talented, unbeaten state-breds sophomores in Muad'dib and Fancy Castle, both of which are making their stakes debuts.
Hypothesis (7-2), a sophomore son of Algorithms trained by Pickett for owner Jill Daniel, won three of four starts last year including both the Henry Mercer and Vincent Moscarelli Memorial Stakes for state-breds over the strip. His lone setback was a fourth-place finish in the $100,000 Rosie's Stakes at Colonial Downs, a race won by Four Wheel Drive, hero of both the Grade 3 Futurity at Belmont Park and the Breeders Cup' Juvenile Turf Sprint at Churchill Downs for trainer Wesley Ward.
"He's been doing really good up here since we brought him back from Florida," Pickett said of Hypothesis. "He worked a couple of times before the break and he was entered to run in an allowance race that Thursday when we got cancelled. He worked really good that first time back [on May 2, four furlongs in 47.80] then he breezed good [three furlongs in 35.60] from the gate. This race was initially going to be in April on Classic Day, but it got pushed back and now he's almost halfway through his three-year-old year and hasn't raced yet."
Having already won a pair of stakes and faced a Breeders' Cup winner in another, Hypothesis is clearly the most accomplished horse in this Saturday's Coin Collector, but he is hardly the only horse worth a look.
Muad'dib (5-2), the undefeated full-brother to Late Night Pow Wow trained by Runco for owner David Raim, has won all three of his starts going two turns in dominant fashion and makes his stakes his debut while cutting back to a one-turn dash.
Fancy Castle (4-1), who has won both of his starts for owner-breeder-trainer John A. Casey, will fittingly make his stakes debut in the Coin Collector, a state-bred star in the early 1990's who won 12 of 43 starts and earned nearly $330,000 also owned and bred by John A. Casey.
"He's got a lot of talent, but he's also got a few head problems," Casey said. "He's not all there mentally right now. But he's looked good winning his first two starts. There really wasn't a whole lot in either race. He kind of leveled off a little bit at the end of his last start going 6 1/2 furlongs. But he's coming into this race good. I don;'t know if he's quite good enough yet to beat these, but it would be nice to win his first stakes in the Coin Collector since I owned and bred him, too."
Local trainer John McKee has a pair of trainees, both of which have won locally against state-bred maiden special weight foes, in Mywalktofreedom and Swing Batter.
Several other contenders will arrive from out-of-town including Maryland invader Bright Dawn, a winner of his second start against maiden special weight foes at Laurel Park, New York shipper Dan the Man Can, who made three starts against maiden special weight foes at Saratoga Race Course last summer, and Ohio invader Chief Randel.
LATEST WEST VIRGINIA NEWS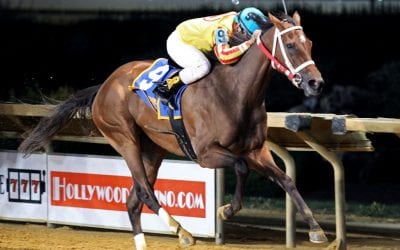 We provide picks and analysis for this evening's card at Charles Town Races.