O'Dwyer barn in uncharted territory with Shotski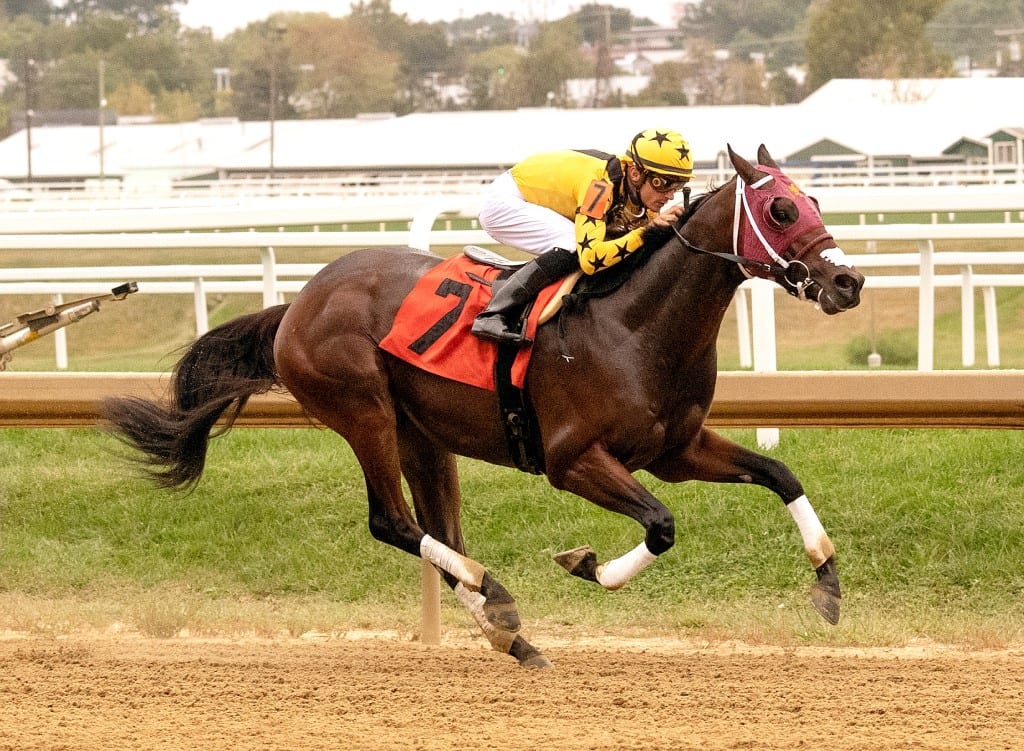 Shotski. Photo Jim McCue, Maryland Jockey Club.
The Laurel Park-based trainer Jeremiah O'Dwyer was in Ocala, Fla. late last spring when a friend referred him to a farm run by Martha and Raul Reyes where an unraced son of Grade 1 winner Blame was being prepared for an upcoming 2-year-old in training sale.
His name was Shotski.
"It was like seeing the woman you're going to marry. You see her and you just like her," O'Dwyer said. "When you stand him up, any good horseman will know that he's a nice-looking horse. He's got a presence about him. He's always had that from Day 1. He's got a good ol' swagger about him, a great walk, a great mind. You can just tell he's a good-minded horse the way he goes about his business, no matter what you ask him to do."
Shotski, a $25,000 bargain purchase by the Reyes's as a fall 2018 yearling, never made it to the juvenile sale.
"A buddy of mine who's a bloodstock agent told me to go out to King's Equine Farm that had some horses that were going to the April 2-year-old in training sale. He was one that I saw and I loved him the minute I saw him," O'Dwyer said. "We made an offer and got him. I just got to see him gallop and they showed him up and down the shank. He'd never really done any fast work before we got him. It's always a risk you're taking."
Winner of the Remsen (G2) to close his juvenile season, Shotski will face the biggest test of his young career when he tackles 11 rivals in the $400,000 Fasig-Tipton Fountain of Youth (G2) at Gulfstream Park, an important step for 3-year-olds on the road to the $1 million Curlin Florida Derby (G1), and beyond.
O'Dwyer was at Gulfstream Thursday to give Shotski a spin around the main track, visit the starting gate and school in the paddock and walking ring during the races. Though he will be cutting back to 1 1/16 miles after back-to-back nine-furlong races, the Fountain of Youth accomplishes the goal of keeping Shotski around two turns.
"We have him going two turns now and we just opted to stay going that route instead of dropping him back to one turn in the Gotham," O'Dwyer said. "We said we'll come down here, get him on a different track, a faster surface and see how he copes with that."
He'll also have to cope with drawing Post 10, outside all but two of his rivals. Like Shotski, each of the horses to his right – Ete Indien and Chance It – have a preference for showing off their speed. Hall of Famer John Velazquez will ride Shotski for the first time.
"Obviously, it's not ideal. I was shocked by the big field we got in there. The way we look at it, we'd prefer to be in Post 10 than Post 2," O'Dwyer said. "You never know, we might be lucky enough to get a scratch or two on the inside. In an ideal world, anybody would love to have drawn five, six or seven.
"He's got very good gate speed. I say that and people look back and see his last run and he was off a tad slow. It really wasn't his fault," he added. "If you look at the race properly, his head was just turned to the left when the gates opened and it took him by surprise. But he breezed out of the gate last week and he's just so fluid and quick away from there, which is nice. It'll be a big asset, and can you have anybody better than Johnny V on his back?"
Shotski has done all his preparation for the Fountain of Youth at Laurel, where O'Dwyer currently has 21 horses stabled but expects to be up to 40 next month when the next round of young horses arrive. The trainer said keeping Shotski in Maryland has been beneficial to his development.
"I like that aspect, letting my horses win their maiden at Laurel where people might say it's bit easier. It does their confidence good, instead of them having four or five hard runs at the likes of Churchill or Saratoga before they break their maiden," O'Dwyer said. "A lot of mine, they'll run well first time and they'll improve a lot and really show up in their second or third start."
Shotski ran 10th in his debut last fall, a turf sprint at Kentucky Downs, before moving to the dirt and adding blinkers for his second start in October at Laurel. He pressed the pace before ranging up on well-regarded favorite Sagamore Mischief at the top of the stretch and pulling away to a four-length score.
From there, Shotski returned to Kentucky for the one-mile Street Sense, running fourth behind South Bend in his prep for the Remsen and trailing third-place finisher Silver Prospector by less than a length. Silver Prospector went on to win the Kentucky Jockey Club (G2) at 2 and Southwest (G3) Feb. 17.
In his sophomore debut, Shotski set a pressured pace and held the lead into deep stretch before being passed on the outside by Max Player and finishing second in the Withers (G3) Feb. 1 at Aqueduct.
"When you buy them you're hoping they can be [special], but he was impressive when he won his maiden at Laurel and we said, 'We've got a nice horse on our hands,'" O'Dwyer said. "When I really thought highly of him was when he finished fourth in the Street Sense. That day he took on some proven horses and stuck right in there with them. Silver Prospector came back and he won at Oaklawn, so that gives you a confidence boost that we were right there with them.
"Going a little further I think he'll be better, going the two turns than he was the one turn, but he's just done nothing but take a step forward," he added. "I know in the last one he finished second, but he to fight hard every step of the way in that race. He got no easy lead, he never got a breather, he fought them off and Max Player came late and wide and he had gone by us before we saw him."
Shotski is the first graded-stakes winner for O'Dwyer, a 38-year-old native of Tipperary, Ireland, where he grew up riding ponies and attending horse sales with his father. He ultimately graduated from the Irish Racing Academy with designs on being a jockey despite his 5-foot-10 frame. After serving as an apprentice to trainer David Hanley, now general manager of WinStar Farm, O'Dwyer rode more than 100 winners in Ireland and England before coming to the U.S. at the urging of trainer John Ennis.
O'Dwyer got a job with trainer Al Stall Jr. in Kentucky, spent a summer in Saratoga and prepped 2-year-olds in Florida before settling on a training career. His first of 75 winners to date came courtesy of Aleutian Queen at Belterra Park Sept. 27, 2014.
Other top horses trained by O'Dwyer are Needs Supervision, winner of the 2019 Imagining Safely Kept at Laurel and Silverbulletday Stakes; 2019 Kentucky Juvenile Stakes winner Rookie Salsa; 2020 Ruthless Stakes winner Cruise and Danze; and V.I.P. Ticket, third in the 2019 Sir Barton at Pimlico Race Course.
As much as the Fountain of Youth will be a proving ground for Shotski, the same can be said for O'Dwyer, who has a growing reputation in the game with young horses.
"It's something I take a lot of pride in. I love the young horses, taking them on and teaching them to be the best they can be. Young horses, they're the best in the world. They're very trusting and if you do right by them, they'll do right by you the majority of the time," O'Dwyer said.
While at Gulfstream, Shotski is stabled with Hall of Fame trainer Bill Mott's horses in Barn 5, occupying the same stall that once housed Hall of Famer Cigar. Last month, it was home to $3 million Pegasus World Cup Invitational (G1) winner Mucho Gusto.
"I've been preparing for a horse like this for about 20 years, but I've only been looking for him for five or six. They're the horses I want. That's why I started training, to get horses like him. We want to continue to get horses like him," O'Dwyer said. "Hopefully in future years we have three or four bullets. You'd like to be having a few nice horses where you're having trouble separating them and taking them to different places. That's what we want."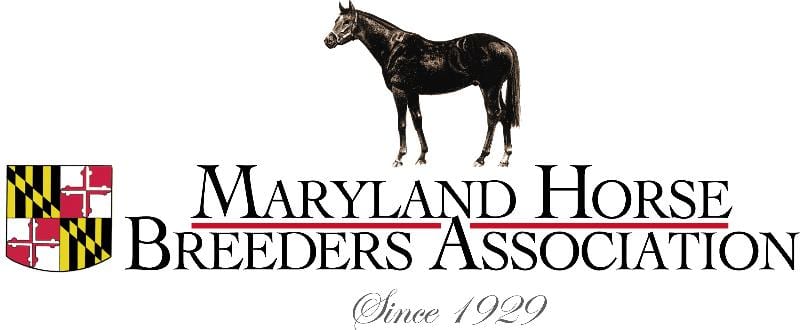 On February 27 the Maryland Horse Breeders Association will host a talk with Alvin Stone, author of a book about and son of longtime groom Stoney Stone.