Five questions for this week's Midlantic stakes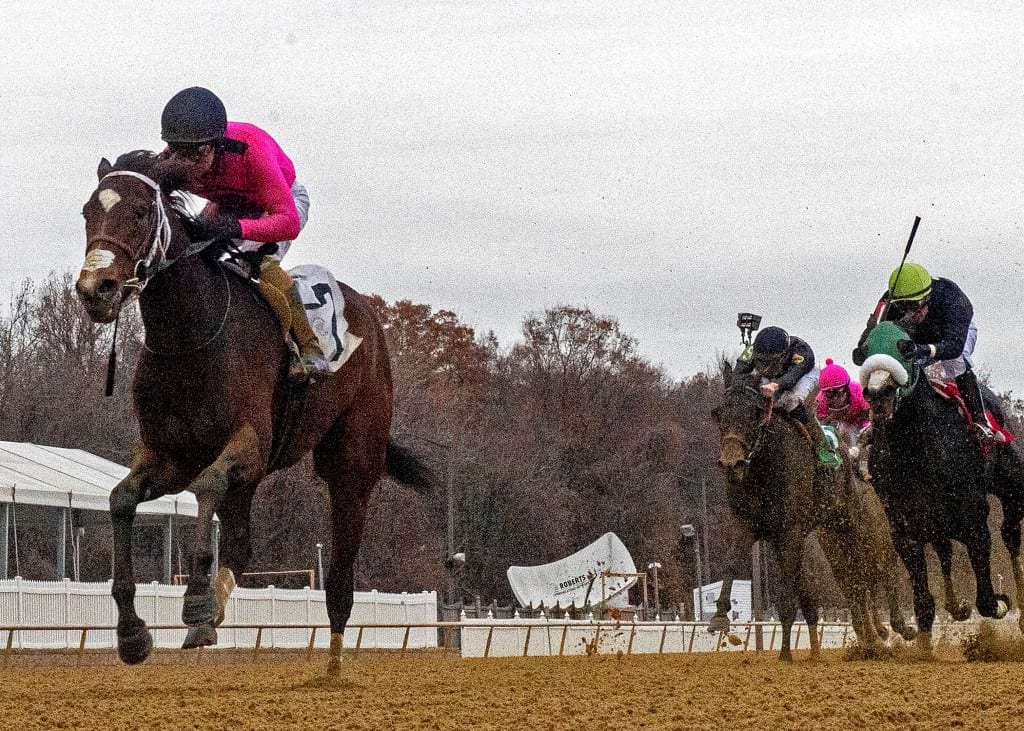 Needs Supervision was much the best in the Safely Kept Stakes at Laurel Park. Photo by Maryland Jockey Club.
Laurel Park hosts four stakes on Saturday, two for Maryland-breds and two, well, not. And Charles Town has a stake of its own Saturday evening, in the form of the $35,000 White Alley Overnight Stake. That's all, of course, assuming the weather permits.
If it does, we have five questions for the day's stakes:
Can Anna's Bandit make it lucky seven?
Newly turned six-year-old Anna's Bandit has won six consecutive races (and 16 of 32 in her remarkable career). Will she make it seven straight in the Geisha, in which she's 4-5 on the morning line?
She's clearly the most accomplished runner in the field, with numerous stakes victories — including five straight — and career earnings of more than $700,000. Limited View, her nearest competitor in the purse earnings category, has banked $324,000 in her career to date.
If there's a question — and it's horse racing, so there's always a question — it's how Anna's Bandit will fare stretching out to a mile. She's done her best work at seven furlongs and won the Politely last out at six furlongs, and while her running style suggests the added ground won't be an issue, you never quite know until they do it.
Can Alwaysmining recapture his winning ways?
The Kelly Rubley-trained Alwaysmining captivated the racing nation last winter and spring when he won six consecutive races, five of them stakes, en route to a berth in the Grade 1 Preakness. The Preakness snapped his win streak — he finished 11th after looming a threat at the head of the lane — and he's now lost five consecutive races.
It's a streak that calls to mind 2004 Preakness runner Water Cannon, like Alwaysmining a Maryland-bred who caught fire at the right moment. Trained by Linda Albert, Water Cannon lost the first six starts of his career before ripping off a five-race win streak including scores in three races — the Miracle Wood, Private Terms, and Federico Tesio — also won by Alwaysmining. He was likewise up the track in the Preakness, and he didn't win another race until 2006.
The good news for Alwaysmining (8-5 on the morning line) is that he ran well last time out, leading late before settling for second in the Native Dancer, and a repeat of that effort would probably get him a picture. Julian Pimentel will ride.
Will Still Having Fun zig — or zag?
The Tim Keefe-trained Still Having Fun is cross-entered in the Fire Plug at Laurel and in Aqueduct's Grade 3 Toboggan Stakes Saturday. He's 4-1 in the former and 12-1 in the latter.
Keefe has said his near-term goal for Still Having Fun is the seven-furlong, Grade 3 General George next month at Laurel. So the challenge: which is a better way to get there?
The Fire Plug has the benefit of being run over the same track as the General George. It's also Keefe's home track, so Still Having Fun can simply walk out of his stall to get to the starting gate.
The Toboggan seems likely to offer a stiffer challenge — it's attracted mulitple Grade 1 winner Mind Control, among others — and is contested at the same seven-furlong distance as the General George.
Weather's a wild card, with bad weather predicted along the East Coast on Saturday.
Another question is pace. The late-running Still Having Fun has done his best work — including his win in the Grade 2 Woody Stephens in June 2018 — rallying into fast paces, and it's not clear he'll get one in the Fire Plug.
If he races at Laurel, Feargal Lynch is named to ride.
Can All Flatter take a bite out of that purchase price?
You don't see a ton of horses at Charles Town that cost $170,000 at auction, but one that did is All Flatter, who's 10-1 on the morning line in Saturday's $35,000 White Alley Overnight Stakes.
Just turned five, the Flatter mare, who's owned by New Farm, has some work to do to earn back that purchase price. All Flatter has earned just shy of $99,000 in her 15-race career to date.
Trained by Jeff Runco, All Flatter broke her maiden at first asking at Monmouth Park in July 2018 and won three of her first four career starts. Since then, however, she's lost 11 straight.
Overall, All Flatter has won three of 15 career starts and finished in the money 10 other times. She'll be gunning for her first stakes win in the White Alley.
The morning line favorite for the White Alley is the Todd Beattie-trained Victim of Love (2-1), who owns a stakes win in her career and last out, in November, was third in the Safely Kept at Laurel Park.Also likely to take play are the Mike Gorham trainee Angel At War (5-2) and She's Quiet (3-1), trained by Jeffrey Allen.
Will the What a Summer Stakes hold together?
Two of the six runners entered in Saturday's What a Summer at Laurel Park also are entered in the White Alley at Charles Town. Victim of Love (6-1 in the What a Summer) and Angel At War (6-1) are the morning line favorite and second choice in the White Alley, which would argue for them landing in that spot.
On the other hand, Angel At War is currently stabled at Laurel, so trainer Gorham might end up staying home. Victim of Love is based at Penn National.
If either (or both) do post, they'll need to figure out a way to upend favored Needs Supervision (8-5), who was an easy winner in the Safely Kept two back and last out did not run poorly in the Grade 3 Go For Wand at Aqueduct. The Jerry O'Dwyer trainee will have Feargal Lynch in the irons.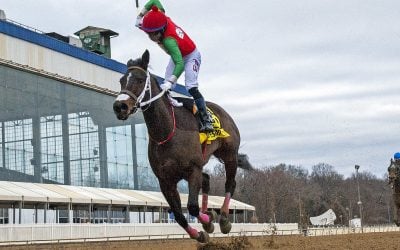 Wondering what the winning speed figures were for the six Laurel Park stakes this past weekend? Answers inside…