McCarthy scores stakes hat trick among five Laurel wins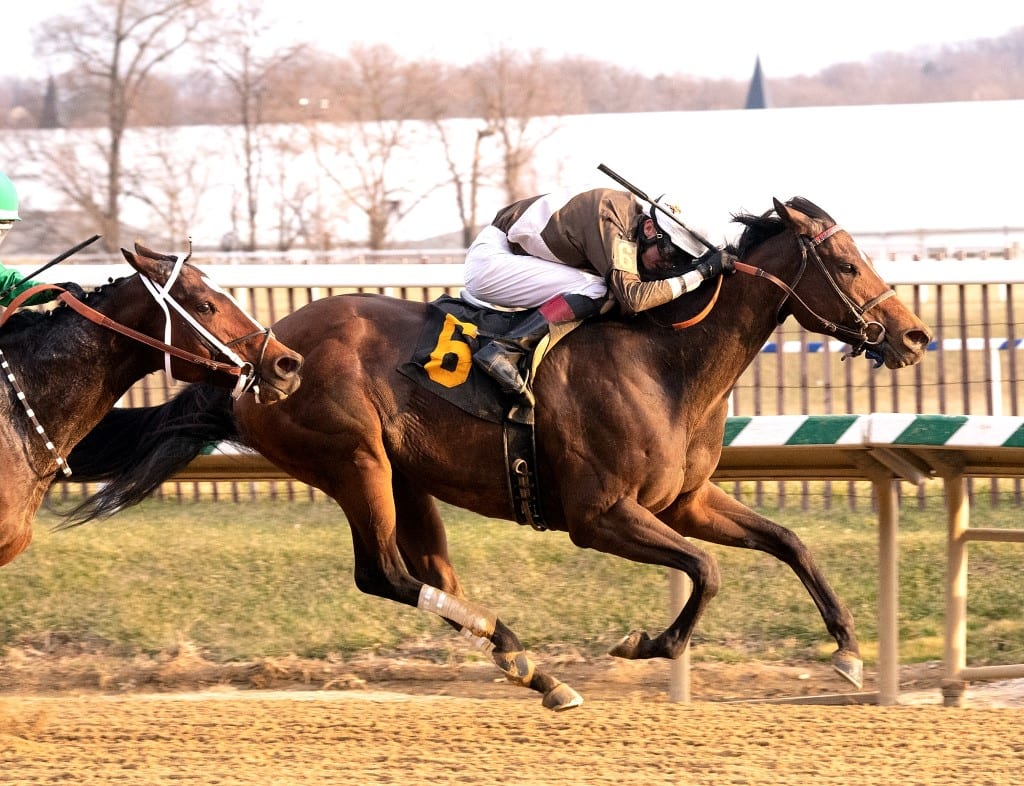 Majestic Reason won the Willa On the Move. Photo by Jim McCue, Maryland Jockey Club.
Maybe the 28th is jockey Trevor McCarthy's lucky day.
Back on September 28, McCarthy won five races at Laurel Park. Four of them were stakes.
And on Saturday — December 28 — McCarthy nearly repeated that feat, posting another five-win day. But today, a "mere" three of those wins came in stakes company.
"This fall has been a really good fall meet," the rider, 25, said. "I think my best fall meet as far as money earned, so it's just been great. I really rode a lot of nice horses."
McCarthy's mounts have earned more than $2.3 million during the Laurel fall meet and recorded 11 stakes victories.
The most recent of those, and his third today, came aboard Majestic Reason in the 6-furlong Willa On the Move Stakes. Trained by Graham Motion, Majestic Reason was able to save ground around the turn before finding a seam along the rail. She won by three parts of a length in 1:10.68 over a fast main track.
"I was really proud of this filly," McCarthy said of the daughter of Majestic Warrior, a Maryland-bred trained by Graham Motion for Hillwood Stable LLC and Richard Golden. "She was really game. She kind of got out on the lead and just waited, and when that other filly came to her, she fought back, which I was really impressed with."
It was Majestic Reason's fifth win from 12 career starts and pushed her earnings past the $300,000 mark. In her prior start, she'd been up close early, dropped back slightly, and then re-rallied but had to settle for second behind the too-good Anna's Bandit. Today, she got the kind of trip she relishes, with other speedy types duking it up out front.
"I only rode her the one time the last time, and I learned a lot from her," McCarthy said. "Today I just let her get into her stride. She had plenty of pace to run at, and we had a super great trip."
McCarthy's other stakes wins today came aboard Threefiveindia in the six-furlong Dave's Friend and Someday Jones in the nine-furlong Native Dancer. Both were shippers, the former from California for Peter Miller and the latter from up I-95 a piece at Parx Racing, where John Servis trains him.
That perhaps speaks both to McCarthy's status as one of the top local riders — today's five wins have wrapped up the fall riding title here — and the higher profile he gained from wintering in New York two years back, even if that sojourn didn't go exactly as he planned.
"Some poeple will say that going to New York was a mistake, but to me, I think it was a great learning experience," McCarthy said. "I had a lot of fun there, [and] I had a great agent."
And now back home — he's a Wilmington, DE native who's thrived in Maryland — McCarthy is back atop the rider standings.
"When things in New York didn't go as planned, I decided to come back here where I've always done well, and everybody's been really good to me," McCarthy said. "I just like it here; it's home."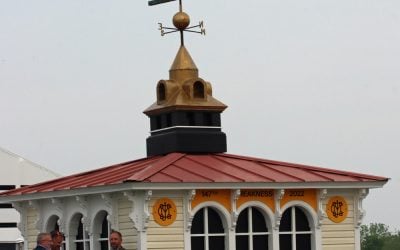 Pimlico will not race Saturday, Sept. 23 as a result of Tropical Storm Ophelia, the track announced Saturday morning.