Bugler Dixon learning new song after scary accident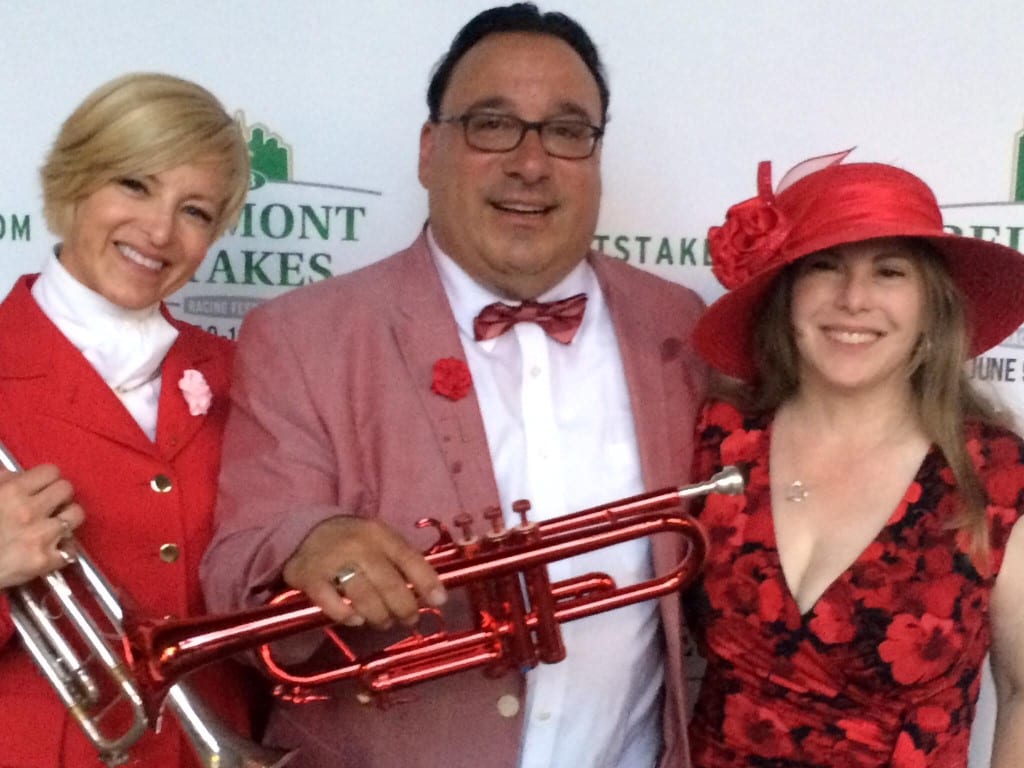 Bethann Dixon (left) with Sam "The Bugler" Grossman and Laura Grossman. Courtesy Bethann Dixon.
It's been a rough 16 months for Bethann Dixon. But she's not playing any sad songs just yet.
Up until then, she was living the life she practically always dreamed of: content teaching middle school music in Maryland, spending a lot of time with horses, and, on occasion, heading to the racetrack, trumpet in hand, to play the call to post for big races, including the Preakness and Maryland Million.
But in August 2017, things changed.
"I went in for a simple physical to renew my scuba divers' license," Dixon said. "The doctor said I had high blood pressure. I never knew that."
Dixon became diligent in her blood pressure prognosis, but the numbers wouldn't drop. A further blood test determined that Dixon was suffering from polycystic kidney disease, a potentially-fatal illness where multiple cysts form on the kidneys and shut down regular functions. Without operational kidneys, a person could go into complete renal failure.
Dixon needed a kidney transplant. She was fortunate to find one from a young man in Toledo, Ohio named Jermaine Curry. Dixon had the transplant surgery July 24, 2018.
"The operation went great," Dixon said. "But my right leg went numb."
Dixon believes that the doctors might have nicked the femoral nerve in her left during the kidney surgery.
"I kept falling down," Dixon said. "I missed almost a whole year of work. I was still working on rehabbing the leg. I wanted to get back to being an equestrian and doing what I once did."
Dixon had just finally returned to teaching in September, and things were fine for a couple of months, when the second disaster struck in November.
On the day before Thanksgiving, Wednesday, Nov. 27, Dixon was traveling with her friend Michael Farber near her home in Maryland, when she was involved in a horrific automobile accident.
"I was never in an accident before," said the 50-year-old Dixon. "I was trying to make a left turn. It was so weird. There was hardly any traffic."
It was around 9 p.m. when an uninsured driver traveling at speeds in excess of 100 miles per hour slammed into the rear of Dixon's car.
"The last thing I remember, I needed to be cut out of my car," Dixon said. "I looked over to the passenger's seat and Michael was gone. I remember getting upset, because I didn't know where he was. All I remember was telling the ambulance driver that I needed to take my medicine because of the kidney transplant surgery."
The driver of the car had no valid driver's license and no insurance. He was issued 14 violations and practically walked away from the scene. Farber required surgery for several rib fractures.
Dixon needed more than that.
She suffered a broken clavicle, six broken ribs, a broken shoulder, a broken scapula, a broken sternum and severe head trauma. Dixon spent the first two weeks at Shock Trauma at the University of Maryland Medical Center in Baltimore and was recently moved to MedStar Good Samaritan Rehabilitation Hospital.
"I have to rehab the injuries to get my life back again," Dixon said. "It was so devastating. I don't know if I can be my old self."
Dixon's old self had carved out a nice niche of being a trackside bugler, part-time equestrian, and full-time music teacher – a combination that knit together the key threads of her life.
As a middle school student in Allport, PA, near State College, Dixon fell in love with music.
"I was in the band," Dixon said. "I first played the flute, but then I fell in love with the trombone."
After high school, Dixon headed to Indiana University in Pennsylvania, where she majored in music, concentrating on the trombone.
"Music transcends a lot of things," Dixon explains. "When everyone is playing, the better you are and the better the group. It was a camaraderie thing for me. No part is too small in a band. Even someone who plays the triangle, being in sync with everyone is a key. It's a myriad of sounds and textures. There's nothing like being in that groove."
During her younger days, Dixon also fell in love with horses.
"I loved being around horses," Dixon said. "I loved riding. I couldn't think of anything else."
She started riding horses for pleasure, and eventually became a show rider and equestrian.
In 2012, Dixon attended the Preakness Stakes at Pimlico Race Course, where she ran into a man known at every thoroughbred race track on the East Coast: Sam Grossman, better known as "Sam the Bugler."
For more than two decades, Grossman's horn called the horses to the post at the New York tracks, and at other big events. Sam the Bugler is like the Michael Jordan of track buglers, playing his Kanstul herald trumpet to the delight of horse players.
"I just ran into him there," Dixon said of Grossman. "I said, 'I can hear you playing throughout the whole stands. You're incredible."
Immediately, Dixon thought of her middle school music students.
"I asked him if he would like to come to speak to my kids," Dixon said. "He was so personal and friendly. I gave him my business card and asked him to call me. He then saw me on my Facebook page."
There, Grossman saw Dixon wearing her riding outfit with the red blazer, high black boots and cap, which gave him an idea.
"He asked me if I wanted to come up to New York and play with him on Belmont Stakes Day," Dixon said. "I really thought about it. I asked myself, 'Should I do this?'"
Grossman sent Dixon a piece of sheet music, with the third trumpet part of "America the Beautiful," so Dixon could play with Grossman and horn partner Ryan Resky.
Because of the collaboration, Dixon became close friends with Sam and his wife, Laura. Sam dubbed Dixon as "The always fabulous Bethann Dixon" and refers to her that way to this day.
"We made a nice trio," Dixon laughed. "Sam is the whole reason why I got into bugling at tracks."
In the years to come, they would play plenty of big events, and Dixon got to meet hundreds of people, from the nickel-and-dime player to celebrities.
"It's been amazing," Dixon said. "I got to meet a lot of great jockeys like Jean Cruguet (the jockey who rode Seattle Slew) and trainers like D. Wayne Lukas. I met (hockey star and NBC analyst) Eddie Olczyk and (soap opera diva) Susan Lucci. I met Bill Murray and had a picture taken with him."
And then Dixon met a man from Hope, Arkansas.
"I met President (Bill) Clinton," Dixon said. "He was unbelievable. He came over to me immediately and made me feel like I was the only other person in the room. He had his arm around me and we talked about the saxophone. It was so amazing."
Because of her association with Sam the Bugler, Dixon was getting regular gigs.
"Immediately, everyone wanted to book me," said Dixon, who performed at the Maryland Million and the Preakness in Maryland. "I like doing it for the big races."
All that, of course, is on hold for the time being. Dixon has more pressing concerns right now.
Dixon's car was totaled in the accident, but what she stands to receive from insurance won't get her a new one. So Laura Grossman, the wife of the now-retired Sam the Bugler, started a GoFundMe page to help defray some of the costs. So far it's raised over $5,500 towards a goal of $30,000 to help her obtain a new vehicle and keep up with her regular bills.
"We all want Bethann focused on physical recovery, not these extraneous financial concerns," Laura Grossman wrote..
Dixon is still rehabbing her injuries and working with therapists daily to recover. She hopes to be able to return home as soon as possible. If all goes to plan, maybe she'll be able to make a trip to the finish line and winner's circle, perhaps during the summer.
"I'm making headway," Dixon said.
That's a start.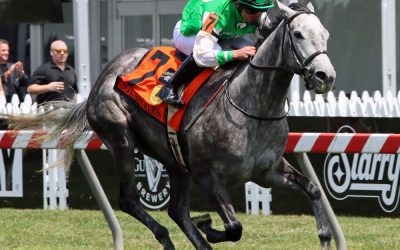 Roses for Debra has been first past the post in every start on turf and synthetic, a streak she'll put on the line in Saturday's G3 Turf Monster at Parx.