Parade of Colors helps breeder Williamson march on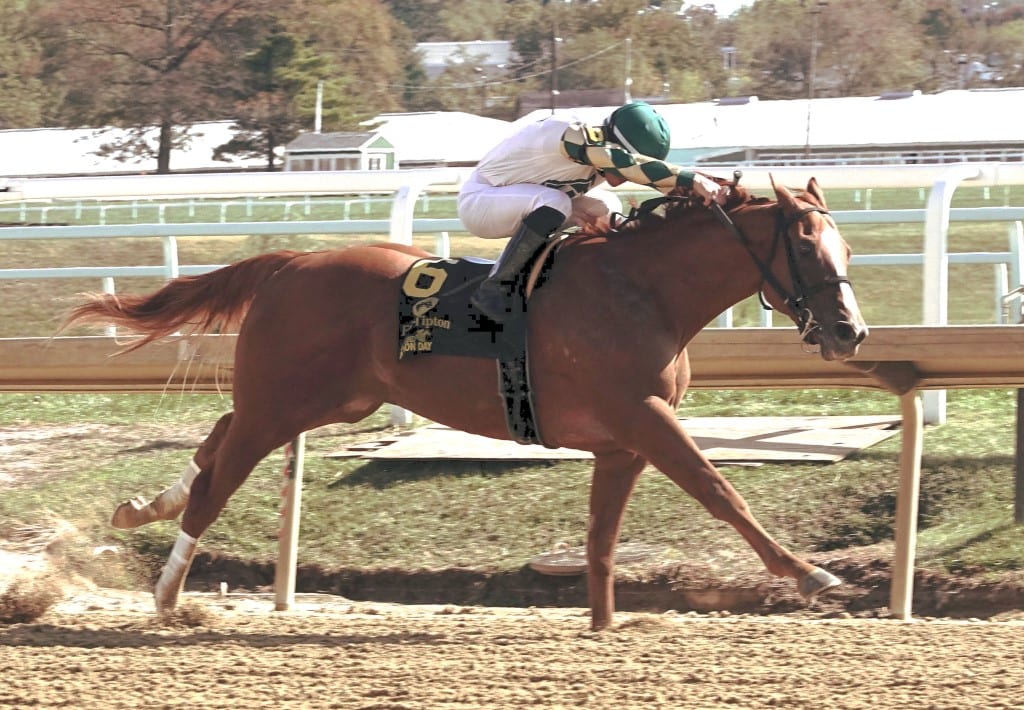 Ournationonparade won the Maryland Million Nursery. Photo by Laurie Asseo.
When Ournationonparade swept down the stretch at Laurel on October 19th to take the Maryland Million Nursery, it marked the latest successful chapter in the story of Vietnam vet John E. "Jay" Williamson, III and his patriotically named broodmare Parade of Colors.
Williamson, who grew up in Maryland's Windy Valley, has been involved with horses as long as he can remember. "Everybody in the valley where I grew up had horses," he recalled.
He worked with horses through high school and not long after was shipped overseas to Vietnam where he spent 11 months "in country" in 1967-68.
He came home and enjoyed his return to his neighborhood for about a week, but his celebrations were soon cut short when he came home around 2:00 a.m. and found his mom waiting for him.
"She said, 'Don't think you're going to keep this up. You need to get out and find yourself a job,'" Williamson said.
"I had worked a bit for Jerry Meyer before I had shipped out, so I called him to see if he had any work for me," Williamson remembered.
Meyer, a Canadian horseman who at one point had more than 200 horses in training at tracks in the U.S. and Canada, told Williamson he had a division of his outfit the young man could take over and that proved to be the beginning of a long career.
Williamson spent the best part of the next four decades travelling around the U.S. and Canada. He worked first as an assistant trainer then trained his own stable.
"I raced from Woodbine, which I think is one of the best run and designed track in North America, to Florida," he said. "I've been to the Fairgrounds, Kentucky, New York, and of course the Maryland tracks, Liberty Bell, Delaware Park, and just about every track in the Mid-Atlantic and East Coast."
He finally settled back in Maryland and tried to keep broodmares while continuing to work well into his 70s.
That's when Parade of Colors came into the picture. Williamson briefly owned her prior to her racing career in partnership with agent Marshall Silverman, who sold her for $15,000 at the 2010 Fasig-Tipton Midlantic two-year-old sale, and he always kept an eye on her through her career.
"She just had a look I liked," Williamson explained. "She's got that white eye and she just caught my eye the first time I saw her."   
Bred by Roy Lerman, Parade of Colors had a dazzling pedigree. The Florida-bred's sire, Leading the Parade, was by A.P. Indy out of My Flag. My Flag's bloodlines were spectacular. Her sire was Easy Goer, and her mother was champion Personal Ensign. My Flag was also the dam of the millionaire Storm Flag Flying.
Parade of Colors raced for three years, with career earnings of some $71,000, and because of her bloodlines Williamson had watched her races with interest. She eventually wound up in the Jamie Ness barn and had gone off form at the time Williamson saw Ness on the rail at Laurel one morning. He asked Ness what he had planned for Parade of Colors.
"Jamie said she wasn't going to race anymore, and if I wanted her, he'd let me have her as long as I would treat her well," Williamson recalled. "I went to his barn, picked her up and she was mine."
That was in 2012. Williamson turned the mare out and then bred her the next spring to Cal Nation. The product of that union was Parade of Nations, who has won 11 races and more than $286,000 in earnings.
Later foals by Parade of Colors included Parade of Freedom, a colt who was plagued with ulcers and won $28,000, and Tri Try Colors, a winner who has earned more than $52,000 during his career.
Then Williamson went back to Cal Nation with Parade of Colors, and the result was a chestnut that Williamson named Ournationonparade. Gelded like all of his foals, Williamson sent the young horse to his longtime friend and business associate Bernie Houghton to be broken at his farm in Pennsylvania,
"Bernie called me after they had worked Ournationonparade the second time and told me he thought the young horse looked like he was going to be something special," Williamson recalled. "Everybody at the farm, from Kim Eshleman, who breaks all the young horses, to Bernie's wife really loved him, and the more he trained the better he got. Fortunately he carried that over to the afternoon."
Ournationonparade led to the final strides of his career debut before just being nipped on the wire. It was an impressive enough effort that several parties parties contacted Williamson after his juvenile's debut about purchasing the gelding. Williamson sold Ournationonparade to Dean Reeves's Reeves Thoroughbred Racing six figures, and as this is written, the horse is in Florida preparing for his 3-year campaign with trainer Kathy Ritvo.
But while Williamson will miss seeing Ournationonparade in person, he has another offspring of Parade of Colors waiting in the wings, a filly.
"She's by Mosler, a War Front offspring who sold for [more than $1 million]. He ran a 102 Beyer breaking his maiden, and he stands at Country Life Farm," the 77-year-old Williamson said. "She'll be going to Bernie's farm to break and hopefully we'll get lucky again. Parade of Colors has thrown winners with every horse she's foaled so we're, as they say, cautiously optimistic."
And as to the patriotic-themed names of his homebreds, Williamson, who was serving his country in Southeast Asia the same time as training great Dickie Small, is happy to wave the flag a bit.
"I've been proud of the U.S. since I was a kid and always will be," Williamson said. "Continuing to show pride and patriotism in the names of my horses is my way of saying 'God bless America.'"
NOTE: An earlier version of this story implied that Williamson had not owned Parade of Colors prior to her retirement. We regret the confusion.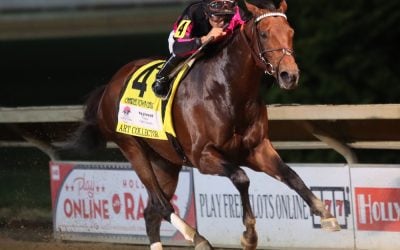 Art Collector's win in Saturday's Grade 1 Pegasus got us wondering: which winners of the Charles Town Classic had the best careers after their Classic win?