Sharing zooms to head of Top Midlantic-bred Poll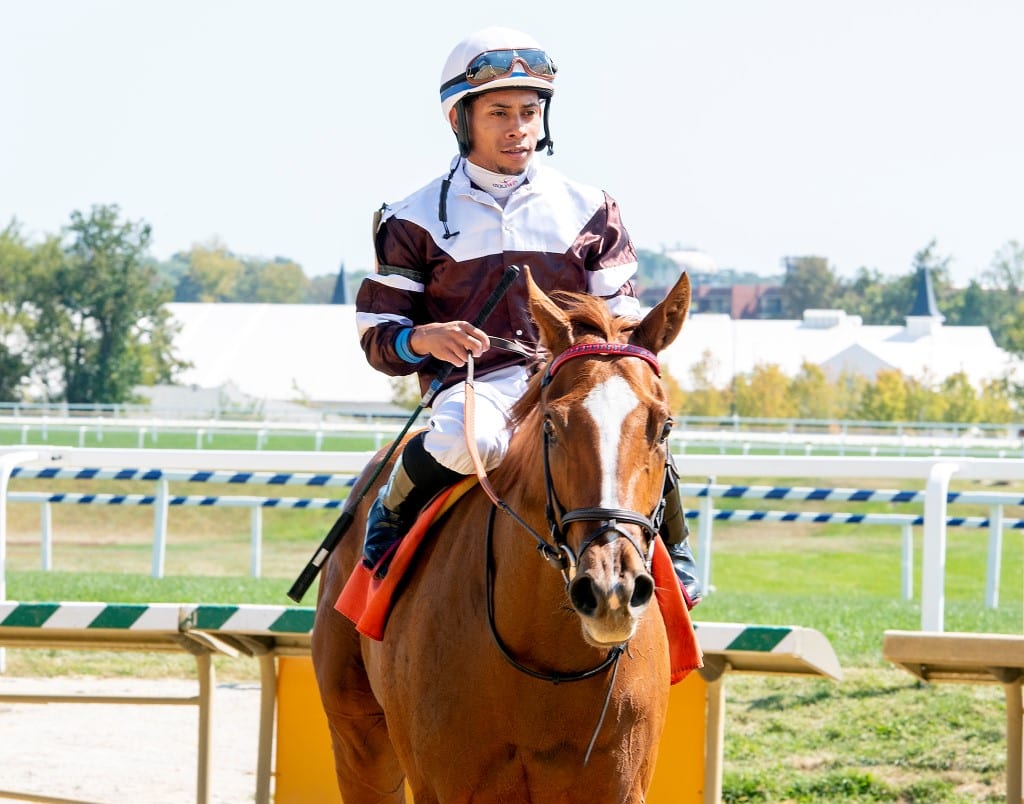 Sharing. Photo by Maryland Jockey Club.
The latest Mid-Atlantic Thoroughbred/The Racing Biz Top Midlantic-bred Poll  is out, and here are the facts and figs. 
Sharing is caring: There's a new name in — and atop — the poll: Sharing (MD). The Maryland-bred daughter of Speightstown rallied to spring a 13-1 upset in the Breeders' Cup Juvenile Fillies Turf November 1 at Santa Anita for her third win in four career starts, which enabled her to earn top honors in the new poll.
Not so mirthful: Mirth (PA) had lost six consecutive races, four in allowance company, prior to scoring in the Grade 1 Rodeo Drive Stakes at Santa Anita September 28. She followed that up with a sixth-place finish in the Breeders' Cup Filly and Mare Turf, and voters appeared to hold her overall record — just two wins from 10 starts this year — against her. She is among those receiving votes but did not make the top seven.
Down a spot: Prince Lucky (PA) was the poll's leader last month but drops a spot to second in the latest edition. He finished fourth in the Grade 3 Bold Ruler in his only action since the last poll.
A young horse's game: The oldest runners in the latest poll are just five years old. They are Runnin'toluvya (WV), Anna's Bandit (WV), and Valedictoriian (NJ). There are also a two-year-old, a three-year-old, and two four-year-olds.
Top honors: Two of the top top seven are Grade 1 winners: Sharing (MD) and Out for a Spin (VA). The latter won the Grade 1 Ashland Stakes back in April at Keeneland but then was up the track in the Kentucky Oaks. She made her first start in six months November 9, finishing third in an allowance at Churchill Downs.
Reward for hard work: While every other horse on the list has won at least one graded stake, Anna's Bandit (WV) has not contested a single graded event in her career. But she does own eight wins in 10 tries this season, six in stakes company. That includes wins in the WV Cavada Breeders' Classic on October 12 and in the Maryland Million Distaff one week later.
Fibrous: Only one sire has two of his progeny on the list. That's West Virginia uber-sire Fiber Sonde, who fathered both Runnin'toluvya and Late Night Pow Wow.
Boys and girls: Five of the seven on the list are females, while just two are males.
States: Three of the seven were bred in West Virginia, with one each from Maryland, New Jersey, Pennsylvania, and Virginia.
Out with the old: Two horses among last month's top seven drop out of the list this month: Cordmaker (MD) and Horologist (NJ). They were fifth and sixth, respectively, a month ago.
In with the new: Replacing those two this month are Sharing (MD) and Out for a Spin (VA).
The monthly Mid-Atlantic Thoroughbred is the only publication devoted to Thoroughbred breeding and racing in the Mid-Atlantic region. The Racing Biz, an online publication, is the independent voice for mid-Atlantic racing and breeding.
The poll is conducted of media members and others involved in the Thoroughbred industry and restricted to horses that have run in 2019 and were bred in Pennsylvania, Maryland, Virginia, West Virginia, New Jersey, Delaware, and the Carolinas.
Sharing (MD) — 2yo filly by Speightstown-Shared Account, by Pleasantly Perfect; bred in Maryland by Sagamore Farm; trained by Graham Motion for Eclipse Thoroughbred Partners and Gainesway Stable (Antony Beck); won G1 Breeders' Cup Juvenile Fillies, Selima S.
Prince Lucky (PA) — 4yo gelding by Corinthian-Lucky Notion, by Great Notion; bred in Pennsylvania by Daniel McConnell, Sr.; trained by Todd Pletcher for Daniel McConnell; won G2 Gulfstream Park Mile, G3 Hal's Hope S., 2nd G2 Kelso
Runnin'toluvya (WV) — 5yo gelding by Fiber Sonde-Lov'emnrun, by Not for Love; bred in West Virginia by Leslie G. Cromer; trained by Tim Grams for Grams Racing Stable LLC; won G2 Charles Town Classic, Russell Road Overnight Prep S.
Late Night Pow Wow (WV) — 4yo filly by Fiber Sonde-Holy Pow Wow, by Indian Charlie; bred in West Virginia by John McKee; trained by Javier Contreras for Breeze Easy LLC; won G3 Barbara Fritchie S., $100,000 What A Summer S., Twixt S., 3rd G1 Madison
Anna's Bandit (WV) — 5yo mare by Great Notion-Onearmedbandit, by No Armistice; bred in West Virginia by John Robb; trained by John Robb for No Guts No Glory Farm; won Timonium Distaff S., Sadie Hawkins S., WVBC Cavada, Maryland Million Distaff, etc.
Valedictorian (NJ) — 5yo mare by Temple City-Smart N Classy, by Smart Strike; bred in New Jersey by John Bowers, Jr.; trained by Kelly Breen for Epic Racing; won G3 Suwanee River S., G3 Eatontown S., Sand Springs S., 2nd in G3 Honey Fox S., 3rd in G3 Marshua's River S., G3 Noble Damsel S.
Out for a Spin (VA) — 3yo filly by Hard Spun-My Mammy, by Came Home; bred in Virginia by William M. Backer Revocable Trust; trained by Dallas Stewart for Commonwealth Stable, Randy Bradshaw, and Stonestreet Stables LLC; won G1 Ashland Stakes
Also receiving votes: Mirth (PA), Horologist (NJ), Cordmaker (MD), Senior Senator (PA), Bronx Beauty (PA)
Participating Voters: Ted Black (freelance writer), Michael Campbell (Thoroughbred Breeders' Association of New Jersey), Joe Clancy (Mid-Atlantic Thoroughbred), Cindy Deubler (Mid-Atlantic Thoroughbred), Linda Dougherty (freelance), Debbie Easter (Virginia Thoroughbred Association), Paul Espinosa (Charles Town Races), Anne Frederick (Maryland Horse Breeders Association), Rich Glazier (Delaware Park), Cricket Goodall (Maryland Horse Breeders Association), Jim Hague (freelance), Nick Hahn (freelance), Carol Holden (West Virginia Breeders Classics), Tom LaMarra (The Blood-Horse), Jeff Nations (freelance), Kate Painter, Vinnie Perrone (freelance), Frank Petramalo (Virginia Horsemen's Benevolent and Protective Association), Gary Quill (The Racing Biz), David Richardson (Maryland Thoroughbred Horsemen's Association), Brian Sanfratello (Pennsylvania Horse Breeders Association), Sal Sinatra (Maryland Jockey Club), Chris Sobocinski (Delaware Park), Dan Tordjman (freelance), Frank Vespe (The Racing Biz), Bill Watson (freelance), Lydia Williams (freelance), Bobby Zen (freelance).
Note — Not all participating voters will vote in every poll.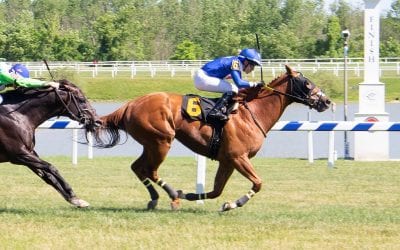 It was by disqualification – but it was still the first stakes win, the first graded stakes win, and a win at Saratoga for Laurel-based trainer Wayne Potts.