Midlantic stallions account for 6.3% of mares bred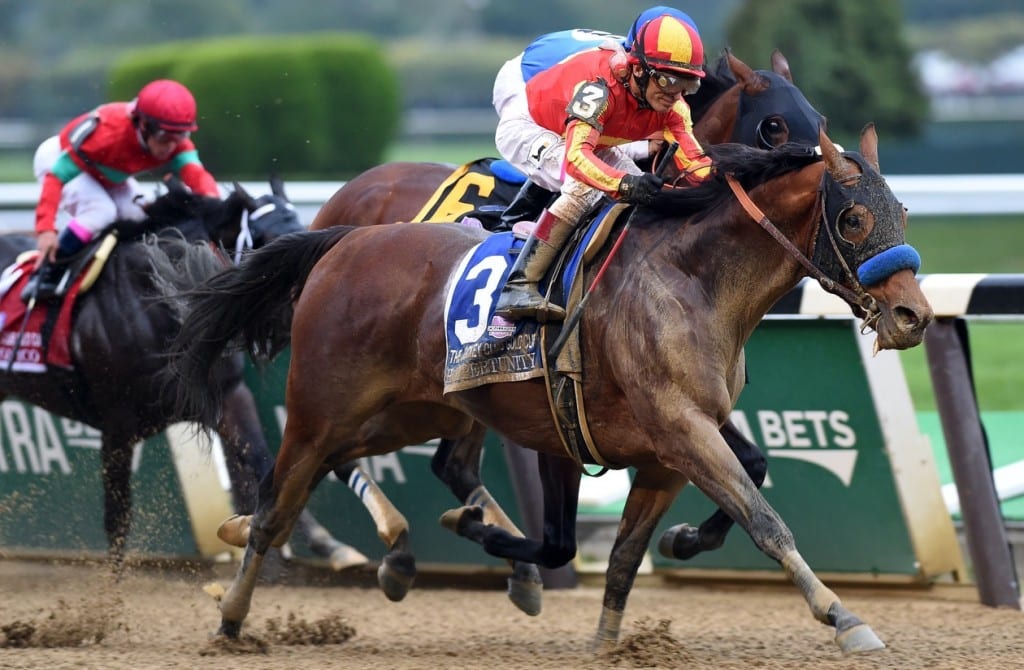 Hoppertunity stands at Northview-PA. Photo courtesy of Northview Stallion Station.
Of the more than 29,000 mares reported bred nationwide, 1,844 of them were bred to stallions standing in the Mid-Atlantic, according to data released Thursday by The Jockey Club.
The Jockey Club said that it expects the total number of mares bred grow by about 10 percent when all reports are received. The number reported through mid-October 2019 is about 3.5 percent lower than the early reports of 2018.
Mid-Atlantic stallions account for about 6.3% of the early reports. That compares favorably with the 6.1% of all mares bred in 2018 that were bred to stallions standing regionally.
Maryland, with 780 mares bred to its stallions, accounted for the region's largest share, though its early reporting figures were down from the 867 in the state last year in the early reporting period.
Pennsylvania, by contrast, saw the number of mares bred to its stallions grow from 610 to 686.
And in West Virginia, the number of mares bred rose from 198 to 325, but the bulk of that growth appears to come from a reporting glitch last year. None of Taylor Mountain Farm's four stallions – including two, Juba and Windsor Castle, who are among the state's most popular – appeared in the early report in 2018.
A pair of Pennsylvania-based stallions led the region in number of mares bred. Hoppertunity, who entered stud this year and stands at Northview-PA, bred a Midlantic-leading 129 mares this season. And Warrior's Reward, a veteran stallion who this year relocated to WynOaks Farm, saw 115.
Those two were followed by a trio of sires standing at Northview-Maryland. Golden Lad, whose oldest are two-year-olds this year, saw 89 mares. First-year sire Irish War Cry saw 83, and veteran Great Notion, the region's fourth-leading sire thus far in 2019, was bred to 76 mares, the same as Northview-PA's Uncle Lino.
The busiest stallion in West Virginia in 2019 was Juba, who saw 49 mares. Juba, a son of Tapit who is from the family of Luftikus, entered stud in 2017 and will have runners on the track in 2020.
The top sire by mares bred in New Jersey was Sea Wizard (12), while in Virginia, Friend or Foe led the way with eight.
STALLIONS STANDING IN THE MID-ATLANTIC
Stallion

Mares
Bred

State

Hoppertunity
129
PA
Warrior's Reward
115
PA
Golden Lad
89
MD
Irish War Cry
83
MD
Great Notion
76
MD
Uncle Lino
76
PA
Madefromlucky
58
MD
Peace and Justice
53
PA
Juba
49
WV
Imagining
48
MD
Divining Rod
45
MD
Mosler
42
MD
Aldrin
41
WV
Weigelia
41
PA
Windsor Castle
41
WV
Social Inclusion
40
PA
Long River
38
MD
Fiber Sonde
37
WV
Jump Start
37
PA
Holy Boss
35
MD
Blofeld
33
MD
Smarty Jones
33
PA
Friesan Fire
32
MD
Winchill
30
PA
Bandbox
27
MD
Bourbon Courage
27
MD
Limehouse
25
WV
Lord Shanakill
24
PA
Flashback
22
PA
Golden Years
22
WV
Dortmund
17
MD
Gattopardo
17
WV
Kobe's Back
17
MD
No Never No More
17
MD
Denis of Cork
16
WV
Exclusive Quality
15
WV
Well Spelled
14
PA
Eastwood
13
PA
Talent Search
13
PA
Sea Wizard
12
NJ
Street Magician
12
MD
Alliance
11
MD
Baltimore Bob
11
MD
Barbados
10
MD
Hey Chub
10
NJ
Saratoga Syndicate
10
WV
Editorial
9
MD
Medallist
9
PA
Buffum
8
MD
Declan's Warrior
8
WV
Friend Or Foe
8
VA
Got the Last Laugh
8
PA
Our Entourage
8
WV
Redeemed
8
MD
Stormy's Majesty
7
WV
Super Ninety Nine
7
MD
Il Postino
6
NJ
J J's Lucky Train
6
VA
Weave It to Me
6
WV
Petionville
5
MD
Ballado's Gold
4
WV
Bullsbay
4
PA
Cozar
4
PA
Crown of Thorns
4
PA
Gandhi
4
WV
Not Abroad
4
MD
Outflanker
4
MD
Show Tune
4
PA
Swiss Yodeler
4
WV
Freedom Child
3
MD
Mr. Prankster
3
WV
Power by Far
3
PA
Coronet of a Baron
2
PA
Fierce Wind
2
VA
Hangover Kid
2
MD
Master Rick
2
WV
Maximus Gold
2
VA
Musical Marque
2
VA
National Anthem (GB)
2
PA
Snowy River
2
VA
True to the Moon
2
PA
Tup Take' Please
2
WV
Cage Fighter
1
MD
Cullasaja King
1
PA
During
1
WV
Fun and Fancy Free
1
VA
Love Who
1
NJ
Lulu Rocks
1
WV
Perusal
1
VA
Runnintothealter
1
PA
Siente El Trueno
1
WV
T F Classic Twist
1
WV
Thunder Brew
1
PA
Uptowncharlybrown
1
PA
Writer
1
MD