Md. Million: Hugs, cheers, and tears at mini-Breeders' Cup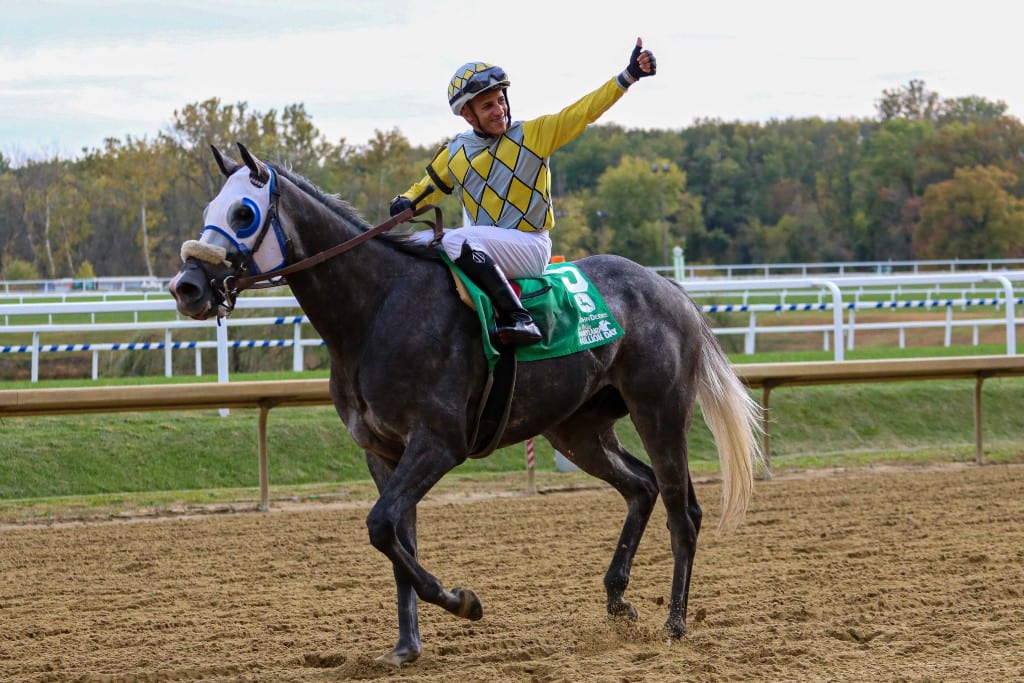 Thumbs up for Mr. d'Angelo from jockey Jevian Toledo. Photo by Dottie Miller.
The purpose of Maryland Million day is to promote the Free State's stallions, and while over the years it's certainly done that, along the way it's become something else.
It's become, in fact, exactly what Jim McKay hoped it would be: a Maryland-centric, mini-Breeders' Cup, and for many in the industry, it represents a pinnacle.
"Biggest win we've ever had," said one of the partners in Sprint winner Taco Supream in the joyful melee afterwards, and he wasn't alone.
For trainer Brittany Russell and owner-breeder Kevin Morgan, Maryland Million day provided first stakes wins.
Russell, with new baby Edy in tow, legged up her husband, jockey Sheldon Russell, who wore Edy's name on his pants, on Hello Beautiful and then watched teary-eyed as they romped to a nearly-four length victory in the Lassie.
"It's a great feeling," she said. "I'm, like, overwhelmed right now."
Russell and partner Jodi Quinn (Dark Horse Racing) purchased Hello Beautiful, a daughter of Golden Lad, for the princely sum of $6,500 at last December's Fasig-Tipton Midlantic Mixed Sale in Timonium. Following her 5 ½-length maiden score in July, they sold her to a partnership headed by Sol Kumin's Madaket Stables – for, It goes without saying, more than $6,500.
"The private purchase happened, and the fact that they left her with me was the most special thing," Russell said. "The fact that they trusted us was cool, and we showed them we could get her to win a good one."
It was also a first Maryland Million win for Kevin Morgan, whose homebred Mr. d'Angelo pulled a 17-1 upset in the Turf. Trained by Tim Woolley and ridden by Jevian Toledo, Mr. d'Angelo rallied outside from 12th in a 14-horse field to win by almost two lengths.
Mr. d'Angelo is out of the Housebuster mare Suds.
"This was one of the first mares that I had acquired," Morgan explained. "I acquired her probably five years ago and bred her to a new horse in Maryland at the time, a horse named Seville."
It was a somewhat unusual mating, breeding a stallion known for going long on the turf to a mare whose only career win came at 5 ½ furlongs on the main track.
"I really didn't know what I was doing," Morgan said with a laugh. "I'm a pretty inexperienced breeder myself… A lot of people, they looked at me funny for doing so, but I did it anyway. Here's the results."
Morgan is an electrical contractor by trade, and his best horse's name references a longtime friend.
"Mr. d'Angelo is named after Joseph d'Angelo, who was my first mechanic, so to speak. When I was an apprentice, he was my teacher, and he still works with me now, and he still gives me good guidance," Morgan explained. "He's just a terrific individual, and back then I thought it was neat to name horses after friends, and this is the result right here."
While first-timers had plenty to celebrate on Maryland Million day, they weren't the only ones.
Gina Robb, half, with husband Jerry Robb, of the duo behind Distaff winner Anna's Bandit, was wrestling with tears of her own after the five-year-old daughter of Great Notion, scooted through inside to win going away at 1-2 under regular pilot Xavier Perez.
"That's why I'm wearing sunglasses," she joked.
Anna's Bandit's wins always provide an emotional charge for the Robbs, but this one had an additional jolt provided, oddly enough, by a technical glitch.
"I was upstairs in the dining room and the TV froze at the eighth pole, so I didn't know I won it until I got down here – true story," Jerry Robb said. "She was head-and-head for the lead, and then it froze."
"We literally looked at each other and started screaming," Gina Robb added. "We were completely confused."
Fortunately for them, it's usually a good bet that you can find Anna's Bandit in the winner's circle after races; she's won 15 times in 31 starts, including, now, nine stakes wins.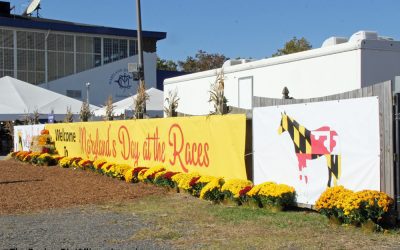 A bevy of defending champions and local stars headline the pre-entries for Jim McKay Maryland Million, which will take place at Laurel Park on Oct. 14.