Math Wizard adds up PA Derby upset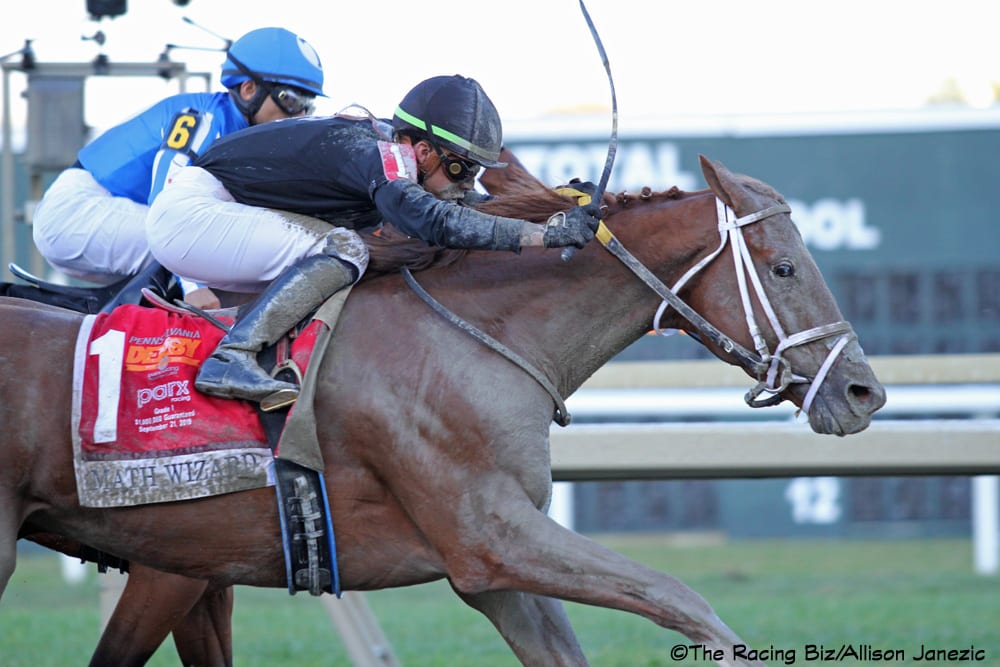 Math Wizard counted to 1 in the Grade 1, $1 million Pennsylvania Derby. Photo by Allison Janezic.
That weeping sound you hear might be coming from Gulfstream Park.
On January 31, John Fanelli won a seven-way shake, forking over $25,000 for a three-year-old son of Algorithms with a record of one win and two third-place finishes in five starts.
On Saturday afternoon at Parx, Fanelli pocketed—figuratively–$600,000 when that horse, Math Wizard, won the Grade 1, $1 million Pennsylvania Derby.
"We got lucky," said Fanelli. "There are six other people out there who are really upset right now."
It's hard to imagine, though, that any of the other people who dropped a claim slip that day at Gulfstream would have designed the campaign that Fanelli and trainer Saffie Joseph, Jr. have.
Math Wizard won the day Fanelli claimed him and was second next-out in an optional claimer, also at Gulfstream. Then the traveling began.
In April, the Wood Memorial (G2) at Aqueduct Racetrack. In May, the Oaklawn Park Invitational. In June, the Ohio Derby (G3) at Thistledown. In July, the Indiana Derby (G3) at Indiana Grand. In August, the West Virginia Derby (G3) at Mountaineer.
Math Wizard didn't win any of those races, though he missed by just a half-length in the Ohio Derby, and he was pretty good at picking up a check.
It was Fanelli's idea to head to Parx. Now a New Jersey resident, he'd grown up in Philadelphia and considers the Pennsylvania Derby site his home track.
"John made the gutsy call to come here," said the trainer. "It was a crazy call. Maximum Security scratched, and I was taking a nap that day. I woke up to all these crazy messages so I thought something happened at the barn. I still don't believe it. I would've walked away happy with a third or fourth. It's amazing."
"We weren't sure about running him," admitted Fanelli. "He wasn't feeling himself, he was lying down in his stall, and we didn't want to push him. I figured we'd enter, and if we don't run, we're out only a couple of thousand dollars. But if he felt good, we'd fly him up, and that's exactly what happened."
Fanelli owns Math Wizard with Collarmele Vitelli Stables, Bassett Stables, Ioannis Zoumas, and Wyngood Thoroughbreds. Joseph also purchased an interest.
"After I claimed him, I started getting offers," said Fanelli. "I didn't want to take the horse away from Saffie; he claimed him, and I knew that's what would happen. So I told him to get a few guys together and I'd sell 10% to four different partners. I wanted to be the majority owner, and I wanted to run in my silks."
Without Maximum Security, Grade 1 winner Improbable went off the favorite at just above even money, with multiple graded stakes winner Mr. Money the second choice. Improbable broke badly, likely changing the pace scenario, and not to Math Wizard's advantage.
With Mr. Money on the lead, the half-mile went in 49.60, hardly the sort of tempo to benefit Math Wizard's closing style. Racing inside and half a dozen lengths off the lead, Math Wizard slipped into the two path under jockey Irad Ortiz Jr. and began passing horses, veering four or five wide around the final turn to charge home and eke out a neck win.
Mr. Money stayed on for second, with War of Will a length back in third. Math Wizard paid $64.20 to win.
"I was screaming so loud I lost my voice," said Fanelli. "I didn't think that the race was going to set up very well for him, but Irad couldn't have ridden a better race."
"I've got to retire now," joked Joseph, who has been training since 2011 and who earned his first graded victory with this race. "I feel blessed. I'm at a loss for words. John made a gutsy call. A lot of the credit goes to him. You've got to take chances in life. If you're going to get anywhere you've got to take chances."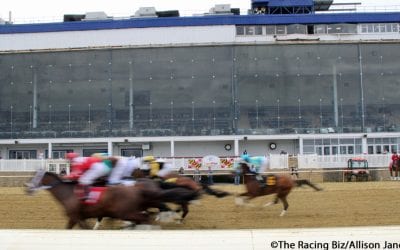 Your five-minute read to catch up on all the Mid-Atlantic racing action you may have missed over the weekend…