Delaware Park Handicappers' Notebook 2019 Vol. 18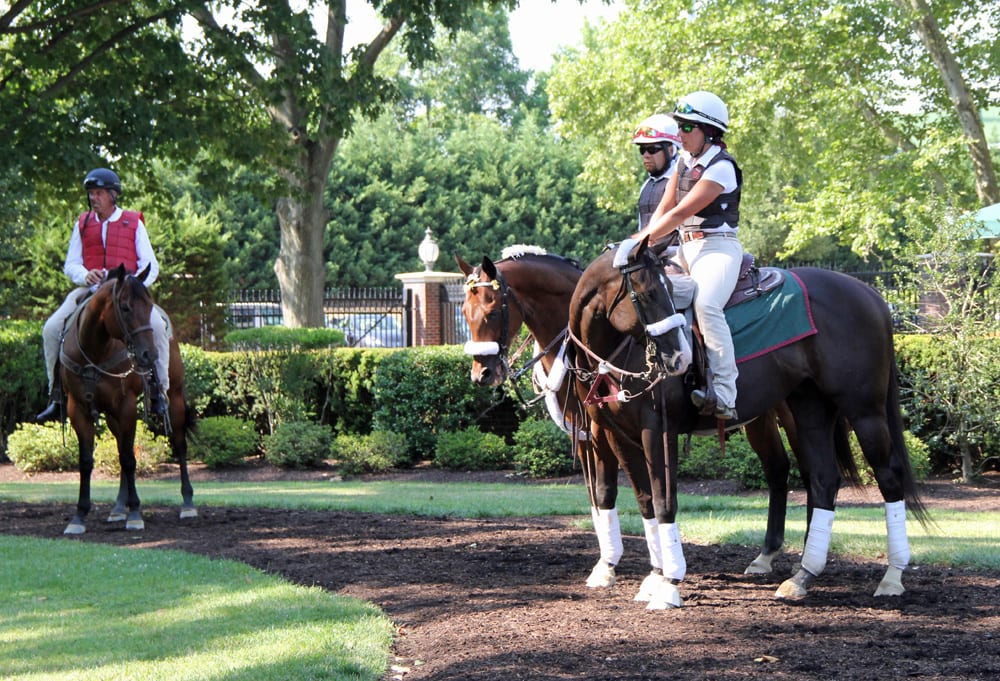 In the paddock on Delaware Handicap day. Photo by Allison Janezic.
Correspondent Doug McCoy returns with his weekly Delaware Park Handicappers' Notebook, featuring horses to watch, bet-backs, and more.
Horses and races to watch
SMART TWO A T (SEPTEMBER 16, RACE 1): Made a sharp middle move to be in striking distance into the stretch of two-turn starter allowance route only to drift out badly in the drive and lose all momentum. Better and stronger handling when it counts gives this one a chance next out.

SMOOCHIN CANDY (SEPTEMBER 16, RACE 5): Went to post at huge odds (110-1) in first-ever start on turf but took to the surface like a pro, running a sneaky good race when finishing strong along the rail to wind up third, beaten less than a length for all of it.

TALKLESS SMILEMORE (SEPTEMBER 16, RACE 7): Set sizzling fractions after being sent to the front early by Cintron then hung on gamely to win by a diminishing nose going a mile on the turf. Though was DQed – some believed unjustly — for early bump, looks to have turned things around and should be watched next.

WORSTBESTIDEAEVER (SEPTEMBER 16, RACE 8): Ashby first-time starter completely missed the break but recovered to make up ground inside steadily to the stretch then angled outside and finished well to be second in a competitive field of maidens.
Jock/trainer Watch: Performers of the week
Mary Eppler is a mainstay in Maryland, but she also goes on the road with her powerful outfit. Last week Eppler only started two horses at Delaware Park but both won, giving Eppler five wins from 11 starters at the meeting. Eppler horses also have finished second twice and third three times; 10 of her 11 runners finished in the money here this year. Training powers Steve Asmussen and Jorge Navarro were also two for two. Asmussen has sent out five winners from eight starters while Navarro runners are winning at a 48% clip.
Handicapper's tool box
KEEPING THE PACE
Horseplayers have been searching for speed and race numbers to help them pick winners for many years. Because of their ubiquity, the Beyer figures compiled by racing writer and handicapper Andy Beyer have been used by many to try to weed out the contenders from the pretenders.
Another type of fig has caught my eyes in recent years.
The TimeForm early and late pace numbers are printed in the Daily Racing Form, and I have found them to be an invaluable aid when it comes to seeing the shape of a race. The early pace numbers of TimeForm point out the horses in a race with the highest early speed while the late pace figures reveal the best late-running types in a given field.
The TimeForm numbers will often give the horseplayer a picture of just how a race will play out, how quick the early pace will be, and if there are late runners with the ability to come from off the pace.
For example a field with at least four or five runners in it with an early pace Timeform figure of 100 or higher would indicate a quick and contested early pace. And if a late runner with a Timeform late pace figure of 115 or higher is in that race, he should be given a long look as one possibly qualified to run down that pack of speedsters down the lane.
There are lots of ways to skin the handicapping cat, but I've found these figs a useful aid in determining how the pace will play out, and after all, pace makes the race.
LATEST DELAWARE RACING NEWS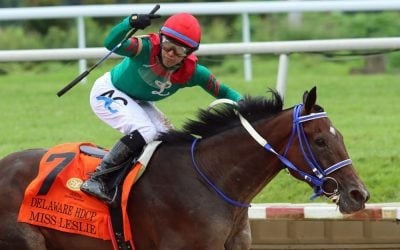 Racing returns to Delaware Park May 24, and we return with Delaware Park picks and analysis for the track's 86th racing season.