Assistant Karin Wagner's career built on love of horses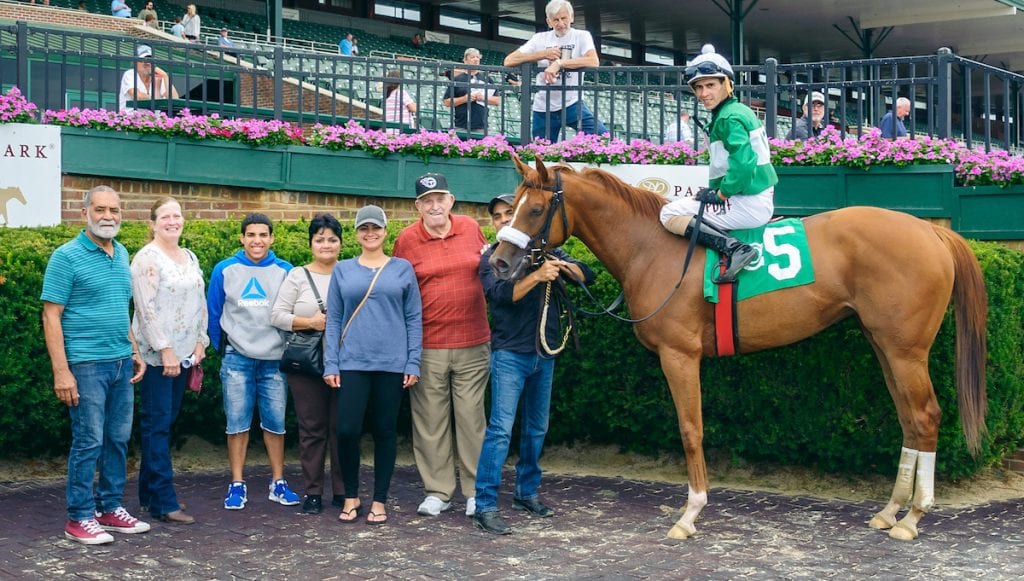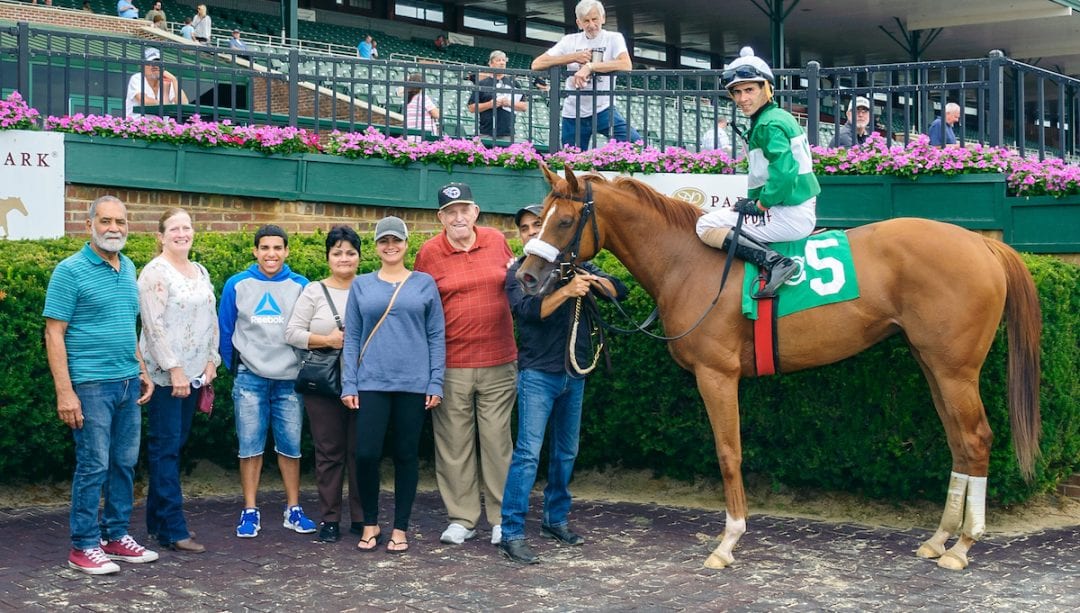 Kabikeka won and made for a happy winner's circle at Delaware Park. Karin Wagner is second from left. Photo by HoofprintsInc.com.
Years ago, a toddler in a home in Wisconsin raced around an imaginary race track, urging on a stick horse with screams of "Kabikeka, Kabikeka!"
Some fifty years later Kabikeka, the real horse, won it's first race for that same toddler when she bested a field of 2-year-old fillies on August 26.
The five decades in between have been an ongoing love affair with horses and racing for Karin Wagner.
Wagner is assistant trainer for veteran horseman Mike Gorham, and has worked with the trainer off and on for the better part of 20 years. Since striking out from her home state at 16, Wagner has worked at a number of tracks around the country in a variety of roles. The one common theme through it all remained a love for the animals she worked with.
"I began working for the Beattie family back home," Wagner recalled after training hours recently, "and as time went on I wound up working at a number of tracks in Louisiana, Kentucky, New York and of course, Delaware. I also worked as a veterinary assistant for a time, but most of the time I was an exercise rider and/or assistant trainer. I was assistant to Steve Asmussen in New York one winter. He was a good guy to work with; I just didn't care for living in the area all that much."
Wagner also struck out on her own as a trainer for a time, but it's an industry that often chews up smaller stables.
"I also had my own outfit (stable) for about four years but it's very difficult to for a small-time trainer to keep an outfit going. The ownership situation is so fluid," she explained. "You have owners whose businesses have ups and downs, and that affects the money they have available for their horses. You have other owners whose health changes, and they are forced to get out of the business. And unfortunately, many times it's the trainer who is left with unpaid training bills. I've been working with Mike for a number of years now. We work well together, and I've got a few horses of my own, so I'm satisified with my situation."
Wagner paid $9,000 for Kabikeka, a filly by Orientate, at the Fasig-Tipton Midlantic Fall Yearling Sale last October, and that was the most money she's spent for a yearling.
"I've been lucky buying yearlings relatively cheap," she pointed out. "I paid $4,000 for Cat Lak; she won at first asking and we've still got her. I paid $2,000 for Aunt Esther, and she also won first time out for us. Buying inexpensive yearlings is a challenge, but, knock on wood, we've been fairly successful."
As someone who's worked in the industry for some 30 years, Wagner agrees that there are improvements to be made in the industry. But she doesn't necessarily think the current efforts are headed in the right direction.
"One area that still needs a lot of work is our medication policies," the horsewoman pointed out. "This attack on Lasix is so off base. Those of us who work with horses every day know how therapeutic Lasix is combatting the bleeding issues that have been, and will continue to be a problem. Instead of making Lasix the scapegoat for every problem in the industry — like track surfaces — the powers that be should listen to the veterinarians who treat these horses and learn from their observations and opinions. We have fewer foals, a less perfect specimen from a skeletal and physical standpoint, and increasing pressure to run those specimens. Yet the powers that be are making it more and more difficult to help these animals therapeutically. In a perfect world, that might work, but this isn't a perfect world and horse racing isn't a perfect industry."
And there's one segment of the population Wagner doesn't see nearly enough of at the track.
"Kids, we don't see nearly as many young people at the track like we used to," she reflected. "There used to be trams at different tracks that would tour the backstretch and were full of families. Now you hear nothing about involving young people in racing, exposing them to this great sport. Kids are the future."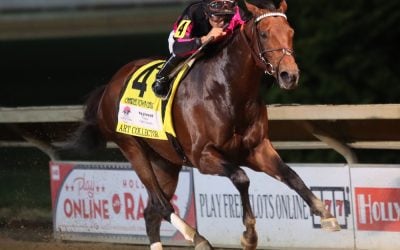 Art Collector's win in Saturday's Grade 1 Pegasus got us wondering: which winners of the Charles Town Classic had the best careers after their Classic win?