Jocks hope Big T wins bring Laurel fall success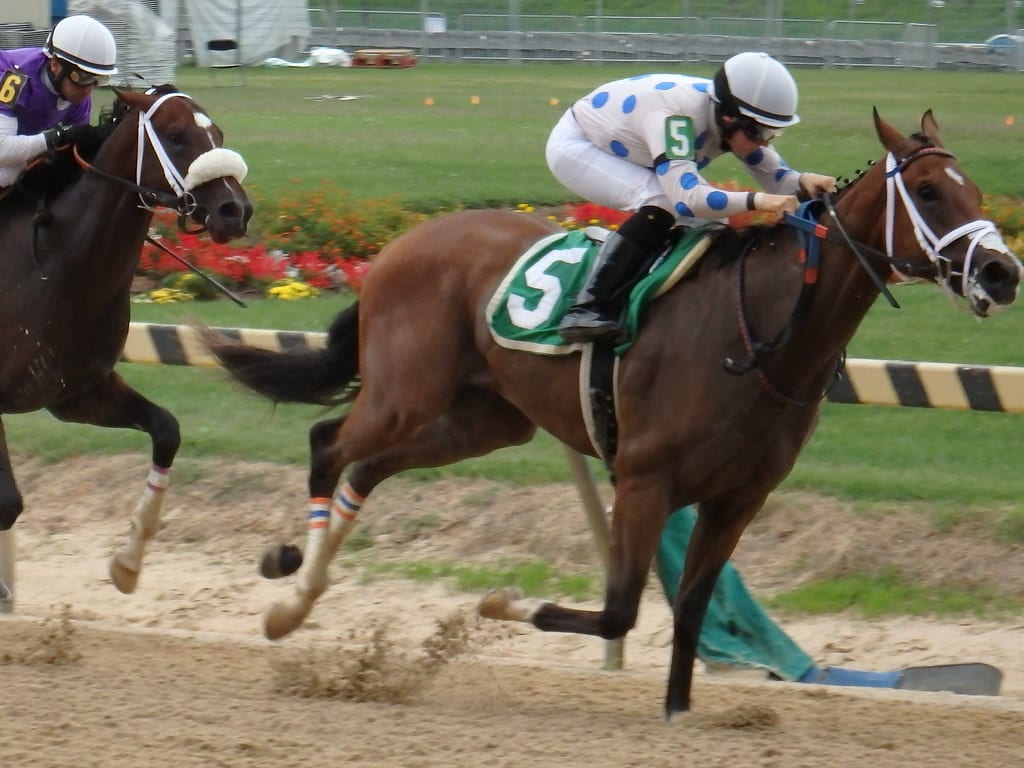 He's Meant to Be and Ashley Castrenze won a race at Timonium September 2. Photo by The Racing Biz.
As the Laurel Park fall meet kicks off, some riders who made noise at Timonium have their fingers crossed that they can keep it rolling through the fall.
Laurel's meet begins Friday with a nine-race program that includes a Maryland-bred allowance, an allowance for two-year-olds, and a couple of maiden special weight tests.
Kevin Gomez took the Big T riding title by winning three times on closing day, including the last race of the meet, to finish with seven victories. That was one more than Xavier Perez and Ashley Castrenze.
A rider just outside the top group who enjoyed an unexpectedly good meet was the veteran Alcibiades Cortez. Cortez won just three times in 2018 and had only a single win in 2019 prior to the Timonium meet.
But at the Big T, Cortez reminded the industry of his skill getting horses into the mix early. He won with four of 16 mounts, three of them at Timonium's one-turn, four-furlong distance – and all in front-running fashion.
Cortez has three mounts on opening weekend at Laurel.
For Castrenze, the Timonium meet was a chance to flash some of the potential she'd unveiled as a new apprentice in 2016. That year, riding primarily for trainer Tom Proctor, she won with her first four mounts in a row and six of her first seven. She also logged a stakes win, with Caribou Club in the Laurel Futurity.
But, with injuries and other issues, her career had to some extent stalled since. During the Laurel summer stand, she won just five times from 65 mounts.
"I wasn't doing too well at the end of the Laurel meet, and I told my agent Joe Rocco that, you know, I'm really excited for Timonium because I think a lot of the Laurel riders won't ride there because it's the bullring and all that," Castrenze explained.
That worked out for her. She won six races, second overall, from 28 starts, which was the third-highest total. Her mounts earned just shy of $120,000.
"If we can get going and have good business at Timonium, maybe we'll start rolling into the new meet at Laurel," Castrenze added. "Hopefully, I can keep it up."
Castrenze is named on six horses during Laurel's opening weekend.
Gomez is another for whom the Timonium stand came at an opportune moment. A year after notching a career-best $2.3 million in earnings, this year has been less fruitful for Gomez. He won with just seven of 113 starters during the Laurel summer stand.
But at the Big T, Gomez won with seven of 24 starters, logging almost $134,000 in purse earnings, good for second, behind Perez, in that category. Gomez finished with a flourish at Timonium, winning five times over the final weekend, including three on closing day.
Gomez has nine mounts during opening weekend at Laurel.
Laurel's 61-day fall stand begins Friday at 1:10 p.m. and features 40 stakes worth a combined total of nearly $4.3 million.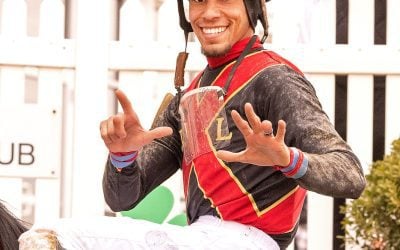 Powered by a seven-win Friday at Laurel Park, jockey Jaime Rodriguez was named the Jockeys' Guild's Jockey of the Week.