Delaware Park Handicappers' Notebook 2019 Vol. 16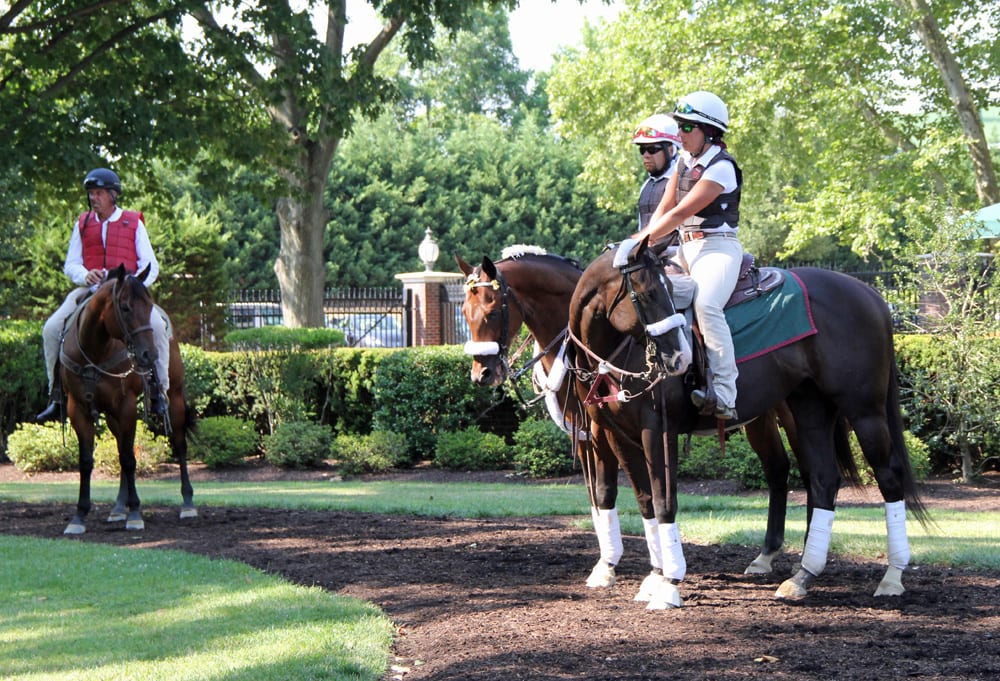 In the paddock on Delaware Handicap day. Photo by Allison Janezic.
Correspondent Doug McCoy returns with his weekly Delaware Park Handicappers' Notebook, featuring horses to watch, bet-backs, and more.
Horses and races to watch
WON AND DONE (SEPTEMBER 2, RACE 7): Raced a speed rival into defeat through early fractions of 22.18 and 44.38 and then motored away to win with something left in 1:09.24. This was the fifth career win for this Claudio Gonzalez sprinter, and we wouldn't be surprised to see him in a small sprint stake somewhere in the Mid-Atlantic soon.

CAMPY CASH (AUGUST 29, RACE 5): Sleek-looking filly by Race Day dusted her field in her debut going 5 ½ furlongs in a thoroughly professional effort. Half-sister to a $208,000 earner and five-time winner, this one looks like she has a bright future.

BLAME DEBBIE (AUGUST 29, RACE 5): This Blame filly from the Procter barn settled after a half then closed well behind Campy Cash. Look for this one to show up going longer and/or on turf and be tough next out.

DELANCEY'S PHILLY (AUGUST 29, RACE 5): This Benny Perkins Jr trainee also finished full of run in the Campy Cash race and is another who figures to get better the longer she goes.
Jock/trainer Watch: Performers of the week
Last season Angel Suarez had a career meet at Delaware Park when he won 70 races to finish second behind Carol Cedeno in the jockey's standings. This season Suarez decided to make Monmouth Park his base and is having a good meeting at the Oceanport N.J. oval, ranking fourth in races won. But on dark days at Monmouth Suarez journeys to Delaware Park to ride for some of his old customers. Last week Suarez accepted nine mounts and won with five of those horses (56%). He is currently sixth in the local standings with 25 victories.
Handicapper's tool box
ON THE ROAD AGAIN…
Leaving home base to take a horse or division of a stable on the road is no easy task. Arranging for van reservations, making sure your crew has housing when they get to the track, obtaining stall space, and other administrative tasks all take time.
So when a shrewd trainer from, say, the Mid-Atlantic shows up at Saratoga, bettors should give their horses a good, long look. A perfect example is Michael Trombetta. Trombetta has a classy outfit and is a perennial power in the Mid-Atlantic region. But taking on the competition at say Delaware Park or Laurel is a far cry from running horses at a meet many will agree is the toughest place to win.
Trombetta made 21 starts at the recently concluded meeting at the Spa and won four races while also finishing second once and third five times. This means Trombetta horses hit the board in close to 50% of his starts.
One of those winners was Remain Anonymous. A 2-year old Tapiture filly, Remain Anonymous made her career debut at Saratoga on August 30 in a field that included horses trained by Steve Amussen, D. Wayne Lukas, Jeremiah Englehart, Kenny McPeek, Rudy Rodriguez and others. But the fact Trombetta thought enough of her to take on this level of competition was reflected on the board as Remain Anonymous went off at just over 5-2, the second choice in the field of nine.
That backing proved wise as she blew past the leaders into the stretch and won with something left. In the last week at Saratoga Trombetta also sent out one maiden to run second and another to finish third. And he won the Grade 3 Saranac with Global Access.
So when you see a good horseman go on the road to take on top flight company, look closely at those horses. You may get very generous odds on horses their connections think highly of.
Even better when their horses show up with the trainer's go-to rider in the irons.
One example was Julian Pimentel's decision to fly to Saratoga to ride Arrifana for trainer Kelly Rubley. Arrifana had won impressively at first asking in a maiden sprint at Laurel but was definitely taking a step up when in against allowance runners at Saratoga in his next.
Pimentel, who was aboard Arrifana for that first win, thought enough of the 3-year-old Curlin filly to pass up riding at Colonial Downs on a program that included several stakes races and instead fly to Saratoga to handle Arrifana in a 7-furlong allowance sprint.
And the veteran's judgment proved to be spot on as Arrifana blew past the leaders late for a two length win in 1:22.82. And the winner's share of the $92,000 purse also showed Pimentel's opinion was right.
Another example was Alex Cintron's decision to journey to Saratoga to ride MInit to Stardom in the Grade 3, $200,000 Honorable Miss Stakes. Cintron took off several live mounts on the Wednesday card at Delaware Park to fly to Saratoga and ride the filly for trainer Jose Camejo. Cintron, who had ridden and worked the filly, was confident she was doing well leading up to the race and would give a good account of herself.
The bettors didn't agree, sending Minit to Stardom postward at 20-1 but Cintron, Camejo, owner Evelyn Benoit, and agent Tom Stift's confidence the filly was up to the task proved correct as Minit to Stardom wired her field for the biggest win of her career.
So trainers or jockeys, when they show up with the big dogs, pay attention.
LATEST DELAWARE RACING NEWS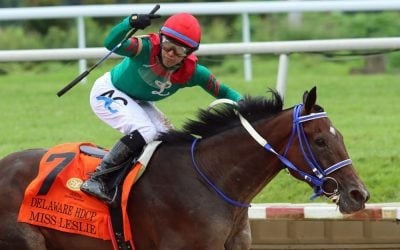 Racing returns to Delaware Park May 24, and we return with Delaware Park picks and analysis for the track's 86th racing season.