Veteran jock Chuck Lopez enjoying productive Colonial meet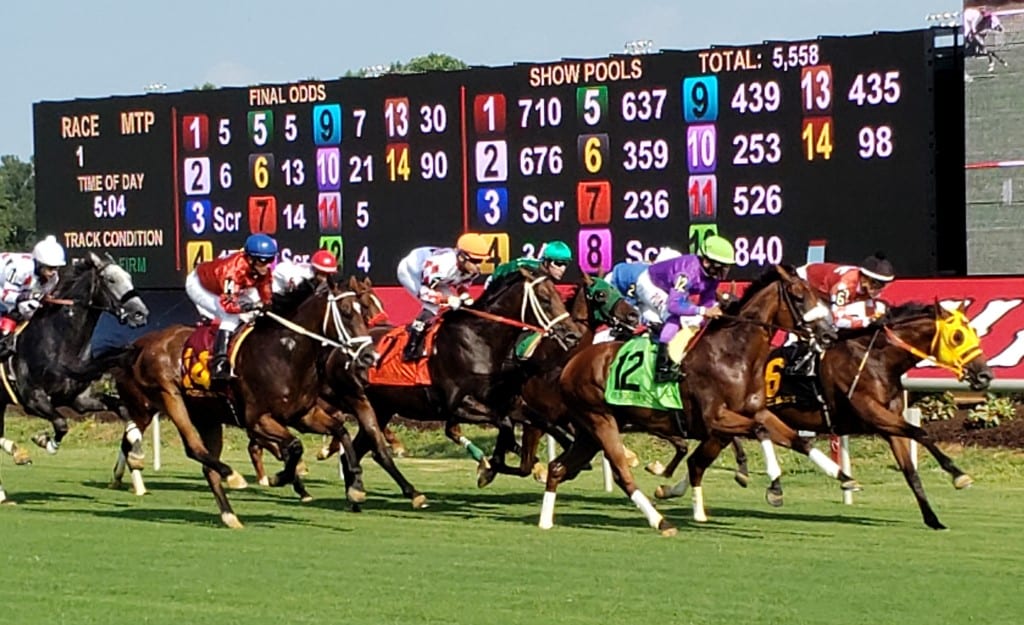 Racing at Colonial Downs. Photo by The Racing Biz.
FifFifty-nine-year-old jockey C.C. Lopez is having a great time in his first season at Colonial Downs this summer, though it's a venue that has provided him some bitter disappointment.
In the 2009 summer meet, Lopez endured two bitter second-place finishes aboard Straight Story in Colonial's twin turf races, the Colonial Turf Cup and Virginia Derby. Both races were won by Battle of Hastings – both times by just a head. If Straight Story had a longer nose, the Virginia Derby, then a Grade 2, would have been among the biggest wins of Lopez's 40-year career, in which he's won five Grade 2 events.
The beats could cause many competitors to harness a grudge, even develop a snarl for the premises, yet Lopez has now hung his tack at Colonial Downs and is relishing the return of racing to Virginia. Lopez, reluctant at first take, took the advice of his jockey agent when he first received the call while at Gulfstream in January.
"You have enough name recognition. I think you can do some good here," Lopez remembered Paul McClellan saying.
The veteran thought about it for a day and realized that the worst that could happen is that he would return to Florida.
"I am so glad that he called. I am so glad that I came. I am so glad it has come back. I like the facility. I want to be part of its success," said Lopez. "It gives me an opportunity to show what I can still do on a racehorse."
Lopez has had a solid career, with his seasonal purse earnings topping $5 million three different times, and his prime coincided with Colonial's first era. In the summer of 2009, Lopez shuttled down for Virginia's big races from New Jersey. This summer, he's a daily listing in Colonial's program. Lopez has five wins in the Colonial meet – only four riders have more wins — and has finished in 16 of 35 starts.
"I can't believe how well the turf holds up," pointed out Lopez. "I don't know what they do, I don't know what they use, I don't know how it works, but how they keep this turf is phenomenal."
As the patriarch of a Colonial jockey colony that includes riders decades his junior, Lopez is the competitive generational link to an era of jockeys that included Jerry Bailey, Richard Migliore, Julie Krone, Eddie Delahoussaye, Laffit Pincay, Jacinto Vasquez, Angel Cordero, and even Willie Shoemaker.
"I had heard my parents talk about Shoe for years and years," Lopez remembered.
The first time he and Shoemaker met, Lopez said, "He knew who I was; that impressed me. He knew my dad (jockey Carlos Lopez) and raced against him in California."
Lopez remembers a soggy week leading up to the 2009 Colonial Turf Cup with so much rain that everyone tried to stay off the fence. Lopez was tracking Kent Desormeaux on Al Khali throughout the race and when they reached the top of the lane, Al Khali fanned Straight Story multiple paths towards the outside rail. Battle of Hastings came through a massive opening on the inside to win by a head.
"I had the biggest fight with Kent after the race," recalls Lopez. "He apologized to me for about an hour. I've been riding forty years and yet to ride and win a Grade 1. That horse might have been it. It was important to me. I wanted to win that race so bad."
Three weeks later, it was Straight Story on the lead and a few paths off the rail as Battle of Hastings led a charge. The additional sixteenth of the Virginia Derby may have been Straight Story's demise. Lopez was well positioned after a good trip and more than two lengths in front coming out of the turn. But Tyler Baze and Battle of Hastings chased down Straight Story to win by a head.
As is the case of missing a jumpshot, giving up a goal or throwing an interception, having a short memory may be an asset. Oddly enough, Straight Story's trainer Alan Goldberg had gone through a very similar ordeal before two years earlier at Colonial Downs when he lost both races by nearly identical margins with Strike A Deal.
"I've seen jockeys go through big highs, then they don't know what to do when they don't win. I didn't have to deal with that," said Lopez.
Lopez's roots were planted in a different era, when jockeys went through a longer apprentice program that included more detail to the daily routine of care of the horse.
"They aren't that many of us left," said Lopez. "Today's jockeys don't want to get their hands dirty. In those days there was a price you had to pay. Now there are jockey schools. It's not the same. Now if you walk hots for a little while, they'll send you out there. There's not enough time with the horses. We used to have to gallop three to four years before you first raced, and you would race in contracts of 50-60 races. Now they'll win with their first start. It was harder to collect your money back in those days."
Now Lopez's shares the jockey room with young riders yet to reach half his age and younger than his own sons, Erick and David, who are both jockeys currently riding in Delaware and California, respectively. In many cases, he's competing against the sons of jockeys he rode against in his prime or watched his races from outside the United States as kids.
He's in the twilight of a career that's seen him win nearly 4,300 races while generating more than $94 million in purse earnings. He's been around the block a few times.
"More often, I've become a counselor, an advisor. It doesn't even have to be about racing," said Lopez. "I'm glad when they're confident enough to talk about personal issues. Jockey problems can be very different from a guy on the street."
Five years ago, in a race at Golden Gate Fields, C.C. Lopez faced his offspring. The Lopez jockey clan finished second, third and fourth. It was paternal Lopez who was fourth. The passing of a torch that should have been familiar to Lopez as he outfinished his father the first time they squared off head to head.
Carlos Lopez won the 1968 Caribbean Classic, a prestigious race that has circulated among various tracks on Caribbean islands and in Latin America. C. C Lopez has visited the exhibit to his father in the Puerto Rico Racing Hall of Fame.
"There are wax statues of Angel Cordero and John Velasquez, Sr. in here, but my father is painted over a 15-foot mural behind them," the rider said. "He towers over both of them."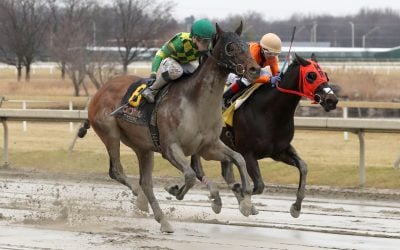 Va-bred Repo Rocks dominated the field in Saturday's Grade 3 Toboggan at Aqueduct, earning his and rider Andrew Wolfsont's first graded win.