Will trainer Kevin Patterson ever lose again?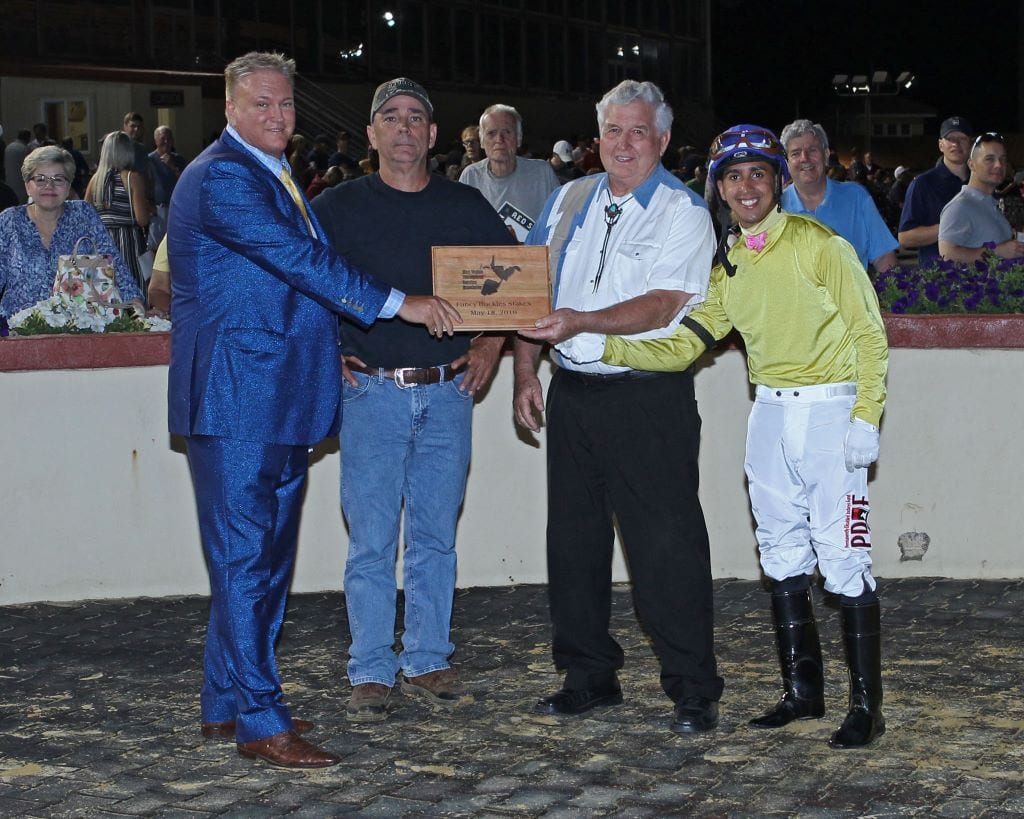 Owner Robert Cole (left) and trainer Kevin Patterson (2nd from left) are among the celebrants after Cuttin Edge Tech won the Fancy Buckles at Charles Town. Photo by Coady Photography.
Throughout his career, trainer Kevin Patterson has often stayed — to some extent, by design — out of the spotlight despite winning a very high percentage of starts with runners primarily at Charles Town and Mountaineer Park. But it's hard to duck the attention when you've won 16 consecutive races, a mark the Chambersburg, Pennsylvania resident reached when Call Me Cowboy won a two-furlong race July 14 at Mountaineer Park, where Patterson is looking to extend his record streak July 23.
Since May 31, none of the 16 horses that Patterson has saddled – 11 at Charles Town and five at Mountaineer Park – has tasted defeat, with several winning multiple starts during that span. His record win streak began with Wolfblade on May 31 at Charles Town when the West Virginia-bred won a claiming race there. Coincidentally, it will be Wolfblade who will seek to give Patterson his 17th straight winner on Tuesday evening at Mountaineer Park.
"All these things have to come to an at some point," Patterson said of his current streak on Friday. "I just entered Wolfblade for Mountaineer on Tuesday. I'm hoping that he wins, but I never really paid much attention to the win streak until I got close to the previous record [of 14 by Canadian conditioner Frank Passero at Gulfstream Park in 1996]. Now it's at 16, which might not be broken for a while. But all those streaks come to an end."
It's not just the wins, though. Patterson's last 21 starters have all finished in the triple, with a mark of 21:18-2-1. And only one of his last 29 runners has finished worse than third.
On the year, Patterson has won with 33 of 78 runners [42 percent] who have earned nearly $450,000. All of them have come for two owners – Robert Cole, Jr. and Patterson's Diamond Oak Stable partnership with TEC Racing [Elliott Logan]. During the streak, 11 of the wins have come with horses owned by Cole and the other five have been for Patterson and Elliott. Tuesday's venture to Mountaineer Park with Wolfblade is only a prep for another trip to the track near the banks of the Ohio River.
Regardless of whether or not the win streak is still intact two weeks from now, Patterson is already eager to return to Mountaineer Park for the August 3 West Virginia Derby card on which he will saddle two horses, one in the $75,000 West Virginia Legislature Chairman's Cup at 4 1/2 furlongs on the main track and another in the $75,000 Robert C. Byrd Memorial at six furlongs on the dirt. Patterson has won the last three editions of the Chairman's Cup with Warleigh and Roman Officer, who did it twice. 
Cole spent a combined total of nearly $100,000 to claim two horses recently, Fort Fortitude ($62,500) at Churchill Downs and Sparticle ($35,000) at Parx Racing. The former is being aimed to the 4 1/2-furlong, $75,000 West Virginia Legislature Chairman's Cup and the latter to the $75,000, 6-furlong Sen. Robert C. Byrd Memorial.
"We're really looking forward to West Virginia Derby Day," Patterson said. "It's always a fun day. We usually go up the night before and stay for the card and stay over another night and make a whole weekend of it. We've had some luck there, and that always helps."
In addition to the two wins posted by Wolfblade during the streak, Patterson overtook Passero for the record when Flashy Dragon Girl won a one-turn allowance dash in her first start for him off the claim. Hoisted for $12,500 in June, Flashy Dragon Girl stepped up to trounce allowance rivals in her first start for Patterson, at the time pushing his win streak to 15. Call Me Cowboy, who won on July 14 at Mountaineer, had won his previous outing at Charles Town during the streak.
"One thing about the streak: none of the horses has dropped in price," Patterson said. "I claimed Flashy Dragon Girl for $12,500 and she stepped up to win an allowance race.I took Wolfblade for $15,000 and he's won twice for me. We didn't claim anything and turn around and drop into a soft spot. Everything we've claimed has moved up. It's not like they've all been odds-on favorites. Some of them paid okay."
In the past Patterson has often been reluctant to speak with the media in light of criticism, including on social media, that his success is not entirely via legitimate means. In the midst of his current win streak, such criticisms have continued, but Patterson has cast many of them aside.
"All of the comments just make me laugh," Patterson said. "I don't let them bother me anymore. I know the haters are out there. But they don't bother me. They're all a joke."
Among the horses that have won twice for Patterson and Cole during the streak is Cuttin Edge Tech, a five-year-old Fiber Sonde mare that Patterson claimed last summer from trainer Ronney Brown. Since the claim, Cuttin Edge Tech has won eight of nine starts, including all five of her outings this year. She won the $50,000 Fancy Buckles for state-bred fillies and mares on May 22 before the streak began, but has won twice for Patterson in one-turn events on June 8 and June 28.
"I think she's something special," Patterson said. "I am looking for something for her at Timonium and then the one-turn stakes here in the fall. I think she can beat the boys. She's really fast and she's come a long way over the last nine months. She's like most of my older sprinters. She just goes to the [five-eighths] training track here and just jogs. I don't like to work them between races. Most of them respond better if they get some time off and get away from the track."
NOTE: An earlier version of this article said that Patterson had claimed Cuttin Edge Tech from Crystal Pickett, rather than Ronney Brown. We regret the error.