Late Night Pow Wow returns with a flourish in Twixt win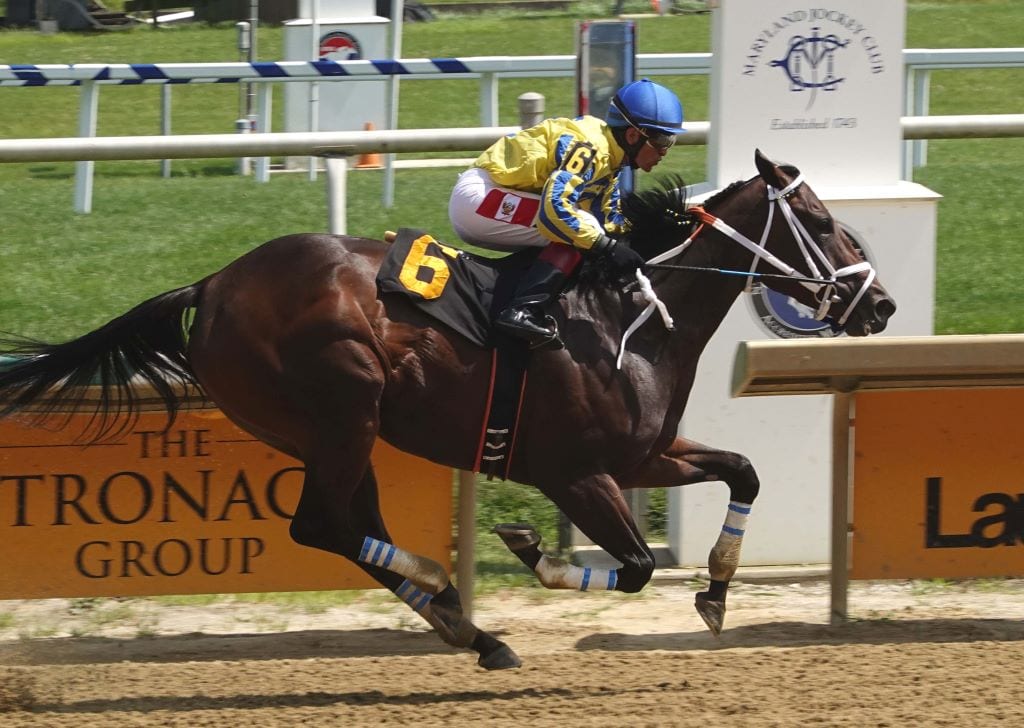 Late Night Pow Wow returned to action with a flourish, taking the Twixt Stakes at Laurel Park. Photo by Laurie Asseo.
If the Twixt Stakes was meant as a confidence builder for Late Night Pow Wow, you can consider her confidence built.
Late Night Pow Wow, the speedy West Virginia-bred, making her first start since a third-place finish in the Grade 1 Madison, returned with a flourish to take a decisive victory in Sunday's $75,000 Twixt Stakes at Laurel Park. The win was her 12th in 14 career starts.
"She loves the track, and we expected this kind of result from her," said winning trainer Javier Contreras. "She's been working really good."
She does, in fact, love the Laurel Park racing strip. Sunday's win made the Charles Town-based filly a perfect four-for-four over the strip; her wins in Maryland include her signature victory, that in the Grade 3 Barbara Fritchie this past February.
Under jockey Fredy Peltroche — back in the irons after having been taken off for the Madison — Late Night Pow Wow was away well to rate the early pace inside, but she was dogged through the first half-mile by 25-1 Stormologist. The opening quarter-mile in the seven-furlong test on a fast main track went by in 23.31 seconds, and the half was up in 46.08.
"She just felt good and everything," Peltroche said. 
Stormologist began to tire on the turn — she would finish fourth — but at that point another Laurel lover, the locally based Shimmering Aspen, was revving up her run. She made her move while three wide and put a head in front when turning for home.
But Mike Hall, who with partner Sam Ross comprises Breeze Easy, LLC, which owns Late Night Pow Wow, said he wasn't worried.
"I knew the layoff – she could have come up a little short," he explained. "But she's just so so talented and does everything so easy."
When Peltroche asked Late Night Pow Wow, she fought back willingly, spurted clear, and went on to cross the wire a length-and-change in front of Shimmering Aspen. Cairenn was third, and Stormologist held fourth. Running time for the seven-eighths was 1:22.03. Late Night Pow Wow paid $3 to win and topped a dollar exacta worth $5.60.
The win was Late Night Pow Wow's third in four 2019 starts, 12th in 14 overall, and pushed her earnings to nearly $700,000.
It also made for a happy birthday for Hall. Hall, a native of "a little town called Pennsburg, Ritchie County, West Virginia," turned 58 on Sunday.
"We're very proud of her," he said. "We got into the racing, I guess it's been three or four years ago. We've been running at it pretty hard. It's a lot of work, and it's a lot of ups and downs. It's not easy.  This is one of the nicer horses that we own. We have a few other nice horses. But she's kind of special."
The West Virginia-bred humans purchased the West Virginia-bred horse from then-owner-trainer Javier Contreras following her wins in the Grade 3 Charles Town Oaks and the West Virginia Breeders Classic Cavada. She's since won four of five, the only blemish having been the third-place effort in the Madison.
A return to graded company — and a trip north — may be in Late Night Pow Wow's future. The Grade 1 Ballerina — a race won by another Charles Town-based trainer, Ollie Figgins, III, in 2013 with Dance to Bristol — is August 24 at Saratoga.
"You know, it'll depend on what Javier says, but I think, yes. We'll probably try to go to Saratoga and get her a race before the end of the meet," said Hall.