Longtime Maryland announcer Dick Woolley passes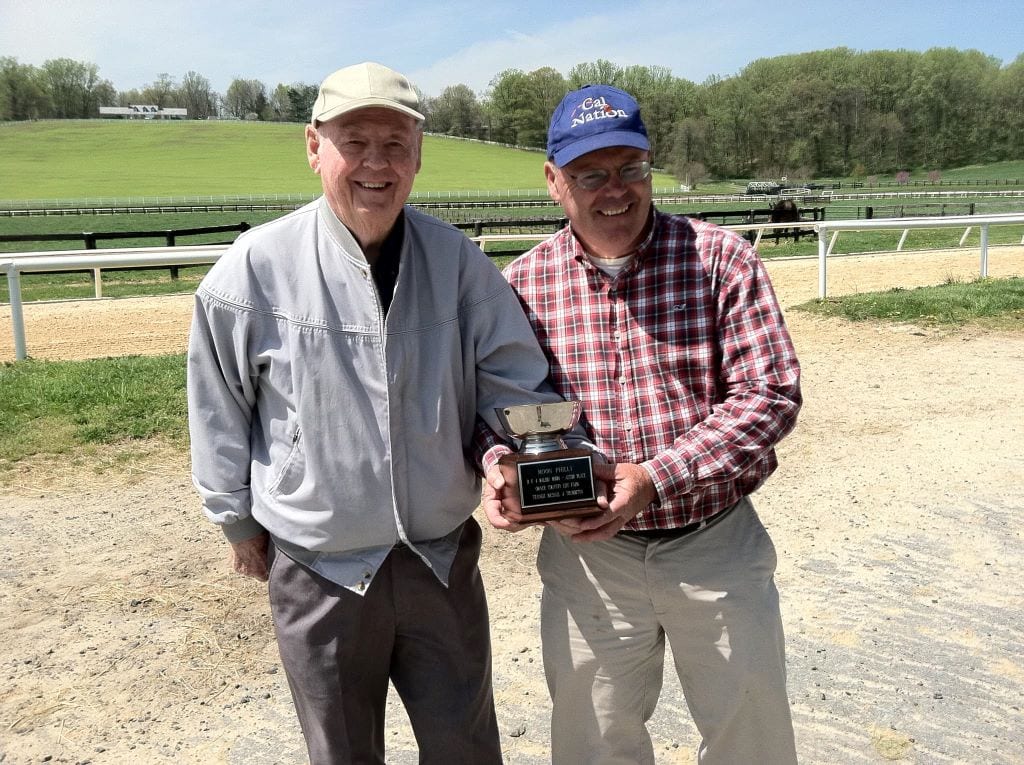 Dick Woolley (left) with Country Life Farm's Mike Pons. Photo by Scott Wykoff.
Dick Woolley, the track announcer who called nearly 20 Preakness Stakes, co-bred an unlikely Maryland sprint sensation and won an Eclipse Award as prescient radio host, died July 1 in Baltimore. He was 89.
Sprung from shadowy announcer's booths at Charles Town, Shenandoah Downs and Vermont's Green Mountain Park, Mr. Woolley reached Maryland's visible circuit in 1971 and soon a far-flung audience. In a halting basso, he described the Laurel Futurity that brought Secretariat's eight-length splash; Washington, D.C., International scores by Hall of Famers Dahlia and All Along; and, for ABC's national telecast, Preakness Stakes that delivered eventual Triple Crown winners Seattle Slew and Affirmed. Mr. Woolley later cast the 1978 Affirmed-Alydar showdown as "the most thrilling moment" of his career.
Uplift loomed elsewhere. When friend Ralph Duane spoke plans to sell retired claimer Rhombus, twice a winner in 38 starts, Mr. Woolley encouraged otherwise. The Bold Effort mare had black type in her first and second families, Mr. Woolley offered, and thus broodmare potential. With Erwin Mendelson, Duane and Mr. Woolley formed Century Breeders.
Rhombus's first foal, stakes-placed Century Rollick, won 11 races and nearly $100,000. The tale would get better.
In 1978, a year after birthing Century Rollick, Rhombus presented another son of Rollicking. Century Prince outran his pedigree and most who tried him, winning three stakes at 2 and Pimlico's Hirsch Jacobs at 3. With frailties to match his jaunty speed, Century Prince retired to a modest breeding career following five wins and three seconds from eight starts. Syndicated, he sired stakes winners Short Fuse Susie and Darinka.
As Century Prince found fruit in fatherhood, Mr. Woolley, too, diversified. A one-time radio deejay at his alma mater, American University in Washington, D.C., Mr. Woolley pitched to Baltimore radio station WITH-AM a weekly horse-racing show he would produce and host. With "Showcase of Racing," Mr. Woolley related local and national racing news, shared insights, featured guests who answered his and callers' questions. The show later moved to stronger-signaled WBAL and won Mr. Woolley a 1979 Eclipse Award for the nation's outstanding radio program.
Mr. Woolley called the action at Bowie Race Course until it closed in 1985; that year, Laurel owner Frank De Francis hired Freestate Raceway harness track announcer Robin Burns as the new voice of Laurel. Mr. Woolley remained at Pimlico through 1988, and at separately owned Timonium through 2001.
Moved by his earliest racetrack exposures at Havre de Grace in 1948, Mr. Woolley embraced the rustic allure of the half-mile track. With its open-air grandstand and fair-side charm, Timonium relit that flame.
"Everything's so close; that's part of the appeal," Mr. Woolley said. "It lacks the pizzazz of the milers, but it's homey."
Richard Woolley was born Jan. 27, 1930, in Hartford, Conn., and, as a child, moved to Maryland's Montgomery County after his father took a job in the Washington, D.C., office of the Standard Register Co. On Sundays, young Mr. Woolley would ride horses at a stable off Georgia Avenue in the Aspen Hill area of Silver Spring.
He graduated from D.C.'s Woodrow Wilson High in 1948, spent a year at Trinity College in Connecticut, then enlisted in the Navy. He served aboard the escort carrier USS Palau during the Korean War, returned home and enrolled at American U. There, he worked as a deejay on WAMU-AM, the campus radio station, and as public-address announcer for school basketball games. Weekend racetrack swings got him acquainted with Ray Haight, then principal race-caller on the Maryland circuit.
During his junior year of college, at age 27, Mr. Woolley filled in as Charles Town track announcer and glimpsed his future. He graduated with a degree in communications, and an itch to call races full-time. In 1959, he landed the 60-date season at Shenandoah Downs, worked its meets for a decade, and also called races at Delaware Park and other tracks.
Eager to expand, Mr. Woolley set out for Arkansas in 1964, stopped in New Orleans and got a job as Fair Grounds announcer. He called races there seven years, until Haight left the Maryland circuit for Monmouth Park in 1971 and Mr. Woolley filled the void.
"It was like coming home," Mr. Woolley said.
Without gimmick or catchphrase, Mr. Woolley called races at nearly two dozen tracks and gained national prominence as the voice of the Preakness. Typically level-toned, he acknowledged a more lilting note for Pimlico's signature race.
"The Preakness is my Super Bowl, and I get much more wrapped up and enthused," Mr. Woolley once said. "It's a big kick. At the end of the day, I'm like a dishtowel, but it's very satisfying."
Mr. Woolley leaves his wife, Patti, four children and three grandchildren. A funeral mass is scheduled for July 27, 11 a.m., at St. Paul Catholic Church in Ellicott City, MD.