On breeding: Help is on the way in Maryland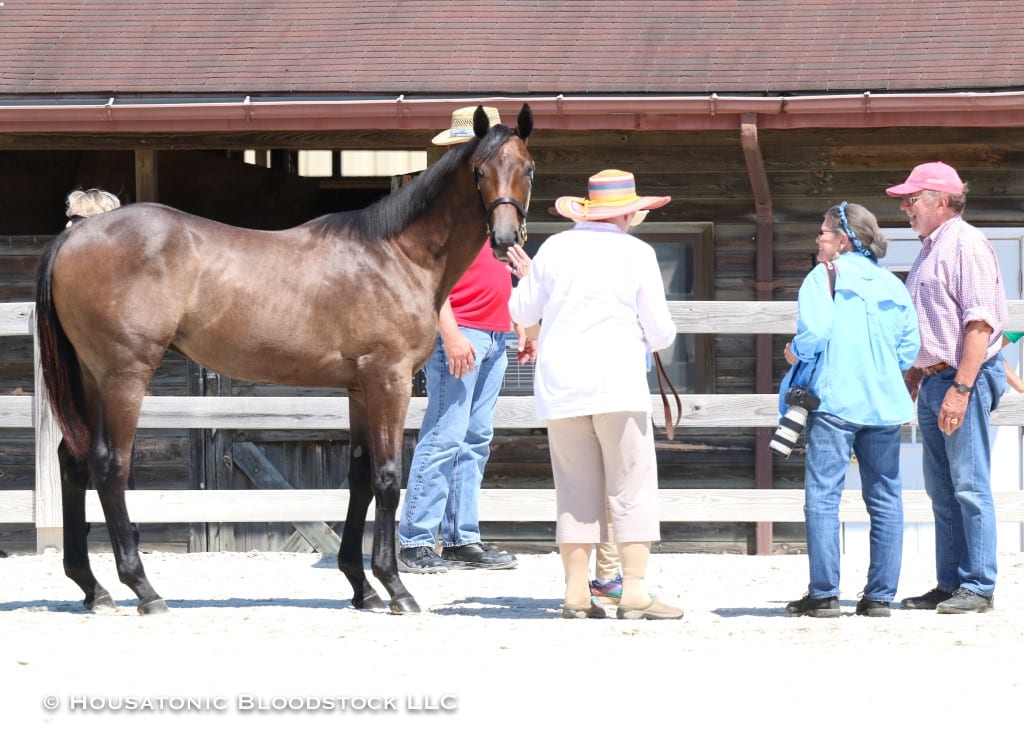 This Bandbox colt won his class at the MHBA Yearling Show and was the reserve champion (second place overall). Photo by George Adams.
The 85th annual Maryland Horse Breeders Association's Yearling Show took place June 30 at the Timonium fairgrounds, and while the event is open to all Maryland-breds, the key takeaway may prove to be the growing quality in the state's ranks of young stallions.
The timing couldn't be more fortuitous.
The show featured a field of 98 Maryland-bred colts and fillies split into four groups: Class I for Maryland-sired males, Class II for colts and geldings by out-of-state sires, Class III for fillies by Maryland stallions, and Class IV with fillies sired out-of-state.
This year's judge, Fair Hill-based trainer Michael Stidham, selected as Grand Champion a filly by the Kentucky sire Midshipman, who was tops in Class IV. The Reserve Champion was a Bandbox colt who had topped Class I, while the other class winners were a colt by Girolamo (who stood in New York and Kentucky prior to his export to Korea) and a filly by the local resident Bourbon Courage.
The Bandbox colt, owned and bred by Ellen Charles's Hillwood Stables LLC, is from the third crop of his sire and out of the Quiet American mare Buffgirl. Bandbox himself raced for Hillwood and trainer Rodney Jenkins, and racked up four stakes successes from 2- through 6-years-old, including a victory in the Grade 3 General George Handicap at Laurel.
Bandbox's first crop are 3-year-olds of 2019, and that group already includes Follow the Dog, who won last fall's Maryland Million Nursery Stakes, plus Outofthepark, who completed the trifecta behind Follow the Dog that day. In total, 12 of Bandbox's progeny found the winner's circle so far.
Bourbon Courage — the other Maryland stallion who sired a class winner in this year's Yearling Show — has his first 2-year-olds hitting the track in 2019. From that crop of 45 juveniles, three of the Bourbon Courages have run, and two have already won.
Their combined earnings of $102,310 are good enough to put Bourbon Courage among the top ten freshman sires in the country, and he easily eclipses the other three Maryland-based first-year stallions in that category at this early stage of the season.
Bourbon Courage's daughter who was awarded the blue ribbon in Class III is a member of her sire's second crop, and was bred and owned by Finn's Nickel LLC and Copper Penny Stables. She's out of the Blame mare Angel Park.
On the racetrack, two other first-crop Maryland stallions — Imagining and Hangover Kid — have had their first winners, while Golden Lad has five runners and is still hunting his first winner.
Bandbox and Bourbon Courage are among nineteen new stallions that have retired to stud in Maryland since 2015, including eleven in the last two years. That means eight stallions from this group had progeny old enough to enter the Yearling Show, and they accounted for nine of the ten ribbons awarded by Stidham in the two Maryland-sired classes: two were by Bourbon Courage and all three of the Bandbox yearlings in the show received ribbons, while a pair of sires with their first yearlings racked up four ribbons between them— three for Mosler and one for Barbados.
These results bode well for the future of the Maryland stallion ranks, which currently have a void near the top begging to be filled. Not For Love — whose last crop of runners was foaled in 2015 — still sits at #3 on the list of top Maryland stallions by 2019 progeny earnings behind Great Notion and Friesan Fire. Perhaps even more noteworthy is that Not For Love is one of eleven sires occupying spots in Maryland's top twenty who did not cover mares this past spring because they'd either died, been pensioned, or left the state.
But the results of the MHBA's Yearling Show give breeders some optimism that help is on the way.