Mean Bean delivers for postman-trainer Harrison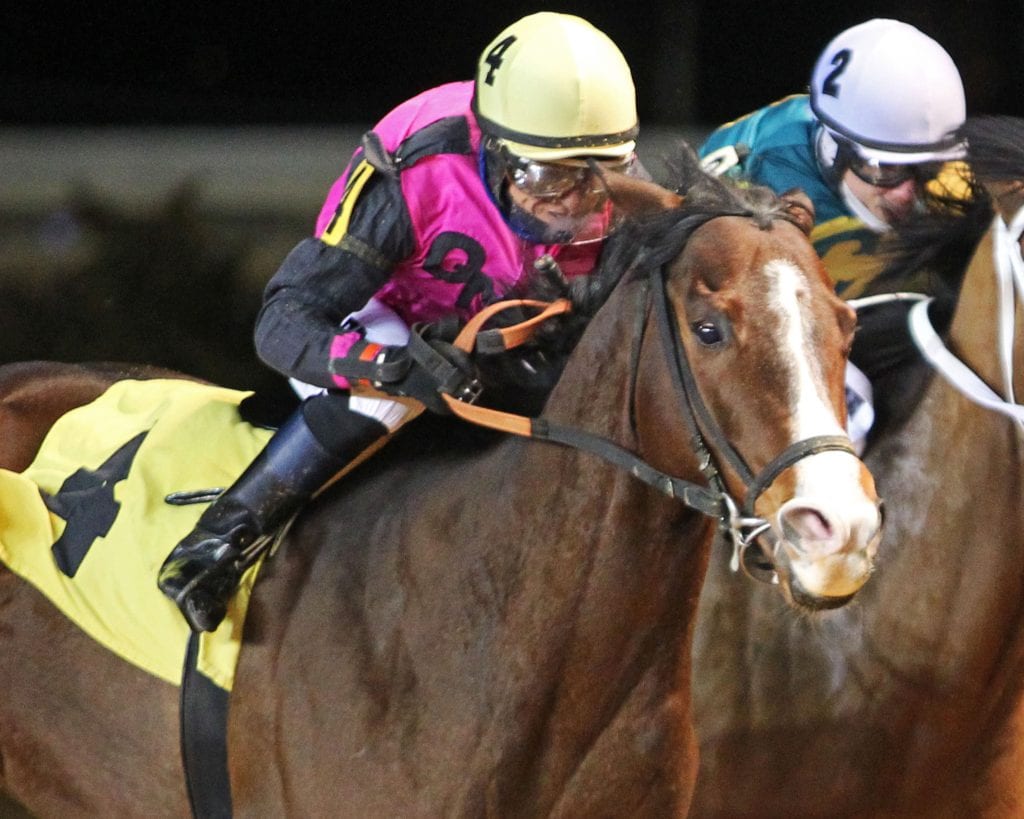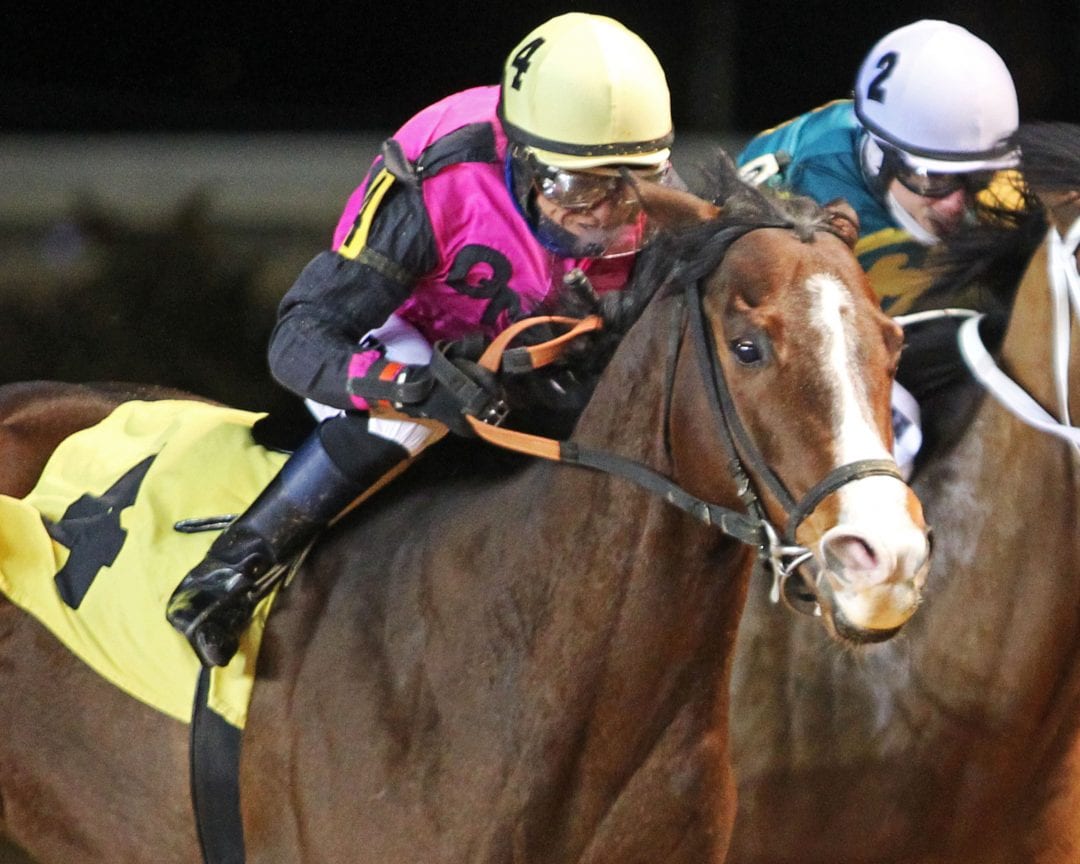 Mean Bean won a Charles Town allowance in February. Photo by Coady Photography.
Thoroughbred trainer Glenn Harrison has two jobs in which he subscribes to the credo "neither snow nor rain nor heat nor gloom of night." And while he delivers in his day job, it's his top trainee, Mean Bean, who's delivering in the evening.
Although it took Mean Bean more than a year — and 10 starts — to earn his diploma in maiden special weight company in the summer of 2016, Mean Bean has since been more than a pleasant surprise for owner-trainer Harrison, who trains horses at Charles Town and delivers mail for the U. S. Postal Service in Ranson. The seven-year-old Garnered gelding is the most successful runner Harrison has trained, having banked over $207,000.
For much of the year, Harrison had been seeking a turf race for Mean Bean and thought he had found one on June 18 at Mountaineer in a one-mile allowance on the grass. But heavy rains forced the surface shift to the sloppy main track — a blessing and a curse, since it still left Harrison without a grass race for Mean Bean but it led to a short, three-horse field.
"I've been hoping to find some longer races on the grass," Harrison said. "But they got so much rain I knew it was going to come off the grass. Either way, I was going to run. When I looked at the past performances for the other horses, it looked like most of them were turf horses, so I knew four or five would scratch. I even thought [2-5 favorite Bandar] would scratch, since he had the best turf form."
Although three horses broke from the gate in the two-turn mile once around the sloppy main track, the open allowance was basically a match race throughout as Bandar and Mean Bean were well clear of their lone remaining rival. Bandar owned a short lead through the first three calls, but Mean Bean surged past the odds-on favorite in the lane for a one-length score while getting the one-mile distance in 1:39.50. Mean Bean now boasts a solid 8-12-6 slate from 34 career outings.
"Believe me, I was doing a rain dance all day," Harrison said. "I thought the race would scratch down to two or three horses and I was going up no matter what. My horses has only run on dirt and he's done well in the slop before. I thought the favorite was going to scratch, but when he stayed in I knew we were going to be first or second. I was happy with him."
While West Virginia-bred older runners such as Lucy's Bob Boy, Russell Road, Charitable Annuity and Slip The Cable have emerged as household names locally, Mean Bean and Harrison have flown well below the radar. In fact, it was Mean Bean's February allowance victory that victory pushed Harrison's lifetime earnings as a trainer over the $1 million plateau. He had reached the 100th victory of his career in 2016 on the night in which Mean Bean finally earned his diploma.
"This horse has really been a blessing for me," Harrison said. "He's made way more than any other horses that I've trained over the years. He was my first horse to go past $100,000 and the other night he went over $200,000… My long term goal is the [$50.000] A Huevo [for West Virginia-bred older horses at Charles Town on Nov. 9]. He's not eligible to the Classics and I really have never considered supplementing him."
Though neither Harrison nor his star pupil has won a stake, both are stakes-placed. Mean Bean registered his best result when third in the seven-furlong Confucius Say on the Charles Town Classic undercard April 20.
Mean Bean has continued to enjoy a solid campaign just months after his breeder, Jessica Ryan Loy, passed away unexpectedly on April 3 at the age of 34. Harrison had gotten to know Loy after he purchased Mean Bean and she had been the Garnered gelding's biggest fan.
"I didn't know Jessica until after I bought the horse, but she was very fond of him and her horses," Harrison said. "I was very sorry to hear that she had passed away. She loved the horses. I'm sure she is still rooting for him."