Trainer Jack Kousin back at it – 30 years after leaving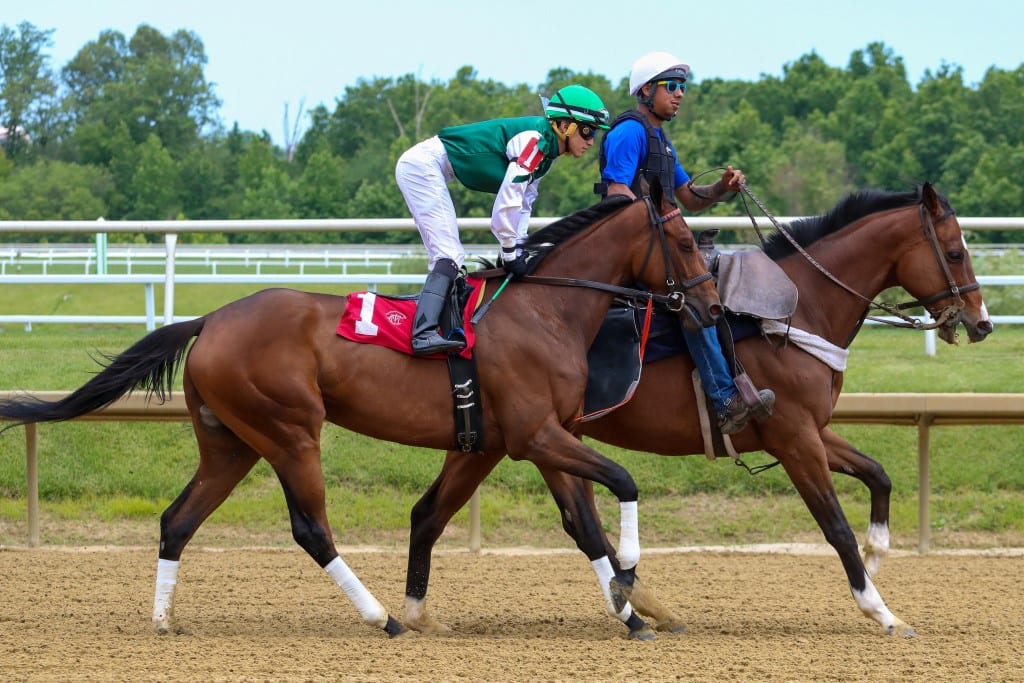 Alluring Prospect is trained by Jack Kousin. Photo by Dottie Miller.
A horse to saddle, trainer Jerry Robb walked into the Laurel Park paddock one June day and found himself in a vintage newsreel.
An image brought him pause, and a wry smile. "Talk about steppin' back in time," Robb said. "Thought I was back in the seventies."
There, to his left, trainer Jack Kousin addressed a scrawling turf writer in a moment both strange and familiar. Across his career, Kousin has publicly discussed an overachieving stable that advanced stakes winners Contrary Rose and S.S. Hot Sauce for owner-breeder Alan Kline, Peace for Peace, Hampton Beach and Pretty Does. His most recent stakes heroine, Apalgaffey, took the Caesar's Wish.
At Bowie Race Course. In 1985.
An affable horseman who'd turned a modest barn bullish, Kousin managed another uncommon feat the year after Apalgaffey starred at Bowie. He disappeared.
His robust stable, often comprising 20 runners and sometimes nudging 30, by 1986 had withered in size and yield; the numbers, he reckoned, better squared on another's ledger. So Kousin left the track for a surer thing, tax accounting. He was 38.
Wise to diversification's upside, he'd ventured from horses before, never eagerly. He left his family's Michigan thoroughbred farm for college, majored in history at Michigan State, then enrolled in law school. A year and a half in, 1971, Kousin reached a binding verdict: He needed to get back to horses.
He played polo for a time in Florida with the Oxleys and Del Carroll, started training for a friend in New Orleans and pondered his next move when fate interceded. "My wife was on a plane going to Canada, and she saw some guy reading the [Daily] Racing Form," Kousin said. "She told him, 'My husband's a trainer.'"
The gentleman lowered his newspaper and looked at her. "Isn't that a coincidence?"
Alan Kline, a CPA, had an 80-acre farm in Boyds, MD, and an urge to grow a racing stable. For a decade starting 1976, he and Kousin harvested fruitful runners.
Homebred Contrary Rose, who won five stakes and 15 races, created a buzz beyond her speedy means. By the Bold Ruler-sired Seat of Power from the Mr. Turf mare Kari Contrary, the 1976 foal had a blatant patchwork coat of white and chestnut that brought questions of legitimacy.
"In the beginning," Kousin said, "they didn't think she was a thoroughbred."
Skepticism shadowed her. Hours before an allowance race at Keystone (now Parx), Kousin said he thought it wise to contact the track's horse identifier regarding Contrary Rose's odd markings. "Later he told me, 'It's good you did that, because if she would have come to the paddock and I hadn't seen her before, I would have scratched her,'" Kousin said.
More than 30 years of accountancy did little to smother these moments: a daily dose of horseflesh, the barn work, early morning hobnobs with fellow trainers, the races, those wonderfully peculiar episodes that only a racetrack can author. Last year, well past retirement age, Kousin closed most of his tax clients' accounts and heeded the backstretch call once more.
"I started thinking about how much I enjoyed the racing business," Kousin said. "And so I thought this would be a good time to give it a chance. You know, do it again."
But how, exactly? Without airing his intent, Kousin left his Crofton, MD, home for a 2018 Timonium sale and felt lost.
"I don't even know the breeding anymore," he acknowledged. "I used to know everything. And now I don't know anything."
He thought he recognized one of the Pons brothers from Country Life Farm — Josh, Mike? — who asked Kousin if he'd seen Alan Kline. There, at the sale.
Another chance meeting. Kline looked up at Kousin's approach, somewhat startled to see his old trainer in a new context. Inspired, Kline coaxed old words: "What the heck — why don't we go partners on a horse?"
And so it happened. Kousin, 71, bought into the Kline homebred Icantrumpthat (Bellamy Road–Saarley Solution, by Saarland) and another filly, $27,000 yearling Alluring Prospect (Orientate–Otherwise Perfect, by Lemon Drop Kid).
Kousin resumed training in earnest last December. Since, Alluring Prospect has managed a 7-0-1-3 record and $26,716 in purses; Icantrumpthat, 5-0-0-0 and $8,180. A breakthrough by either would land Kousin his first winner's circle snapshot since April 8, 1986.
He said he's found the racetrack ledger changed — beefier purses, a diminished horse population, runners starting less frequently — but the workplace essence inviting as ever.
"The fun thing for me is all the people I knew and reacquainted with," Kousin said. "It was really gratifying, and made me think it was the right move coming back. I've always been involved with horses. And even if you get away from it, when you come back to the track, you get all excited again."