For Delacour, patience paying off in a big way at Delaware Park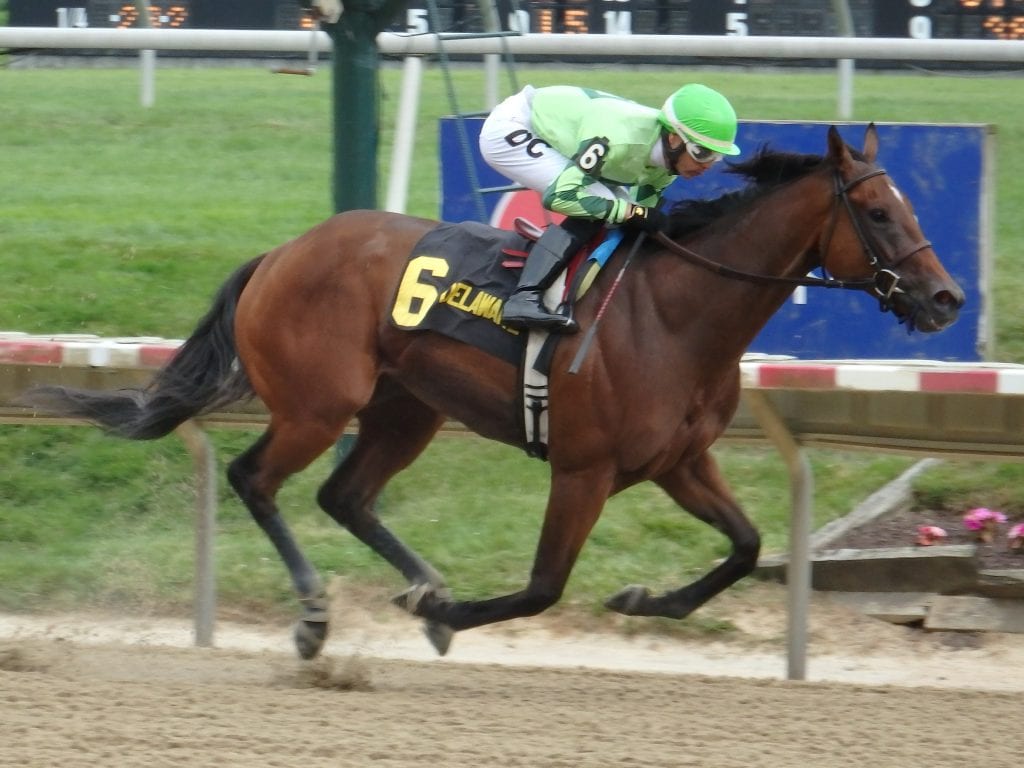 Fashion Faux Pas was much the best in the Light Hearted Stakes. Photo by The Racing Biz.
Trainer Arnaud Delacour has said that every horse is unique and that no single approach to training works with every runner. It's that patience to wait for his runners to progress, mature, and eventually come to hand that has made the Delacour operation one of the most successful and admired stables in the Mid-Atlantic.
Two prime examples of the French native's talent of bringing out the best qualities in his horses are two distaffers who may see action in Delaware Park's top two stakes races, the $300.000 Grade 3 Delaware Oaks on July 6. and the $750,000 Grade 2 Delaware Handicap on July 13. A third Delacour trainee, Eons, won the Stanton Stakes; that's the prep race for the Grade 3 Kent for three-year-olds on the turf.
Delacour is pointing Fashion Faux Pas for the mile-and-a-sixteenth Oaks, and the horseman explained the difference between Fashion Faux Pas the 2-year-old and Fashion Faux Pas the 3-year-old.
"She (Fashion Faux Pas) was a prime example of a horse with a world of talent and speed who just needed time to learn how to use her considerable ability," Delacour said. "Last year right from the start it was apparent she was a horse with a lot of natural speed and a high cruising speed. She can work in :46 or :47 easily, but last year she didn't have much kick in the late parts of her breezes and she wouldn't gallop out strong because she had used her energy up early."
Fashion Faux Pas won twice in three starts as a juvenile, breaking her maiden at Laurel Park in November and following that up with a four-length score in the Sandpiper Stakes at Tampa. After a ninth-place finish in the Grade 2 Forward Gal at Gulfstream Park earlier this year, Fashion Faux Pas finished second in the six-furlong, grassy Mizdirection Stakes at Aqueduct in April.
"We hoped that with time she would grow up a bit mentally, learn how to relax early, and have something left when the time came to use it," Delacour said. "Fortunately, that was the case… Even though she ran second in a turf sprint at Belmont… the rider said she really relaxed just off the pace in that race. Her breeding says she should like two turns, but you never know whether those bloodlines will show on the race track, and that's why the Light Hearted was such an important race for her. The field was solid, and while her winning margin was impressive (14 ½ lengths), it was the way she was able to settle in off the pace and relax. Then when she was called upon she really responded well and had kicked in nicely."
While Delacour knows there will be a higher talent level in the Oaks, he is cautiously optimistic.
"She worked a couple of days ago and breezed nicely," he reported. "I expect we'll work her two more times leading up to the race, and most importantly, her frame of mind is right what we had hoped for. She's not a kid anymore; she's a young woman and she's matured into a really nice individual."
The prognosis is slightly more guarded for Gotham Gala, a four-year-old Smart Strike filly he trains for Mark Grier.
Gotham Gala led throughout the $100,000 Obeah Stakes to take the traditional prep for the DelCap. It was the first stakes win for Gotham Gala – in just her eighth career start — and Delacour says he's going to see who's coming for the big race before making a decision as to his horse's status.
"We're going to look at the DelCap, but we know Elate is pointing for the race and she's a top-class mare," he explained. "While it would be great to earn black type in a race like that, it might not be the best place for the horse, so we'll also be looking at other options like the Molly Pitcher at Monmouth and others."
Gotham Gala was another example of Delacour and the horse's connections finding the race scenario that was best for the 4-year-old, who brought $260,000 as a yearling.
"She's a one-paced type of filly, and we felt two-turn dirt races would be where she would be able to use her speed to advantage and that's what she did in the Obeah," Delacour pointed out. "I really think she could be even more effective going, say, a mile-and-a-quarter and longer, but of course in this country there aren't a lot of opportunities at those longer distances."
There are a few of those opportunities, though, among them the Delaware Handicap on July 13.