Hunter O'Riley takes long way home to United Nations win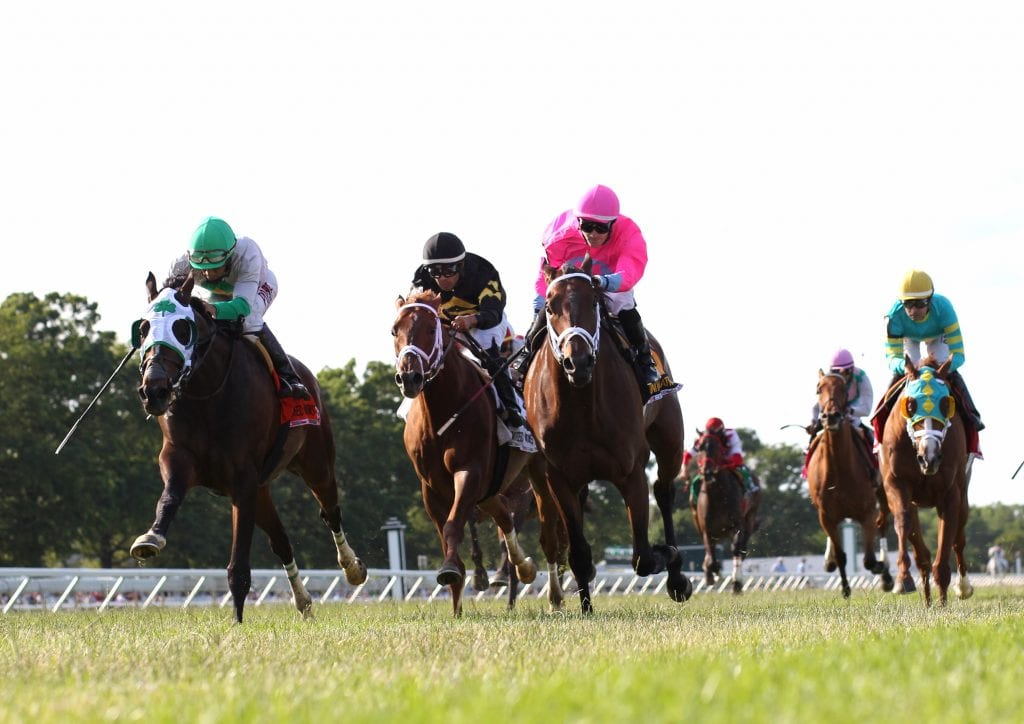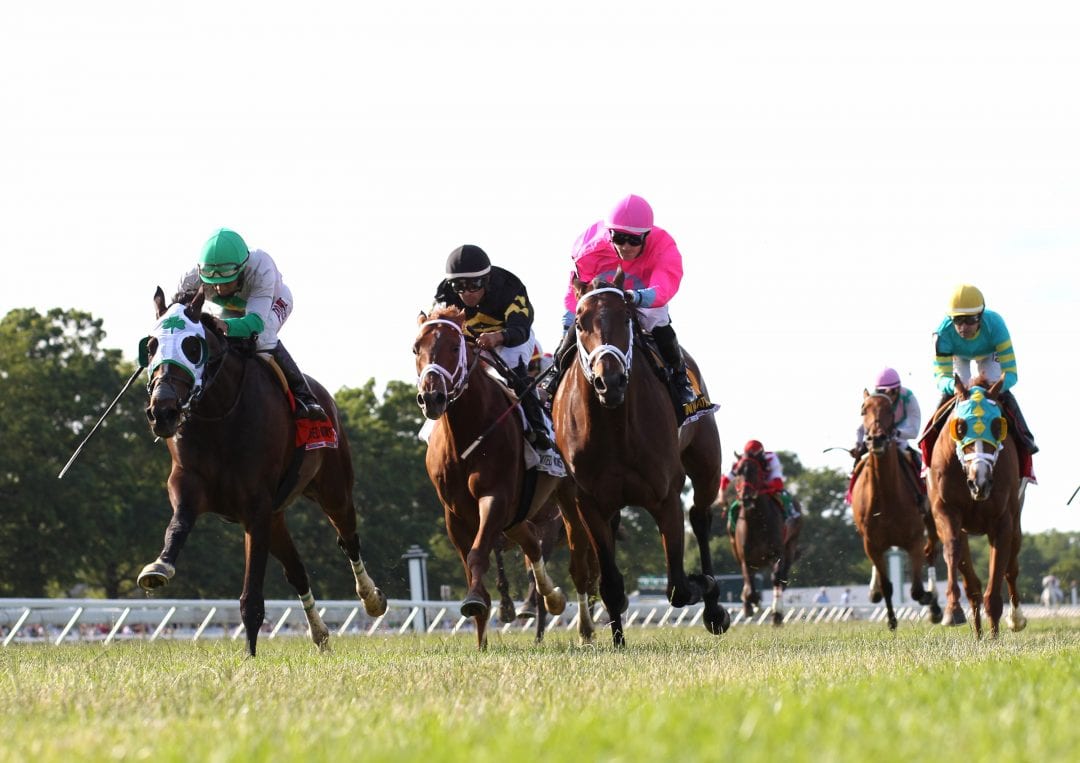 Hunter O'Riley (left, white and green silks) won the Grade 1 United Nations Stakes. Photo By Bill Denver/EQUI-PHOTO.
It had been almost two full years since Hunter O'Riley reached the winner's circle at any race track, but the 5-year-old Tiz Wonderful gelding pulled the shocker of the day at Monmouth Park Saturday, winning the 66th running of the $300,000, Grade 1 United Nations Stakes.
Hunter O'Riley, sent off at odds of 14-1, came from off the pace, cruising three wide on the turn and then five wide in the lane to defeat Zulu Alpha by a neck, giving trainer Jimmy Toner the win.
It marked Hunter O'Riley's first victory since July of 2017 and the fifth win overall in 22 career starts. Toner said that Hunter O'Riley had been in some ways his own worst enemy prior to the United Nations.
"This horse has a tendency to take himself out of races," Toner said. "But he runs better on the outside."
Toner said that he had been cautious with Hunter O'Riley ever since the horse had a tough time competing in 2018.
"After he raced at Keeneland (in April of 2018), he had some issues," Toner said. "We gave him some time off before we brought him back. It actually was a little longer than we thought it would be. The next thing you know, you look up and it's almost a year before he ran again."
Still, Toner felt good about his horse's training in recent months.
"We got him back this winter and he was doing pretty good," Toner said. "But his last race (in the Grade 2 Elkhorn at Keeneland), he was too far back and that cost him. That's what I meant about him. He costs himself most of the time. He always makes a run, but sometimes he leaves himself with too much to do. This time, he wasn't 15 or 20 lengths behind. That was the key."
Toner gave credit to jockey Paco Lopez, who guided Hunter O'Riley to the win on the turf course labeled "good" in 2:17.10 for 1 3/8 miles.
"It was a super ride by Paco," Toner said. "He kept him right there. Paco saved ground all the way. He was with the field and then when he hit the turn, he tipped out. I thought he might have tipped out a little too far, but once he tipped out, he made a good run the last part. Paco rode a tremendous race. He was told to save as much ground as possible [and then get outside]. [Hunter O'Riley} runs better on the outside. Paco couldn't have followed orders any better than that."
Veteran jockey Lopez followed Toner's instructions to a tee.
"Jimmy Toner told me that whatever you want to do, go do it, but just don't stay on the rail," Lopez said. "He said, 'Don't stay inside.' He said, 'Stay outside.' I was worried a little bit about the slow fractions, but my horse was very comfortable when we made the first turn. Jimmy asked me to keep him in a good position, so I tried that. At the half mile, I started to get (Hunter O'Riley) to the outside and then when I asked him to run, he really gave me what he had. I had a good position the whole way. I liked where we were. He fired a little slowly, but then he got rolling."
Hunter O'Riley was in seventh in the eight-horse field for the first mile before making his move, shifting to the outside and making his run. He edged Zulu Alpha by a neck, with favored Channel Cat another half-length back in third.
Owned by Sean Shay and Michael J. Ryan, Hunter O'Riley paid $30.20 to win, $12.60 to place and $7.60 to show. Zulu Alpha paid $8.40 and $5.00 and Channel Cat paid $3.00. The exacta paid a whopping $129.00 for a buck.
Earlier in the day, Monongahela won the Grade 3 Philip H. Iselin Stakes, earning a four-length win over Bal Harbor. Like Hunter O'Riley, Monongahela had not won a single race since 2017. It was only the fourth race under the guidance of trainer Jason Servis, and Monongahela, a five-year-old K One King horse, now has a win and two seconds for his new connections.
Monogahela came off the pace to track down 6-5 favorite Diamond King to earn the victory under jockey Jose Lezcano.
And in the Grade 3 Eatontown Stakes, Valedictorian, a fitting name for a horse at this time of year, romped home with an almost-three-length win over Maid to Remember. Valedictorian, a five-year-old mare, loves the Monmouth Park turf, winning for the fourth time in five starts at Monmouth. It was also Valedictorian's 12th win overall in 28 career starts. She also has finished second six times and third three times, giving her 21 in-the-money finishes in 28 career starts.
Valedictorian was ridden by Lopez and trained by Monmouth favorite Kelly Breen.
"There are not too many like her," Breen said of Valedictorian, who returned $3.60 to win as the favorite. "It's really fun to have in our barn. She likes it here, but I didn't know if she would like it today with all of the rain we had. I was concerned about the footing."
It didn't prove to be a worry at all during the day, as the turf was rated good and held up well.
MONMOUTH NOTES Monmouth announced a crowd of 11,815 for the day, and total all-sources handle topped $5.7 million… Pink Sands and jockey Jose Ortiz won the $100,000 Lady's Secret Stakes one race after the U. N…. Paco Lopez won two of the day's four stakes and three races overall. In limited action, he has seven wins from 28 starts at the Shore, with purse earnings of more than $435,000… While trainer Jason Servis won the Iselin, his brother John finished third with favored Diamond King in that race. Popular West Virginia-bred Runnin'toluvya saw his 10-race win streak, including a score in the G2 Charles Town Classic, snapped when fifth in the Iselin…