Delaware Park Handicappers' Notebook 2019 Vol. 4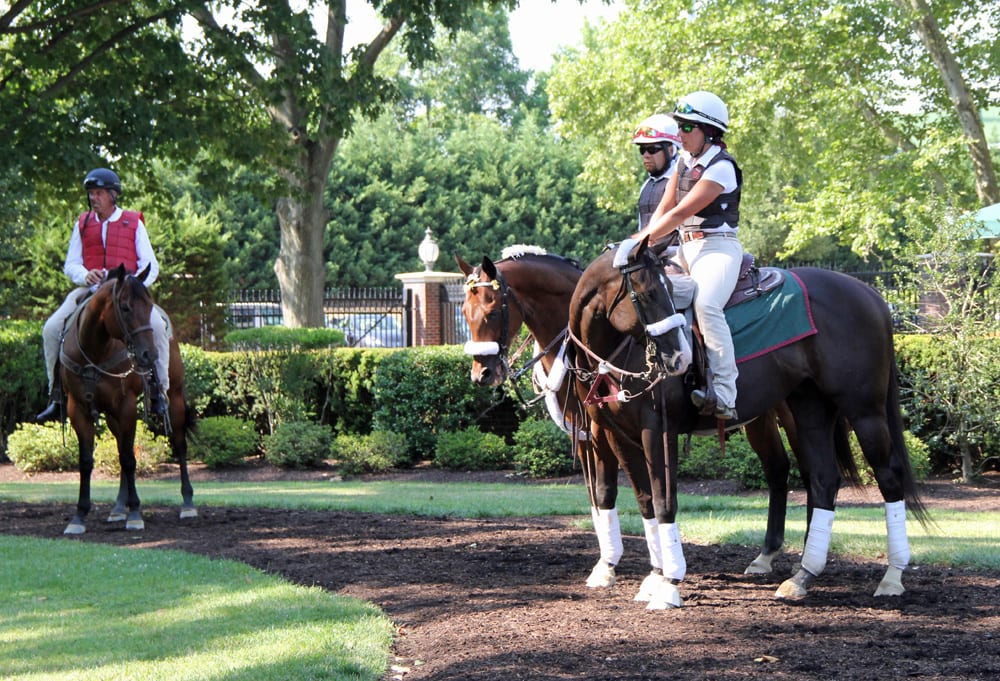 In the paddock on Delaware Handicap day. Photo by Allison Janezic.
Correspondent Doug McCoy returns with his weekly Delaware Park Handicappers' Notebook, featuring horses to watch, bet-backs, and more.
Horses and races to watch
STARTING TOUR (June 1, Race 3) – Ran up heels into turn then was boxed inside in the turn and into the stretch. A better trip and drop to $6250 makes this one a solid bet.
JUST ASK GEORGE (June 1, Race 4) – First time starter from the sharp Ritchey barn was allowed to lag too far back until too late in debut and was only sharply roused in the final sixteenth. Longer distance and being put in contention earlier will make this one tough next out.
THE MO U NO (June 1, Race 4) – This first-timer showed both speed and grit in his debut, dueling through much of the six furlongs to defeat a very solid field of 3-year-olds. This first foal out of a stakes-placed mare may have a future.
DIGITAL DIVA (June 1, Race 7) – Made a very wide middle move then floated even wider in stretch which, with the temporary rail out 25 feet, pretty much eliminated chance to win. Better placement improves her chances radically next start.
MY BEAU (May 29, Race 1) – This Bandbox colt sent out by Delaware Park institution Sam Cronk ran a decent group of 3-year-olds into the ground in his debut while ripping through five and a half furlongs in 1:03.82. Has the look of a good one.
MOJO'S LOUIE CAT (May 29, Race 3) -Was forced out badly in first turn of first start since October, recovered to make a good three wide middle move then gave way in the drive to a 2-5 runaway winner. Don't overlook next start.
Jock/trainer Watch: Performers of the week
Gerald Bennett, who recently won the training title at Tampa Bay Downs for the fourth straight season, sent out three runners last week and two of them won. Even though winning a title at any track means you make a lot of starts and your horses figure to be a bit fatigued by the time the meeting is over, Bennett's runners came into Delaware Park sitting on go and he's sent out five winners from 17 starters through Monday's races for a sizzling 29% win percentage. The 75-year-old has 50 horses on the grounds with some babies set to come north from Florida, and he seems to handle the myriad of challenges and problems that come with running a big operation with a minimum of stress.
Jose Camejo has more than 40 horses stabled at Delaware Park with 26 more in Louisiana and won with both of his starters last week. He showed he knows how to get one ready when he sent out The Mo U No to win at first asking over a solid group of 3-year-old maidens. The Uncle Mo homebred from Brittlyn Stable battled for the lead through much of the six furlong sprint and outdueled several rivals late for the win. He's sent out three winners and two seconds from six starters for a gaudy 50% win percentage.
Handicapper's tool box
PACE SCENARIOS AND TRACK BIAS
The racing surface has been playing about as fair as we've seen it in some 25 seasons. There have been some very fast times, including several sub-1:10 clockings for six furlongs, and speed horses are winning their share.
But the portion of the racing strip from the four- to the eight-paths seems to be the preferred place to be for stalkers and late closing types. In past years horses attempting to make that wide sweep out of the turn into the stretch often seem to float and hang through the stretch and found it hard to sustain their rallies, but this year those wide sweeping moves have produced a number of winners.
For the handicapper, it boils down to successfully predicting the pace scenario. If you find a field with a lot of front end speed, find the late runners. They're winning at a much higher percentage than past years.