Claimbox: Midlantic claiming strong through first five months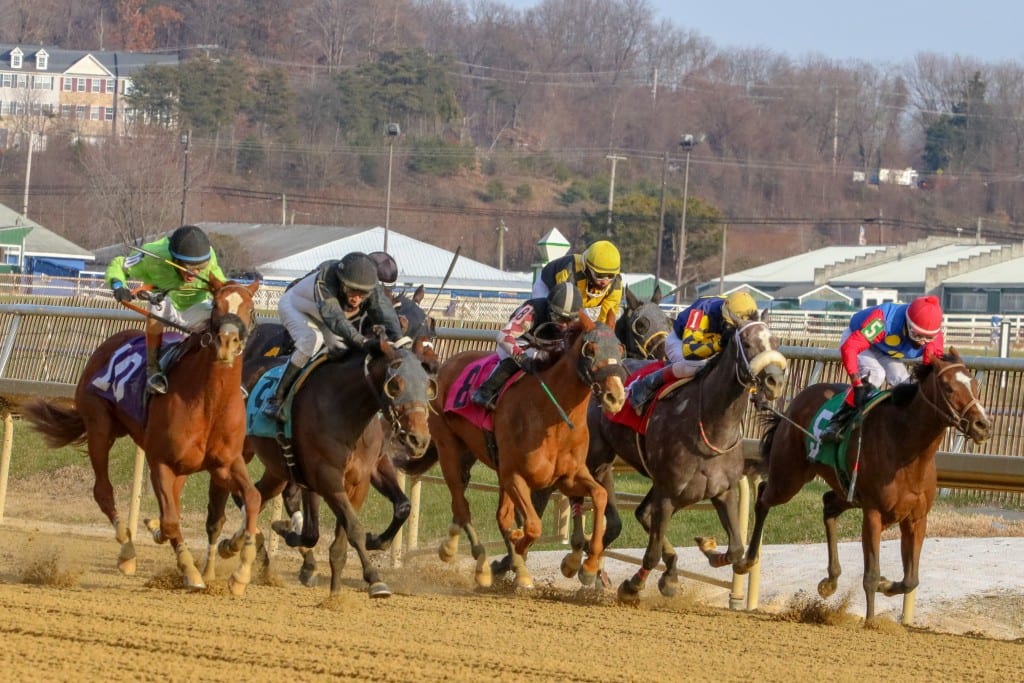 Photo by Dottie Miller.
by Frank Vespe
Claiming activity in the Mid-Atlantic continues to run strongly ahead of 2018 figures through the first five months of the year. Overall numbers through May 31 are 24-30 percent higher than those of a year ago.
To date, 1,089 horses have changed hands via the claimbox in the region. Those horses have a combined value of over $11.6 million, an average of $10,685. The number of horses claimed is 24.7 percent higher than the 873 that had been claimed last year in the first five months, while the total value of those horses is 31.3 percent higher (over $8.8 million last year). The average also is up, by a more modest 5.25 percent. 
Among the region's tracks, Parx Racing remains the busiest, with nearly twice as many claims as any other track in the region. At the Bensalem oval, 522 horses have been claimed with a total combined value of more than $5.4 million. Both numbers lead the region, while the highest average claim value was at Pimlico, where the 25 horses claimed during the 12-day stand averaged $15,280.
Every track in the region but Delaware Park has had more claims thus far in 2019 than they had to the same period in 2018. The seven claims to date at Delaware are the same as changed hands by the claimbox last year through May 31.
Laurel Park has the region's second most claims, with 266 to date, while Penn National is third with 165.
There's something of a logjam atop the list of trainers by number of claims made. Six conditioners have claimed between 30 and 37 horses thus far this year, led by Jamie Ness, who's grabbed 37, one more than Patricia Farro.  
Ness also leads by total value of claims. The horses he's claimed are worth a combined total of $605,000 (average: $16,351). Among those to have claimed 10 or more horses, the highest average claim value belongs to Claudio Gonzalez, whose 24 claims to date have averaged $20,125 — less than hundred dollars more than Dale Capuano's claims (15 claims, average value $19,967).
The busiest owners thus far this year have been Joseph Besecker (27 claims for $543,500) and Jagger, Inc. (26 for $360,500). Besecker works with a number of trainers — Gonzalez among them — and Jagger is the operation of trainer Jamie Ness.
The claimbox report covers Charles Town Races, Delaware Park, Laurel Park, the Meadowlands Thoroughbred meet, Monmouth Park, Penn National, Parx Racing, Pimlico, and Timonium. All data derived from Equibase figures.
| | | | | |
| --- | --- | --- | --- | --- |
| Track | Horses claimed | Total Value | Avg. Value | Max. Value |
| CT | 63 | $ 475,500.00 | $ 7,547.62 | $ 25,000.00 |
| DEL | 7 | $ 60,000.00 | $ 8,571.43 | $ 16,000.00 |
| LRL | 266 | $ 3,336,500.00 | $ 12,543.23 | $ 50,000.00 |
| MTH | 41 | $ 586,500.00 | $ 14,304.88 | $ 40,000.00 |
| PEN | 165 | $ 1,332,750.00 | $ 8,077.27 | $ 25,000.00 |
| PIM | 25 | $ 382,000.00 | $ 15,280.00 | $ 40,000.00 |
| PRX | 522 | $ 5,462,500.00 | $ 10,464.56 | $ 50,000.00 |
| Grand Total | 1089 | $ 11,635,750.00 | $ 10,684.80 | $ 50,000.00 |