Parx Racing receives NTRA safety accreditation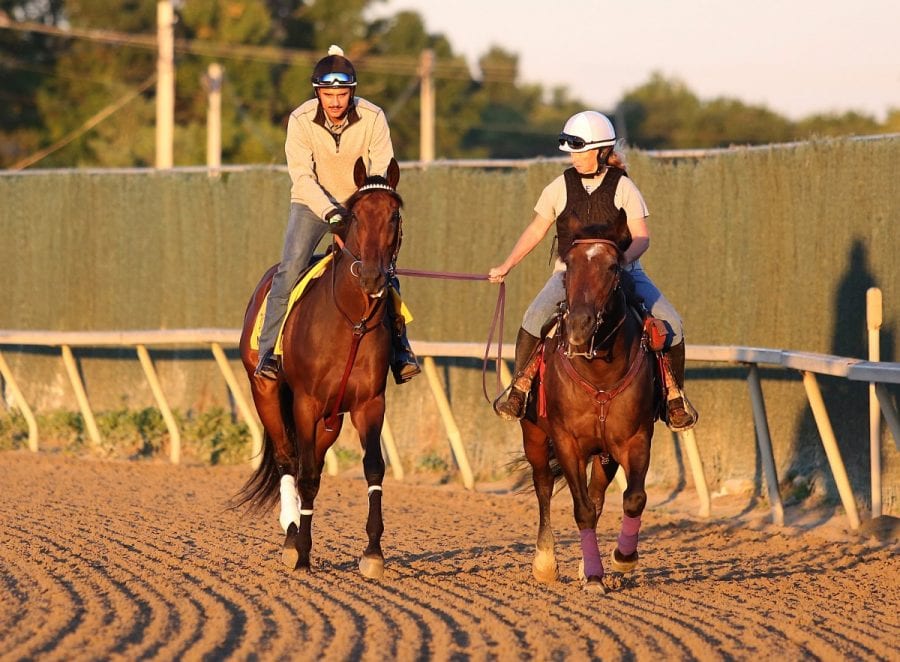 Nyquist at Parx Racing in 2016. Photo by Taylor Ejdys/EQUI-PHOTO.
Following an extensive review process and diligent engagement that resulted in several best practices being recognized, the National Thoroughbred Racing Association (NTRA) announced today that Parx Racing has received its initial accreditation from the NTRA Safety & Integrity Alliance.
Located in Bensalem Township in Bucks County, northeast of the city of Philadelphia and owned and operated by Greenwood Racing, Inc., Parx Racing becomes the 25th racetrack in the U.S. and Canada to earn accreditation, putting a stamp on its ongoing commitment to providing the safest venue possible for its human and equine athletes.
Led by track personnel David Osojnak (Director of Racing), Tim McLaughlin, John Shirley and Lance Morell (security), Gerard Weipert (track superintendent), and Donnie Smith (safety steward), Parx Racing's efforts in such key areas as jockey health, medication and testing standards, fire and safety planning, and Thoroughbred aftercare all were designated as "best practices" in the review process.
Many of the measures that received high marks from the alliance team had already been in place, according to Joe Wilson, Chief Operating Officer of Parx Racing – thus, making the decision to seek accreditation a logical one.
"A lot of the things that the alliance requires, we had already done," Wilson said. "And when I say that, it refers to a padded starting gate, proper equipment with regards to helmets and vests. We installed the rider protection rail…we installed an audio and visual alarm system on the track. And as far as aftercare for race horses, the PTHA's 'Turning For Home', which was founded more than 10 years ago, has safely retired more than 2,400 Thoroughbreds. This program is funded by Parx horse owners, jockeys, the PTHA, the PHBA and Parx management."
"So with all that, it was just a natural fit that we should take that further and be accredited by the NTRA. It just solidifies how important we take safety and integrity. It's extremely important."
Among the heightened initiatives that Parx is implementing are jockey concussion protocols for the safety of everyone involved in racing, both human and equine. Any fallen jockey believed to have potentially suffered a concussion will be sent to the hospital and must be seen and signed off by a doctor before being allowed to resume riding.
Any jockey out as a result of a concussion will be placed on the stop list and not allowed on the backside until they are cleared.
"Right now, if someone comes off a horse and there is any thought at all that they may have hit their head, we require them to have a doctor's note to return and get back on the track," Wilson explained. "It's a unique circumstance where jockeys are not employed by us, they are employed by owners. However, we're the venue and we are going to do as much as we can to protect everybody, so it was just a natural thing. So if we're aware that someone may have hit their head, we're going to require them to be cleared by a doctor before they can get back on a horse."
Parx is also a full user of the Thoroughbred Racing Protective Bureau (TRPB) Wagering Security and has adopted the Racing Surfaces Testing Laboratory's Maintenance Quality Systems (MQS) to execute annual surfaces inspection and best practice ongoing maintenance standards.
"Parx's full implementation of TRPB and MQS, plus Pennsylvania's full compliance with the National Uniform Medication Program are three of the most significant, obvious identifiers of a complete safety and integrity operation," said Steve Koch, executive director of the NTRA Safety and Integrity Alliance. "On top of this we were very pleased with the thorough regulatory and official veterinary standards in force on a Parx raceday."
"Even if we were (graded) more than satisfactory in a category, we listened to if there were any other recommendations, and where we could, we implemented them" added Wilson, who previously worked for AmTote and Sportech and served as Parx's Director of Wagering Services until 2002. "Like our detention barn, they felt we could enhance the security of that so we did. We put fencing around both entrances with gates." Wilson also had praise for the PA State Horse Racing Commission for their cooperation and assistance with the accreditation process.
The accreditation of Parx Racing was the culmination of a process that began with the track's completion of an extensive written application and continued as the track hosted several meetings with Alliance officials. An on-site review included inspections of all facets of the racing operations. Interviews were conducted with track executives, racetrack personnel, jockeys, horsemen, veterinarians, stewards and regulators.
The on-site inspection was conducted by Koch, Mike Kilpack, security and integrity consultant; Dan Fick, racing track operations consultant; and Dr. Mary Scollay, veterinary and regulatory consultant, equine medical director for the Kentucky Horse Racing Commission.
Alliance certification standards address an extensive list of safety and integrity concerns within six broad areas: injury reporting and prevention; creating a safer racing environment; aftercare and transition of retired racehorses; uniform medication and testing; jockey health and welfare; and wagering security.
"Parx and their Pennsylvania stakeholders are to be congratulated on achieving full accreditation with the Safety & Integrity Alliance," Koch said. "This was not a simple, nor overnight process. Rather, it is the outcome of a multi-year persistence to achieve some very important goals. Their engagement throughout has been significant and genuine. In fact, the Parx response to not just meeting the Code of Standards, but a complete response to our added recommendations has been substantial.
"Parx is a best example of the Alliance mission at its most effective. We encourage other Pennsylvania stakeholders to review what the Code of Standards means to their operations and how our program may benefit all of Pennsylvania racing."
Parx boasts a 2019 stakes schedule that includes 28 stakes totaling $5.625 million in purse money. Topping the list are the tracks two $1 million Grade 1 races, the Pennsylvania Derby and Cotillion Stakes, to be run this year on September 21.
The NTRA Safety & Integrity Alliance is a standing organization establishing standards and practices to promote safety and integrity in horse racing and to secure their implementation. Corporate partners of the Alliance include Insurance Office of America and Hagyard Equine Medical Institute. Information on the Alliance, including the Alliance Code of Standards, can be found at NTRAalliance.com.