MATCH: First leg winners Laki, Ms Locust Point return Saturday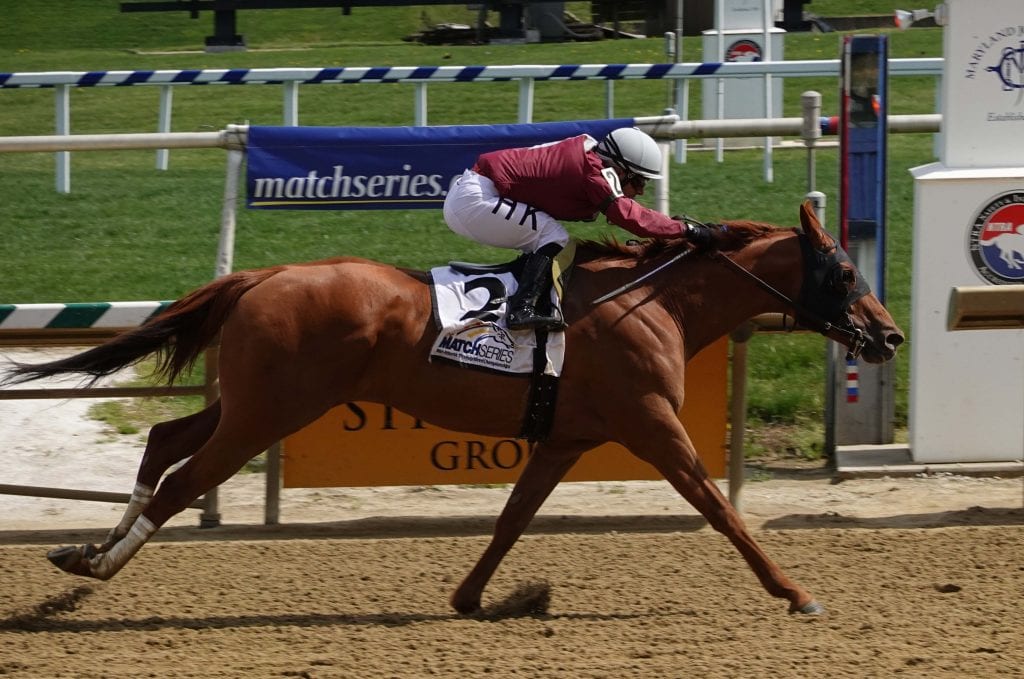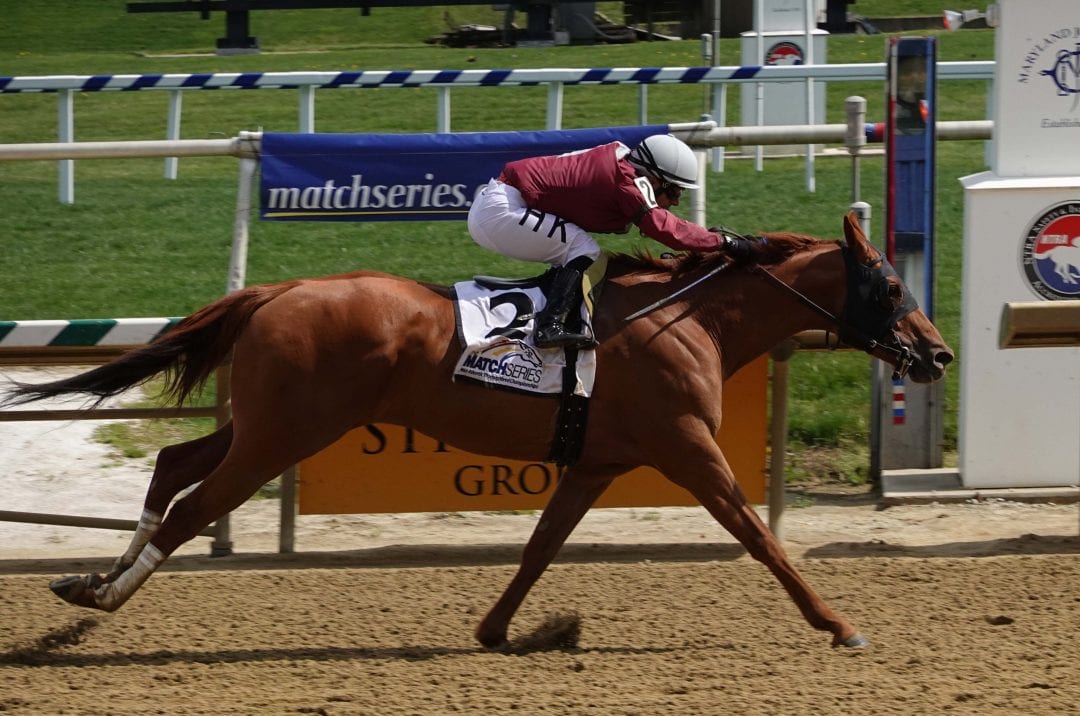 Laki was a dominant winner of the Frank Whiteley Stakes at Laurel. Photo by Laurie Asseo.
Two winners of their divisional stakes when the MATCH Series kicked off in April at Laurel Park are among the horses entered in four series stakes June 1 at Hollywood Casino at Penn National Race Course.
Penn National, the second stop on a five-track MATCH Series tour this year, will offer eight stakes worth a total of $1.3 million on the Saturday program, which has a special first post time of 2:45 p.m. EDT.

The four stakes, each worth $100,000, will be run consecutively as Races 6 through 9 on a 12-race program: the Penn Ladies Dash (Filly and Mare Sprint—Dirt Division), Chocolatetown Sprint (3-Year-Olds and Up Sprint—Dirt Division), Susquehanna Stakes (Filly and Mare Long—Turf Division), and Pennsylvania Governor's Cup (3-Year-Olds and Up Sprint—Turf Division). The four MATCH Series races also comprise a Pick 4 with a reduced 15 percent takeout on Saturday.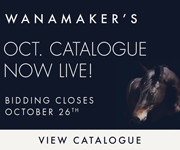 RACE 6 – PENN LADIES DASH
Jim Reichenberg and Cash is King's Ms Locust Point (trainer John Servis, pictured), one of the top female sprinters in the Mid-Atlantic region, defeated Heider Family Stables, Madaket Stables and Michael Kisber's Cairenn (trainer Graham Motion) by a nose in the Primonetta Stakes at Laurel. The two mares are part of a tough field that includes Penn National-based Crabcakes (trainer Bernie Houghton), the popular Maryland-bred mare who has won nine of 16 starts for owner Morgan's Ford Farm and would make her first start of the year in the Penn Ladies Dash.
Also entered is 2W Stables' Bronx Beauty (trainer Anthony Margotta Jr.), who is three-for-three at Penn National and probably lost all chance at the start in her 2019 debut at Parx Racing in April, and Danny Chen's Yorkiepoo Princess (trainer Edward Barker), a New York shipper who last year finished third in the Roamin Rachel Stakes, which was part of the MATCH Series.
PENN LADIES DASH SELECTIONS
#6 Bronx Beauty (6-1): Margotta trainee has thrived at PEN, with a spotless 3-for-3 ledger, including two stakes wins; must find best form here, will get blinks on after dismal last outing in the 7f Lyman at PRX as favorite…
#5 Ms Locust Point (5-2): Might just be too good for these; huge effort last out to win the Primonetta at LRL, winning the speed duel (21.95 second first quarter), spurting clear past the quarter pole, then holding off closers, including #2 Cairenn. Speedster might control this one, too, though #3 has shown early lick as well…
#2 Cairenn (7-2): Slipped through inside in last, then tipped out for big late run that fell just short against #5 Ms Locust Point; good to see rider McCarthy make the trip, but the question is, what makes this outcome different from the last, when the setup played to her advantage?
#3 Yorkiepoo Princess (6-1): Kantharos mare has run some good races, but her in-and-out form makes her a tough call; last-out winner Come Dancing is really good, with two dominant graded wins in last two starts, so no shame there; just missed to finish second in the Correction, but note that winner Startwithsilver finished behind two of these when third in the Primonetta…
RACE 7 – CHOCOLATE TOWN SPRINT STAKES
Hillside Equestrian Meadows' Laki (trainer Damon Dilodovico, pictured), who captured the 3-Year-Olds and Up Sprint—Dirt Division in 2018, was a powerful winner of the Frank J. Whiteley Stakes in 1:08.47 for six furlongs at Laurel to begin his assault on another MATCH title. Jeff Drown's Home Run Maker (trainer Jeremiah Engelhart), who was fifth in the Whiteley, is the only other runner from that race to return for round two.
Two full Pennsylvania-bred brothers are entered in the Chocolatetown for owners Uptowncharlybrown Stud and Godric LLC: 5-year-old Midtowncharlybrown and 4-year-old Midnightcharly, who are by Uptowncharlybrown out of the Speightstown mare Torchwood. Trained by Eddie Colletti Jr., the brothers have started a combined 27 times for total earnings of more than $580,000; Midtowncharlybrown has five wins and a second in six Penn National starts.
CHOCOLATE TOWN SPRINT STAKES SELECTIONS
#4 Laki (2-1): Dilodovico trainee just looks to be a cut above these after third-place finish in G3 General George three back, huge effort in winning Whiteley last out at LRL; regular pilot Karamanos has two mounts on the card, but you know this is the one he came for; three of four to run back from last finished in the money, including a winner and Lewisfield, third in G3 Maryland Sprint…
#3 Killybegs Captain (3-1): Speed of the speed figures to outsprint other early types; question is whether he'll hold off the later exertions of Laki; fourth-place finish last out in the Runhappy might be better than it looks, as winner Firenze Fire is a multiple graded winner and runner-up Recruiting Ready a graded winner in his own right…
#1 (poe) Midnightcharly (3-1): Closing sort will do his best running later, figures to be aided by presence of entrymate Midtowncharlybrown, who'll heat up the pace; seems notable that pilot Sanchez, aboard for his first nine starts, passes on this one to ride at PRX; may prefer slightly longer distances, as his ledger beyond 6f is 4:3-1-0…
#5 Home Run Maker (9-2): Solid runner likely to have similar trip to Laki but isn't quite as good as that runner; jock-trainer combo of Vargas-Englehart lethal together (34%)…