Corrales returns to CT Classic with pair, including defending champ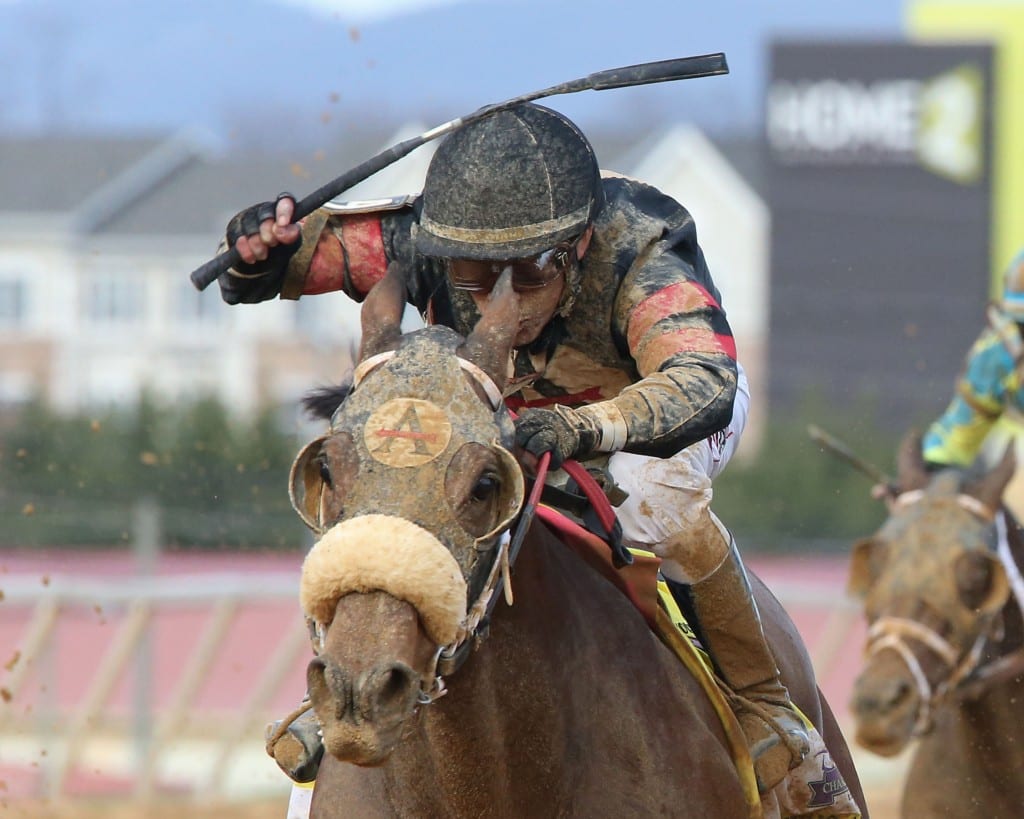 Something Awesome won the '18 Charles Town Classic. Photo by Coady Photography.
Trainer Jose Corrales will be arriving at Charles Town this Saturday afternoon with a pair of runners for the Grade 2, $1 million Charles Town Classic for older runners traveling the three-turn distance of nine furlongs. His duo includes defending champion Something Awesome, although it could be his trainee, Unbridled Juan, who departs with the bigger share of the prize.
Last spring Something Awesome arrived off consecutive victories in the Grade 3, $250,000 General George and the $100,000 Harrison Johnson Memorial at Laurel Park and maintained his streak by capturing the Charles Town Classic under Hall of Fame jockey Edgar Prado as an overlooked 9-1 shot in a race where Diversify faltered as the 6-5 favorite in his seasonal debut for the late Richard Violette, Jr. While Diversify rebounded to win a pair of Grade I races last summer, Something Awesome raced just twice more in the season, finishing eighth in the Grade 3, $300,000 Pimlico Special and then, six months later, second in a seven-furlong allowance.
Something Awesome has been 10th in both his 2019 starts, in the Grade 1 Pegasus World Cup and then the Grade 3 General George.
"You know, last year heading into the Classic he was really good," Corrales said. "I probably ran him back a little soon in the Special and then I gave him some time off. I only got one race in him before the Pegasus. If I could have gotten more starts in him, it might have been a different story in the Pegasus. Then he just didn't run the way I thought he would in the General George, but he's doing better now. He had two good workouts last month."
Both Something Awesome and Unbridled Juan are owned by Stronach Stables [Frank Stronach] and both are trained by Corrales, but they have little else in common. Though Something Awesome is the defending Classic champion, Unbridled Juan comes into the race in far better form. 
Although winless in three starts this year, Unbridled Juan was second to Cordmaker last out in the $100,000 Harrison Johnson Memorial, third in the $100,000 John B. Campbell prior to that and fourth in the Grade 3, $150,000 Fred Hooper Stakes at Gulfstream Park on the undercard of the Pegasus.
"He's doing really good," Corrales said. "I think he's been racing really well and he's training good leading up to the Classic. With a little more luck, he could have won his last two starts. Right now he's doing better than my other one. But you never really know what can happen on race day. Some days you think your horse is sitting on a good race and he doesn't run and other times they catch you by surprise. That's racing – it just depends on whether or not it's your day."
While Something Awesome has been winless since the Classic, a drought of one year that encompasses only four races, Unbridled Juan has emerged as one of the budding stars of the Corrales barn. Last fall Unbridled Juan won the $50,000 Grover Delp Memorial at Delaware Park then the $100,000 Richard Small Stakes at Laurel before heading to Gulfstream Park for the Hooper then returning for both the John Campbell and Harrison Johnson. Although he has yet to compete at Charles Town, Unbridled Juan has displayed a fondness for the nine-furlong distance.
"Up there, so much depends on the trip," said Corrales, who has named Prado aboard Something Awesome (12-1) and longtime Charles Town regular J.D. Acosta on Unbridled Juan (15-1). "I know Unbridled Juan likes the distance and he's coming into it really good. You need a little luck when you run in those big races on those smaller tracks. You have to hope you're horse can work out a trip and he fires when the jockey asks him to go. Some days everything falls into place and your horse wins. Other days, things don't always work out."