Omaha Beach storms to top of NTRA Top Thoroughbred Poll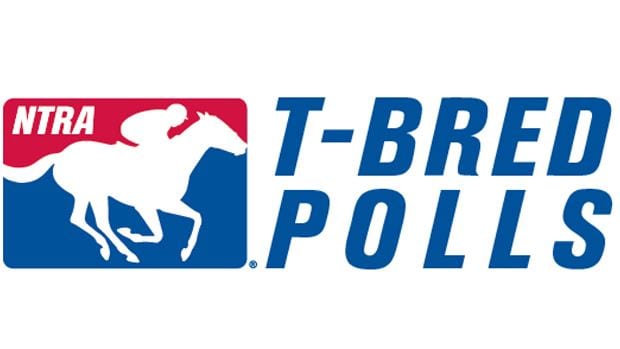 From a National Thoroughbred Racing Association release
The reign of California-based horses atop the National Thoroughbred Racing Association (NTRA) Top 3-Year-Old Poll continues this week in a new set of hands with Fox Hill Farms' Omaha Beach taking over the No. 1 position from Roadster in the wake of the former's triumph in last Saturday's Grade 1 Arkansas Derby.
Omaha Beach earned his second career graded stakes win and first top-level score when he defeated Improbable by a length in the Arkansas Derby. That victory puts the son of War Front in position to vie for favoritism in the Kentucky Derby Presented by Woodford Reserve and earned him 32 first-place votes and 448 points to take over the lead poll position.
"I've said all along, someday somebody will ask me, 'How did you get this horse beat so many times?'," trainer Richard Mandella said of Omaha Beach the morning after his Arkansas Derby win. "I started saying that way back because we always thought it was there."
Roadster, who knocked off stablemate and champion Game Winner in the Grade 1 Santa Anita Derby on April 6, dropped to second in the poll with 5 first-place votes and 370 points while Grade 2 Wood Memorial winner Tacitus (7 first-place votes, 344 points) is third.
Game Winner (1 first-place vote, 322 points) – who had led the 3-Year-Old Poll until conceding to Roadster last week – is now fourth followed by Improbable (271 points) and Grade 2 Toyota Blue Grass Stakes winner Vekoma (183). Maximum Security (177 points) is seventh with Code of Honor (87), War of Will (67), and By My Standards (1 first-place vote, 57 points) completing the top 10.
Win Win Win (42 points) received a single first-place vote.
This week's NTRA Top Thoroughbred Poll saw Grade 1 winner Bricks and Mortar hold onto the lead spot for a second straight week with 11 first-place votes and 341 points. Santa Anita Handicap winner Gift Box (6 first-place votes, 323 points) also held steady in second with the biggest mover being Midnight Bisou (2 first-place votes, 261 points), who improved from seventh to third on the strength of her narrow victory in the Grade 1 Apple Blossom Handicap this past Sunday.
McKinzie (1 first-place vote, 241 points) is fourth with champion Monomoy Girl (7 first-place votes, 239 points) fifth. City of Light (11 first-place votes, 168 points) is tied for sixth with champion male sprinter Roy H (168) followed by Dubai World Cup winner Thunder Snow (IRE) (5 first-place votes, 119 points) in eighth. World of Trouble (111 points) and X Y Jet (1 first-place vote, 110 points) round out the top 10.
Rushing Fall (58 points), Mitole (43 points), and Omaha Beach (27 points) each earned a single first-place vote.
The NTRA Top Thoroughbred polls are the sport's most comprehensive surveys of experts. Every week eligible journalists and broadcasters cast votes for their top 10 horses, with points awarded on a 10-9-8-7-6-5-4-3-2-1 basis. All horses that have raced in the U.S., are in training in the U.S., or are known to be pointing to a major event in the U.S. are eligible for the NTRA Top Thoroughbred Poll.
The NTRA Top Thoroughbred Poll concludes November 4 after the running of the Breeders' Cup.
The Top 3-Year-Old Poll concludes June 8 after the Belmont Stakes.
NTRA TOP THOROUGHBRED POLL
Bricks and Mortar
Gift Box
Midnight Bisou
McKinzie
Monomoy Girl
City of Light
Roy H
Thunder Snow
World of Trouble
X Y Jet
NTRA TOP THREE-YEAR-OLD POLL
Omaha Beach
Roadster
Tacitus
Game Winner
Improbable
Vekoma
Maximum Security
Code of Honor
War of Will
By My Standards