Claimbox: Midlantic claiming activity strong through first quarter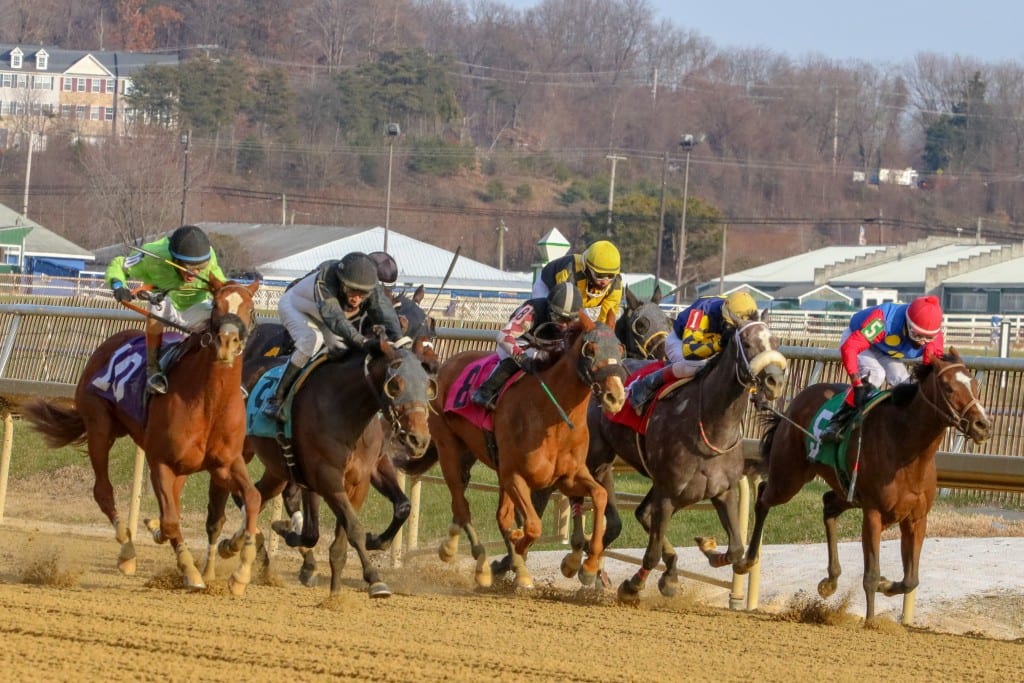 Photo by Dottie Miller.
by Frank Vespe
Nearly 600 horses have been claimed at Mid-Atlantic racetracks to date in 2019 — well ahead of last year's numbers through the first quarter.
Overall, some 594 horses have been claimed in the region's four tracks operating during the first three months of the year. Those horses have a combined value of nearly $6.1 million (average: $10,249). The total number of horses claimed is up more than 17 percent versus the same period in 2018, while the gross value of those horses is 19.85 percent higher than a year ago. The average has risen slightly, from $10,018.
As usual, Parx Racing, with the region's highest purses, has also seen the most claiming activity. From January 1 through March 31, the track saw 263 horses claimed with a combined value of $2.69 million. Both those numbers were the region's highest. Laurel Park led in the average value of claimed horses; there, the 200 horses claimed averaged $11,627 (gross value: over $2.3 million).
Trainer Jamie Ness has purchased 22 horses via the claimbox to lead all conditioners in that category. He's followed by Joseph Taylor (20 claims), and then Michael Pino and Kathleen DeMasi, with 18 each. 
Ness led all trainers in the total value of claimed horses, with his claims totaling $335,000. Among trainers to have made at least 10 claims, Claudio Gonzalez continues to take the most expensive animals. His 15 claims to date have averaged over $19,700. Dale Capuano, with 11 claims averaging $15,863, is second in the average value category.
Joseph Besecker leads the region's owners in claims made. He's taken 17 horses via the claimbox, two more than Ness's Jagger Inc. operation. Besecker, who works with Gonzalez, among others, averages $17,764 per claim — the highest among any owner to have claimed more than five horses to date.
In all, 186 trainers have claimed at least one horse during the first three months of the year, and 209 have lost at least one. Overall, 511 horses have changed hands via the claimbox, with three of those — Mach Trial, M G Broker, and Cause for Surprise — each having been claimed a region-leading three times.
The claimbox report covers Charles Town Races, Delaware Park, Laurel Park, the Meadowlands Thoroughbred meet, Monmouth Park, Penn National, Parx Racing, Pimlico, and Timonium. All data derived from Equibase figures.
​
| | | | |
| --- | --- | --- | --- |
| Track | Claimed horses | Total value | Average value |
| CT | 38 | $294,000 | $ 7,736.84 |
| LRL | 200 | $2,325,500 | $ 11,627.50 |
| PEN | 93 | $778,000 | $ 8,365.59 |
| PRX | 275 | $2,830,500 | $ 10,292.73 |
| Grand Total | 606 | $6,228,000 | $ 10,277.23 |
| Rank | Trainer | Horses claimed | Gross value | Average value |
| --- | --- | --- | --- | --- |
| 1 | Ness, Jamie | 22 | $335,500.00 | $15,250.00 |
| 2 | Taylor, Joseph | 20 | $237,500.00 | $11,875.00 |
| 3 | Pino, Michael V. | 18 | $213,000.00 | $11,833.33 |
| 4 | Demasi, Kathleen A. | 18 | $154,000.00 | $8,555.56 |
| 5 | Lake, Scott A. | 16 | $140,000.00 | $8,750.00 |
| 6 | Magee, Kieron | 15 | $181,500.00 | $12,100.00 |
| 7 | Kreiser, Timothy C. | 15 | $186,000.00 | $12,400.00 |
| 8 | Graci, Kimberly A | 15 | $93,000.00 | $6,200.00 |
| 9 | Gonzalez, Claudio A. | 15 | $296,000.00 | $19,733.33 |
| 10 | Farro, Patricia | 14 | $127,500.00 | $9,107.14 |
| 11 | Capuano, Dale | 11 | $174,500.00 | $15,863.64 |
| 12 | Potts, Wayne | 10 | $88,000.00 | $8,800.00 |
| 13 | Wyner, Harold | 9 | $103,500.00 | $11,500.00 |
| 14 | Velazquez, Daniel | 9 | $122,000.00 | $13,555.56 |
| 15 | McMahon, Hugh I. | 9 | $122,500.00 | $13,611.11 |
| 16 | Maldonado, Jonathan | 8 | $74,500.00 | $9,312.50 |
| 17 | Farrior, Anthony | 8 | $58,500.00 | $7,312.50 |
| 18 | Aristone, Philip T. | 7 | $60,500.00 | $8,642.86 |
| 19 | Vazquez, Juan C. | 6 | $45,000.00 | $7,500.00 |
| 20 | Sillaman, Richard P. | 6 | $60,000.00 | $10,000.00 |
| 21 | Reid, Mark J. | 6 | $76,500.00 | $12,750.00 |
| 22 | Moore, Michael M. | 6 | $100,500.00 | $16,750.00 |
| 23 | Englehart, Chris J. | 6 | $40,000.00 | $6,666.67 |
| 24 | Diaz, Jorge | 6 | $37,500.00 | $6,250.00 |
| 25 | Corrales, Jose | 6 | $30,000.00 | $5,000.00 |
| 26 | Catalano, Jr., Michael L. | 6 | $70,000.00 | $11,666.67 |
| 27 | Brown, Ronney W. | 6 | $57,000.00 | $9,500.00 |
| 28 | Brown, Jr., Howard R. | 6 | $61,000.00 | $10,166.67 |
| 29 | Stickler, Jr., Lester J. | 5 | $66,000.00 | $13,200.00 |
| 30 | Schoenthal, Phil | 5 | $107,500.00 | $21,500.00 |
| 31 | Mosco, Robert | 5 | $69,500.00 | $13,900.00 |
| 32 | Kulp, Brandon L. | 5 | $29,000.00 | $5,800.00 |
| 33 | Johnston, Robert J.W. | 5 | $30,000.00 | $6,000.00 |
| 34 | Gorham, Michael E. | 5 | $72,500.00 | $14,500.00 |
| 35 | Brooks, Gerald E. | 5 | $58,500.00 | $11,700.00 |
| 36 | Zulueta, Marcos | 4 | $47,500.00 | $11,875.00 |
| 37 | Woodhouse, Marten | 4 | $22,500.00 | $5,625.00 |
| 38 | Sanchez-Salomon, Rodolfo | 4 | $46,500.00 | $11,625.00 |
| 39 | Robb, John J. | 4 | $38,500.00 | $9,625.00 |
| 40 | Riviezzo, Ralph R. | 4 | $30,500.00 | $7,625.00 |
| 41 | Penaloza, Miguel | 4 | $38,500.00 | $9,625.00 |
| 42 | Patterson, Kevin S. | 4 | $25,000.00 | $6,250.00 |
| 43 | Montoya, Marya K. | 4 | $60,000.00 | $15,000.00 |
| 44 | Milian, Carlos J. | 4 | $25,000.00 | $6,250.00 |
| 45 | Mancilla, Carlos A. | 4 | $23,000.00 | $5,750.00 |
| 46 | Wilhelm-Saldana, Jennie | 3 | $22,500.00 | $7,500.00 |
| 47 | Thurston, Jerry A. | 3 | $30,000.00 | $10,000.00 |
| 48 | Taylor, Bryant R. | 3 | $28,500.00 | $9,500.00 |
| 49 | Pattershall, Mary A. | 3 | $32,500.00 | $10,833.33 |
| 50 | O'Dwyer, Jeremiah | 3 | $15,000.00 | $5,000.00 |
| 51 | Noble, James F. | 3 | $33,500.00 | $11,166.67 |
| 52 | McCaslin, John S. | 3 | $25,000.00 | $8,333.33 |
| 53 | Maymo, Jorge J. | 3 | $15,000.00 | $5,000.00 |
| 54 | Linder, Jr., Louis C. | 3 | $37,500.00 | $12,500.00 |
| 55 | Hurley, Jack | 3 | $24,000.00 | $8,000.00 |
| 56 | Haynes, Ernest M. | 3 | $45,000.00 | $15,000.00 |
| 57 | Guerrero, J. Guadalupe | 3 | $20,000.00 | $6,666.67 |
| 58 | Gaudet, Lacey | 3 | $27,500.00 | $9,166.67 |
| 59 | Englehart, Jeremiah C. | 3 | $26,000.00 | $8,666.67 |
| 60 | Englehart, Jeffrey S. | 3 | $26,500.00 | $8,833.33 |
| 61 | Dominguez, Mario A. | 3 | $22,500.00 | $7,500.00 |
| 62 | Day, Diane M. | 3 | $17,500.00 | $5,833.33 |
| 63 | Dandy, Ronald J. | 3 | $25,000.00 | $8,333.33 |
| 64 | Caison, Jody L | 3 | $15,000.00 | $5,000.00 |
| 65 | Bouchard, Leslye G. | 3 | $15,000.00 | $5,000.00 |
| 66 | Beattie, Cody | 3 | $17,000.00 | $5,666.67 |
| 67 | Worton, Dorothy Elisabeth | 2 | $10,000.00 | $5,000.00 |
| 68 | White, Donald R. | 2 | $12,500.00 | $6,250.00 |
| 69 | Viands, Stacey R. | 2 | $17,500.00 | $8,750.00 |
| 70 | Velazquez, Alfredo | 2 | $31,000.00 | $15,500.00 |
| 71 | Vega, Richard | 2 | $28,500.00 | $14,250.00 |
| 72 | Stopherd, Edwin C. | 2 | $10,000.00 | $5,000.00 |
| 73 | Shannon, Jennifer | 2 | $10,000.00 | $5,000.00 |
| 74 | Serey, Juan | 2 | $17,500.00 | $8,750.00 |
| 75 | Scott, Jr., Alfred H. | 2 | $25,000.00 | $12,500.00 |
| 76 | Rodriguez, John M. | 2 | $25,000.00 | $12,500.00 |
| 77 | Moreno-Barban, Leandro | 2 | $10,000.00 | $5,000.00 |
| 78 | Mick, Stephen R. | 2 | $12,000.00 | $6,000.00 |
| 79 | Merryman, Michael | 2 | $17,500.00 | $8,750.00 |
| 80 | McMahon, Demelza | 2 | $24,000.00 | $12,000.00 |
| 81 | McBurney, Patrick B. | 2 | $32,500.00 | $16,250.00 |
| 82 | Lynch, Cathal A. | 2 | $10,000.00 | $5,000.00 |
| 83 | Kravets, Bruce M. | 2 | $8,000.00 | $4,000.00 |
| 84 | Kirby, John T. | 2 | $20,500.00 | $10,250.00 |
| 85 | Jones, Jr., Michael E. | 2 | $17,500.00 | $8,750.00 |
| 86 | Haughton, Donnovan | 2 | $15,000.00 | $7,500.00 |
| 87 | Hanagan, Lela G. | 2 | $10,000.00 | $5,000.00 |
| 88 | Guerrero, Melecio Saldana | 2 | $15,000.00 | $7,500.00 |
| 89 | Guerrero, Juan Carlos | 2 | $15,500.00 | $7,750.00 |
| 90 | Frock, Charles L. | 2 | $15,000.00 | $7,500.00 |
| 91 | Ferreira, Fernando | 2 | $15,000.00 | $7,500.00 |
| 92 | Fernandez, Miguel A. | 2 | $20,000.00 | $10,000.00 |
| 93 | Eubanks, Annette M. | 2 | $17,500.00 | $8,750.00 |
| 94 | Dunn, John J. | 2 | $20,000.00 | $10,000.00 |
| 95 | Curry, Dee | 2 | $22,500.00 | $11,250.00 |
| 96 | Cox, Kenneth M. | 2 | $35,500.00 | $17,750.00 |
| 97 | Castillo, Michelle | 2 | $10,000.00 | $5,000.00 |
| 98 | Brennan, Regina | 2 | $12,500.00 | $6,250.00 |
| 99 | Bailes, W. Robert | 2 | $15,000.00 | $7,500.00 |
| 100 | Aro, Michael Charles | 2 | $22,500.00 | $11,250.00 |
| 101 | Allen, III, A. Ferris | 2 | $28,500.00 | $14,250.00 |
| 102 | Albright, George R. | 2 | $15,000.00 | $7,500.00 |
| 103 | Albert, Linda L. | 2 | $21,000.00 | $10,500.00 |
| 104 | Zavitsanos, James | 1 | $4,000.00 | $4,000.00 |
| 105 | Wilson, Gregory L. | 1 | $10,000.00 | $10,000.00 |
| 106 | Trombetta, Michael J. | 1 | $16,000.00 | $16,000.00 |
| 107 | Tessore, Bruno | 1 | $10,000.00 | $10,000.00 |
| 108 | Tapscott, Jenile T. | 1 | $5,000.00 | $5,000.00 |
| 109 | Synnefias, Dimitrios K. | 1 | $25,000.00 | $25,000.00 |
| 110 | Stites, Flint W. | 1 | $10,000.00 | $10,000.00 |
| 111 | Stehr, Joseph P. | 1 | $7,500.00 | $7,500.00 |
| 112 | Stahlin, John L. | 1 | $4,500.00 | $4,500.00 |
| 113 | St. Lewis, Uriah | 1 | $7,500.00 | $7,500.00 |
| 114 | Soto, Carlos | 1 | $25,000.00 | $25,000.00 |
| 115 | Smith, Everton | 1 | $8,000.00 | $8,000.00 |
| 116 | Sinnefia, Paulina | 1 | $8,000.00 | $8,000.00 |
| 117 | Shanley, Mark A. | 1 | $4,500.00 | $4,500.00 |
| 118 | Servideo, Robert | 1 | $8,000.00 | $8,000.00 |
| 119 | Serey, Jr., Mario | 1 | $8,000.00 | $8,000.00 |
| 120 | Savoye, Jacqueline | 1 | $5,000.00 | $5,000.00 |
| 121 | Salzman, Jr., John E. | 1 | $16,000.00 | $16,000.00 |
| 122 | Salvaggio, Mark V. | 1 | $16,000.00 | $16,000.00 |
| 123 | Salinas, Jose | 1 | $4,000.00 | $4,000.00 |
| 124 | Russell, Brittany | 1 | $5,000.00 | $5,000.00 |
| 125 | Runco, Jeff C. | 1 | $10,000.00 | $10,000.00 |
| 126 | Rose, David J. | 1 | $5,000.00 | $5,000.00 |
| 127 | Rodriguez, Jose S. | 1 | $5,000.00 | $5,000.00 |
| 128 | Rodriguez, Franklin | 1 | $8,000.00 | $8,000.00 |
| 129 | Rideoutt II, Anthony M. | 1 | $5,000.00 | $5,000.00 |
| 130 | Rice, Linda | 1 | $16,000.00 | $16,000.00 |
| 131 | Reed, Candace | 1 | $5,000.00 | $5,000.00 |
| 132 | Ramirez, Saul | 1 | $10,000.00 | $10,000.00 |
| 133 | Pessanha, Ney | 1 | $5,000.00 | $5,000.00 |
| 134 | Pearce, Penny | 1 | $16,000.00 | $16,000.00 |
| 135 | Pachman, Gregory | 1 | $5,000.00 | $5,000.00 |
| 136 | Nunn, Douglas | 1 | $16,000.00 | $16,000.00 |
| 137 | Merryman, Ann W. | 1 | $5,000.00 | $5,000.00 |
| 138 | McFarlane, Brandon | 1 | $12,500.00 | $12,500.00 |
| 139 | McClellan, Erin C. | 1 | $5,000.00 | $5,000.00 |
| 140 | Martinez, Alexander | 1 | $5,000.00 | $5,000.00 |
| 141 | Martin, Silvio L. | 1 | $12,500.00 | $12,500.00 |
| 142 | Magill, Patrick J. | 1 | $16,000.00 | $16,000.00 |
| 143 | Lingenfelter, Thomas H. | 1 | $5,000.00 | $5,000.00 |
| 144 | Lima, Rolando | 1 | $25,000.00 | $25,000.00 |
| 145 | Landicini, Jr., Chris | 1 | $20,000.00 | $20,000.00 |
| 146 | Krebs, Steven | 1 | $10,000.00 | $10,000.00 |
| 147 | Klesaris, Steve | 1 | $12,500.00 | $12,500.00 |
| 148 | Keefe, Timothy L. | 1 | $12,500.00 | $12,500.00 |
| 149 | Kee, Willie J. | 1 | $5,000.00 | $5,000.00 |
| 150 | Jones, Carl C. | 1 | $10,000.00 | $10,000.00 |
| 151 | Ingram, Adam L. | 1 | $4,500.00 | $4,500.00 |
| 152 | Iannotti, IV, Thomas | 1 | $8,000.00 | $8,000.00 |
| 153 | Houghton, Dove P. | 1 | $16,000.00 | $16,000.00 |
| 154 | Hawthorne, Bobbi Anne | 1 | $8,000.00 | $8,000.00 |
| 155 | Greaves, Vernon | 1 | $4,500.00 | $4,500.00 |
| 156 | Gordon, J. D. | 1 | $7,500.00 | $7,500.00 |
| 157 | Geralis, Emanuel J. | 1 | $25,000.00 | $25,000.00 |
| 158 | Garrido, Raul A. | 1 | $10,000.00 | $10,000.00 |
| 159 | Garibay, Lucia | 1 | $5,000.00 | $5,000.00 |
| 160 | Gallimore, Trevor | 1 | $5,000.00 | $5,000.00 |
| 161 | Figgins, III, Ollie L. | 1 | $12,500.00 | $12,500.00 |
| 162 | Fields, Kevin J. | 1 | $5,000.00 | $5,000.00 |
| 163 | Estrada, Jaime B | 1 | $5,000.00 | $5,000.00 |
| 164 | Eppler, Mary E. | 1 | $5,000.00 | $5,000.00 |
| 165 | Dotolo, David | 1 | $7,500.00 | $7,500.00 |
| 166 | Doran, Carl | 1 | $10,500.00 | $10,500.00 |
| 167 | Dilodovico, Damon R. | 1 | $25,000.00 | $25,000.00 |
| 168 | DePaz, Horacio | 1 | $5,000.00 | $5,000.00 |
| 169 | Demeza, Donald L. | 1 | $4,000.00 | $4,000.00 |
| 170 | DeMario, Charles A. | 1 | $5,000.00 | $5,000.00 |
| 171 | D'Angelo, Ricardo | 1 | $10,000.00 | $10,000.00 |
| 172 | D' Angelo, Anthony P. | 1 | $12,500.00 | $12,500.00 |
| 173 | Cruz, Jaime | 1 | $4,000.00 | $4,000.00 |
| 174 | Conner, John D. | 1 | $4,000.00 | $4,000.00 |
| 175 | Comi, Jr., Ralph W. | 1 | $4,500.00 | $4,500.00 |
| 176 | Collins, Timothy M. | 1 | $4,500.00 | $4,500.00 |
| 177 | Chircop, Steven | 1 | $5,000.00 | $5,000.00 |
| 178 | Castellano, Abel | 1 | $12,500.00 | $12,500.00 |
| 179 | Carlisle, John C. | 1 | $5,000.00 | $5,000.00 |
| 180 | Caraballo, Wilfredo V. | 1 | $5,000.00 | $5,000.00 |
| 181 | Bravo-Estrada, Jaime | 1 | $5,000.00 | $5,000.00 |
| 182 | Betancourt, Eli | 1 | $12,500.00 | $12,500.00 |
| 183 | Beattie, Todd M. | 1 | $10,000.00 | $10,000.00 |
| 184 | Barr, Donald H. | 1 | $5,000.00 | $5,000.00 |
| 185 | Ambrogi, Leo J. | 1 | $16,000.00 | $16,000.00 |
| 186 | Albright, Amy | 1 | $5,000.00 | $5,000.00 |