Mens Grille cooks up a stake winner in Enchanted Ghost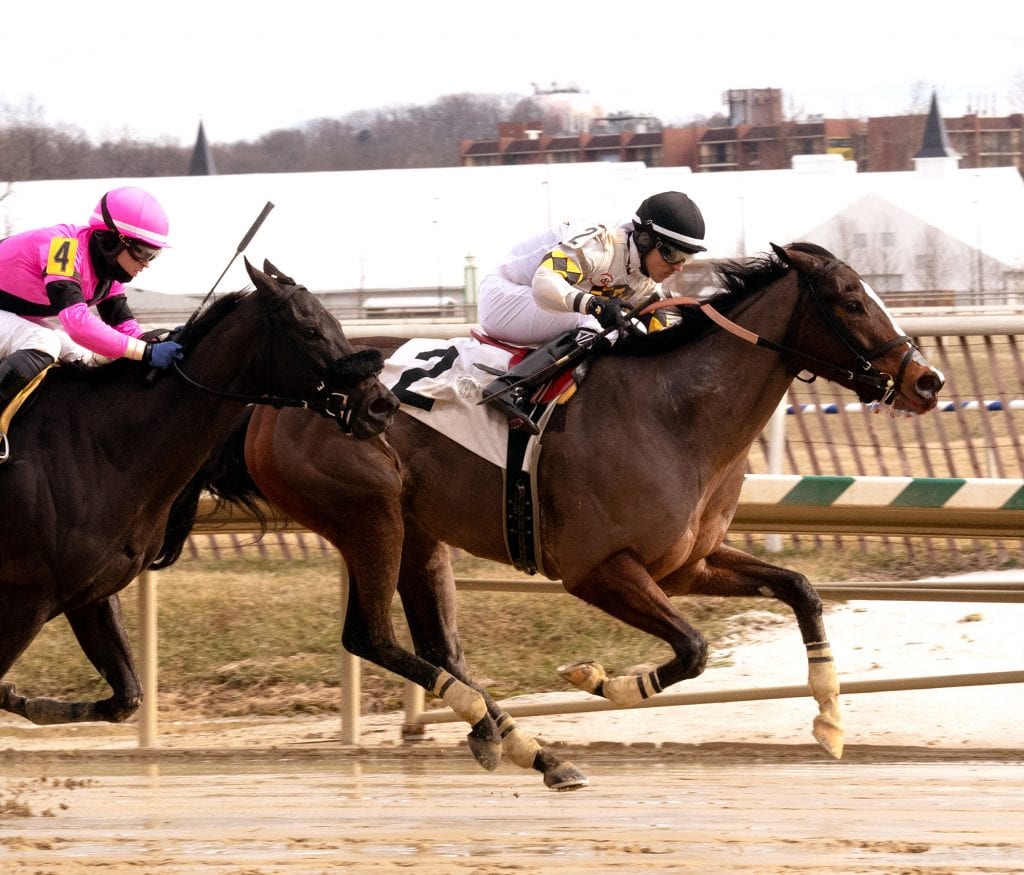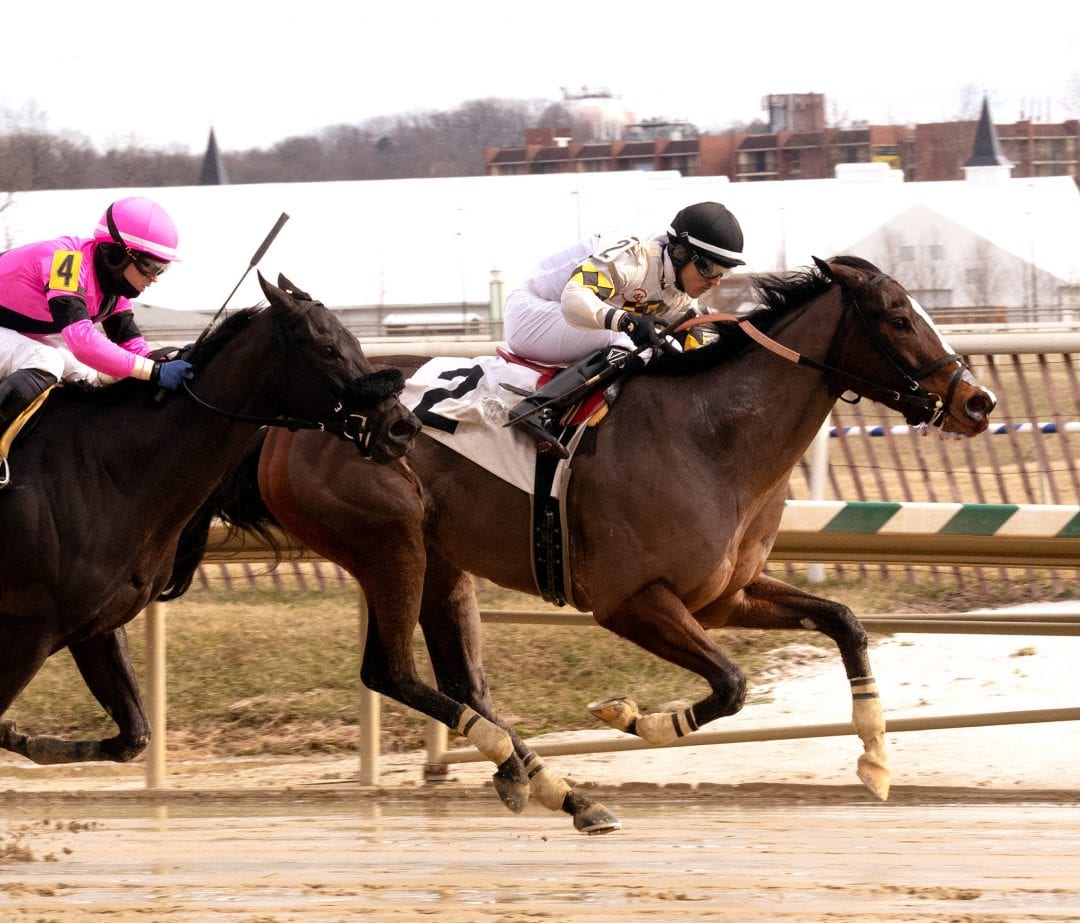 Enchanted Ghost took 'em all the way to win the $100,000 Maryland Racing Media Stakes Monday at Laurel Park. Photo by Jim McCue, Maryland Jockey Club.
"Oh my gosh, she's special. She's a really special filly," Lori Hughes was saying of Enchanted Ghost in the moments after Monday's $100,000 Maryland Racing Media Stakes at Laurel Park. "Ham [Smith] has been so patient with her. She has her ups and downs."
Monday was one of the ups.
Under an astute ride from jockey Jevian Toledo, Enchanted Ghost, trained at Laurel by Hamilton Smith, doled out tepid early fractions, stared down a challenge in the lane from Indy's Lady, and went on to win by a half-length for the second stakes win of her career — almost exactly one year after she won the Wide Country for her other added-money score.
"Something about her in the paddock today, I just had this feeling," Hughes said. "There was something in her eye. I don't always get this feeling… She kind of gave me a wink."
She gave Hughes a wink, and the rest of the field the slip. She grabbed the early advantage and dawdled through sluggish early fractions under Toledo, posting the half-mile in 49.12 seconds and three-quarters in 1:13.72.
"That's what Ham was saying," Hughes laughed. "Forty-nine would be great, 49 would be great."
And so it was. Indy's Lady, with Angel Suarez in the irons, gave chase from second, confronted Enchanted Ghost in the lane, and actually poked a head in front in mid-stretch. But Enchanted Ghost found more, surged back, and earned the victory in 1:44.84 for the about one-and-one-sixteenth mile distance.
Enchanted Ghost returned $15.20 on a two-dollar win wager and topped an exacta worth $63.50 for a buck. Timeless Curls, sent off the 6-5 favorite, was hung out wide on both turns, and finished third, a bit less than three lengths behind the winner.
Perhaps it was appropriate — on the day that the best of Maryland racing was celebrated at Laurel Park with awards from the Maryland Racing Media Association — that in an open stake it was the Maryland-bred, Maryland-based Enchanted Ghost who got the money in the day's biggest race. She now has won four of 13 career starts and earned over $228,000.
Enchanted Ghost is a daughter of Ghostzapper out of the unplaced Grand Slam mare Uniformly Yours and was bred by George Louis Doetsch, Jr. Hughes and her husband, David, provided the winning bid of $75,000 to purchase her from the 2016 Fasig-Tipton Midlantic fall yearling sale, where she was consigned by Chanceland Farm.
David and Lori Hughes race as Mens Grille Racing, which perhaps seems odd since one of the "men" is a woman. There is, said Lori Hughes, a "long story" behind that.
"He and his buds used to sit around after a round of golf in the Men's Grille back when it was called the Men's Grille only, and they talked about getting a racehorse one day," she recalled. "He said, 'If we get a racehorse one day, guys, we'll call it Men's Grille Racing.' Well, that didn't happen, but he never forgot that conversation with his friends, and he's managed to keep the name."
The first horse to run in the Mens Grille colors came in 2013, when, working with trainer Linda Albert, they claimed a gelding named Village Romeo. Village Romeo won his first start for his new connections, kicking off a thrill ride that hasn't stopped yet.
"From there on we said, 'OK, we didn't do too horrible with our claims. It didn't discourage us," Hughes said. "So we moved on to the big leagues and went to a couple sales, and that's all she wrote."